How to Optimize Battery for Android Phones
Android is undoubtedly the leading smartphone platform in the world today. This is evident as over 70% of the global smartphone users own at least a single Android device. Android phones, although often characterized by unique mind blowing features and sleek designs are relatively at a great disadvantage when it comes to battery life as it is almost impossible to come across an Android device that has the ability to last a whole day on a single charge. This sorry state of affairs has forced android smartphone users to regularly carry either their device chargers or power banks to continue using their phones throughout the day.
Fortunately, this does not need to be the case as this comprehensive yet informative article is going to educate you on how to optimize battery for Android phones. Kindly note that although it is not possible to suddenly double your device's uptime, these effective yet easy-to-do tips will be able to greatly boost your device battery life.
Why You Need to Optimize Battery for Android Phones?
Optimizing battery for Android phones is definitely going to result in numerous benefits. Apart from eventually getting to minimize or completely get rid of the urge to always carry your power bank or smartphone charger with you, you will also be able to increase your overall Talktime, lengthen your browsing sessions, increase the time you listen to music or watch videos, increase your gaming sessions among other amazing benefits. What's more, an Android battery that gets drained even faster is also likely to force the smartphone user to purchase a new one, hence, when you optimize battery for Android phones you will also be able to minimize such unnecessary costs.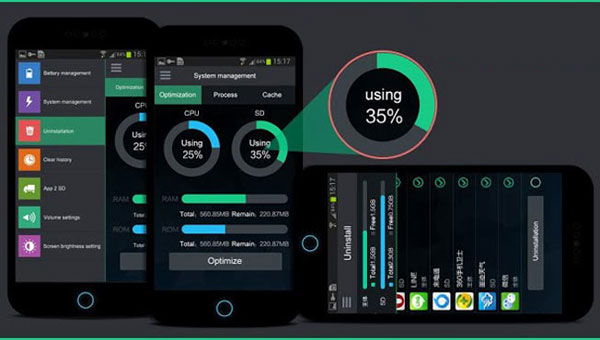 If you wish to know how to extend your Android phone's battery life, then this article will tell you all tips to optimize battery for Android phones.
You Might Also Like:
Beneficial Tips on How to Effectively Optimize Android Device Battery
Tip 1: Download and Install Power Saving Apps
There are various power saving Android apps that can be bought or downloaded for free on Google Play store, such as Greenify, JuiceDefender, Du Battery Saver and so on. Undoubtedly, these beneficial apps can greatly boost your device's battery if installed and tweaked as required. Here, we could like to take the Greenify for instance, this app has the ability to put apps into forced hibernation when they aren't being used thus preventing the apps from operating in the background hence saving the battery life significantly.
Tip 2: Turn on Your Android Phone's Power Saving Mode
Most of the new android devices and ROMs come fully equipped with effective power saving mode features that control the CPU, screen power, haptic feedback, among other crucial functions that are likely to drain your Android battery. Some of the common battery saving modes include Doze for Android M, Ultra Power Saving Mode for Samsung, Stamina for Sony, and Extreme Power Saving Mode for HTC devices. By activating the power saving mode of your smartphone provided you will be able to conserve and optimize your device's battery.
Tip 3: Deactivate Bluetooth, Wi-Fi, NFC and GPS When not Needed
All the connections mentioned above are very important when it comes to the normal functioning of your android device. However, each of the connections has their own independent roles and some of them are well known for consume even more battery power. This then makes it beneficial to turn them off once in a while, especially when they are not being used to save on power and optimize battery for android phones.
Tip 4: Tweak Your Smartphone's Screen Brightness
Smartphone screens are increasingly getting bigger and more vibrant as days go by. This means that these screens are also able to consume a great amount of power to achieve this. You can minimize the amount of power used by such screens by disabling the automatic brightness feature and instead opt to use the manual selection option. The automatic brightness feature makes use of device sensors, hence, resulting in even more power consumption.
You can also reduce the screen timeout to about 30 to 60 seconds as part of the tweaking process. Tweaking your android's screen brightness is probably the most effective way to optimize battery for your smartphone.
Tip 5: Disable the Auto Sync Feature
Auto sync usually updates your Google account together with all the apps, documents, media and other files found on your Android phone. This will not only result in increased data usage but will also drain your phone's battery. You can optimize battery for Android phones by turning off the auto sync feature and instead opt to manually refresh each app when you need to obtain information from it. Alternatively, you can deactivate the auto sync feature by disabling background data.
Tips 6: Update Apps Regularly
Application updates usually contain critical additional features including battery and memory optimization that have been modified by developers. This means that keeping your applications up to date is going to minimize power usage among other benefits. It is recommended to update apps manually as allowing for automated updates is also going to translate in even more power and data usage.
Tips 8: Get Rid of Unnecessary Widgets and Delete Unecessary Files Regularly

On one hand, there are unnecessary widgets that you can do without especially those that are connected to the Internet. Having multiple widgets is guaranteed to deplete your battery even further as the widgets are continuously updating and syncing which is not battery efficient. On the other hand, you may never know that there are lots of unnecessary files on your mobile phone and accelerate the using of battery. So turning off all unused apps or processes on your phone. And clearing spam files on your phone can also entend the battery using life, but the premise is that you should find a reliable program to help you - MobiKin Eraser for Android.

Conclusion
By using all the tips and techniques provided above, you are guaranteed to optimize your smartphone's battery by a great percentage. Try the tips today and you will be amazed at how long your device uptime will last. After that, you can try the best Android Manager program here to manage or backup your Android data as you like.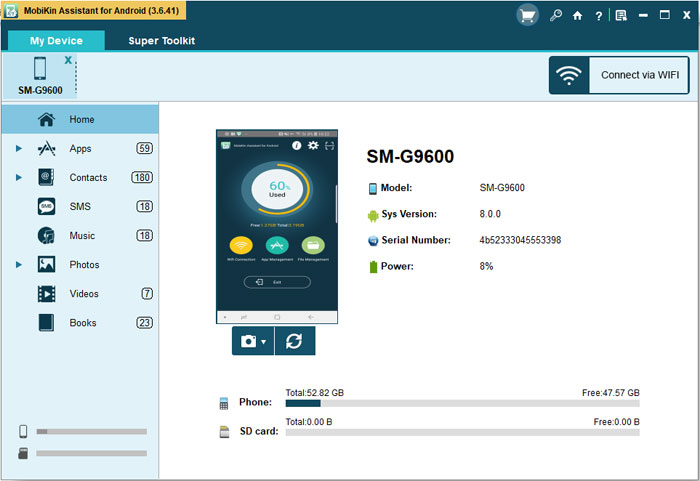 Related Articles:
[All Tips] Back Up Android Tablet to PC/Mac/Google Drive/Flash Drive
HTC to LG Transfer: 4 Efficient Ways to Transfer Data from HTC to LG
How to Bypass LG FRP/Google Account with or without Computer [Hot Tips 2023]
Can I Use MobiKin Backup Manager for the Android Crack Version? [Answered]
10 Best Photo Managers for Android: Manage Android Pictures with Ease
Control Android from PC with the 7 Best Screen Mirroring Apps