6 Hot Tips to Download/Install Apps on Android from Different Sources
Formerly known as Android Market, Google Play Store is a digital distribution service helping download apps on Android smartly. Yet, it was previously reported that the deleted malware copied other applications and changed their names. What's worse, some widely-used devices are not pre-installed with this Store. So, you may want to learn a wider range of techniques to safely equip your phone with apps.
Well, you'll know how to download apps on Android in this informative guide. Just move ahead to get more tips.
Part 1: How to Download Apps on Android from Google Play Store
Android fits naturally into Google services. And the Google Play Store app holds a basic set of apps, games, and digital content for Android phone apps download and installation. To smooth the procedure, ensure you have a Google account associated with your device. (Can't download apps from Google Play Store?)
How do I download an app on my phone from Google Play Store?
Open the Google Play app on your phone.
Search or find an app you want.

Check the star ratings and reviews under the app's title.
Pick the app and tap "Install" or the app's price.
Log in to your Google account to get it on the phone.
People Also Like:
Part 2: How to Download Android Apps on PC via Play Store Website
Google maintains a running list of devices supported by its Play Store. Meanwhile, it also facilitates you to get and install free and paid apps with the assistance of a desktop browser. Learn how to download apps on Android for free or at a price via the Play Store website:
Visit Google Play Store on a desktop browser.
Log in to the same Google account you use on your Android phone.
Tap the "Search" button from the top-right corner.
Search for the app you wish to install and hit the app's name from the search results.
Press "Install" and pick the device you want the app to install.
Tap "Install" again and follow the sign-in page to enter your Google account authentication.
Then, the download should start on your mobile phone automatically. And you can also install/run Android apps on a PC.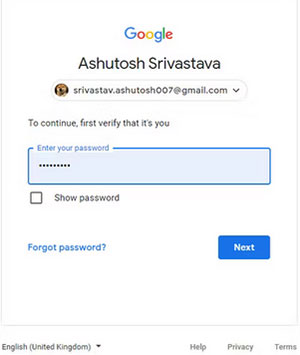 Part 3: How to Download Apps on Android Phone from Amazon Appstore
Amazon's Appstore, a Google Play alternative, sometimes offers the paid service at a lower price. To use Android apps with this app, please first install it on your phone and enable the setting called "Install unknown apps". Afterward, how do I get apps on my phone from Amazon Appstore?
Open the Amazon Appstore app on your Android phone/tablet.
Search or browse through your desired apps.
Click "Get" or the option with the price for a paid app.
Finally, tap on "Get" again.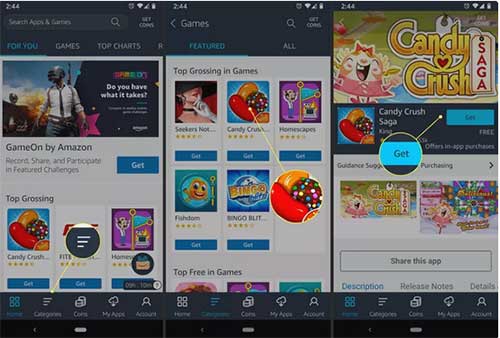 Check If You Need:
Part 4: How to Get Apps on Android from APKMirror
Android App Bundles make it hard for you to share apps outside Google Play. However, APKMirror and APKMirror Installer can eliminate the shortcoming by letting you install main app formats equally. Further, the Installer gives you the opportunity to download and install regular apk or its variants like apkm, xapk, or apks files.
How do I add an app to my phone from APKMirror?
Download and install APKMirror Installer from Google Play. (Can't sign in to your Google account on Android?)
Go to the APKMirror website and search for your wanted app to install.
Browse through apps by APK, app, and developer names.
While sorting by app or developer other than APK, select the version of the app you desire.
Or scroll down to "All versions" and locate the specific one.
Tap the "Download" sign beside the app you want.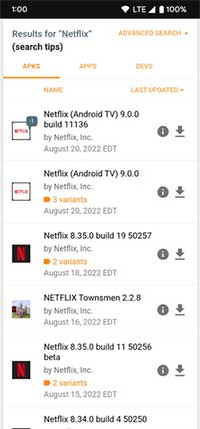 Tips: After the download, how to run downloaded apps using the APKMirror installer? Quick Guide: Swipe down to tap the "Download complete" entry; click the "Download complete" notification when the APK file is downloaded; open the file with APKMirror Installer; press "Allow" to grant APKMirror the proper storage permissions to install and run the app.
Part 5: How to Download Apps on Android Tablet/Phone from Unknown Sources
Wonder how to install Android apps on PC without any software from unknown sources? Follow the drill below to enter the "Allow from this source" or "Unknown sources" option. Then you can access any APKs you wish to install, as long as they are compatible with your Android device. But please note that the option might put your phone/tablet at risk since it allows unknown sources to store files instead on an app-by-app basis.
Download and install apps from unknown sources on Android 10. or newer:
Swipe down from the top screen and tap "Settings".
Locate and touch "Biometrics and security".
Tap "Install unknown apps".
Pick the app you'll use to download the files.
Enable "Allow from this source".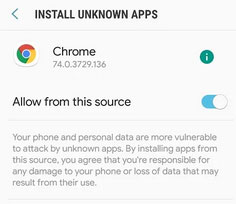 Download and install apps from unknown sources on Android 8.0:
Go to your Android phone's "Settings".
Choose the "Apps & notifications" menu.
Tap "Advanced" > "Special app access".
Click "Install unknown apps".
Select the browser that you use for the 3rd-party stores.
Toggle on "Allow from this source".
Download and install apps from unknown sources on Android 7.0 or older:
Get into the "Settings" menu on your phone.
Tap "Security" and enable "Unknown sources".
Part 6: How to Install Apps on Android from Computer via Assistant for Android
After downloading all apps you need, many users, notably those with a malfunctioning phone, may want to find the wanted apps to install from downloaded folders and make them one by one. It isn't easy, but if you want to make it smoother and quicker, try to pick MobiKin Assistant for Android (Win and Mac) to make Android application installation remotely on your computer. Beyond that, this tool also saves a whole lot more than time to take full control of your Android phone.
Prominent features of MobiKin Assistant for Android:
Remotely install apps on Android devices.
Export apps from Android to PC/Mac selectively.
One-click to back up and restore Android data securely.
Work for such files as apps, contacts, call logs, SMS, music, photos, videos, books, etc.
Preview and manage various Android data on a computer straightforwardly.
Easy to operate, quick processing, and no quality loss.
Play functions on 8000+ Android devices, including Samsung, Xiaomi, OPPO, Google, Sony, Motorola, LG, OnePlus, etc.
It won't divulge your privacy.
Learn how to install apps on Android from your computer via Assistant for Android:
Step 1. Run the software on a computer after you download and install it. Use a USB cable to link your Android phone to the computer. Then, enable USB debugging on your Android phone by following the prompts on the screen to make a virtual connection.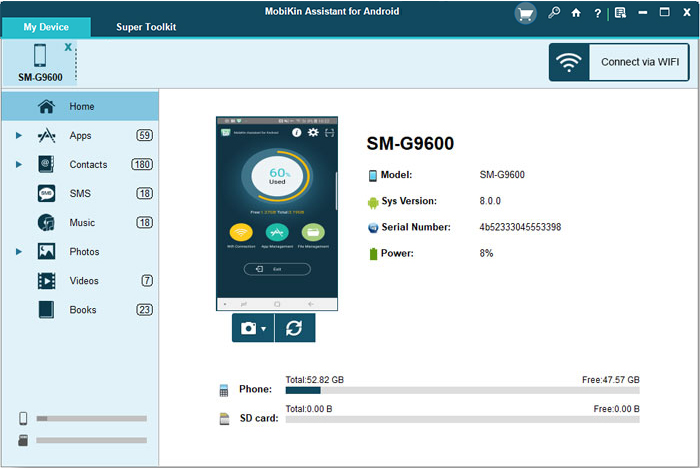 Step 2. Go to "Apps" > "User Apps" from the left menu of the program. It will display all the installed applications on the right panel. Next, click the "Install" button to install apps on your Android device from this computer.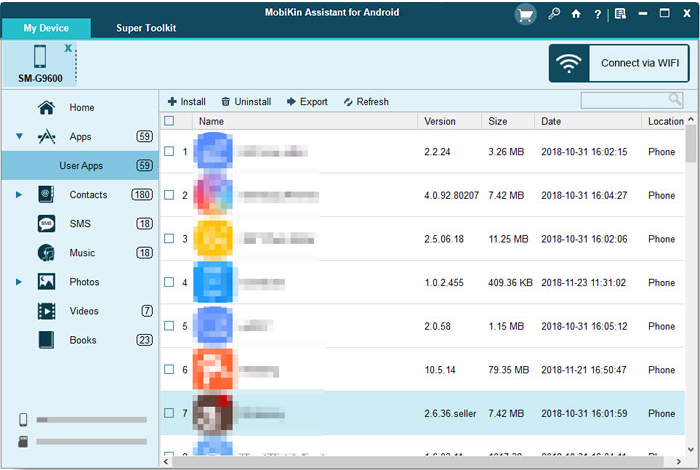 Bonus: How to See All the Apps Downloaded on Android
That's all for directions to download apps on Android. After that, follow the easy tutorial to check all the apps downloaded on your phone:
Run the Play Store app and tap the three horizontal lines at the upper-right screen.
Click on "My apps & games" from the menu.
At the top of the page, tap "Installed".
As the name implies, this is a list of all apps that are installed on your phone.

Tap "Library" from the top of the screen.
This is a list of all the Android apps, both free and paid, that you downloaded from Google Play.
Here, you also have the option to uninstall or update apps.
Additional Tips: How to install incompatible apps on Android with no root?
To download the incompatible or country-restricted app, you can get the app's APK file from Google Play alternatives before installing it on your device. And it's necessary to enable the use of unknown sources on your device.
Install incompatible apps on Android (No root):
Open your Android "Settings" > "Security options".
Scroll down to locate and touch "Install Apps from Unknown Resources".
When a popup window opens notifying security risks, tap "OK" to confirm.
After that, install an external apk. file from unknown resources.
Related Articles:
8 Best Screen Share Apps to Share Screen or Control Your Device Remotely
10 Best Android File Transfer Apps for Mac to Move Files Easily
Full Guide about How to Clear App Caches and Data on Android
How to Fix Android Crash? 12 Common Solutions You Must Know
5 Ways to Backup and Restore Android Apps and Data [100% Secure]
Apps Didn't Transfer to New iPhone 14/13/12/11/X/8/7? Try the 7 Solutions Here