Top 7 Apps to Hack Wi-Fi Password on Android Phone or Tablets
Wi-Fi password manipulation (hacking) was previously considered to be a very difficult task that would only be accomplished by professional hackers. Over the years, we have observed various technological advancements that have made it increasingly possible to hack Wi-Fi passwords. The android device is one such revolutionary technological advancement that has made it possible to carry out various tasks that were previously considered impossible. Nowadays you can easily use these life-saving technological tools to hack vulnerable wireless networks.
There are literally hundreds of Wi-Fi hacking apps that can be downloaded on the official Google Playstore. However, most of these apps are only used for pranking purposes and do not work. That is why this highly informative article is to provide you with the top 7 apps to hack wifi password on android that have been proven to work. All the apps described below are entirely based on "Graphical User Interface (GUI)" hence no coding is required for them to work.
Related Article: How to Backup WiFi Settings on Android Devices
Apps to Hack Wifi Password on Android Phones or Tablets
1. Router Keygen
This Android app can be used to generate accurate passwords of any wireless network provided that its router's default SSID and password have not been modified. The Router Keygen app which works especially with specific router models uses a sophisticated WPA and WEP encryption technology that are very effective. It is recommended that you use the beneficial Android WiFi hacker tool when you are in a large city to increase your chances of finding a vulnerable wireless network whose router is supported by the app's database.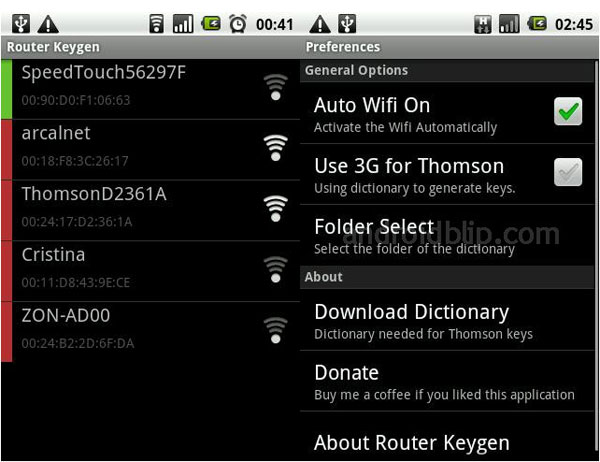 2. WiFi Hacker
The "WiFi Hacker" app is an Android wireless network manipulation tool that is guaranteed to work on both rooted and unrooted android devices. This amazing app supports a wide range of routers hence can be used to crack WiFi password from wherever you are. WiFi Hacker which is considered to be a leading WiFi cracking tool can be easily used to obtain any wireless network password of your choice straight from your smartphone or tablet.
3. WPS Connect
WPS Connect is an effective Android password manipulation tool that can only be used on rooted devices. This amazing app allows you to hack into any readily available WiFi network. You can then automatically connect to the vulnerable network using the generated password. Apart from hacking WiFi password, the WPS Connect android app also provides you with the ability to remove any other device that is connected to the same network.
Read More:
4. WiFi Password Breaker
You are guaranteed to always have full WiFi network access once you start using the "WiFi Password Breaker" application. This is because the beneficial Android app helps you to break or crack the password of any available public wireless network with ease. The highly effective manipulation tool will also go a step further to provide you with the new password of the public network whenever it is changed by the owner. WiFi Password Breaker makes use of a high-end "SSH1-a" algorithm that allows you to easily bypass any "WPA PPS or WPA-1" protected WiFi network.
5. WiFi Password
This is a unique WiFi manipulation tool that is designed to penetrate into any vulnerable wireless network system and then memorize the WiFi password saved in the default Settings menu. WiFi Password is guaranteed to work as it is able to display timely yet accurate passwords that you can then use to connect to the hacked wireless networks. The beneficial Android app can also automatically update you whenever the WiFi network's password has been changed by its owner.
6. WiFi & Router Password Finder
You can easily use this Android app to obtain the default password of any wireless network or router of your choice. You are guaranteed to generate multiple default passwords of over 1200 supported WiFi routers when using the android app. "WiFi & Router Password Finder" is fully automated thus making it possible to find any vulnerable wireless network and generate the required password on its own.
7. WiFi Hack Pass Premium
WiFi Hack Pass Premium is also an effective WiFi manipulation tool that can be used to break or crack any available potentially vulnerable wireless network. The Android WiFi hacking tool is very easy to use and all that is required is for you to install it on your device, launch it and then allow it to run independently on its own.
The Bottom Line
Congratulations! Now you can easily download any of the applications provided above to enjoy unlimited access to any wireless network of your choice. It is highly recommended that you use the information provided in this article entirely for educational purposes as hacking someone else's private wireless network may be considered to be unethical. Have a fantastic hacking session, won't you?
Related:
How to Reset Your Gmail Password on Android Less than 5 Steps
How to Manage Samsung Apps on PC/Mac
How to Transfer or Copy Contacts from HTC to Computer
Best 10 Android Desktop Managers to Manage Your Android Devices on PC/Mac in 2023
Top 6 File Manager for Android to Keep Your Device Organized (2023)
Top 5 Android PC Suites - Help You Manage Your Android Phone with Ease