Guide on How to Use Instagram Hashtag
While posting photos or videos on Instagram, users always face one problem- whether to use the hashtag or not. At this moment, some of you may like this feature since it can help you to sort out your images or videos. Then one more question comes here- how to use Instagram hashtag? Some of you may know what it is but do not know how to use it effectively. So a guide about how to use hashtag on Instagram is written here to help you.
What is Hashtag on Instagram?
Hashtag is a feature of Instagram. It can help users to organize and categorize the photos and videos on their Instagram. While sharing images or videos on Instagram, there will be lots of hashtags for you to select. You can choose the proper one from them and then add it. This will make your post discoverable- other Instagrammer can find your posts by searching the hashtag. Here, the more popular your post is, more users can see it. But you need to pay attention to the number of the hashtags- you can add no more than 30 hashtags for one post.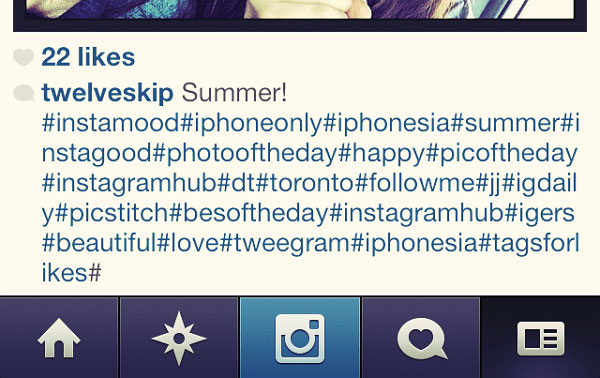 Why You Need to Use Hashtag?
No matter you only want to share the pictures with your friends or wish to let more users see your post, adding a hashtag for the post would be better for you. That's because all these Instagrammers can benefit from the hashtag.
For the users who just want to share the pictures or videos with their friends, a hashtag can help them to sort out the pictures and videos according to different theme. This would help you to manage the Instagram images and videos more easily.
For the Instagram account that is related to brand or the users who wish to share some beautiful or interesting things with more people, they can use the hashtag to grow their Instagram account. As long as you use a right hashtag, your post is more likely to attract new followers, get more likes and increase engagement. This would greatly expand the influence of your Instagram account.
Anyway, the advantages of using a hashtag far outweigh its disadvantages.
Guide to Add Instagram Hashtag
From the above, you can see that a proper hashtag can make your post more reachable and discoverable on the corresponding hashtag page so why not try to add one for your post? The adding process would be simple and time-saving. Just follow the detailed steps below to have a try first.
Step 1. Open your Instagram and then take or upload the photo or video that you want to share.
Step 2. Next, you can start to add the hashtag for the picture or video. Here, if you want to add hashtags to a post that you've already uploaded, you can tap on the three dots icon, namely the menu icon at the top right corner of your screen and elect Edit from the list. But if you want to take a new photo or video, you can tap on the circle button to take a new one. Then just select the filters and do any editing if needed.
Step 3. Now you can add the tags in the description and keep your tags relevant.
Step 4. After that, you can tap on OK at the top of the screen to finish the edit and then hit Share to show your tagged photo or video.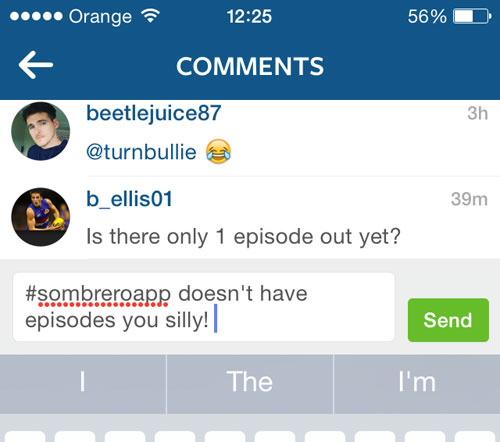 Can't miss:
Upload Photos/Videos from Gallery to Instagram Story
Guide on How to View or Hide Instagram Stories
How to Organize Your Instagram Hashtags?
Since there are many hashtags available for Instagram users to use, your hashtags might be chaotic. So do you want to organize your Instagram hashtags? If you want, do you have a system for organizing the hashtags? Or can the system you currently use meet all your requirements? If not, you need a system to help you organize your Instagram hashtags. This would also help your Instagram and post to get more likes and engagement.
And here, the simplest but effective way to organize your hashtags is to post them into Google Sheets. That's because Instagram requires you post from mobile device and Google Sheets is mobile-friendly. To organize the hashtags on your Instagram, you can:
Step 1. Create a new spreadsheet and add the following headers: hashtags, category, # of posts, date, and comments.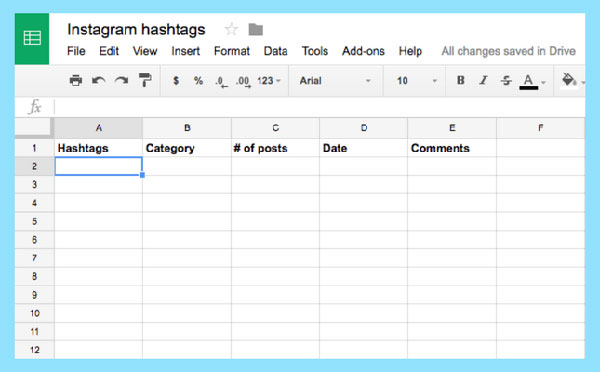 Step 2. Next, just enter your hashtags and their relevant information.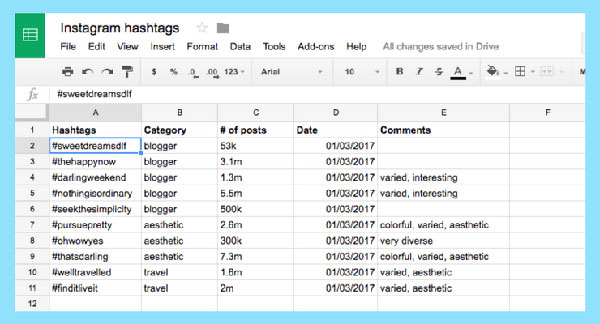 Or you can use the Later's Saved Captions feature to organize the tags. The detailed steps are:
Step 1. Create templates to save your most commonly used hashtags.
Step 2. Select one of your Saved Captions to add it to your post.
Do you have a better understanding on Instagram hashtag now? If you do, just go to have a try.
Related Articles:
Different Ways to Save Instagram Photos on Android
Tips to Direct Message on Instagram from PC/Phone
Tips to Transfer Text Messages from Android to Computer
Must-Have App Manager for Android Users