Guide on How to View or Hide Instagram Stories
On Instagram Story, you are able to share photos or videos with your followers as well as view the stories of the people that you follow. But the functions of this application are more than that. And today, in order to help you make full use of the App, tips about how to view or hide Instagram Stories will be provided here. It can help you to manage the Instagram Stories more effectively.
Tips about Viewing Instagram Stories
In this section, 3 common problems about viewing Instagram Stories will be discussed. If you have the same problem, you can go with the specific steps below to settle the problem.
1. How to See Instagram Stories on Mobile Phone/PC?
This would be the most common and simple about Instagram Stories. To view the Instagram Stories on your Android phone or iPhone, you can:
- Just open Instagram on your phone and on the main interface, you will see a row of profile photos that belong to the users who you are following. If you see a colorful ring around their profile photos, that means they have shared photos or videos on Stories and you haven't seen them.
- If so, you can tap on the profile photo to view his/her story. Here you can also go to the user's profile to view the story from his/her page.
If you want to see the stories on computer, you need to install the application- Chrome IG Story on it cause the Instagram Stories won't display when you login to your account from the Instagram website on computer.
2. How Can I View Others' Instagram Stories Secretly?
Normally, Instagram will inform users when someone view their stories. But sometimes some users may want to see the stories secretly, namely viewing the stories without informing their publishers. To achieve this goal, you need to:
- Launch Instagram on your phone and then go to Home Feeds. Here Instagram will pre-load all the new feeds and stories automatically.
- Now you need to wait till Instagram has loaded all the stories that the people you are following publish.
- After that, you should disable your Wi-fi and cellular data network connections and then tap on the story that you want to view.
- Once you have viewed all the stories that you want to know, you need to close the story and turn on your Wi-fi or cellular data once again.
That's it! By using this method, you are able to view all the Instagram Stories that you are interested in without creating any track.
3. Is It Possible to Know Who Has Viewed My Instagram Story?
After uploading pictures or videos to Instagram Story, you must want to know who has viewed the story. And fortunately, this is not a difficult task to accomplish. If you want to know the viewers of your story, you can:
- Enter your story from the top of your profile.
- Just swipe up and you will be able to see who has viewed the uploaded story. Here if you see "No view yet", it means there is no one has seen the story yet.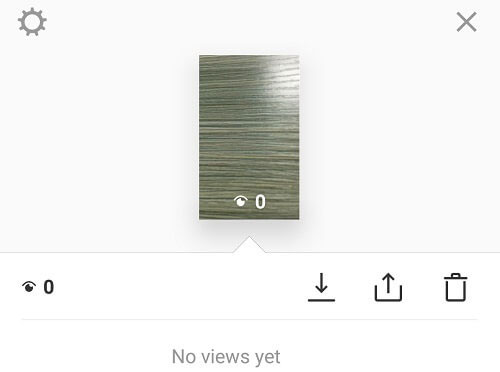 Also read:
Instagram Video Not Playing on Android? Solutions are Here!
[Fixed] Cannot Upload Videos to Instagram, How to Fix It?
How to Hide Instagram Stories?
Except for viewing stories, some user may want to hide their or others' stories. This is also achievable.
1. How to Hide Instagram Stories from Certain Users?
To prevent certain users from viewing your Instagram stories, you can simply:
- Go to Instagram and tap on your profile to enter the Settings section.
- Next, select Story Settings under the Account section.
- Then you can tap on Hide Story From option and elect the users that you want to hide the stories from.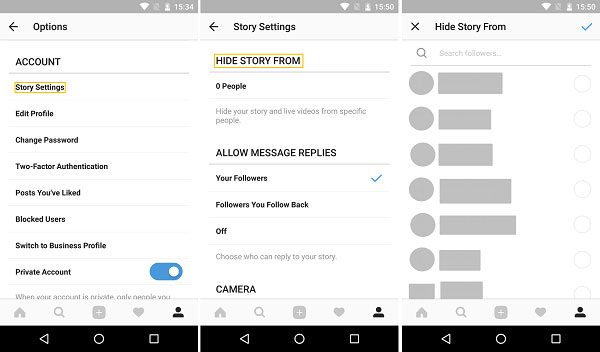 After, the users in your list will not be able to view your Instagram Stories. And if you change your mind, you can remove their names from the list to enable them see your stories again.
2. What If I Want to Mute Someone's Instagram Stories?
Another situation is that you do not want to see a specific user's story. Then you can mute his or her story. But how to perform the muting process? The following steps can give a guide.
- Find out the profile picture of the user that you want to mute from the top of your Home Feeds.
- Tap on the profile photo and then swipe up to bring out the option- Mute someone's story. Just tap on it.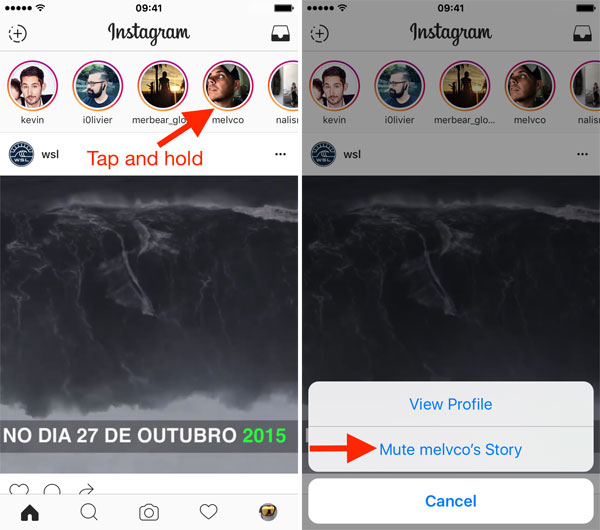 Done! From now on, you won't see any story from the selected user while viewing stories on your Instagram.
Related Articles:
Different Ways to Save Instagram Photos on Android
Tips to Direct Message on Instagram from Phone/PC
How to transfer videos from Android to Android?
[Solved] How to Transfer Text Messages from Android to Computer/PC?
How to Transfer Contacts from LG Phone to Computer? [4 Proven Ways]
Samsung Galaxy Backup - How to Backup Galaxy S8/S9/S10 with Ease?