iTunes Backup to Android Transfer: How to Sync iTunes Backup to Android?
Data on smartphones is vulnerable to loss or deletion. So most of us tend to back up files of cellphones in case of need. For instance, when you get a new Android phone, and you suddenly realize that there are iOS backup files on iTunes. Well, can you do iTunes backup to Android transfer directly?
We will share with you three simple ways to restore iTunes backup to Android here. (How to restore iTunes backup to iPhone/iPad?) Just get the reliable tips in this passage now.

Part 1: Is It Possible to Transfer iTunes iPhone Backup to Android Directly
No! You cannot transfer iTunes iPhone backup to Android directly. One of the key reasons is how different the OS firmware actually is. Let's understand why it's not possible to do it.
The default backup of Android devices is Google Drive, whereas it is iTunes for iOS devices. This means if you are using an iPhone, your data backup files are stored in iTunes. For these data to reflect in Android backup, you'll have to move your backup from iTunes to Google Drive first and then to your Android phone.
You May Also Need:
Part 2: How to Transfer iTunes Backup to Android in One Click
Now, a program that supports both iTunes backup extraction and Android data transfer can get the job done well. Here, you can have a look at iTunes to Android Transfer. This program allows you to restore iTunes/iCloud iPhone backups to Android and back up data from Android to computer seamlessly.
Core features of iTunes to Android Transfer:
Restore/Transfer iTunes/iCloud backups to Android or iOS devices.
Let you preview and select the data types you wish to restore.
Work for overall file types, including contacts, call history, messages, calendar, photos, notes, voice memos, etc.
One-tap to back up Android devices selectively.
Get on well with various Android devices, including Samsung, Huawei, Xiaomi, Motorola, LG, Sony, HTC, Google Pixel, OPPO, Vivo, OnePlus, etc.
It won't disclose your privacy.
How to restore iPhone backup to Android phone iTunes to Android Transfer?
Step 1. Select "Phone Backup"
After the download, please install and open the program on your computer. Next, select "Phone Backup" from all the features.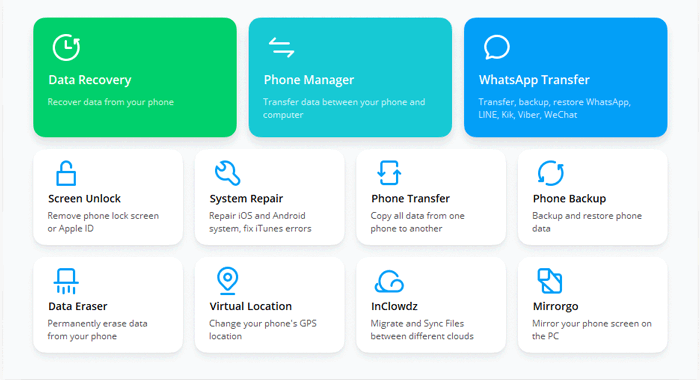 Step 2. Link your Android phone to a computer
Now, connect your Android phone to the computer via a USB cable. When the connection is created, tap "Restore" from the main interface.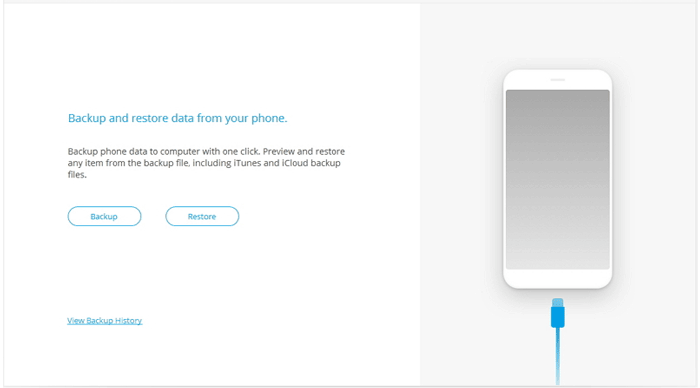 Step 3. Select the "Restore from iTunes backup" section
Choose "Restore from iTunes backup" from the left sidebar. The tool will then detect the location of iTunes backups and display them one by one on its screen.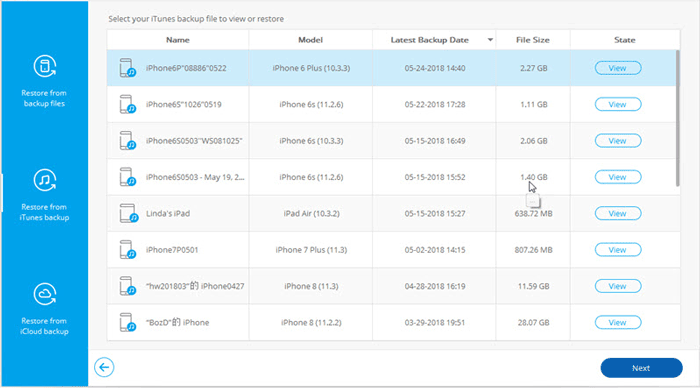 Step 4. Restore iTunes backup to Android phone
Choose one of the iTunes backup files you need and click "View". The program will detect and list all the specific data types. Go for the file category from the left and mark your desired files before tapping "Restore to Device".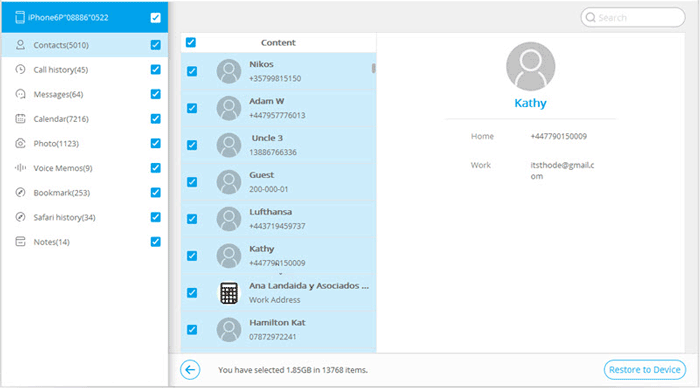 Finally, from the pop-up window, choose the linked device and click "Continue" to start restoring iTunes backup to Android.
Note: Data cannot be restored if your Android phone does not support the corresponding types.
Part 3: How to Transfer iTunes Files to Android Manually
Android isn't compatible with the Apple ecosystem. While iTunes can sync music files to iOS/iPadOS devices, it cannot do the same with Android devices. Yet, you can manually copy your iTunes music library to Android instead.
How to transfer data from iTunes backup to Android manually?
Connect your Android device to your PC.
Choose to use your phone in MTP (may be called Transfer Mode).

Start File Explorer and go to your Android device's music folder.
Open a second File Explorer window and navigate to your iTunes music files.
You can open a second "File Explorer" window by right-clicking the "File Explorer" icon from the toolbar and then tap "File Explorer".
Drag and drop tracks from iTunes backup location to your Android phone.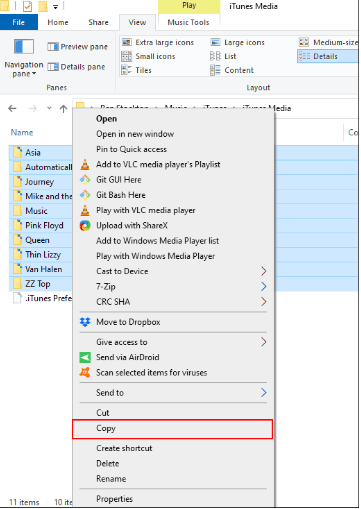 By default, iTunes music files are located at: your username/This PC > Music > iTunes > iTunes Media > Music. You can then drag and drop artist folders or single tracks from one window to another or select all the music you want to copy from iTunes. Lastly, select your Windows File Explorer window displaying your Android music and right-click the songs > Paste.
Know More:
Part 4: How to Sync iTunes Backup to Android Using Google Play Music
Google Play Music enables you to store up to 50,000 tracks of your music collection. Once you've uploaded songs to Play Music, you can access and listen to them on Android, iOS, or web device if you log in to the service.
This service is great because you don't have to store your music on your device itself, potentially saving a large amount of storage space. (How to free up internal storage on Android?) Yet that means you'll need an Internet connection to access and listen to your music.
How to sync iPhone backup to Android with Google Play Music?
Visit Google Play Music on a web browser from your computer and sign in to your Google play account.
Click "Upload Music" at the right-hand corner of the screen.

Then click "Download Music Manager" and follow the directions to download and install music manager on your computer.
Sign in to your Google Play account, check "Upload songs to Google Play", and click "Next".
Select iTunes when the download manager asks for the location of songs and click "Next" again.
It will go through your iTunes library and upload the playlists to Google Play.
Download the Google Play Music app on Android and log in to your Google account.
After signing in, you will be able to access your library from your Android device.
Calling It a Wrap
That's all for how to transfer iTunes backup to Android. In conclusion, if you only need to restore music from iTunes to Android, you can choose any of the methods above. However, assuming you want to restore data like contacts, call history, messages, calendar, photos, don't hesitate to pick iTunes to Android Transfer. Finally, any questions? Please leave a message below.
Related Articles:
Top 6 iTunes Alternative for Android Phones/Tablets in 2021
How to Transfer iTunes Music to Android (5 Proven Ways in 2021)
2 Quick Ways to Transfer Playlist from iTunes to iPhone 13/12/11/XR/Xs/X/8
Transfer Data from iPad/iPhone to Android in 7 Incredible Methods
3 Best Ways to Backup and Restore iPhone (#3 is Excellent)
6 Methods to Backup and Restore Your Samsung Galaxy/Android Phone