How Do I Free Up Space on My Samsung Phone and Tablet? [Solved]
Do you find that your Samsung tablet or mobile phone runs slowly, does not respond, or even keeps freezing? This is probably because the device has been used for a long time and is cluttered up with a large amount of data. In order to make it work well, it's necessary to release the memory of the device. Well, is there any suggestion on how to free up space on Samsung tablets and phones?
OK, in this review, we'll summarize 8 quick solutions for Samsung storage space cleaning and an ultimate way to let your device take on a new look.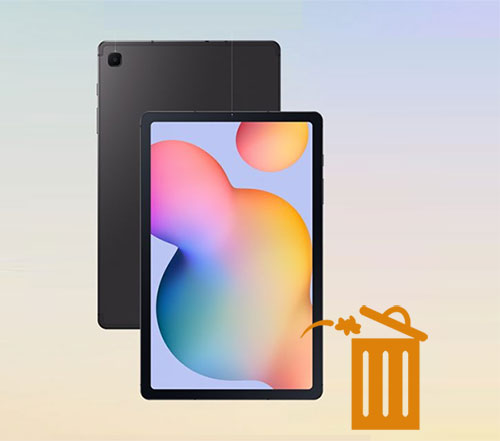 Part 1: 8 Quick Fixes to Free Up Space on Samsung Tablet
Fix 1: Transfer Important Files from Samsung Tablet to Computer
Primarily, the most effective way is to transfer some vital and large content from the Samsung tablet to separate storage like a computer. You can transfer data from Samsung tablet to computer selectively or in batches with MobiKin Assistant for Android (Win and Mac). Now, let's see how to use the program to move files from Samsung to computer to illustrate how to free up space on a Samsung tablet or phone:
1. You can download it to your PC/Mac before installing and opening it. Then connect your Samsung device to the computer with a USB cable.
2. After the tablet/phone is automatically detected by the tool, just go to the file types from the left side menu, preview and select the files you want to transfer, and then click "Export" button on the top menu.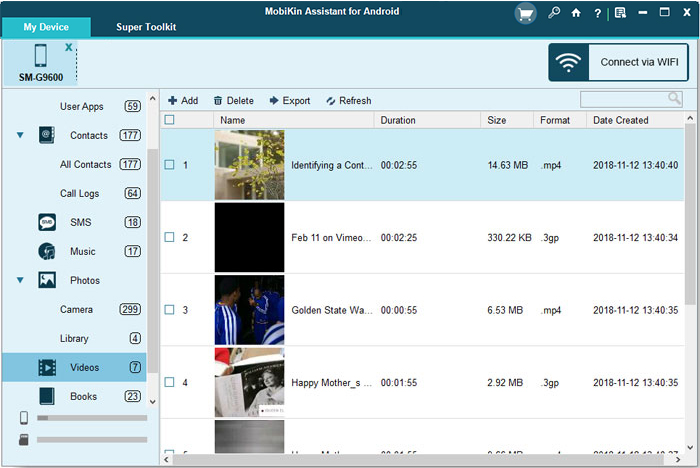 3. You can also go to Super Toolkit > Backup > Tick off the file types > specify a location to store the items and then tap "Back Up".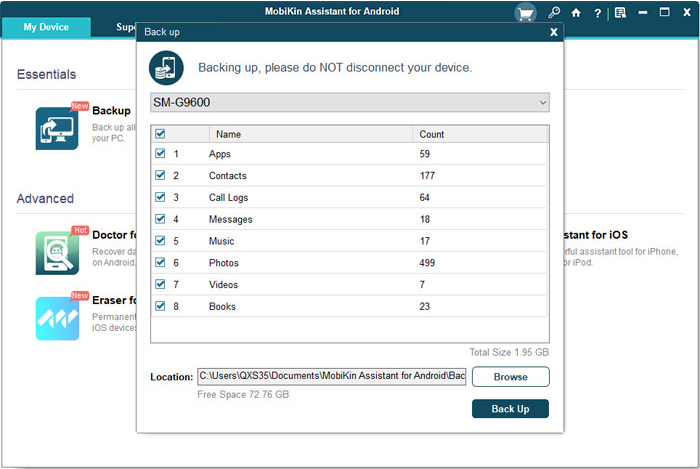 After the data backup, you could delete the corresponding files from the tablet without any hesitation.
Read Also:
Fix 2: Clear Cache on Samsung Tablet
There are various temporary files on a Samsung tablet/phone, including cache, file installation package, browsing records, and so on. They often eat up the device's memory. The longer the time, the more these files will be. Samsung tablet/phone has an intelligent manager - Cleanmaster. And you can delete useless files with it.
Plus, are there any other tips on how to delete miscellaneous files on a Samsung tablet or phone? Definitely! Simply start your tablet to go to Settings > System > Storage > Cached data > Clear cached data > OK to erase something unimportant.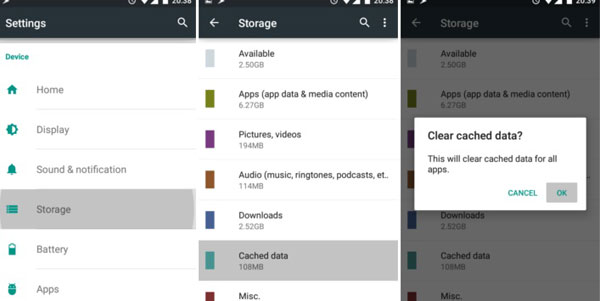 Fix 3: Uninstall Unnecessary Apps
You're allowed to clear Galaxy storage space in 2 ways. First, on your Samsung tablet/phone, tap on "Apps" from its Home screen to go to Settings > Application manager. Next, press and hold the unnecessary application to go for Uninstall > OK.
By the way, it's pretty simple to uninstall apps from Samsung with MobiKin Assistant for Android. Just launch the program > connect your Samsung tablet > click Apps from the left side of the screen > check the apps you want to remove > click "Uninstall" option from the top menu.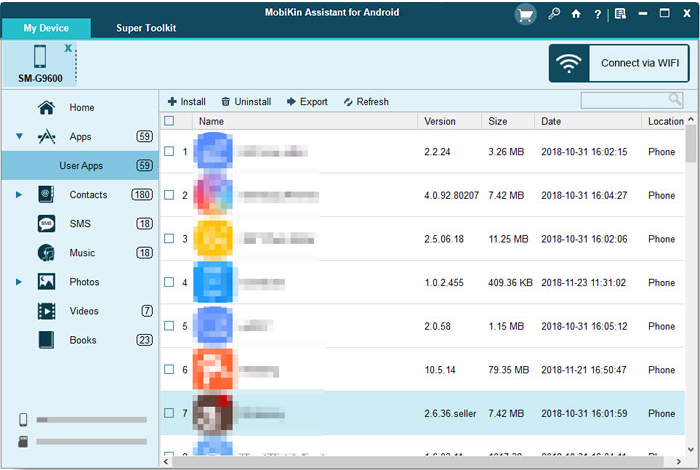 Fix 4: Delete Old Messages
Samsung devices receive various messages almost every day, some of which contain attachments. Most phones offer the feature to delete old SMS. Here's how to free up space on Samsung Galaxy S5/S6/S7/S8, etc.:
On your Samsung mobile, go to the "Messages" app and touch More > Settings > More settings to turn on the "Delete old messages" button.
Fix 5: Make the Best of an External SD Card
Most Samsung smart devices support external SD cards. To have Samsung clean up and make the most of the SD card, you can move videos, photos, and even most app data to the card (excluding some game apps).
To do so, tap on Settings > Applications/Apps to choose "Application manager". This will bring you all the apps on the Samsung device. Press the app to go to the window of "App info" and then click "Move to SD Card" to proceed. Yet, for some models, you need to move the apps by heading to Storage > Change > SD card.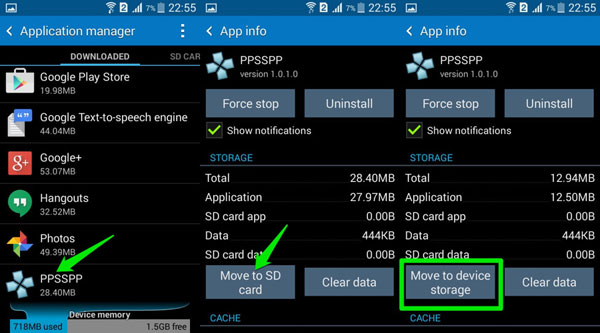 Note: Here, if you choose "Move to device storage" (see the image above), your apps data will be migrated to the internal SD card.
Fix 6: Delete Downloaded Items
Anything you download on a Samsung tablet or phone will be saved to the "Download" or "My Files" folder by default. The content will undoubtedly occupy the limited mobile memory. To free up Samsung device storage, you can choose to remove these items from the "Download" folder or just do that by referring to the post: how to delete downloads on Android devices.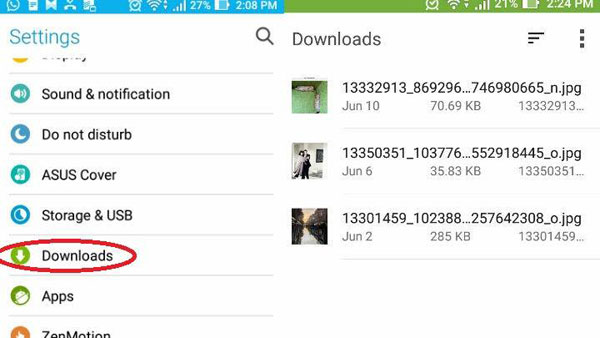 Fix 7: Limit the Size of Media Files
Photos, videos, music, and other multimedia content are often the main "users" of Samsung devices' memory. The higher the pixel of photos, the more memory they take up. The same is true for videos. The frame rate of a video determines its size. For instance, videos in UHD and QHD resolution would bring more burden to the Samsung device.
So, if you encounter storage space running out of the Samsung tablet/phone, just go to the camera to find the "Settings" menu, and set the resolution of the photo and video.
Fix 8: Factory Reset Samsung Tablet
If you don't want to go through the tedious steps above one by one, and you've already taken a backup of Samsung data, then factory reset is an option worth considering. This process will return your Samsung device to its original state, which means the files on it will be all gone. And you can recover Samsung data after the factory reset.
Wonder how to delete files on Samsung tablet/phone through factory reset? Simply fulfill it by going to Settings > Backup and reset > Factory data reset and select Reset phone.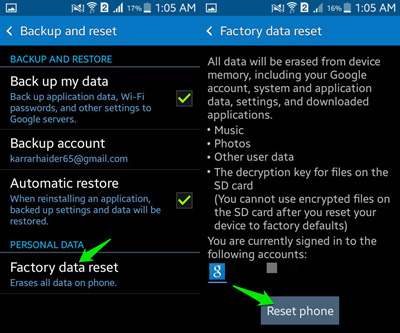 You May Need:
Part 2: Ultimate Way to Free Up Samsung Storage Space
After making efforts to clean up Samsung device storage, it may turn out that the results are not as good as you expected. Now you can consider taking the ultimate approach by using Mobikin Eraser for Android. It is a customized tool for all Android devices to clean the memory. With this smart software, simply clicks will result in a "brand new" gadget.
Yet, the process would clear everything from the tablet/phone. Thus, it is recommended to pick out a reliable Samsung backup tool to make a backup of the Samsung device in advance.
Before learning how to free up space on Galaxy via this program, let's first go through:
Some main characteristics of MobiKin Eraser for Android:
Wipe away all the existing data on your Android device.
3 different cleaning levels meet your different needs.
3 easy steps to safely wipe out your Android tablet/phone.
Clean interface, ads-free, and easy to run (offline operation).
Perform tasks in various Android devices, including Samsung Galaxy Tab E/Tab A/Tab S7/Tab S6/Tab S5/Tab S4, Galaxy S10/S9/S8/S7/S6/S5/S4/S3, etc.
It makes privacy protection a top priority.

How do I free up space on my Samsung phone or tablet with Eraser for Android?
Step 1. Install the Samsung storage manager
To start with, download and install the program on your computer. Launch it and take out a USB cord to connect the Samsung tablet to the computer. Then you ought to enable USB debugging on the Samsung device if prompted.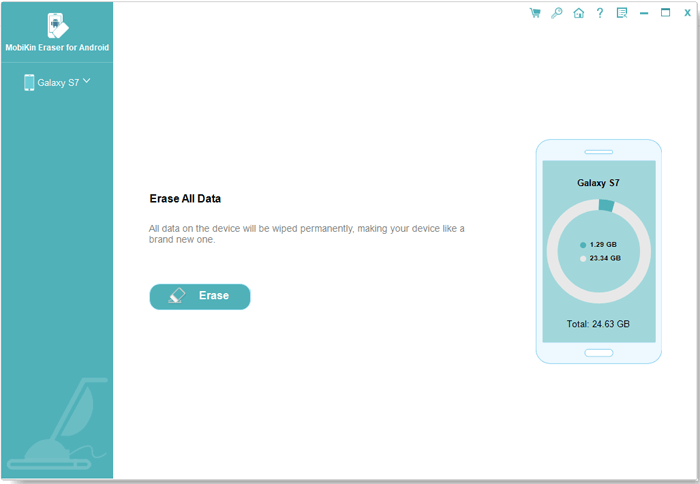 Step 2. Select the security level
When your device is detected, you can tap "Erase" to make a new window appear, from which you're required to choose a security level as needed and input "delete" to confirm.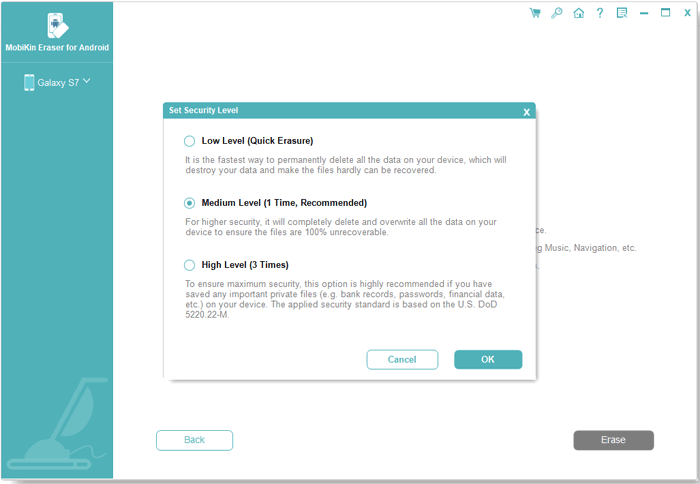 Step 3. Erase the Samsung device
Next, press "Erase" again to wipe out the Samsung data. This process will be completed in a short time.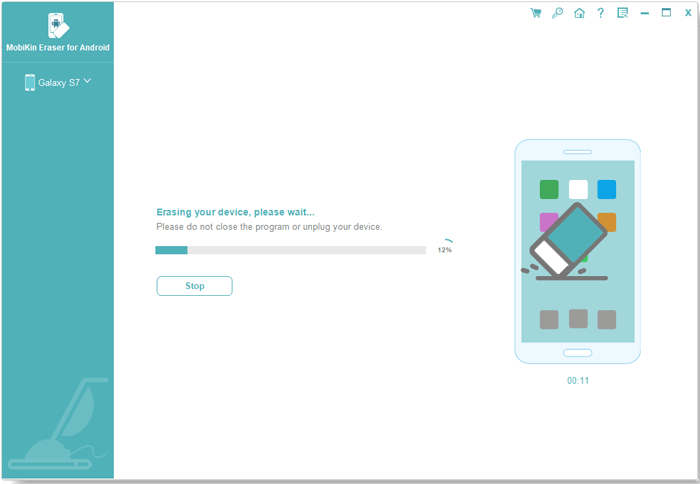 Once accomplished, to free up space on the Samsung tablet thoroughly, you can click "Continue" and follow the on-screen instructions to factory reset the device. Finally, all the system settings and data will be erased.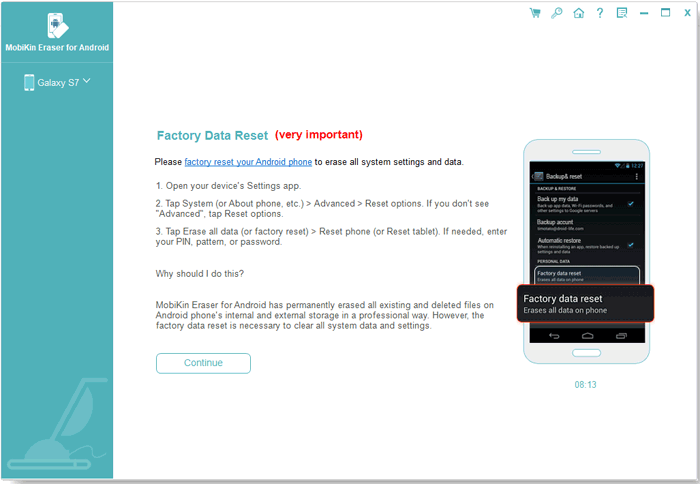 Closing Remarks
Both Samsung mobile phones and tablets play the role of hard drives in everyday life. Since the device is often used, it would fill up alarmingly fast. The habit of cleaning it up regularly can not only make it work better for you but also prolong its service life.
The 8 quick solutions mentioned above may let the device function properly in the short term. But if you wanna have a thorough cleaning of the tablet/phone after making backups, MobiKin Eraser for Android will certainly do you a big favor.
Related Articles:
One-Click to Delete Cookies on Samsung Phone/Tablet
Quick Way to Delete Games on Android Phone/Tablet
3 Ways to Delete Photos from Samsung Galaxy Permanently in 2023
How to Transfer Photos from Samsung Phone to Tablet? [5 Easy Ways]
Complete Guide to Fix Samsung Tablet Problems