4 Fabulous Ways to Recover Deleted Videos from Android Phone
Whether it's due to accidental deletion, an Android crash, or a device malfunction, the loss of cherished video clips can leave you getting frustrated and anxious. Fortunately, there are an array of avenues to get back deleted or lost videos on Android, both with and without a backup. OK, this tutorial explains how to recover deleted videos from Android by providing four proven methods. Now, go through this page before fetching your precious clips successfully.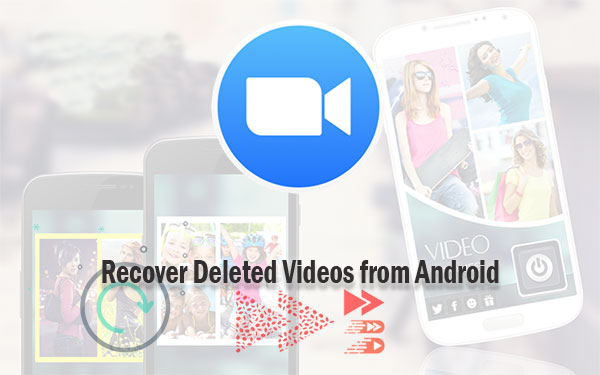 Part 1: Where Are Videos Saved on Android?
On Android devices, videos are typically saved in the "DCIM" directory. This directory is the default location for storing photos and videos captured using the device's camera app. To locate your videos, you can follow these steps:
Open the "File Manager" or "File Explorer" app on your Android device.
Look for the "DCIM" folder and tap on it. It is usually located in the internal storage or the main storage directory of your device.
Within the "DCIM" folder, you should see a folder named "Camera" or "Videos." Tap on that folder to access your videos.

Inside the "Camera" or "Videos" folder, you will find all the videos saved on your Android device. (The specific name of the app and the file organization may vary depending on your device manufacturer and Android version.)
Similar Resources:
Part 2: Can You Recover Deleted Videos on Android?
Yes, it is possible to recover deleted videos on Android, but the success of the recovery process depends on several factors. When a video or any other file is deleted from an Android device, it is not immediately removed from the storage. Instead, the space it occupies is marked as available for new data. Until that space is overwritten by new files, there is a chance to undelete Android videos. Therefore, it's recommended to attempt the recovery as soon as possible and avoid using the device for storing new files until the salvage is attempted.
Part 3: How to Restore Deleted Videos on Android from Recently Deleted
Often, newer Android phones have a two-step deletion process for videos and photos. When you delete them from the Gallery app, they are moved to the "Recently Deleted" folder for about 30 days. The videos you selected will be restored from that folder and placed back into the designated folder. Here, keep in mind that the availability of the "Recently deleted" folder may vary slightly, depending on your Android device and the Gallery app you are using.
How to recover deleted videos from phone memory from Recently Deleted?
Launch the Gallery app and navigate to the "Albums" section. (Android Gallery doesn't show pictures/videos?)
Scroll down until you find the "Recently deleted" option and tap on it.

Long-press on one of the videos you wish to recover.
Select additional items you want to restore by tapping on them.
Finally, tap on the "Restore" button to recover the deleted videos and photos.
Part 4: How to Retrieve Deleted Videos on Android via Google Drive
If you have previously backed up your videos to Google Drive, it is possible to restore deleted files directly to Android without the need for a computer. Next, let's see how to get back deleted videos on Android using Google Drive:
Access the Google Drive webpage or launch the Google Drive app on your device using the same account you used for backup.
Once logged in, you will find all the videos you backed up with Google Drive.
Choose the specific video clips you want to recover.
Proceed to download them to your device.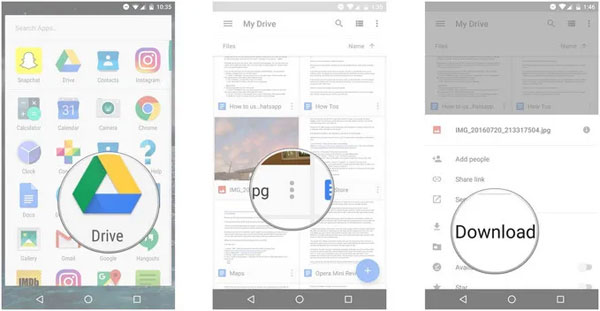 Learn More:
Part 5: How to Recover Deleted Videos from Android via Google Photos
You can conveniently retrieve videos directly without the need for a computer or any external tools if you have previously backed them up from your Android device to the Google Photos app. (Is Google Photos backup not working?) Next, let's see how to find lost video on Android phones via Google Photos:
Launch the Google Photos app on your Android device.
Tap the "Menu" button located at the top left corner of your screen.
From the options available, select "Trash".
Look through the list and select the videos you wish to recover.
Once you have made your selection, tap the "Restore" button to initiate the recovery process.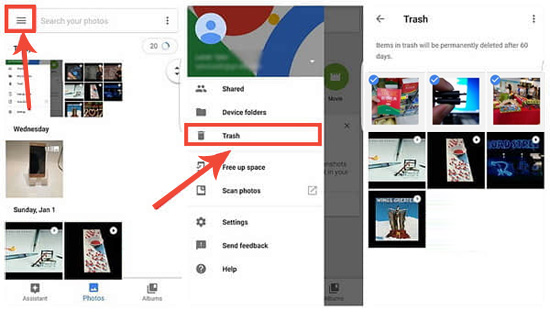 The availability of deleted videos in the "Trash" or "Bin" folder depends on the retention policy set by Google Photos, which is usually around 60 days. If the videos have been in the trash for longer than the retention period or if they have been permanently deleted from within, it may not be possible to recover them in this way.
Part 6: How to Recover Permanently Deleted Videos from Android without Backup
How do I recover permanently deleted videos from my phone without a backup? It can be overwhelming to search for and compare different recovery programs before determining the most cost-effective option when there's no backup available. However, with the discovery of this post, you no longer have to worry about doing so. MobiKin Doctor for Android (Win and Mac) is a highly recommended and powerful Android video recovery software. It works like magic, ensuring a high success rate in recovering your lost videos.
Why choose MobiKin Doctor for Android?
Trouble-free to recover deleted videos from Android internal storage or SD card.
Restore other types of data such as contacts, call logs, text messages, audio, photos, documents, and more.
Before recovering, you have the ability to preview deleted or lost files on a computer.
Utilize the "Quick Scan" and "Deep Scan" options to thoroughly scan and locate the missing videos.
Work well with almost all Android/iOS devices, including Samsung, HTC, Motorola, Asus, Xiaomi, Huawei, DELL Sony, LG, vivo, OPPO, etc.
It won't let out your privacy.
How to recover permanently deleted videos from Gallery without backup?
Step 1. Run the program and connect your phone to your computer
Begin by installing and launching this software on your computer. Link your device to the computer using a USB cable. You may need to enable USB debugging on your Android phone to make a virtual connection.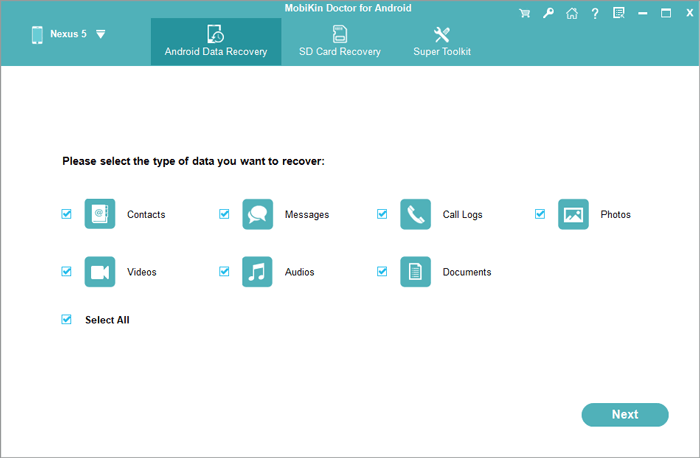 Step 2. Scan out the videos on Android
Once the connection is established, select the "Videos" option and click "Next". Then choose a scanning mode to scan your device. If the program cannot detect the removed videos, please follow the on-screen instructions to root your phone and perform a comprehensive scan.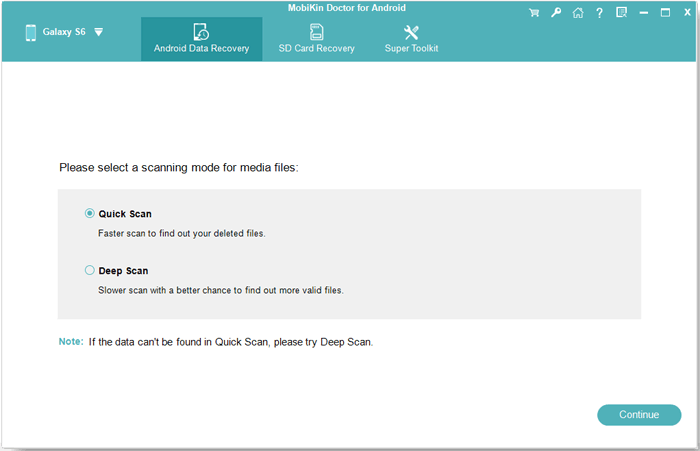 Step 3. Recover deleted videos from Android phone
After the scan is complete, preview and select the desired videos from the program interface. Finally, click "Recover" to restore the deleted videos from your Android phone.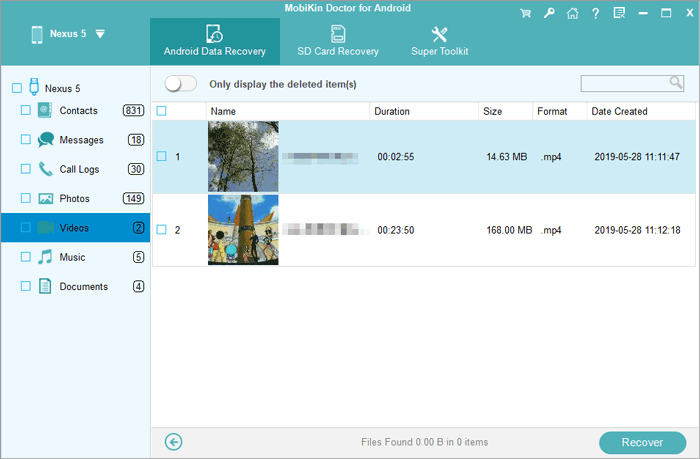 Additional Tips: How to Secure Android Videos Technically
Instead of struggling to figure out how to restore permanently deleted videos on Android, keeping the content safe with some steps would be more forward-looking. By implementing these technical measures, you can enhance the security of your Android videos and reduce the risk of unauthorized access or data loss. Here are some of them:
Install a reliable app lock application from Google Play Store. (Can I install Android apps from PC?)
Enable device encryption on your Android device.
Secure video apps with biometric authentication.
Equip your device with a strong lock screen.
Use a secure cloud storage service.
Regularly update your device and apps.
Be cautious with app permissions.
Closing Thoughts
On the whole, we share the same feelings with you when faced with video loss out of the blue, but there is hope for recovery. This page equipped you with the necessary knowledge and resources to retrieve your deleted videos, whether you have a backup or not.
Please remember - it's important to act promptly and avoid using your device extensively after video loss to maximize the chances of successful recovery. By following the guide on how to recover deleted videos from Android differently, you'll be empowered to reclaim your cherished videos and preserve those precious memories or valuable content.
Related Articles:
MobiKin Doctor for Android 4.2.55 Full Crack - All You Want to Know [Latest]
5 Most Effective Solutions to Recover Deleted Voicemail on Android
Android File Transfer for Windows: 7 Best Tools to Sync and Backup Android
Top 8 MP4 Screen Recorders: Which One Do You Like Best? [Pros, Cons, Reviews]
[2023 Updated] How to Transfer Videos from Android to Android
[Fixed] How to Unlock Android Phone Password without Factory Reset?