Want to Change the Notification Sounds on Android? Tips are Here!
It is human nature that users get tired of the changeless notification ringtones and wish to use the sound they like to be their notification sounds. Then problems come here- how to change the notification sounds on Android and how to add new ringtones to the device? In fact, both of these two problems won't be hard to fix only if you go with the tips below carefully.
How to Change Notification Sounds on Android?
To change the notification sounds on Android, you have several options:
1. Change notification alerts in built-in options
- Tap on the Settings icon on your phone screen to enter the application.
- In this section, you need to select Sound and Notification or Sound option from the listed features.
- Next, you can go to Default Notification Ringtone or Notification Sound and choose a custom notification sound Android containing many Android message sounds.
Notice: If the option Default Notification Ringtone or Notification Sound is greyed out, the device might be in vibrate or silent mode. Just turn the volume up or disable the silent mode to turn on the feature.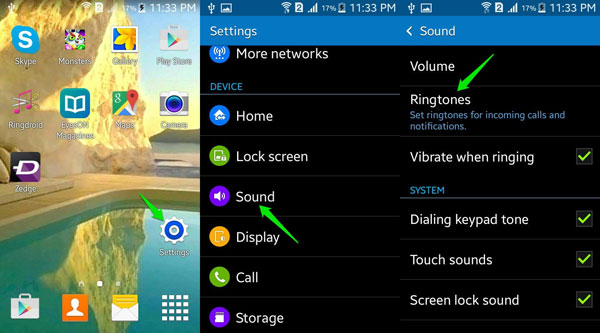 - Just select the wanted sound and tap on OK to change the notification sound.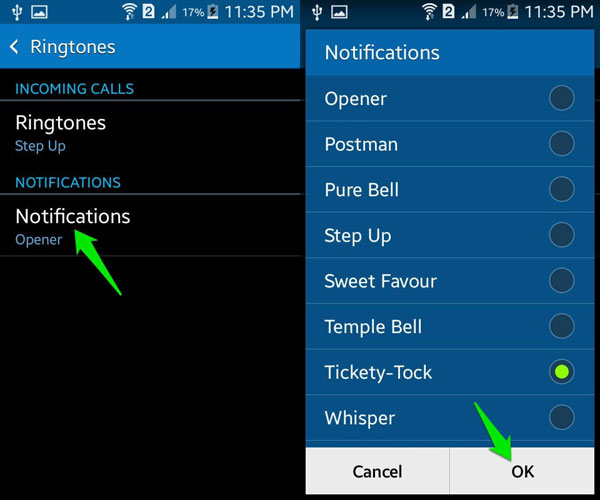 2. Switch text sounds via ES File Explorer
Normally, the build-in notification sounds on Android phone are always monotonous so some users may want to use the media files they like to be the notification sound. This is also possible but would be a little bit difficult cause it can only be completed with third-party tool like ES File Explorer. To use this application to change the ringtone on your phone, you can:
- Follow the steps above to change the ringtone.
- After you tap on Default Notification Ringtone option, you need to select Use a different app here and then click on ES File Explorer.
- Next, just activate the Android text message sound file you like and then it will register as a droid notification sound. So you can choose it from the default Android text message sound chooser now.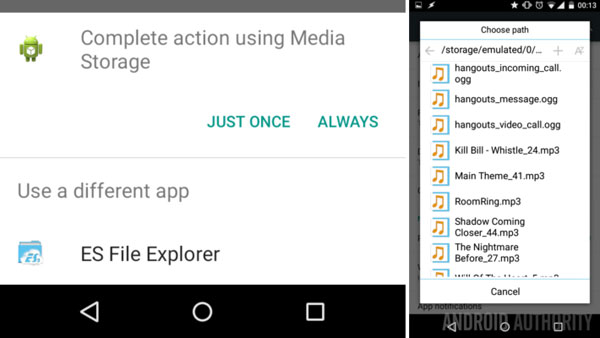 How Can I Add New Notification Ringtones to Android Phone?
For the people who want to use their own media files as the ringtones, one of the problems that they most care must be how to add new notification ringtones to Android phone. So in this part, we will tell you a means to add the ringtones.
- At first, you need to download ZEDGE application from Google Play Store.
- Launch the App and then tap on the Menu at the top left corner of the screen. Or you can slide from far left to right to bring the menu out.
- Then, elect Ringtones from the menu and you will get different tabs, including Categories, Popular, Featured and Recent. Just click any of these options to get a list of ringtones.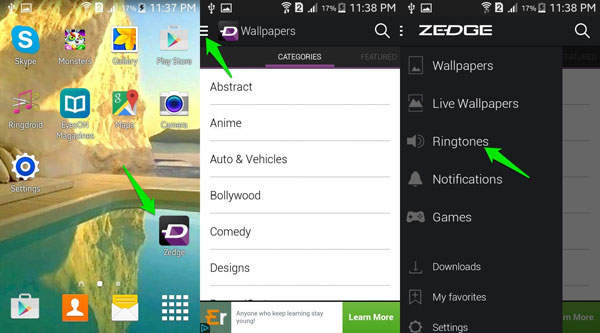 - Next, tap on the ringtone you like to listen and click again in the middle to play it.
- Now just select the ringtone you like and tap on Download to add it to your ringtone list. When you want to use this ringtone, you can tap on SET to set it as your notification sound.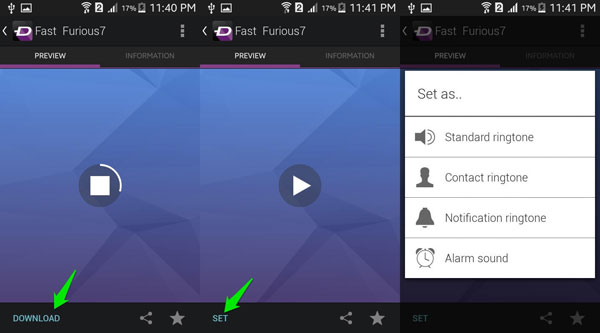 Related Articles:
How to Disable Android OS Update Notification?
How to Shut off Android Notifications?
Guide on How to Fix A Soft Bricked Android Phone
Android Phone Keeps Turning/Shutting off? You Can Now Fix It Like a Pro
How to Fix Android/RCA/Samsung Tablet White Screen of Death in Minutes?
[Up to Date] How to Wipe Android Phone Completely before Selling?