10 Tested Solutions to Fix iPhone Migration Not Working Quickly
"I am trying to migrate my data from an iPhone XR to an iPhone 13 using the new migration tool. I followed the steps said on the Apple Support page, but I never got the new screen to transfer data." -- from Apple Support Community
To treat yourself for your hard work, you get a new iPhone. When setting up the device, you find that it shipped with a transfer feature for iPhone file migration. Alright, Quick Start, which serves devices with iOS 12.4 and above, provides convenience for many adopters regarding data transfer. But "iPhone migration not working" occurs from time to time.
So, do you have no clue why iPhone to iPhone transfer is not working and how to fix it? Check out this post to get what you expect now.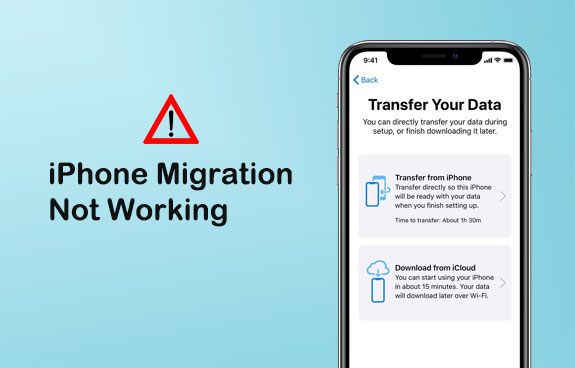 Part 1: Transfer Directly from iPhone Not Working? Why?
There are many factors contributing to iPhone to iPhone transfer not working. And the most important ones are the following:
Poor network conditions.
The greater physical distance between mobile phones.
Outmoded iOS or system glitches.
Low battery on your iPhones. (iPhone battery draining fast?)
Bluetooth is disabled.
Not enough storage space on the destination iPhone.
Related Tutorials:
Part 2: Fix iPhone Migration Not Working with 9 Tricks
Trick 1: Ensure iPhones Are within the Same Wi-Fi Network
To troubleshoot iPhone to iPhone transfer not working, please first be sure to keep both devices within the same Wi-Fi network by checking from iPhones' "Settings" > "Wi-Fi".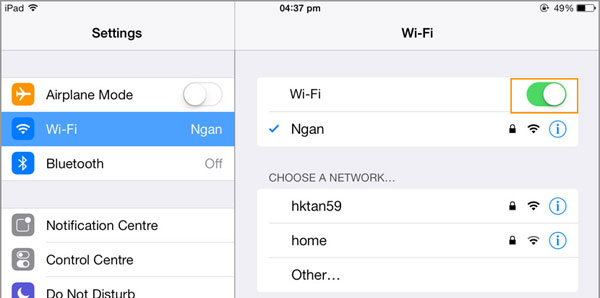 Trick 2: Reset Network Settings on iPhones
A strong and smooth network is also a prerequisite to handling iPhone being unable to complete data transfer. To fix some unknown issues caused by the Internet, you can reset network settings on your iPhone as below: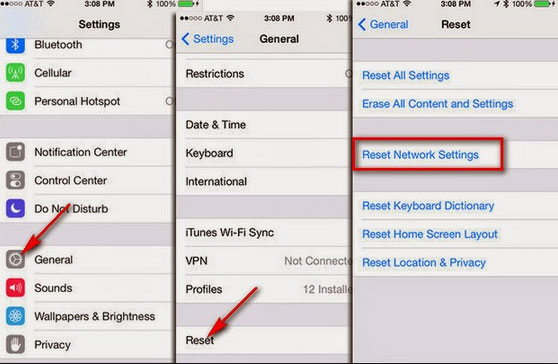 Trick 3: Turn on Bluetooth on Both iDevices
The third tip for troubleshooting iPhone data transfer not working is enabling Bluetooth on iPhone. This feature in Apple devices can't be used to transfer files directly, but it can enhance the signal in assisting mobile phone connection. It is available on Control Center or iPhone Settings.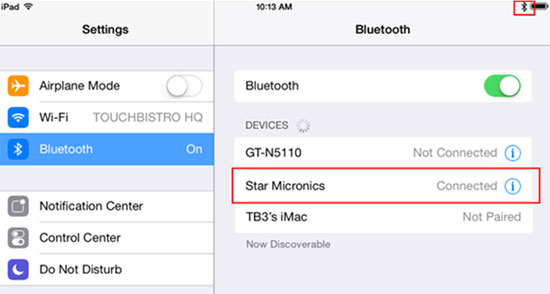 Trick 4: Keep iPhones in Close Vicinity
To perform the iPhone migration with Quick Start in wireless mode, make sure the two devices are close to each other, and there are no obstacles between them. Otherwise, it's easy to bump into "iPhone transferring data not moving".
Trick 5: Restart Source iPhone
Please try rebooting your source iPhone if any of the following happens (What if an iPhone keeps on and off randomly?):
No prompt appears on the source iPhone.
iPhones don't recognize each other after a couple of pairings.
Data won't transfer to the new iPhone after the virtual connection.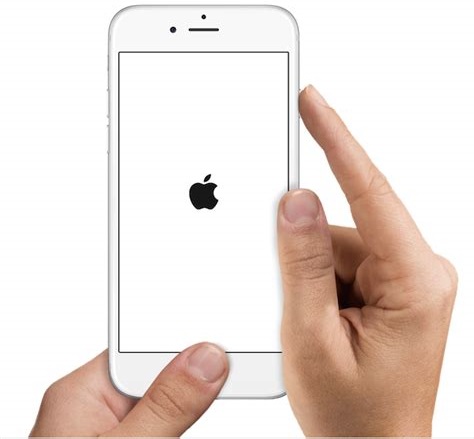 Further Reading:
Trick 6: Charge Two iPhones
This sounds a little funny, especially for those with more remaining power in iPhones. However, according to the user test in Apple Forum, if two iPhones are charged before configuring and starting data migration, no iPhone transfer error occurs at times.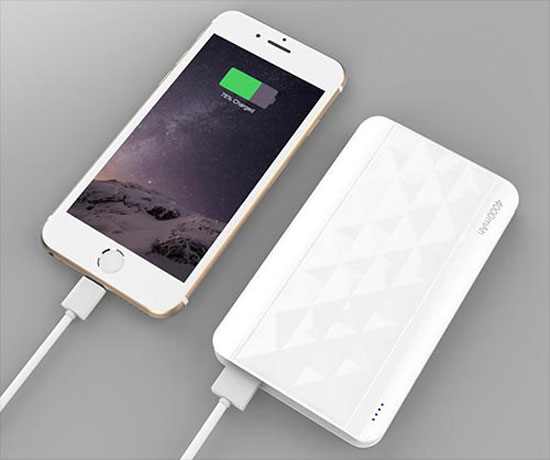 Trick 7: Insert SIM Card into the Sending Device
An iPhone without a SIM card could misbehave or even may not be activated, resulting in the transfer from the old iPhone to the new iPhone not working. Therefore, you need to make sure to insert a SIM card available to activate the device before restarting it again. (How to activate an iPhone without a SIM card?)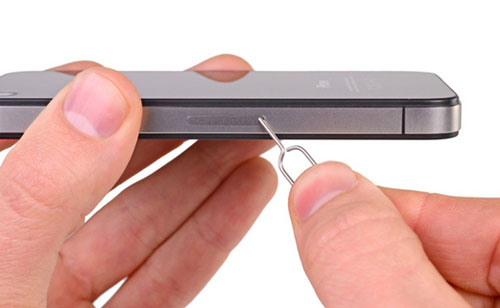 Trick 8: Create a Wired Connection
In order to cope with iPhone transfer troubleshooting in this way, a Lightning to USB 3 Camera Adapter and a Lightning to USB cord are necessary to get any further. Here are the detailed steps:
Connect the Camera Adapter to power via the Lightning port.
Get it linked to your source iPhone.
Attach one end of the USB cable to your destination iPhone.
Link the other end to the adapter.
Finally, do the same steps as that of the wireless method.
Trick 9: Update iOS to the Latest Version
If iPhone to iPhone transfer is still not working, try to update both iOS on both devices to the most recent version, even if both are now running iOS 12.4 or higher. Here are the steps:
Make sure your iPhone is working with a stable Wi-Fi network.
Go to your iPhone's "Settings" > "General" > "Software Update".
Tap on "Download and Install" if there's an update available.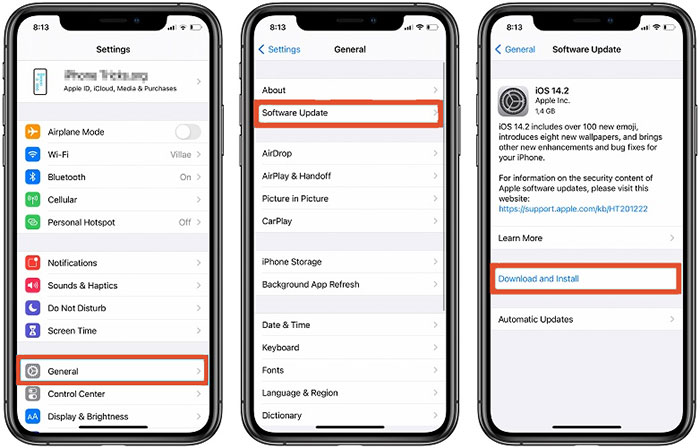 Part 3: Best Alternative to Migrate Data to New iPhone without Quick Start
Instead of fixing iPhone migration not working with a possible dim result, some would like to resume to transfer using MobiKin Transfer for Mobile (Win and Mac) other than Quick Start. There is no weird performance or technical error when copy data from one mobile phone to another. And you'll just need to give the interface a click after deciding whatever data types to transfer.
Overview of MobiKin Transfer for Mobile:
Smoothly migrate data from iPhone to iPhone without damaging the file quality.
Also move content from iPhone to Android, Android to iPhone, and Android to Android.
Support copying files like contacts, call logs, texts, photos, music, apps, documents, calendars, notes, etc.
Work for various iOS and Android devices, including iPhone 14 Pro/14/13/13 Pro (Max)/13 mini/12/12 Pro (Max)/12 mini, iPhone 11/11 Pro/11 Pro Max, iPhone X/XR/Xs/Xs Max, iPhone 8/8 Plus, iPhone 7/7 Plus, iPhone 6/6S/6 Plus, iPod touch, iPad, etc.
It's easy and quick to use without tracking your privacy.
Step 1. Run the software on a computer
Get the program before installing and launching it on your computer. Then connect your two iPhones to the computer with two usable USB cables. Next, get your devices identified by following the simple instructions on the program screen.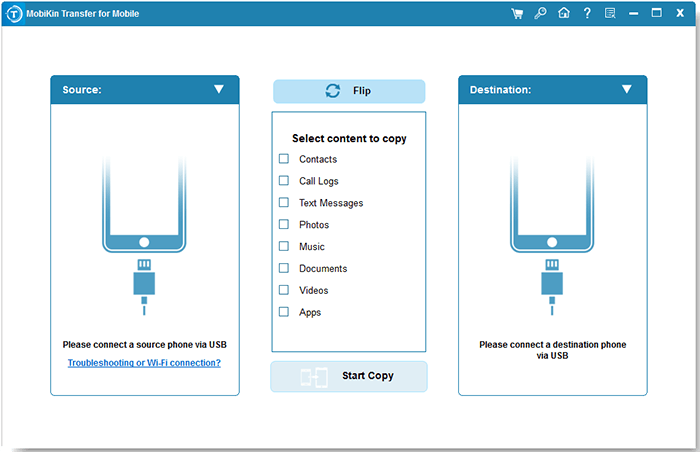 Step 2. Check the positions of both iPhones
When the tool recognizes your devices, ensure the source iPhone with the data to be moved is on the left and the other one is on the right. Otherwise, click "Flip" to put them in the right place.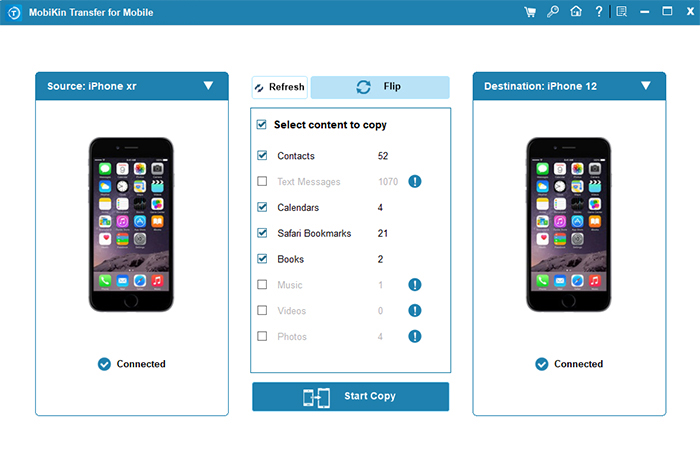 Step 3. Perform iPhone migration smoothly
Mark the data types from the screen and click on "Start Copy" to immediately start the data migration from one iPhone to another.
Words in the End
In the nine quick tricks we mentioned, tricks 6 and 9 may require you to invest some time for the completion, and method 8 needs to make some preparations for changing the connection mode. Plus, the rest are quite simple to use. Anyway, we are glad that any approach works for you. Finally, if you want to use error-free software to transfer iPhone data easily and quickly, please don't miss MobiKin Transfer for Mobile.
Related Articles:
9 Quick Solutions to Troubleshoot Messages Didn't Transfer to New iPhone
[Easy Tips] How to Transfer Photos from iPhone to Lenovo Laptop/ThinkPad
How to Fix "Move to iOS Transfer Interrupted"? 7 Common Methods for You.
How to Restore iPad from iPhone Backup? 3 Worry-free Options Here
Transfer to New iPhone 14/13/12 from Old iPhone/Android/PC [Definitive]
How to Unlock iPhone 13/12/11/XR without Passcode? 5 Methods You'd Better Know