How to Bypass Google Account Verification on Samsung Devices [5 Means]
Navigating the digital landscape, we often encounter security measures aimed at safeguarding our devices and data. One such security feature is Google Account Verification, designed to prevent unauthorized access to Android phones/tablets, particularly those from Samsung.
Yet, "Samsung bypass Google verify" is a hot topic due to forgotten credentials, a purchased pre-owned device, or other complexities. This is when the need to bypass Google account on Samsung becomes paramount. Well, this page covers various approaches for FRP bypass, tailored to cater to different scenarios, ensuring you find a solution that fits your needs.
Part 1: What Is Google Account FRP Lock on Samsung?
Google Account FRP (Factory Reset Protection) Lock on Samsung devices is a security feature implemented by Google to prevent unauthorized access to a device after you factory reset Android phones. When this feature is enabled, the device requires the original Google account credentials (email and password) that were associated with the device before it can be set up again.
FRP lock enhances security but can pose issues if Google account details are forgotten or when buying locked devices. To regain access, original credentials or official Samsung/Google procedures are needed. Remember, security policies change, so consult official sources for up-to-date information.
You Might Also Like:
Part 2: How to Bypass Google Account on Samsung via Android Unlock
Using third-party programs like Android Unlock to unlock FRP Google account on Samsung devices offers convenience, time savings, and step-by-step guidance. It's often compatible with various models and is easy to handle.
As a leader in mobile unlocking tools, this tool can unlock various phone locks for you. Whether you've misplaced your Google account details, can't recall your PIN code, or recently acquired a pre-owned phone, this tool can effortlessly resolve the issue.
What can Android Unlock do for you?
Bypass Google account verification on Samsung without complications.
Remove such screen lock types as pattern, PIN, password, fingerprints, and even face unlock.
Unlock Samsung and LG phones without data loss.
Work seamlessly with 2000+ Android phones and tablets, including Samsung Galaxy S23/S22/S21/S20/S9/S8/S7, Galaxy Note 20/Note 10/Note 9/Note 8, Galaxy Tab, OPPO, Realme, Huawei, Xiaomi, Lenovo, Motorola, OnePlus, etc.
It won't disclose your privacy.

Next, download Android Unlock for free and follow the steps below to learn how to bypass FRP lock on Samsung professionally:
Step 1. Download and install the best Samsung FRP bypass tool on your computer. Ensure your Samsung device is connected to a Wi-Fi network. On the software, click "Screen Unlock", then "Unlock Android Screen and FRP".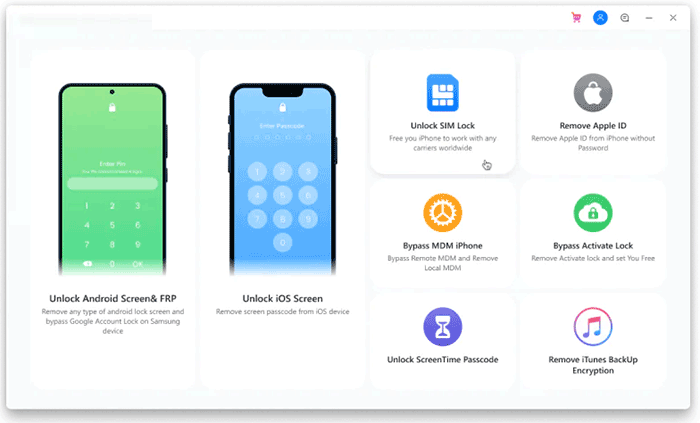 Step 2. On the following screen, choose the "Remove Google Account Lock (FRP)" option.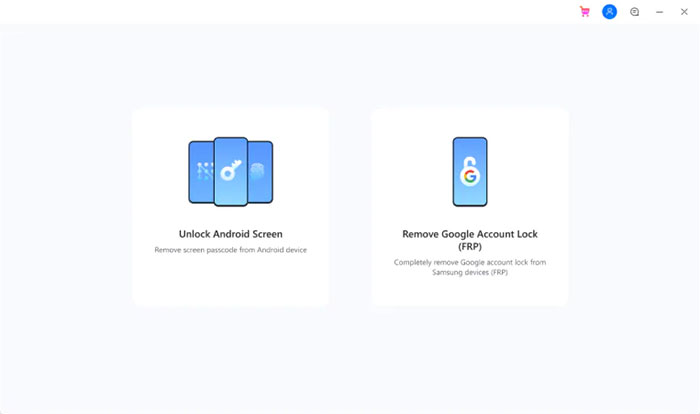 Step 3. Pick "Remove Google FRP Lock" and choose your Android version (Android 6/9/10). If you're unsure about your phone's OS version, select the third option.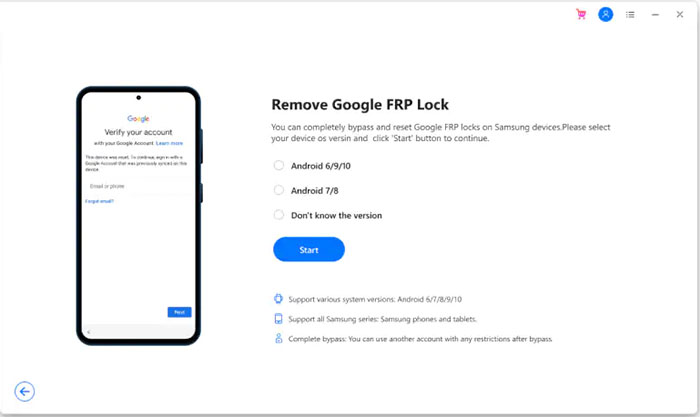 Step 4. Connect your Samsung phone to your computer using a USB cable. A screen titled "Sending Notification to Samsung Device" will appear.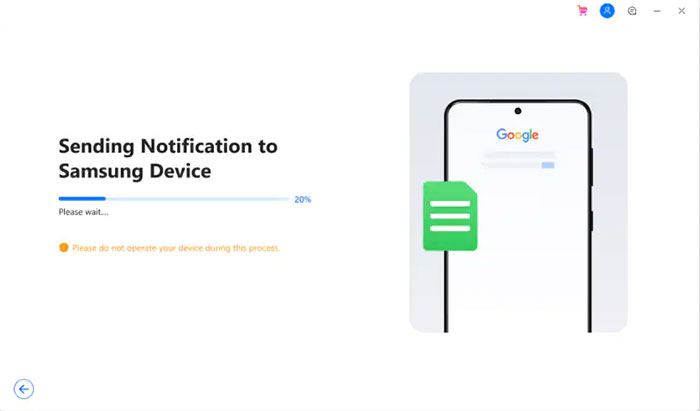 Step 5. Follow the prompts to set up your device. Tap "View" to access the Samsung App Store. Install and run the Samsung Internet browser. Visit the URL drfonetoolkit.com.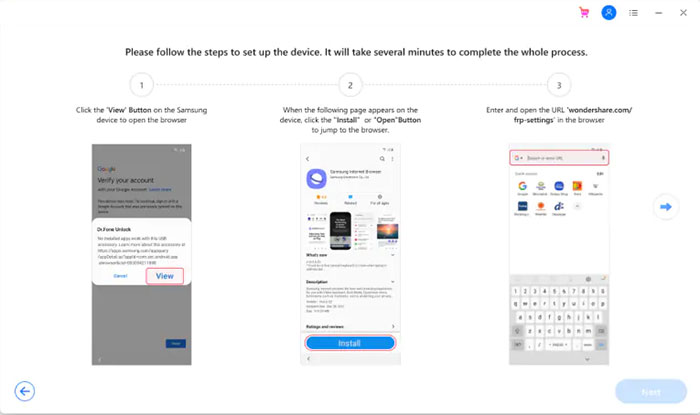 Step 6. Choose "Android 6/9/10" and click "Open Settings". Set a "Pin", select "Do not require", and proceed with "CONTINUE".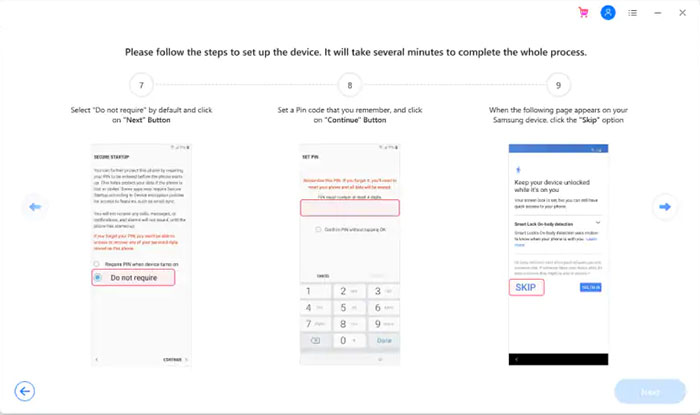 Step 7. Follow the directions displayed on the software screen to efficiently remove the FRP lock from your Samsung device.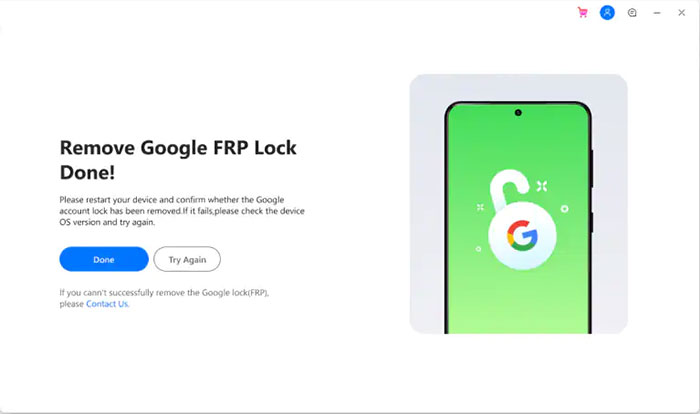 Part 3: How to Bypass Google Lock on Samsung with Google Keyboard (Android 6.0 or Older)
Essentially, when confronted with Samsung's FRP lock after a successful mobile reset, you can employ certain methods to circumvent Google account verification and regain entry to your phone. For those who've forgotten their Google account particulars, try Google Keyboard if their Samsung devices are running Android 6.0 or earlier.
How to bypass Google account on Samsung for free using Google Keyboard?
When setting up your phone initially, perform a device reset. (How to reset a Samsung phone that is locked?)
Following the reset, you'll encounter the Google Account verification interface.
As the keyboard appears, tap and hold the "@" symbol to access the "Settings" menu. Then, opt for "Google Keyboard Settings".

Tap the three-dot icon in the top-right corner and select "Help & Feedback".
Within the "Help" section, choose "Using Google Keyboard".
Hold and select any text on that page, then click "Websearch".
In the search bar, enter "Settings" and scroll down the menu to select "About Phone".
Locate the "Build number" and tap it seven times to activate "Developer options".

Return to the previous menu, enter "Developer options", and select "OEM Unlocking". Tap "back" twice.
Restart the device, reconnect to Wi-Fi, and add a new Google account to bypass the FRP lock.
See More:
Part 4: How to Bypass Google Account Verification after Reset Samsung via Talkback
Another way to bypass Google account on Samsung without PC is by using Talkback, an Android accessibility feature that aids visually impaired users. On top of that, this functionality offers spoken feedback, navigation guidance, gestures, and commands. Besides, it can customize settings, utilize text-to-speech, and even interact with devices using Braille displays.
How to get past Google Lock on Samsung using Talkback?
Reset your Samsung phone and choose language and Wi-Fi.
Enter anything for email and go to "Keyboard Settings".
Access "About Samsung Keyboard" > "Open Source License".
Tap agreement text, then three dots > "Web Search".
If unsuccessful, return to the Wi-Fi page and activate Google TalkBack.
Draw an "L" to open Global Context Menu > "Talkback Settings".

Press the Volume buttons together to suspend TalkBack.
Tap "Help & Feedback" > "Get Started with Voice Access".
Play YouTube videos on Voice Access, and open the browser.
Tap "Terms & Privacy policy" and select "Cancel".
Redirected to "Terms of Service," type "Lavileztechservice".
Download "Anddoes Launcher" or "quickshortcutmaker-2-4-0.apk".
Install launcher and enable "Unknown Sources".
Access "Settings" > "Other Security Settings".
Uncheck "Find My device" in "Device Administrators".
Disable Google Account Manager and Google Play Services.
Install "Technocare" from the download history.
Tap "Done" and go to "Accounts" > "Add Account" > "Google" to add a Google account on Android/Samsung.

Retry sign-in if needed, and input a new Gmail account.
Activate "Android Device Manager", enable "Google Play Services", and restart your device.
Tap "Start" > "Agree to All" on restart.
Select "Don't Restore" and skip the security protocol.
Access "About Phone" > "Software Information" > "Build Number".
Enable Developer mode, go to "Developer Options".
Activate "USB Debugging" and "OEM Unlock".
Return to "About Phone" > "Reset" > "Factory Data Reset".
Tap "Delete All" to begin, restart, and complete the setup.
Part 5: How to Bypass Google Account on Samsung after Factory Reset with SIM PIN Code
As you go deeper, you'll find there's an easier way to perform FRP bypass Samsung without PC compared with the previous one. (B.T.W, this method can also be used to bypass LG FPR/Google account) It's important to note that using this method renders the SIM card unusable afterward.
How to Google unlock a Samsung via SIM PIN code?
Begin by powering on your Samsung device and connecting it to a strong Wi-Fi network.
Access the Google verification page and follow the instructions displayed, mirroring the image below.
Update the store and let it complete the update, which should close automatically.

Locate the search icon and search for "Samsung Internet Browser".
After finding the browser, update it and then launch it.
Within the browser, download and install an FRP bypass apk, such as Apex Launcher.
Proceed to "Settings", then navigate to "Biometrics and Security."
Tap "Other security settings" and activate the "Pin Windows" option.
Choose "Use Screen lock type to Unpin".
After setting up a PIN code, restart your device as usual.
Part 6: How to Bypass Google Verification on Samsung via Online Bypass Tool
The online FRP tool is ideal for skipping the Google account verification during Samsung device setup. It's a downloadable software that lets you bypass the Samsung FRP lock after a factory reset.
How to bypass Google account verification after resetting Samsung S23/S22/S21/S20 with an online bypass tool?
Begin by downloading the FRP Tool file. Then transfer the file to a USB pen drive.
Reboot your device, choose your preferred language, and click "Start" or "Next". (Your Samsung phone keeps restarting?)
The following step will prompt you to insert a SIM card; just "Skip" it and proceed.
Connect to your Wi-Fi network and click "Next".
On the next page, check the option that says "I understand and agree…" and click "Next" again.

The Google Account Verification window will appear.
Use an On-The-Go (OTG) cable to connect your device to the pen drive containing the copied FRP Tool.
The File Manager will appear on your Samsung screen.
Look for the file with a .apk extension and pick it.
When the "Development Settings" window appears, choose "Install" and continue.
Now, you can "Open" the installed app file, leading you to the "Settings" page.
From here, select "Back up and reset" and proceed to "Factory data reset" your device by clicking "Erase Everything".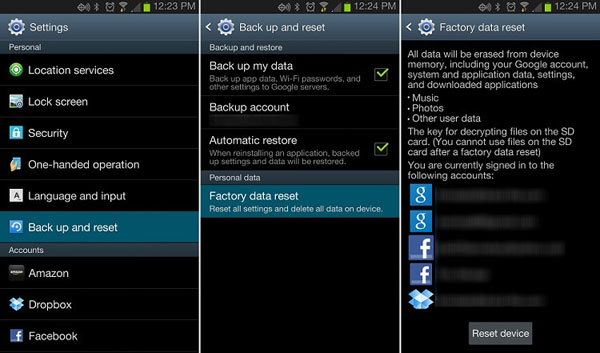 FAQs on Samsung Google Account Bypass
Q1: Does Factory Reset Remove Google Account Verification
A factory reset usually doesn't remove Google Account Verification. After a reset, the device will ask for the previous Google account credentials to prevent unauthorized access. If you're locked out, you'll need those credentials or bypass the FRP.
Q2: Is It Possible to Access FRP Locked Settings on Samsung
Access to the settings of a phone locked by Factory Reset Protection (FRP) becomes possible once Google account verification is successfully bypassed. The methods mentioned above allow you to bypass Google account verification on Samsung devices, whether or not you have a computer.
Q3: Is There a QR Code to Bypass Samsung Google Account
A QR code allows convenient computer sign-in, avoiding manual Google account entry for enhanced privacy. Yet, if you're stuck in Google account verification, you can't use the QR code as your locked device needs its camera to scan it.
Q4: How to Disable FRP Lock on Samsung without Computer
Wonder how to unlock Samsung tablet/phone without Google account? You might get rid of the FRP lock by removing your Google account as follows:
Navigate to the phone's home screen and click on the "Apps" icon.
Next, proceed to access the "Settings" option.
Select "Accounts". From here, tap "Google" and pick your specific Google account by selecting its name.
Move to the top-right corner of the screen and choose the "More" option.
Opt to "Remove account" and confirm your choice to remove your Google account from Android/Samsung.

Following this process should effectively deactivate FRP on Samsung, although in certain cases, the FRP may automatically deactivate after a phone reset.
Final Words
OK, we just walked you through how to bypass Google account on Samsung differently. However, for a straightforward and reliable option, Android Unlock stands out. This approach not only bypasses FRP lock on Samsung devices but also eliminates the need for complicated technical skills.
The convenience of using this tool is further amplified by its consistent success rate. In a word, it's a product that guarantees you a hassle-free experience, irrespective of your familiarity with technical intricacies.

Related Articles:
4 Secure Ways to Bypass Google Account/FRP on Huawei without PC
What to Do If I Cannot Sign in Google Account on Android?
6 Simple Ways to Unlock Android Phone without Google Account
8 Best iCloud Bypass Tools: 100% Working iCloud Unlocker Software
8 Best Samsung Data Recovery Apps/Tools/Software [Ultimate Checklist]