Users Guide: How to Fix Error 504 in Google Play?
Google Play is a mature Android market which allows users to browse and download applications. These applications can enrich our lives and provide convenience for us. But nothing is perfect in the world and Google Play is not excepted. There are some errors of Google Play that always perplex Android users. And among these errors, error 504 would be the most common one. This error code often appears when you try to download a game or application from Play Store, which would affect the running of the device.
Therefore, most of you must want to know the way to fix error 504 in Google Play while facing the issue. Don't worry! This article will give the full answers.
Part 1. What Causes the Google Play error 504?
When an error occurs, finding out the reason behind it would be the primary thing since it can help you to solve the problem more effortlessly. For your reference, the possible reasons for the Google Play error 504 are listed below:
- The downloading or installing process is interrupted;
- The internet that you connect to your phone is slow or even off-state;
- The cellular data on your phone is poor;
- Storage space is insufficient;
- Data conflicts;
- ...
See also:
How to Fix Error 963 on Google Play?
How to Deal with Google Play Store Error 505?
Part 2. Guide on How to Fix Error 504 in Google Play
Now let's learn how to fix error 504 in Google Play together.
1. Reconfigure Google account on your phone
Reconfiguring Google account would be the first method you can try because it won't damage any data or settings on your device. By using this method, you need to remove your Google account at first and then add it again. Below is the detailed operation:
- Go to Settings> Accounts> Google> Remove Account.
- Next, you need to navigate to Settings> Apps> All and then click on Force Stop, Clear Data and Clear Cache respectively.
- After that, you can visit Settings> Accounts> Google> Add account to sign in your Google account again.
- Finally restart your phone and enter the Google Play to see whether you can download or updata applications as usual.
2. Force stop some running Apps
If you run several applications on your mobile phone at the same time, the device might be unable to work well due to the heavy load. Thus, you can attempt to force stop some Apps to ease the burden of the system as well as make the Google Play runs smoothly.
To force stop the running application, you can:
- Click on the icon of Settings on the Home screen.
- Find out and tap on Application Manager option in the Settings Section.
- Select Manage Application option and then choose the App that is running in the background to enter its App Info page.
- Tap on Force Stop in the App Info finally.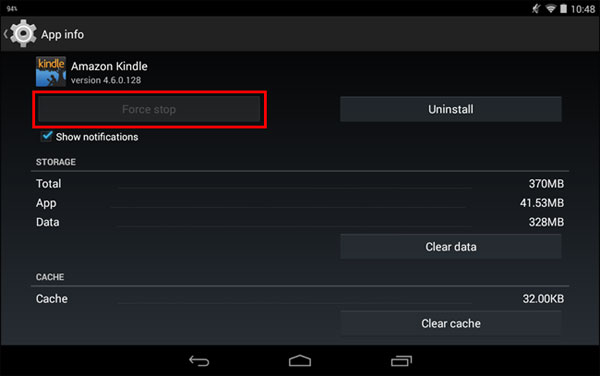 3. Clear Caches on Google Play Store
You can also choose to clear the Google Play caches which is able to release the storage space as well.
For clearing caches on Play Store, you need to:
- Navigate to Settings> Application Manager> Google Play Store.
- On the App Info page, you can click on Clear cache and clear data to delete the useless data.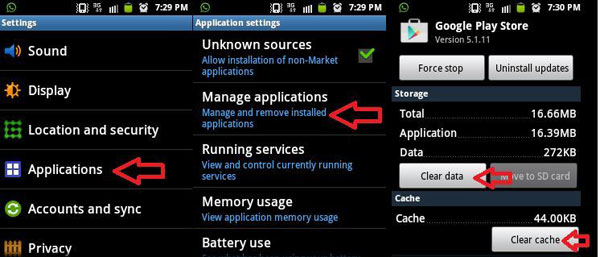 4. Reset the App preferences
Resetting the App preferences can refresh the settings. This means sometimes is able to solve the error 504. So we suggest you to try this method here and there won't be any data loss during the process. You can follow the steps below to have a try.
- Go to Settings> Application Manager/Apps> More> Reset app preferences> Reset Apps.
- After that, you need to click on OK to confirm your option.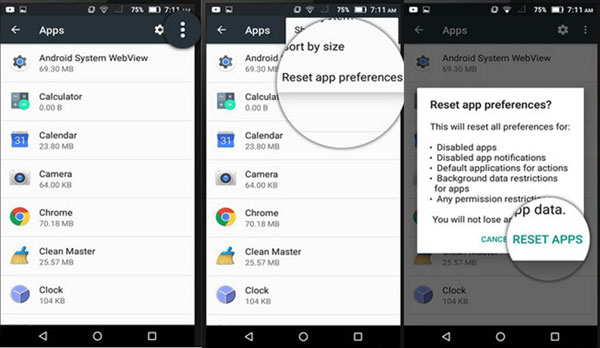 5. Reset network settings on your Android
A bad network connection would cause the Play Store error 504 as well. Thus, you need to check the status of the internet you are using. And here, resetting network would be the fast way to solve the problem. To accomplish the network reset, you can:
- Visit Settings> Backup and reset> Network Settings Reset> Reset Settings.
- You will get a pop-up message asks you whether you want to reset the network settings on your phone. Just click on Reset Settings to confirm that.
Related Articles:
My Phone Does Not Charge, How to Fix It?
Android Phone Keeps Turning off? 3 Ways to Fix It!
How to Recover Lost Contacts from Samsung Galaxy
How to Recover Data from Water Damaged Android Phone or Tablet?
How to Access Phone with Broken Screen with PC Easily & Safely?