How to Fix Error 920 in Google Play Effectively?
There are many error codes in Google Play, such as error 963, 504, 505, etc. And among these errors, error 920 would be the most common. This code will appear when users fail to download or update applications in Google Play.
To fix error 920 in Google Play is not a difficult task so you can try to solve the problem by yourself when the error occurs. And here are 4 methods for you to refer to.
Part 1. What is Error 920 in Google Play?
Error 920 is an error code of Google Play. This is not a serious issue for the reason that it is not caused by any server crash or device damage. On the contrary, this problem is normally caused by some simple factors. For example:
- There are too much load on the data connection.
- The caches on the device are too heavy which interrupts the smooth running of your phone.
- The network you are using is not stable.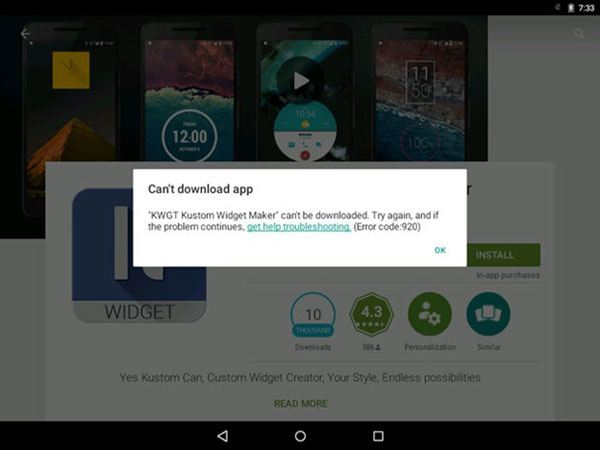 Can't miss:
Users Guide: How to Fix Error 504 in Google Play?
How to Deal with Google Play Store Error 505?
Part 2. Things You Can Do Before Fixing Google Play Error 920
Sometimes, the error 920 in Samsung Galaxy, Nexus, OnePlus, HTC, LG and Moto can fix itself. So, while facing the Google Play error 920, there is something you can do before fixing the error:
- Wait 10-15 minutes. Some users reflect that the error could be on Google's server sometimes so you can just wait for a while when receiving the error code 920 and then try to update/download the Apps again.
- Restart Android phone. Some users have tried to fix the issue easily by rebooting their devices.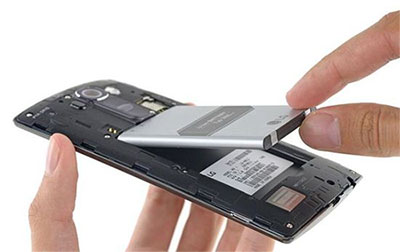 - Download or update the applications individually. Generally, in order to save time and vigor, most people would select to update all the software at a time. However, this would cause the error 920 occasionally. Thus, you can try to download/install the Apps individually at first.
- Use stock ROM. According to the survey, the custom Android ROM tends to get the error 920 in Google Play Store. Therefore, you are suggested to go back to stock ROM.
Part 3. Methods to Fix Error 920 in Google Play
In this section, 4 methods to fix error 920 in Google Play will be provided.
Method 1. Reinstall the application
We have mentioned before that error 920 often occurs during the application update or installation so that reinstall the App would be the first means you can try. To accomplish the reinstallation, you can:
- Go to Play Store and find out the application that you got the error with.
- Open the application download page and uninstall the selected application or even uninstall all the updates.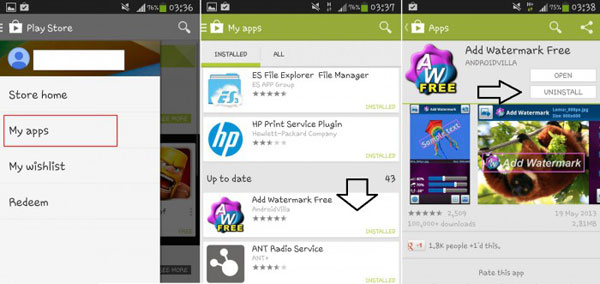 - Then you need to clear the task manager and try to reinstall it again.
Method 2. Adjust the connected Wi-fi
Downloading and installing applications in Google Play require a good network connection. So you are suggested to check and adjust the status of the wireless network that you are connecting. In order to get a good network connection, you need to:
- Click on the icon of Wi-fi to turn it off simply and then turn it back on.
- After your phone is reconnected to Wi-fi, you can go to Play Store and download the App once again to see whether the error is fixed or not.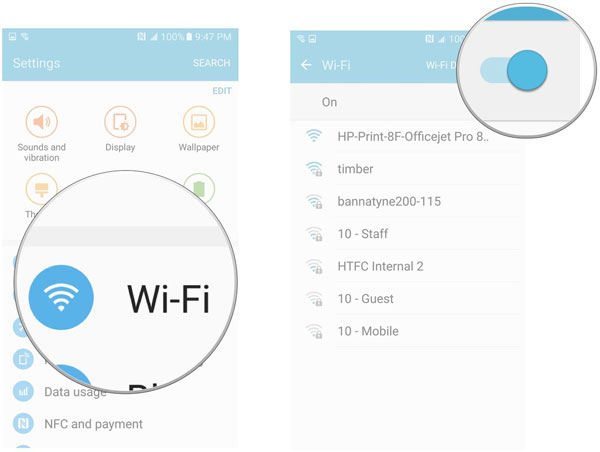 If you are using the cellular data, you can use the same way to adjust it as well.
Method 3. Clear cache and data of Google Play
Clearing the cache and data of Google Play is also a good solution to fix the error 920.
- Navigate to Settings> Applications> Google Play Store to enter the App Info of this software.
- Find out and click on the options Clear cache and Clear data at the bottom to remove them.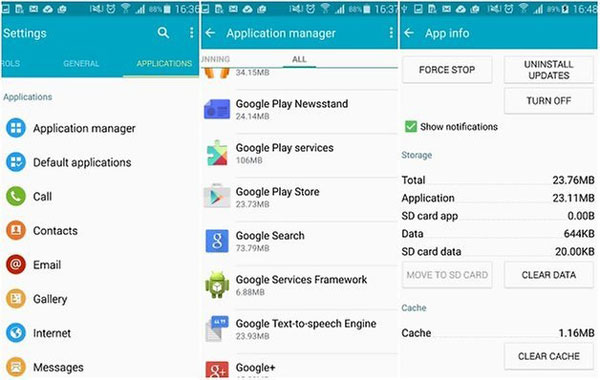 Method 4. Remove and add back Google account
When you have tried all the methods above but still fail to fix the error, it means there might be something wrong with the Play Store. In this case, you can reset the store by removing the Google account and then add it in again. To achieve this goal, you ought to:
- Visit Settings> Accounts> Google Accounts.
- Find out and tap on the account that you are using. Then you will get an option to remove the account. Just click on it.
- After removing the account, you can tap on Add account to entering your Gmail ID and password to add it back.
- Now you can go to Google Play to download or update applications as usual.
Related Articles:
Guide on How to Fix A Soft Bricked Android Phone
Different Methods to Fix Android Black Screen of Death
Ultimate Solution to Recover Deleted Contacts from Android
How to Transfer, Copy Text Messages from Samsung Galaxy to PC/Mac
How to Recover Lost Contacts from Samsung Galaxy
How to Recover Data from Water Damaged Android Phone or Tablet?