Getting the Installation Unsuccessful Error on Android? Solutions Are Here!
How to get more fun from an Android phone? Most people would tell you to install some interesting or useful Apps on the device. That's true cause applications can bring more functions to us. Therefore, almost all the Android phone users like to download and use some software on their device.
But before you enjoy these Apps, you may meet a problem- installation unsuccessful error. This error will prevent users from installing applications. Thus, if you want to use the App in this case, you need to know how to fix installation unsuccessful error on Android at first.
Solutions to Fix Installation Unsuccessful Error on Android
To fix this error and get your wanted App installed, you have 5 options.
Also Read:
Why Files Get Deleted/Corrupted After Moving to SD Card?
1. Clear cache and data of Google Play Store
This error might be caused by the caches and data of Google Play Store. They would prevent the users from installing new applications and updates. So the first means you are suggested to try is to delete Google Play caches and data. The details are as below:
- Tap on Settings and select Applications in this folder.
- Next, click Manage Applications and find the Google Play Store App from the displayed list.
- Then you will enter the App Info page of Google Play. Just tap on Clear data and Clear cache respectively.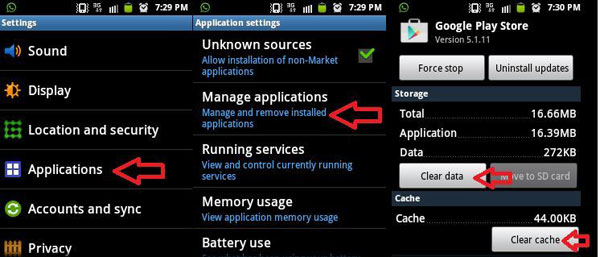 2. Reinstall the App
If the application installation is interrupted or improper, it won't be successful certainly. In this case, if you want to use the App, you need to remove the App from your phone at first and then reinstall it. This operation is very simple:
- Go to Settings> Applications> Manage Applications as well.
- Then you can find out the App that is installed unsuccessfully and elect Uninstall to remove it.
- After that, you can go to Google Play Store to find the application once again and go with the instructions to reinstall it.
See also:
How to Uninstall Google Play Service?
3. Uninstall Google Play Updates
Have you update Google Play recently? If you have, you need to uninstall the updates on your phone to solve the installation unsuccessful problem. That's because the updates might be incompatible with the system or the installing process is not finished completely. Anyway, you need to uninstall Google Play updates to settle this problem. To achieve that, you can:
- Navigate to Settings> Applications> Manage applications also.
- Then find the Google Play Store from the listed Apps.
- Finally, click on Uninstall updates on the App Info page.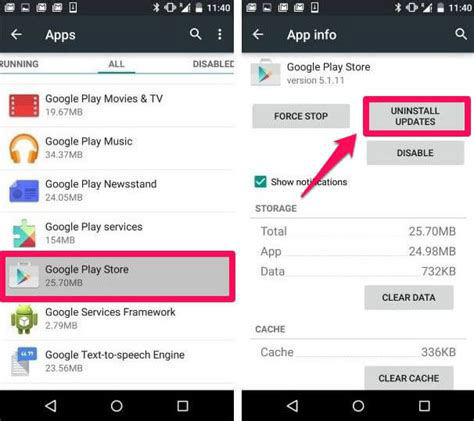 4. Unmount SD card
Sometimes, SD card would prevent users from installing new application on Android phone. So if you have inserted a SD card on your phone to extend the space, you can attempt to unmount the card to fix the unsuccessful installation error. The followings are the specific steps to unmount SD card on Android phone:
- Tap on Settings on Home screen.
- In Settings section, you can choose SD card and Phone Storage option.
- At last, click on Unmount SD card to accomplish it.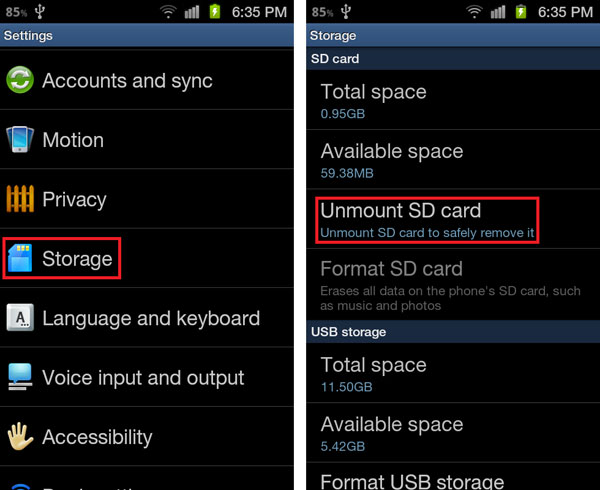 During the unmounting process, the data on SD card might be lost or damaged so you'd better backup them to computer or other devices.
5. Delete .android_secure folder
If you have rooted your phone ever, you can find an ".android_secure" folder in the memory card drive. And if there us any corrupted data in this folder, the installation unsuccessful error will occur. To solve this problem, you need to delete the folder from your SD card.
- Go to Settings> SD card and Phone Storage.
- Find the ".android_secure" folder and then delete it.
- Then Android will re-create this folder automatically.
Related Articles:
How to Format SD Card on Android?
Android Phone SD Card Unexpectedly Removed, How to Fix It?
How to Recover Lost Contacts from Samsung Galaxy
How to Recover Data from Water Damaged Android Phone or Tablet?
How to Access Phone with Broken Screen with PC Easily & Safely?