4 Ways to Retrieve Deleted Kik Messages on Android with or without Backup
Kik Messenger is one of the few social platforms enabling its users to maintain connections with both strangers and acquaintances. Android users may lose valuable Kik messages due to accidental deletion. And the same dilemma may be brought by instances such as factory reset, improper handling of the phone/memory card, virus infection, file corruption, failed Android update, etc.
Next, how to retrieve deleted Kik messages on Android may come to your mind. Well, we shall guide you through several easy and quick methods to get it around. Let's start with the simplest one now.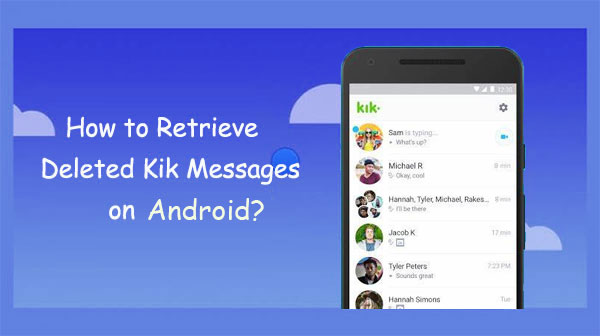 Part 1: How to Retrieve Deleted Kik Messages on Android from Kik History
The latest 600 messages you got out will be stored in Kik Messenger for 48 hours. Among them, the last 200 pieces will exist for more than 2 days. When the message is created and sent, it will be on both the sender's and receiver's mobile phones. Therefore, the simplest approach is to make Kik recovery by resorting to the recipient as soon as possible.
Specifically, you can let the other party send you the content you need directly or simply by taking screenshots. Although there are time-sensitive and you may be embarrassed doing it, you're still worth a try. Chances are that you can recover Kik messages without using Android data recovery software.
Read Also:
Part 2: How to Retrieve Old Kik Messages on Android from Google Drive
Utilizing Google's own distributed storage administration - Google Drive, you can swiftly restore Kik conversations on Android. This service is cloud-based, offering 15 GB of free space. If you have configured the Drive to back up your Kik chat history, follow the drill below to learn how to recover Kik messages on Android from Google backup:
Navigate to your Android phone's "Settings" > "Account".
Log in to your Google account associated with your device.

Follow the screen details to back up your Android phone to Google Drive. (Google Drive not working?)
When you need to retrieve Kik messages, select the backup that contains Kik chats.
Tap "Restore" to rescue Kik content. (To restore Kik messages on Android, you can also go to "Google Drive" > "Backups" > "Kik Backup" > "Restore".)
Part 3: How to Recover Kik Messages from Android Backup
By the same token, with the backup & restore feature on Android, users can save a local backup, including files from the Kik app. After that, it's simple to directly restore lost or deleted Kik content without a Kik recovery tool. Learn how to restore Kik messages from an Android backup:
Go to your phone's "Settings" and tap "Backup and Restore" in the search bar.
Head to "Mobile Device" under "Local" > "Other system app data".

Choose "Kik" and tap "Back Up" to save Kik messages on your phone's internal storage.
From the "Backup and Restore" tab, select "Restore".
Pick the latest backup that includes your desired items.
Tap on "Restore" again.
Note: The steps vary slightly from one phone brand to another. And when the restoration initiates, it only lets you regain the latest 600 messages without being older than two days.
Part 4: How to Retrieve Deleted Kik Messages Using GT Recovery (Root Required)
GT Recovery facilitates you to recover such Android files as Kik chats, photos, SMS, contacts, TXT, WiFi, WhatsApp, Messenger, call logs, and trash. To make it work, you have to root your Android phone/tablet first, which may void your warranty, for it requires several permissions.
Generally, you can use this app without expert knowledge, yet it could be buggy sporadically. Without further ado, let's see how to get Kik messages back with GT Recovery:
Install GT Recovery on your rooted phone.
Open the app and give permission to it.
Since your want to restore deleted Kik chats, select "Recover Kik".

Tap "Next" and select "Scan Device" to scan your phone at once.
Finally, pick the Kik chats you want to recover and hit "Save" to get them back on Android.
Further Reading:
Tips to Secure Kik Messages on Android
Instead of waiting for Kik chats to be lost and baffled, it is better to learn some tips to minimize the loss and risk caused by it. Next, we will cover something helpful that may do you a big favor unintentionally:
Run backups of the Kik conversations regularly.
Choose a strong password for your account, keeping it to yourself only.
Report any serious issue to Kik in time.
Think twice when intending to delete Kik messages.
Manage messages from people who are new to the Kik network.
Take screenshots of important chats and save them at any time.
Calling It a Wrap
When you find the Kik messages are lost, we hope you can regain all the missing conversations from the backup prepared in advance. Unfortunately, if there's no backup, just stop using your device in time and try to retrieve chats from GT Recovery or Kik history immediately because it will enhance the likelihood of a successful recovery. Finally, please leave a message below, if any. And that does make sense in terms of providing a reference for others.
Related Articles:
4 Methods to Recover Deleted/Old Kik Messages on iPhone in Minutes
[4 Tips] How to Recover Deleted Text Messages on iPhone without Computer?
[5 Awesome Tips] How Do I Recover Deleted Facebook Messenger Messages on Android?
How to Back up and Restore Text Messages on Android? 5 Hot Tips Here
[5 Methods] How to Transfer Text Messages from Android to Android?
Where Are Texts Stored on Android? SMS Location, Backup, Recovery, etc.