How to Read Text Messages Online? 9 Ways You Wish You'd Known Earlier
A smartphone can bring us a lot of convenience in life. For example, sometimes, using it to send and receive text messages to convey vital info won't be so abrupt as making a phone call. Since there are many texts or the phone is not around, for the time being, you may need to access and control your messages on a larger screen. (Want to control Android from a PC?) Well, can you read text messages online? Any tips for doing that easily, like on your cell phone? OK, here are the nine quick methods for you.
Part 1: Read All Text Messages Online via Assistant for Android (Android)
Want to access existing text messages on Android from a computer conveniently and intuitively? MobiKin Assistant for Android (Win and Mac) can fully make it as easy as ABC. The best part of this utility is it works as a versatile Android manager, not limited to message preview. And more importantly, it is compatible with almost all Android devices and PCs/Macs, ensuring trouble-free message management.
Why choose Assistant for Android?
It can help you easily read text messages online for Android.
Selectively transfer text messages between Android to PC/Mac.
Text or mass text, resend, forward, delete, import, or export messages on Android from a computer.
Back up & restore Android messages and other files.
Work for such files as contacts, call logs, songs, photos, videos, apps, documents, etc.
Manage various Android files on your computer straightforwardly.
Two connection modes: USB & Wi-Fi.
Apply to mainstream and non-mainstream Android devices, including Samsung, HTC, Xiaomi, Motorola, Huawei, LG, ZTE, Sony, Google, and more.
It won't disclose your privacy.
How to read my text messages online with Assistant for Android?
Step 1. Run the software on a computer and link Android to the PC using a USB cable. Then follow the prompts on the screen to let the program identify your phone.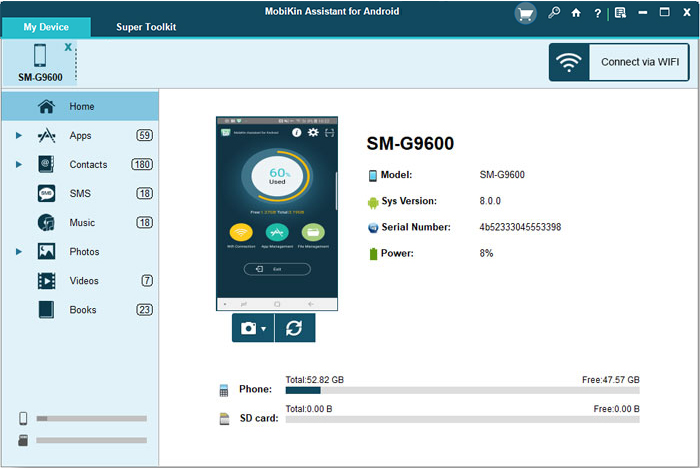 Step 2. When your device info is on the screen, click "SMS" from the left menu. Next, you can easily read and select all Android messages you want for further use.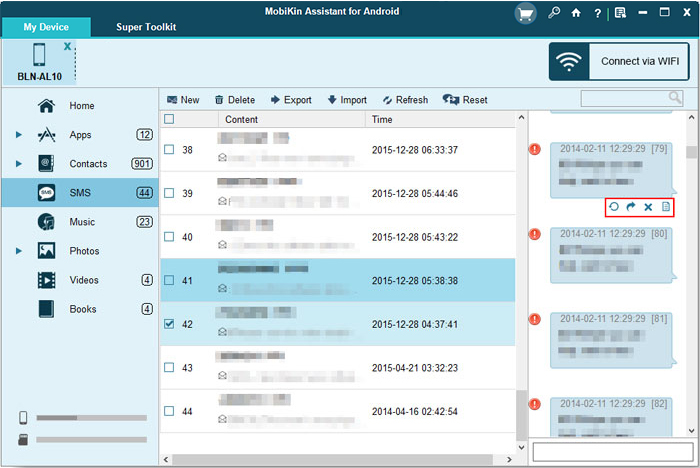 You Might Also Need:
Part 2: How to Read Text Messages Online with Google's Messages for Web (Android)
Can I read/access my text messages online with Google service? Of course, before that, please first check the Prerequisite:
Your mobile is running the Messages by Google app from Google Play Store.
Your phone and computer are connecting to a Wi-Fi connection.
Browsers: Google Chrome, Safari, Microsoft Edge, or Mozilla Firefox.
How to access texts online with Google messages for Web?
Run Messages by Google and follow the instructions to make the default messaging app on your phone.
Head to the three dots > "Messages for Web" > "QR code scanner.
Then, go to Messages for Web on your browser, and a QR code will appear on the screen.

Scan the QR code from your phone to connect devices remotely. (Can I wipe Android data remotely?)
You'll see all your conversations on the screen. Just tap anyone to view it.
Part 3: How to Access Text Messages Online with MightyText (Android)
With MightyText, operators can handle Android text messages properly online. This tool also allows its users to get incoming call notifications, Facebook, and Gmail messages from a computer.
Learn how to read my new text message via MightyText:
Get MightyText on Android from Google Play.
Install the app and give permission to it.

The app will detect the Google account associated with the phone.
Head to the MightyText website and tap "Get the App".
Then install the Chrome Extension and sign in with the same Google credentials.
You'll have the ability to get desktop notifications of all Android texts.
Know More:
Part 4: How to Check Text Messages Online Using "Your Phone" App (Android)
Windows 10 is shipped with a great feature called Your Phone, which makes it convenient to view and manipulate your messages on a computer. Before getting there, ensure both your devices are nearby and within the same Wi-Fi network.
How to read someone else's text messages online for free with the "Your Phone" app?
Enter "Your Phone" in the taskbar of Windows 10 and choose "Your Phone".
Select "Android" > "Continue" > log in to the Microsoft Account you used on your phone as prompted.
Run the Your Phone Companion app on Android and sign in by following the on-screen instructions.
On your PC, go for "I have the Your Phone Companion app installed on my phone" > "Pair with QR code".
Now, hold the phone up to your computer to scan the QR code shown there.
Accomplish the setup by following the directions to allow required permissions. And finally, you'll have the ability to check and manage your Android messages on this PC.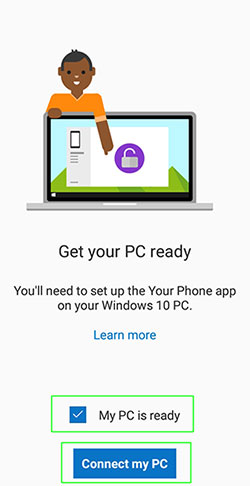 Part 5: How to View Text Messages Online via AutoForward Text (Android)
By forwarding text messages from your Android device to your email, you'll easily access them online. More importantly, this app filters the service to include interactions with certain texts that trigger the keywords & phrases you've ever set.
How to read SMS messages/texts with AutoForward Text?
Install and run AutoForward Text on your Android phone.
Register for an account from within and use a phone browser to access the AutoForward Text web-based app.
Log back in with the credentials you just created and configure your settings.

Determine where the texts will be sent to and which keywords are triggered.
Confirm if you wish an email for each message that is sent/received from the connected phone or a daily email.
Open your email account to check the list of emails from this app.
Finally, you'll see the full details of the text interactions.
Part 6: How to Check Text Messages Online via Assistant for iOS (iOS)
Can I check/view my text messages online for iPhone/iPad? Shall I read the last text messages on a platform other than my Android device? OK, MobiKin Assistant for iOS (Win and Mac) is capable of fixing it seamlessly. As one of the most excellent and secure experts among its players, it enables you to read various iOS items on a computer, manage data, back up, and restore your device. Plus, it applies to such files as messages, call logs, contacts, music, movies, images, playlists, voice memos, and many more.
How to read iPhone text messages online via Assistant for iOS?
Use a USB cable to link your iPhone to a computer.
Install and launch the utility after the installation.
When this tool recognizes your iDevice, all your iOS items will be in categories on the left menu of the interface.
Finally, choose "Messages" and read text messages well categorized in the right panel.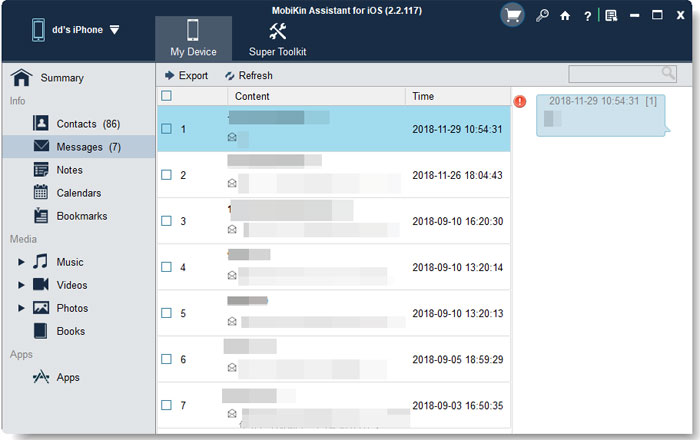 Part 7: How to Read Text Messages Online with iCloud Sync (iOS)
Requirements:
Log in with the same Apple ID when required.
A smooth Internet connection is a must.
There is enough storage for iCloud.
A Mac computer with sufficient space.
How to read iMessages online with iCloud Sync?
Navigate to your iPhone/iPad's "Settings" > "Your Name" > "iCloud".
Be sure to enable the "Messages" option.
On your Mac, sign in to the same Apple ID to initiate the message sync.
After a while, you can view text messages on iCloud online.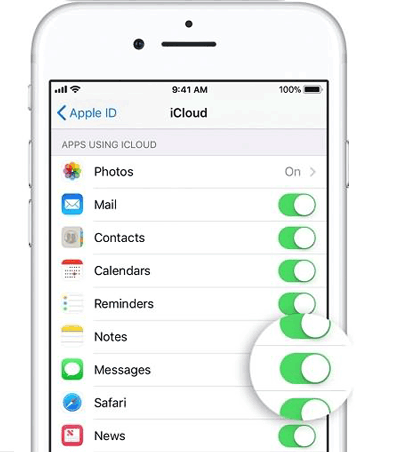 Part 8: How to Access Text Messages Online with Verizon (Android/iOS)
Sharing the same name as the "Verizon" provider, Verizon can work well with most Android and iPhone devices using this carrier. To start with, you have to download the Verizon Messages app from Google Play or App Store, and it'll let you sync texts with the web client before you can access and send them. Here's how to check my messages online via Verizon.
Install and open the app on your iPhone or Android phone.
Click "Start Messaging" and follow the on-screen hints to set up your account.
Start conversations with your contacts on Verizon.

Sign in to "My Verizon" for Verizon online texting.
Next, go to "Account" > "More" > "Text online".
You'll find your previous conversations and tap any conversation to read.
Part 9: How to See Text Messages Online Using AirDroid Web (Android/iOS)
Working for both Android and iOS, AirDroid Web allows you to view text messages online from a computer, manage app notifications, handle calls, mirror your phone, and even copy files among different platforms losslessly.
How to read recent text messages with AirDroid web?
Install AirDroid on your cell phone.
Go to web.airdroid.com on your browser from a computer.
Create an account for AirDriod or log in to the existing one directly if you already have it.
Scan the QR code to connect your mobile to the computer.

Once the connection is made, click "Messages" to access your messages online.
Final Words
Above are the simplest yet most efficient solutions to read text messages online. Generally, what these approaches have in common is they require you to make a connection between your mobile phone and a browser or a computer first. And you'll then be free to access or even manage messages without a hitch. Here, please remember to check the types of mobile operating systems they support before making an enlightened choice.
Related Articles:
10 Methods to Troubleshoot Downloading Messages from iCloud Stuck
How to Sync Messages from iPhone to iPad Air/Pro/mini/4/3/2? [SOLVED]
Texting from Computer to Cell Phone: 7 Ways & Their Comparison
How to Back Up and Restore Text Messages on Android? 5 Hot Tips Here
How to Retrieve WhatsApp Messages from Lost Phone without Backup? [iPhone/Android]
4 Ways to Retrieve Deleted Kik Messages on Android with or without Backup