Top 8 Methods to Read/View Text Messages Online [2023 Latest]
Our communication revolves around text messages, making it essential to have access to them conveniently and efficiently. There are various scenarios where the need for how to read text messages online arises, such as when you want to check messages on a larger screen or access them from a computer while your phone is not within reach.
Well, is it possible to read text messages online? Whether you are an Android or iPhone user, we have got you covered with solutions that cater to your specific needs.
Part 1: Is There a Way to See Text Messages Online
There is no official and legitimate way to directly view text messages online without permission or access to their device. Text messages are typically stored on the user's mobile device and are protected by various privacy laws and security measures.
However, some services and applications allow you to sync text messages between your phone and other devices. (Can you sync messages from iPhone to iPad?) But this requires setting up the sync feature on the phone itself. But then again, please always remember to use technology responsibly and in accordance with applicable laws and guidelines.
Is there a way to access text messages online from another phone? Yes! It's possible for someone to spy on messages from another phone, posing a risk to personal info like PIN codes. Specifically, spyware like mSpy claim to be misused for monitoring. It can intercept texts, calls, and social media. It's remotely installed on iPhones with iCloud access or directly on Android phones. So, be vigilant about protecting your data.
Recommended for You:
Part 2: How to Read Text Messages Online with Assistant for Android (Android)
If you are looking for a convenient way to access your Android text messages on a computer? MobiKin Assistant for Android (Win and Mac) makes it easy as pie. This versatile Android manager goes beyond just message preview, allowing seamless management of various aspects. The best part is its compatibility with nearly all Android devices and PCs/Macs, ensuring an error-free and hassle-free experience.
What can Assistant for Android do for you?
Preview and read text messages online for Android after easy access.
Text or mass text, resend, forward, delete, import, or export messages on Android from a PC/Mac.
Copy Android SMS to a computer in HTML, TEXT, CSV, XML, or BAK format directly.
Transfer data between Android devices to computers selectively.
Back up & restore Android messages and other data types.
Apply to various file categories, including text messages, contacts, call logs, songs, photos, videos, apps, documents, etc.
Manage Android content on your computer independently.
Run smoothly on 8000+ Android devices, including Samsung, Huawei, Xiaomi, Google, DELL, OnePlus, HTC, OPPO, Motorola, etc.
It won't uncover your privacy.
Here's the detailed tutorial for how to see my text messages online with Assistant for Android:
Step 1. Run the software and link your phone to a computer
Connect your Android device to the computer using a USB cable and run the software after the download and installation. Next, follow the on-screen prompts to let the program identify your phone.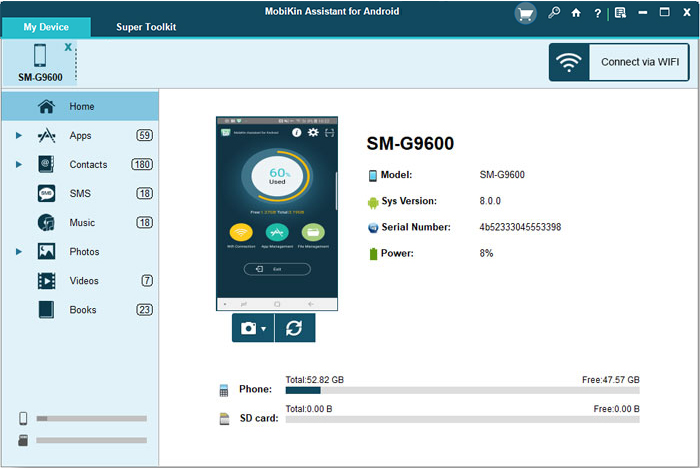 Step 2. Read text messages online
Once your device info appears on the screen, click "SMS" from the left menu. You can now conveniently read and select all the Android messages you wish to read or for future use. (e.g., you're enabled to export them to this computer and print out text messages from your Android phone.)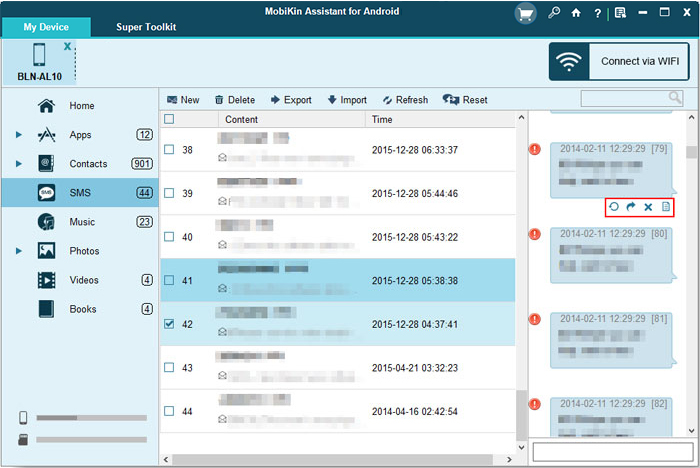 Part 3: How to Read Text Messages for Free Online via Google Messages for Web (Android)
Google Messages for Web is a lesser-known feature of Google's texting app. It allows you to read Android text messages online through a computer after logging in. You can thus initiate private and group conversations, though carrier fees may apply. Before proceeding, ensure your smartphone has the Messages by Google app installed and that both your phone and computer are connected to the same Wi-Fi network.
How can you get your text messages online by Google Messages for Web?
Open Messages by Google on your computer.
Follow the instructions to set it as the default messaging app on your phone.
Tap the three dots, then select "Messages for Web" and choose "QR code scanner".
Go to "Messages for Web" on your browser, where a QR code will be displayed on the screen.

Use your phone to scan the QR code and establish a remote connection between your smartphone and computer. (Can you access PC files from an Android phone remotely?)
Once connected, all your conversations will appear on the screen, and you can tap any conversation to view.
Part 4: How to See Text Messages Online Using MightyText (Android)
MightyText is a third-party service that lets you manage texts on Android from a web browser. With this service, you don't need to check your phone for messages. Just log in to the web client and handle your SMS instantly. Also, get call notifications and Facebook/Gmail alerts from your computer.
How to read my text messages online with MightyText?
Download MightyText from Google Play for your Android device.
Install the app and grant the necessary permissions.

The app will automatically identify the Google account linked to your phone.
Visit the MightyText website and select "Get the App".
Install the Chrome Extension and sign in using the same Google credentials.
Enjoy desktop notifications for all your Android texts.
Extended Reading:
Part 5: How to Get Text Messages Online with AutoForward Text (Android)
For parents concerned about their children's messaging activities on Android phones, AutoForward Text provides an effective monitoring solution by automatically forwarding texts and call logs. What makes this tool even better is the ability to filter the service, focusing on interactions with specific contacts or messages containing predefined keywords.
How to view text messages online for Android via AutoForward Text?
Install and launch AutoForward Text on your Android device.
Sign up for an account from within the app and access the web-based version using a phone browser.
Log in with your newly created credentials and configure your settings.

Choose where the texts will be sent and set up trigger keywords.
Decide whether you want individual emails for each message or a daily summary.
Check your email account for messages from the app.
You'll find the complete details of the text interactions in the emails.
Part 6: How to Read Text Messages Online via Assistant for iOS (iOS)
Is it possible to view my iPhone text messages online from a computer? Absolutely! MobiKin Assistant for iOS (Win and Mac) can help you go any further effortlessly. As one of the finest and most secure tools in its field, this program allows you to see various iOS items on almost any PC or Mac, manage data, back up, and restore your device. This includes text messages, calendars, contacts, music, movies, images, playlists, voice memos, notes, and more.
How can I view my text messages online using Assistant for iOS?
Step 1. Connect your iPhone to the computer using a USB cable and install the utility. Launch the software, and it will guide you to recognize the connected device.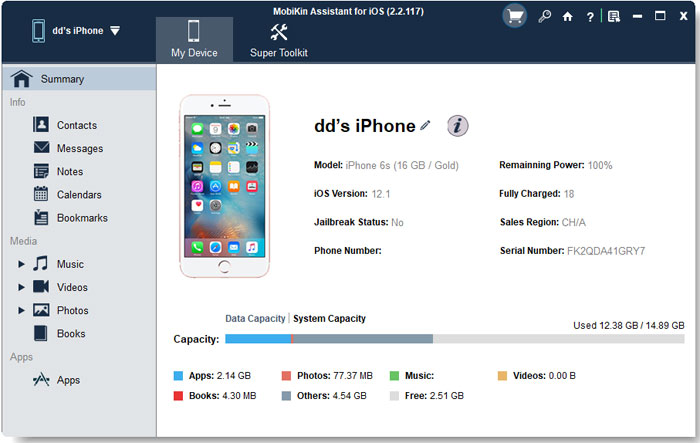 Step 2. Once your iPhone is detected, all your iOS items will be categorized in the left menu of the interface. Select "Messages", and you can now read your texts neatly organized in the right panel.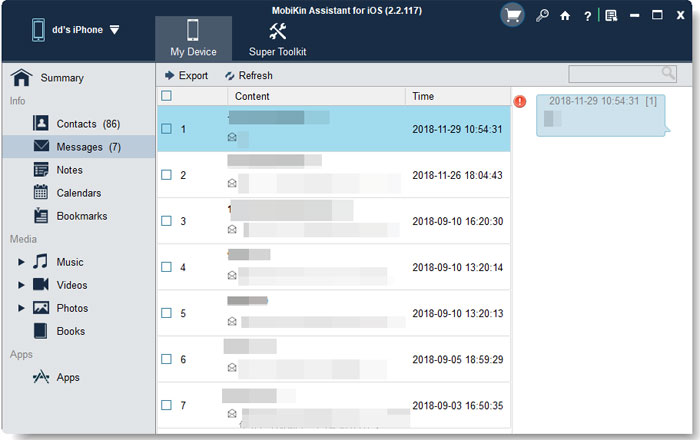 Part 7: How to Check SMS Messages Online Using iCloud Sync (iOS)
Apple's iCloud data syncing service allows you to store and access all your messages on multiple devices. To do this, ensure that Messages in iCloud is enabled, and as long as you're signed in with the same Apple ID, you'll have the same view on other iPhones, iPads, or Mac computers.
How to view my text messages online via iCloud Sync?
On your iPhone/iPad, go to "Settings" > "Your Name" > "iCloud".
Ensure that the "Messages" option is enabled to back up text messages from iPhone to iCloud.
On your Mac, sign in with the same Apple ID to initiate message sync.
After a while, your text messages will be accessible on iCloud online.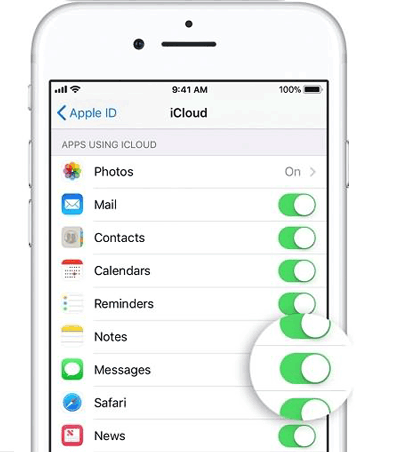 Part 8: How to View Text Messages Online with MySMS (Android/iOS)
As a great solution for backing up SMS messages, MySMS allows you to manage messages across Android phones, iPhones, tablets, and computers. Even if your phone gets damaged, it ensures message retrieval. (How to recover data from an Android phone with a broken screen?) It's a comprehensive app that facilitates sending and receiving texts on various devices.
How to access text messages online via MySMS?
To get started, access the Google Play on your Android device and install the application.
Once installed, log in or create an account if you don't have one.
For account creation, provide your name, email, telephone number, and other necessary information.
Next, go to your PC and visit the MySMS webpage. From there, you can view all received and delivered messages online.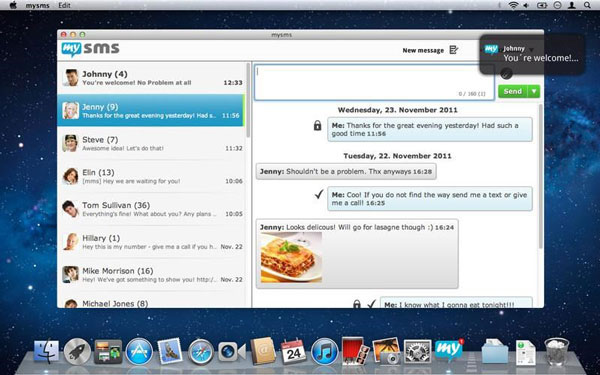 Part 9: How to Access Text Messages Online by Contacting Network Provider (Android/iOS)
Case 1: Get Text Messages Online from Verizon
Verizon Messages is a reliable messaging service that enables users to synchronize text messages across all compatible devices. By installing this app on your cell phone and syncing it with the web client, you can conveniently view, send, and receive Verizon messages directly from your PC.
Access my text messages online using Verizon:
Install and launch the app on an iPhone or Android device.
Click "Start Messaging" and follow the on-screen prompts to set up an account.
Initiate conversations with the Verizon contacts.

For Verizon online texting, sign in to "My Verizon".
Navigate to "Account" > "More" > "Text online".
You'll find the previous conversations there.
Case 2: Read Text Messages Online from T-Mobile
Typically, T-Mobile doesn't store communications on its servers. Nevertheless, you can still check your text messages online through the T-Mobile application. Here's the guide for text message look up online:
Log in to your account on My T-Mobile.
Click on "Usage" from the top menu.
Choose "Messages" to view your messages.

Select the specific line you want to see.
Tap "Download usage records" to save the message files to your computer. (Any tips for texting from a computer to a cell phone?)
Case 3: Access Text Messages Online from AT&T
Can I get my text messages online using AT&T? Of course! This network provider's wireless customers enjoy text message backup in the cloud for 90 days. Messages can be sent, received, and synced across various devices. To access messages online from AT&T, you can:
Sign in to My AT&T.
Go to "My wireless" > Check "Usage".
Scroll down and select the line you want to view.
Choose "Data, text & talk logs" to access the related files.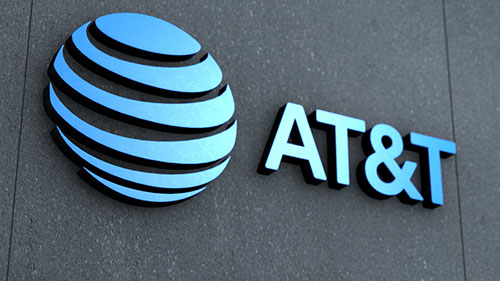 Summary
As can be seen from the above, it is not complicated to read text messages online. And we have offered several solutions for Android and iPhone users accordingly. You can choose the one by considering whether you just need to view texts or if you have to get them for further use. In addition, you can also factor in the convenience and usability of the method into your choice. Finally, feel free to share this article with more people if you find it useful.
Related Articles:
Why Won't My Text Messages Send on My Android? [12 Reasons & 16 Solutions]
Where Are Texts Stored on Android? SMS Location, Backup, Recovery, etc.
How to Retrieve WhatsApp Messages from Lost Phone without Backup? [iPhone/Android]
4 Essential Skills to Sync Messages from iPhone to MacBook [In-depth Guide]
5 Recommended Methods to Save Text Messages/Texts on iPhone 14/13/12/11/X/8
Helpful Tips to View Text Messages on iCloud from PC/Mac/iPhone [2023]