How to Recover Deleted Photos from LG Phone (Option 1 Is Stunning)
Wrongly deleting important photos when you clean up LG memory, or because of software or hardware errors or viruses in your mobile, some photos may suddenly disappear. At this time, you might be anxious to find them and try to restart LG phone again and again? These operations are not reasonable. The following will tell you the reasons. Then you may ask: can I retrieve deleted photos from my LG phone? Absolutely yes! Here, 4 LG photo recovery solutions will serve as a guide.
So, what should we pay attention to before and in the process of restoring photos? This article will decode for you.

Option 1: How to Recover Deleted Photos from LG Phone with Doctor for Android
When you or someone else mistakenly delete your LG photos, your first reaction is to find them in your mobile through various ways. Look for photos repeatedly or turning LG on and off, which are likely to overwrite data, thus increasing the difficulty of recovering pictures. Because the photos in LG phone are deleted or disappeared for some reasons, they are not really missing, and hide as a kind of useless data somewhere inside the phone memory.
In order to improve LG photo recovery rate, it is recommended that you shut LG down or do nothing. Based on the importance of images in LG, you need a professional and lossless recovery software - MobiKin Doctor for Android, What's most worth mentioning is you don't need to back up photos before recovery with it.
Overview of MobiKin Doctor for Android:
> Recover deleted and lost photos from LG completely without any quality loss.
> Recover deleted contacts from Android phone, and other data like photos,call logs, SMS, videos, music, and documents can also be retrieved.
> Recover data from both external SD card and phone memory.
> Back up the off-the-peg data from an Android to computer without data loss.
> Works on almost all Android devices, including LG like LG G9, G8, G7, G6, G5, G4 G3, P350, P500, V60, V50, V40, V30, etc.
Wouldn't you like to download it now?
How to recover deleted pictures from LG phone? That is:
Step 1. Connect LG to computer via a USB cord. Start MobiKin Doctor for Android and enable USB debugging on LG to wait for the automatic detection by the program.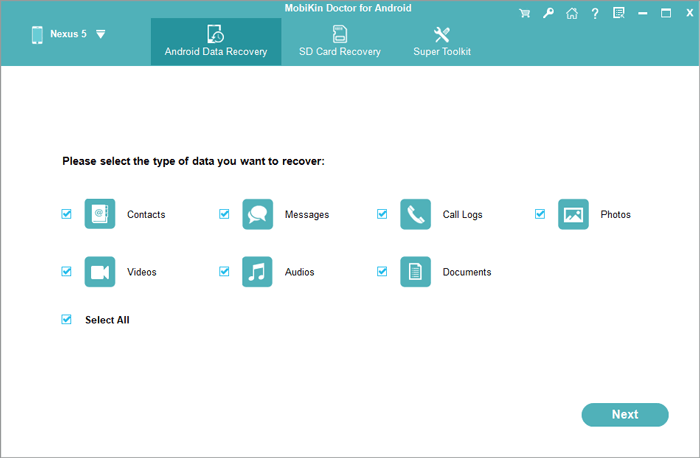 Step 2. Select Photos from the main interface and click "Next" to let the program scan your LG phone. After the scan, all deleted photos on your LG phone will be shown on the screen.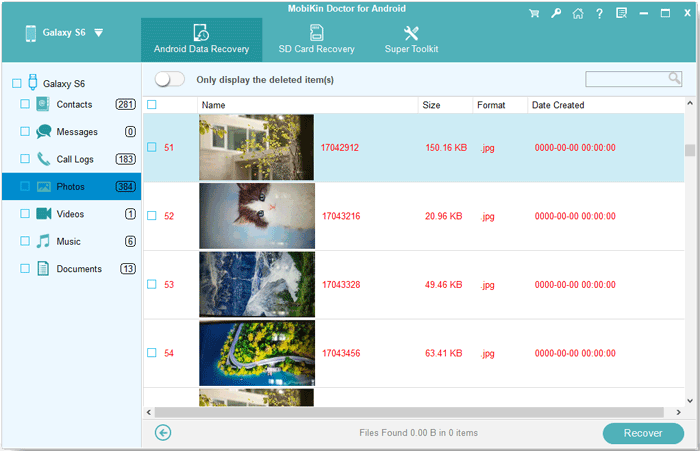 Step 3. Preview and choose your needed images. Then tap Recover at the bottom of the window to save the pictures on computer.
Want to learn more intuitive details about how to recover deleted photos from LG (or other Android) phone? This video can give you a hand.
Option 2: How to Retrieve Deleted Photos on LG Phone from Gallery Trash
The wallpaper of LG are very eye catching, and these wallpaper are stored in the gallery as we usually take photos. In addition to pictures, video files can also be stored inside. If your photos or videos are deleted in less than a week, this method can still be tried. Of course, it is possible to delete photos twice by remiss using this method, because the deletion button is next to the restoration one.
OK, here's a question: where is the recycle bin on my LG phone? Well, it's under the Gallery app.
How can I recover deleted photos from my LG phone with Gallery Trash?
Step 1. Open the Gallery app to choose Drawer menu to choose Trash from the left-hand panel.
Step 2. Choose your needed photos one by one or the whole albums you wish to recover. Then click Restore icon to recover deleted photos from LG phone.
You May Like:
Option 3: How Can I Recover Deleted Photos from My LG Phone via LG Backup
As a feature provided by LG Inc, LG backup can only recover the synced files LG cloud. These kinds of files are stored in the internal memory > LG backup folder on the phone. Firstly, Wi-Fi needs to be turned on before use. In the next place, it supports to backup applications and contacts, calendars, bookmarks, SMS, pictures, videos, music, etc, but for some LG versions, Google account is a necessity.
How to retrieve deleted pictures from LG phone via LG Backup?
Step 1. Unlock your LG phone, go to Settings > General > Backup & reset > LG Backup > Backup & restore > Restore from backup to choose your wanted photos from Backup list. Then, press Next > OK to start the recovery.
Step 2. After that, click Done and to wait for your LG rebooting automatically. Then you can preview restored pictures on your LG phone.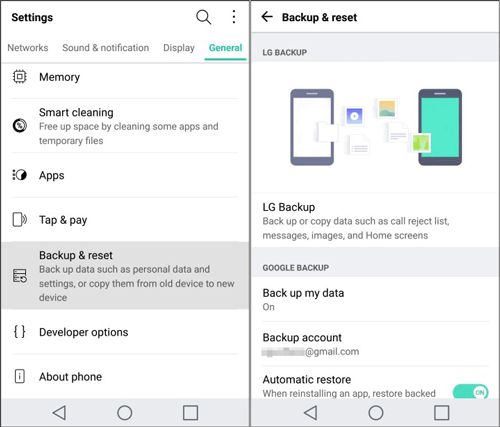 In the following cases, the backup may not be restored due to incompatibility. For example, when you backup, your LG is Android 5.0, and when you restore data, your phone is upgraded to Android 6.0.
Option 4: How to Retrieve Deleted Pictures/Photos from LG Phone via Google Photos
In the previous version, Google Photos was called Google+. The most influential update for ordinary users should be photos stripped from Google+. Yet, the updated service, which spans the three platforms of webpage, Android and iOS, can't completely fade its traces now. The new Google photos is also good choice for people who like to record their lives with pictures and videos. Of course, if you delete photos, you can also recover them from your LG phone.
Want to know how to retrieve deleted photos from LG phone with Google Photos?
Step 1. Start Google Photos your LG phone and tap menu from the top left corner. Then tap Trash from the list.
Step 2. Preview and choose your needed photos. Next, click the Undo image from the top right corner to recover those pictures to Google Photos. After that, tap Restore to retrieve deleted photos on LG phone.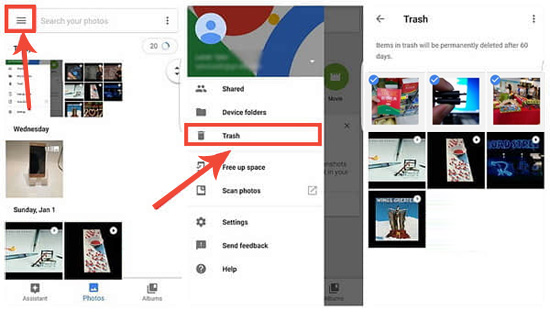 Note: All the items in the trash will be removed after 60 days.
Final Thought
All in all, these 4 methods have been personally tried. So, I think different people have different answers on how to recover deleted photos from LG phone. If you want to choose the most cost-effective, safest and most efficient way, it is undoubtedly the MobiKin Doctor for Android. Of course, after solving the photo loss problem, you are welcome to ask questions about other data management and recovery from LG or other Android mobile devices.
Related articles:
3 Means to Recover Deleted Files from Sony Xperia Z7/Z6/Z5
[Updated in 2020] How to Retrieve Deleted WhatsApp Messages on Android?
Full Guide: How to Recover Deleted Photos from SD Card on Android Phone?
Practical Guide: How to Recover Deleted Videos from SD Card
How to Perform Samsung SD Card Data Recovery Safely and Effectively?
Top 6 Huawei Data Recovery Software [Most People Don't Know]