How to Perform Samsung SD Card Data Recovery Safely and Effectively?
Samsung SD card is the most commonly used storage media for storing, accessing and sharing data between different gadgets. In our daily life, however, due to accidental deletion, scratches, dirt, dust, oil stars, virus, battery replacement or some other reason, it is easy to cause SD card failure. In such cases, you need a clear strategy to do Samsung SD card data recovery after checking the contents from the SD card on Samsung to verify the lost data.
This review discusses the most reliable recovery tool, which can retrieve lost or deleted data from built-in and external Samsung SD card. Before that, let's check the overview of Samsung SD card and the possibility of the file recovery.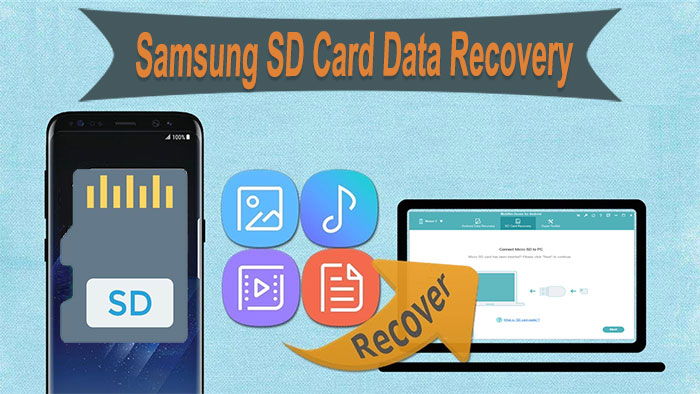 Part 1: What Is Samsung SD Card and Can I Recover Data from It?
What Is Samsung SD Card?
SD card can be divided into internal and external types. Today, most Samsung devices have an external SD card, and you can trace them from storage/SDcard0 and storage/extSDcard on Samsung. The upgraded card is called EVO SD card. In addition to being widely used in Samsung phones and tables, it can also work for the capacity expansion of SLR cameras, ultrathin notebooks and other 3C products. The maximum capacity of a Samsung external SD card can be 256GB, the uppermost reading speed is 100MB/s, and the ceiling writing speed is up to 90MB/s, which are all the leaders at the relevant technical level.
By default, Samsung mobile shares a part of memory from main body to the built-in SD card (i.e. the built-in SD card). The storage directory given by the system is "SDcard0", while the directory of Samsung external SD card is called "extSD card". Noteworthy, your Samsung data is housed in the built-in SD card if you do not make other storage settings.
Note: Many users may not understand how to view the data on built-in SD card, and how to move the data from the built-in card to the external one. If you are wondering about these, you can follow: Samsung > My Files > All files to find SD card0 and extSD card, copy the multimedia files you want to migrate from SD card0, and paste them into the extSD card.
Can I Recover Data from Samsung SD card?
Similar to the data recovery principle of Samsung internal storage, the gist of Samsung SD card recovery is easy to get. When the files in your Samsung card are found missing, or an error occurs while opening the card, they are probably still somewhere on the SD card, so you don't have to panic.
First, turn off the cellular data and WiFi from your Samsung, and don't turn on the phone settings or other apps, so as not to overwrite data into the handset and avoid new data covering the specific locations. Then, hurry up to find a quality recovery software to get them back. To do this, the success rate of SD card recovery will be greatly improved.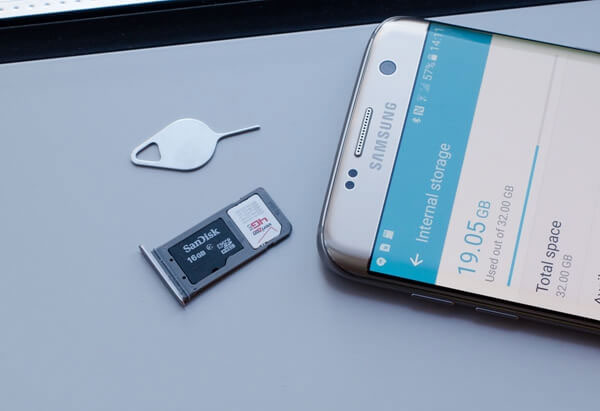 Can't Miss:
Part 2: Best Samsung SD Card Recovery Software
After you are sure that the files on Samsung SD card are lost, all you need is a pragmatic file recovery software. Here, we strongly recommend that you use MobiKin Doctor for Android (Windows and Mac version). Even if your Samsung device is advanced enough to hold the latest EVO SD card or other similar types of products, this tool can map out the strategy. It can even recover the data on the USB flash and the camera SD card. And for the latter, you need to prepare for an SD card reader beforehand.
OK, what are the screaming characteristics of this versatile utility?
Completely retrieve photos, music, videos, and documents from Samsung micro SD card.
Select and preview data type before data recovery.
Also come with Android Data Recover mode to restore data like contacts, SMS, call logs, photos, videos, music, documents, etc. from Android internal memory.
Do well in recovering files from Micro SD Card (TF), SDXC, SDHC, XD card, Evo (Plus) micro SD card and even Pro micro SD card, and so forth.
Run smoothly on 6000+ Android phones, including Samsung Galaxy S20/S10/S10+/9/S9+/S8/S8+/S7/7+, Note 10/9/8/7/6, Samsung Galaxy Tab E/Tab A/Tab S7/S6/S5/S4, SM-T510/T290, etc.
Doesn't it look great? So, if you want a pleasant recovery process, download the trial version of the best Android data recovery tool now.
Part 3: How Do I Recover Data from My Samsung SD Card (3-step Guide)
After checking the highlights of this amazing software, let's focus on the easy steps to recover Samsung SD card with MobiKin Doctor for Android. You have two connection ways to connect your Samsung SD card to computer:
Connect Samsung phone to computer directly: Primarily, you can choose to connect your Samsung phone to the computer, and then get the software scanned all the contents of the phone. This operation will automatically detect the lost data from both your Samsung internal storage and SD card. After that, you can recover the deleted data from the card.
Connect Samsung SD card to computer: Besides, you are also allowed to insert the micro SD card directly into the computer via a card reader. And after the card is recognized by the program, the automatic detection is to start. Soon, you can preview and recover the lost files from Samsung SD card.
Here, Let's set the second connection type as an example to see - how do I recover deleted data from my Samsung SD card?
Step 1. Put your SD card into the computer
Install and run the tool on your computer to select "SD Card Recovery" mode from the top of the window. Then, you need to link your Samsung SD card to the computer by putting it into the computer via a card reader.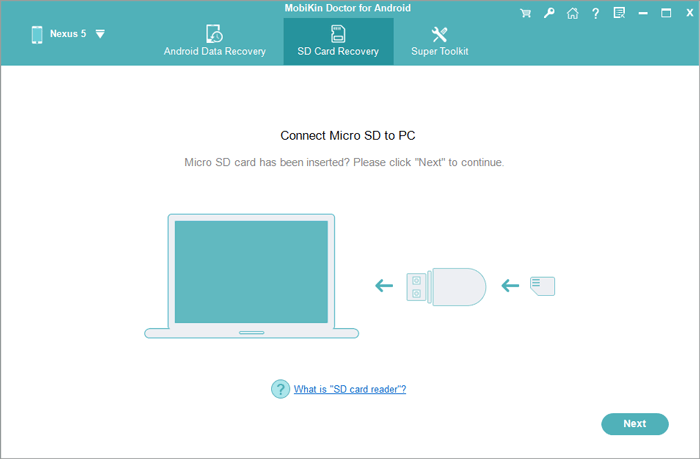 Step 2. Scan lost data from the SD card
The program will conduct automatic detection and after that, your SD card icon will be on the window like follow. Now select the card, and tap on "Next" to scan for the lost multimedia files.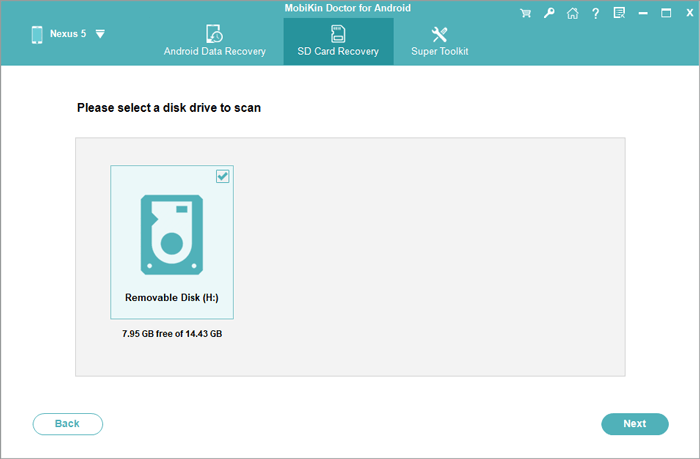 Step 3. Recover files from the SD card
Choose the file types you need from the left panel. If you need to figure out "How do I recover deleted pictures from my Samsung SD card?" Then, you should mark the "Photo" tab and tick on the images you want to retrieve from the right column. Next, press the "Recover" button at the lower right corner of the window to restore your needed photos from the micro SD card.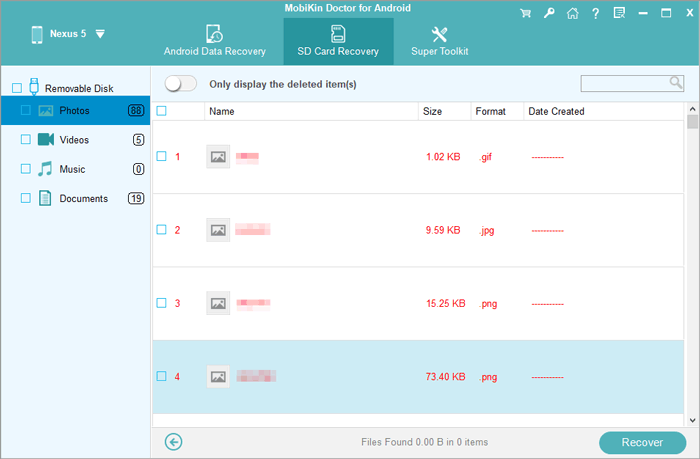 Check if you need:
Part 4: Bonus Tip - How to Fix Possible Problems of SD Card
Often, there are some unexpected issues on the SD card. According to the feedbacks of many card users in some forum, their Samsung or other mobile SD cards have such situations as being slow, latent, freezing and crashing, smooth going but with hidden files, etc. In the face of these scenarios, how should we deal with them? This part will present some frequent problems you may encounter and come up with the approaches.
1. What if the card is not recognized?
Plug the SD card into the computer via an SD card reader and tap the key of "Windows + R". Then fill in "compmgmt.msc" and go to "Enter" > "Disk Management" > "right-click the drive" > select "Change Drive Letter and Paths" > "Change" > "Assign following drive letter" > choose the letter from Dropbox > "OK". Next, restart the computer.
2. How can I extract hidden data stored in corrupted SD card?
If your SD card is corrupted, and the data is invisible, please try to connect your SD card to PC through an SD card reader > open "Windows Explorer" > "Tools" > "Folder options" > "View" > "Show hidden files, folders & drives" > undo "Hide protected operating system" > "OK".
3. What to do if the SD card is slightly damaged?
From the lower left corner of your computer, click "Start Menu" > "Run". Then input "cmd", and press "Enter" on your key. Afterwards, type "chdksk /f/r i" at the cursor of the black interface, and click enter. Or try another command as "chkdsk h: /f." instead to repair your damaged SD card.
4. How do I fix the unstable SD card by formatting it?
Take out your SD card from your Samsung or other mobile and insert it into your computer using an SD card reader. Then, you'd better back up your SD card files after the card is recognized by the computer.
Now, click "This PC" or "My Computer" on your desktop to find the SD card icon and right-click it. Then select "Format" and then choose the format as "FAT32" (Note: you'd better not choose "NTFS" format here, which may affect the life of SD card). Finally, click "OK", and there will be a prompt after the task is done.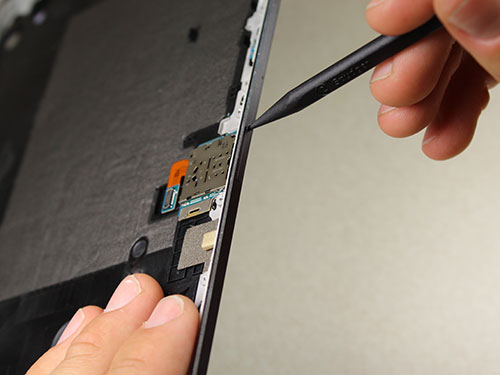 Final Thoughts
This post introduces the basic features of Samsung SD card, the possibility of lost files recovery, how to use the best Samsung SD card recovery software to recover the deleted/lost data from SD card, and how to troubleshoot some failures of micro SD card. I hope these will do you a favor anyway. Well, if you need recover your SD card now, it is a wise choice to opt for MobiKin Doctor for Android to experience the magic process brought by this secure program.
Finally, if you are wondering about SD card recovery or practical guides to phone management, please leave your comments below.
Related Articles:
[2023] LG Phone Won't Turn on? 5 Possible Solutions Here
How to Fully Erase SD Card on Android Phone
3 Ways to Recover Deleted Contacts from Android (#1 is Awesome)
3 Simple Ways to Transfer from SD Card to iPhone
How to Sync Android Apps to SD Card?