Practical Guide: How to Recover Deleted Videos from SD Card
With the popularity of smartphones, the existing memory of the mobile has been unable to meet the diversified storage needs of many phone users. To cater to the market, Kingston, Samsung and other enterprises have launched SD cards with a capacity of several hundred gigabytes recently. However, when managing SD card, it is inevitable that data loss will occur due to inadvertent data deletion or other operations. Once it comes up, you should cool down and find a means to recover video files from SD card.
Provided that you don't know how to recover deleted videos from SD card or memory card, check this page to peruse the best SD card video recovery tool and get its use to help you in an emergency.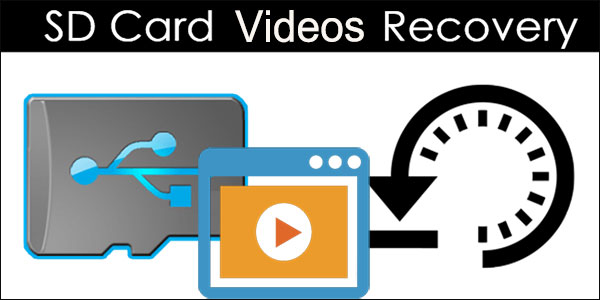 Part 1: Is It Possible to Restore Deleted Videos from SD Card?
By and large, it is possible to recover deleted video files from SD card. And what should you pay attention to after deleting the videos?
First, the videos you deleted are still on the SD card, for they are temporarily marked as useless info and put in some track of the SD card. But there is no temporary tool like "trash can" for you to recover them directly.
Second, what you need to do is to stop using SD card, that is, don't store any data to the card so that the track where the videos are located is not covered by new files. But you can power off your mobile phone, tablet or digital camera, and later remove the card from the device.
Finally, you need to find a trustworthy SD card data recovery software. The sooner the better. Follow the above, it is thus possible to conduct video recovery from SD card.
Part 2: The Best SD Card Video Recovery Program
Recovering deleted video from memory card/SD card effectively can be an easy stuff if you choose a reliable software. Here's a program - MobiKin Doctor for Android (also known as its Mac version), tried by millions of Android users. Hugged by leading technologies, this smart software can recognize a variety of common video formats. It turns out to be that this tool is very helpful in dealing with file loss scenarios on the SD card or mobile memory. And it is considered to be the best helper to recover the video from SD card after deleting or formatting the card.
As long as you don't operate the SD card too much after the video is lost, there is no doubt about the possibility of SD card video recovery with this program.
Let's get to know it first from some of its features:
> Recover deleted videos, photos, music, audio, and documents from SD card without any data loss.
> Restore lost data from Android internal memory, including contacts, text messages, call logs, photos, music, videos and more.
> You are allowed to preview and select you wanted file types before data recovery.
> User-friendly, ad-free, fast scan, privacy protection, etc.
> Run on Windows 10/8/7/XP/Vista, Mac OS X 10.7 or up and be compatible with almost all kinds of Android devices.
> Work well with various SD cards, including Samsung EVO microSD card, Sony SDHC card, Toshiba SDXC card, SanDisk Extreme Pro microSD card, Kingston microSD card, Mini SD card, T-Flash card, XD card, RS-MMC card, and so on.
Well, here you can tap to download the trial version of the SD card videos recovery software to retrieve deleted videos from SD card.
Now, how can I recover deleted videos from my SD card/memory card with this best SD card data recovery software? Let's move ahead please.
Further Reading:
Part 3: How to Recover Deleted Videos from SD Card?
The built-in SD Card Recovery mode of Doctor for Android can scan and recover deleted videos from SD card directly. With this method, you need to take the SD card out of your mobile, tablet or even DC, etc. Then, open the tool and put the SD card into the computer via a card reader for scan. Next, it is easy to recover deleted videos from SD memory card supported by the phone or other electronic products.
For users who want to know how to recover deleted videos from SD card on phone, you do not need to remove the SD card from the phone because MobiKin Doctor for Android can directly connect to your phone and automatically scan out all the mobile data (including the deleted videos and other data on the SD card). After that, choose the videos to recover them from SD card.
Step 1: Open the program and go to SD Card Recovery mode
After you download MobiKin Doctor for Android and install it on your computer, open it to get prepared. Select "SD Card Recovery" mode from the top of the interface to see a window as below. Now, you should insert the SD card to your computer via a card reader and tap "Next" to go on.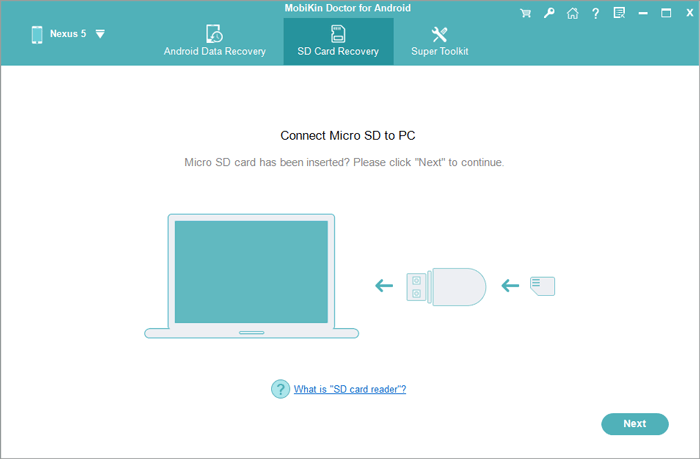 Step 2: Scan videos and other files on SD card
After the detection, you can see the icon of the SD card on the interface. Now, you are required to tick on it and tap "Next" for the automatic scan. After a few minutes, all the file types will be on the intuitive interface.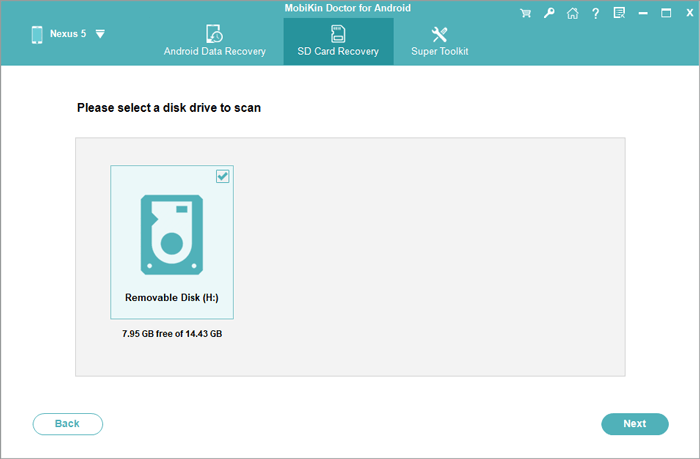 Step 3: Recover deleted videos from SD card
Select "Videos" from the left menu and preview the scanned videos on the right column. You can also toggle on "Only display the deleted item(s)" from the top menu to check all the deleted videos. Subsequently, choose your desired videos and press the "Recover" button to start to recover deleted videos from memory card.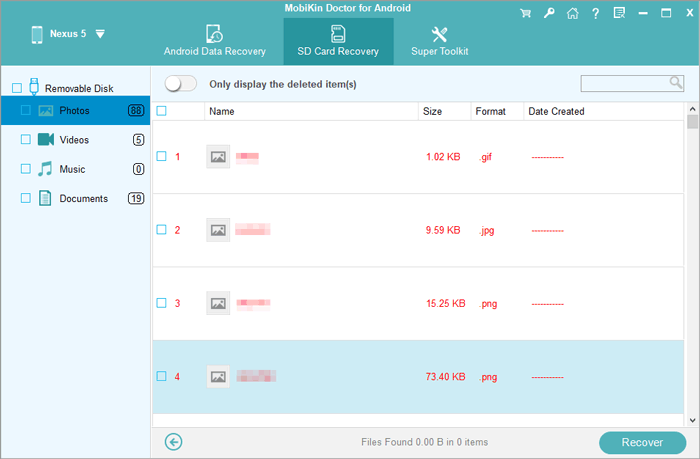 You May Wonder:
Extra Tips: New SD Card Management & Back up SD Card to Secure the Data
Tips for New SD Card Management:
If you buy a new SD card, suggest you scanning it with an anti-virus software on your computer first. And after starting it, check whether there is any important information in it. If so, it is better to back up the SD card data to other devices and format the card.
After that, each time you plug it into the computer, do not open it directly. You'd better right-click the drive letter, and then open it with "Explorer" to ensure its data security.
Back up SD Card to Secure the Data:
In the new information age, the products of knowledge or entertainment usually takes the digital route, and the data usually needs to be stored in the electronic carriers such as mobile phones, computers or SD cards. It is catching on indeed. And it is extremely important and necessary to back up significant data on some device. On the one hand, it is for the sake of data security, and it also saves time spent in restoring data in case of emergency on the other.
To do this, you can try the intelligent software - MobiKin Assistant for Android. It can not only back up and restore the SD card or other data on a phone, but also complete the data transfer between Android phones on the computer. Downloading it, you'll never get frustrated with the data loss on your SD card.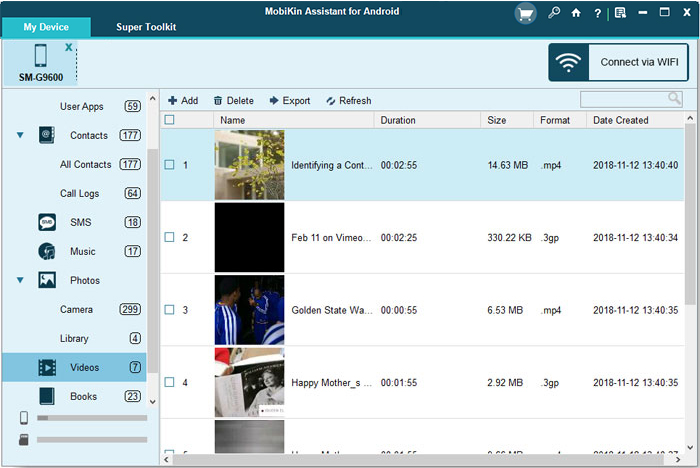 Ending Words
It's an important method to effectively reduce the video loss by developing a good habit of managing SD memory card. So, if your mobile, digital camera, flash memory or other electronic device suffers from video loss for unpredictable reasons, you need a great video recovery software like MobiKin Doctor for Android. As for its wide compatible, fast, safe and easy-to-use properties, you can try its trial version to recover deleted videos from SD card for free.
OK, can you recover deleted videos from SD card now? If you have any questions on using this SD card recovery program or want to get other tips for phone management, please leave a comment below. And we'll act appropriately to the situation.
Related Articles:
Why Is My Phone Hot and Losing Battery? How to Fix It Quickly? [SOLVED]
How to Recover Deleted Files from SD Card in Android Phone?
How to Copy Android Data to A SD Card
Android SD Card Backup: How to Backup SD Card on Android?