Full Guide to Fix All WhatsApp Problems
Nowadays, WhatsApp becomes more and more popular and the number of its users is up to one billion. However, according to the reviews from WhatsApp users, there are many issues appear in their using process, which really disturb them a lot. Therefore, this article is written to summarize the issues that users often meet and offer the corresponding solutions to help you easily fix WhatsApp problems.
The Most Common WhatsApp Problems and Their Solutions
Actually, the WhatsApp issues that users often meet are similar. Here we have summarized them into five categories.
1. Installation issues
The main reasons that may cause this kind of problem are:
- The version of your phone system does not support the WhatsApp
It is possible that the older version of iOS or Android does not support WhatsApp. So you'd better go to check the version of your device and update it when you find there is a new version available. To check the version, iPhone users and Android users have different ways.
If you are Android users, you can go to Settings> About Phone to see what version you are using.
If you are using an iPhone, you could navigate to Settings> General> Software Update.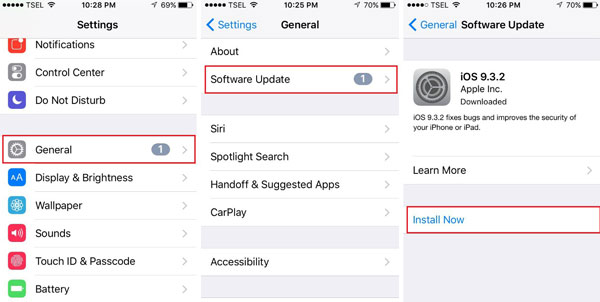 - Phone storage space shortage
To install the WhatsApp, you must have enough space for the program. So when you fail to install the tool, the first thing you should do is to confirm the usable free space on your device. If the space is not big enough to install the WhatsApp, you should free up your phone by deleting junk files or transferring data on your phone to other device. After that, you can try again to install the application.
- Fail to get the activation code
If you have ever used WhatsApp, you must know that you need to type in a one-time security code when you log in your account. But sometimes you may not receive the code and be not allowed to enter WhatsApp. In this case, you can tap on "Call me" option and you will automatically get a call from WhatsApp server who will tell you the number and you can verify it right away.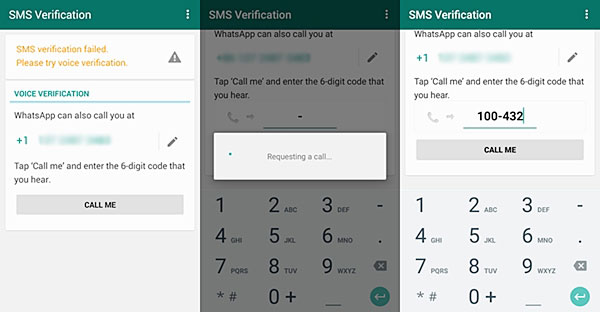 2. Connection issues
- Unstable network
The use of WhatsApp requires you to connect a good network. So it is certainly you are not able to manage your WhatsApp when the Wi-fi you connect is unstable. You can check the internet signal on your screen. If the internet signal you are using is very weak, you'd better try to establish a connection between your device and other available networks to solve the problem.
- Outdated WhatsApp version
An outdated version of WhatsApp also can lead to the connection issue. When was the last time you update your WhatsApp? Have you checked the WhatsApp update frequently? If not, you need to do that at this moment. Just go to the App/Play store and select Updates. Then find out WhatsApp and tap on Update option. After installing the newest WhatsApp version, you can launch it on your device again to see whether it can run well.
3. Contact issues
- All contacts not displayed on WhatsApp
Lots of users have met the situation that no any contact is listed in the WhatsApp Contacts list when they enter the app. What can you do in this situation? You might disable the "Show all contacts" feature of WhatsApp. Therefore, you can go to Settings in WhatsApp and then click on Contacts option under this folder. Finally tick "Show all contacts" to enable the feature so that you can see the contacts.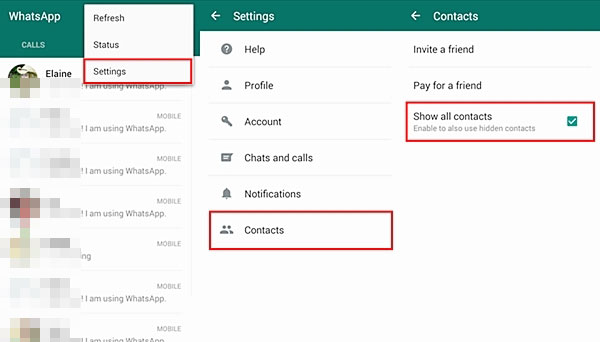 - Cannot see newly added contacts
Some users say that they are not able to find the contacts that they have added just now. This might because the software does not have enough time to auto refresh your WhatsApp account but you can refresh it manually. Just tap on "Options" on the main interface of WhatsApp and then select "Refresh". Now you only need to wait for a while and search the contacts again.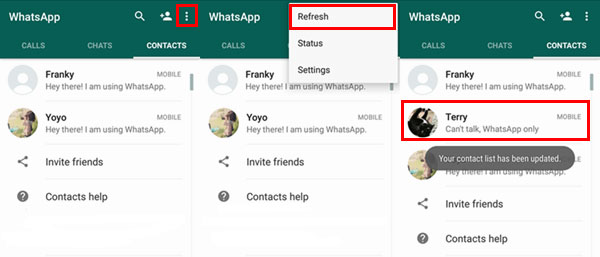 4. Message issues
- Unable to search words in messages
WhatsApp equips a feature that allows users to search a specific conversation by typing in words. But if you can't do that, do not worry! You can fix the issue by following the steps: Settings> General> Spotlight Search. Then under this folder, you will see several results. Just choose "WhatsApp" and slip the slider from left to right to turn it on.
- Can't send & Receive messages
It would be a big problem that you are unable to send or receive messages. In fact, the reasons that cause the issue are various but we only mention the main solutions here.
1) Reboot your phone. Just press and hold the Power button until you see the "Power off" option on the screen and then tap on. After turning off the device, you need to wait for several seconds and tap on Power button again to restart it. And now, you can launch WhatsApp to see whether you can send or receive messages to/from others.
2) Reinstall WhatsApp. Using a new WhatsApp version could help you. Thus, you can unload the software at first on your device. Then go to App/Play store to find and download the newest one.
3) Reset Network settings. The status of the network connect play an important in sending & receiving WhatsApp messages. If you are in a poor network environment, it would be difficult for you to send and receive messages. To solve this problem, you can navigate to Settings> General (iPhone)/General Management (Android phone) > Reset> Reset Network settings.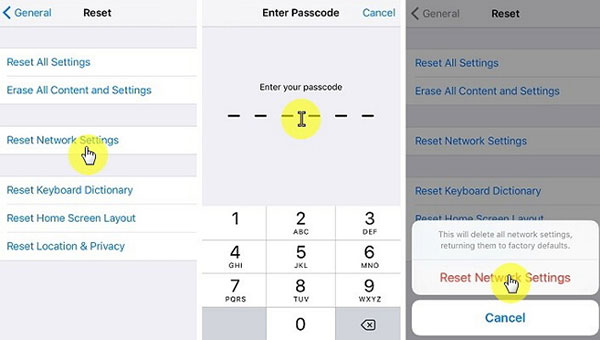 If you want to know more solutions for this issue, just go to the page "Why Can't I Send & Receive WhatsApp Messages".
- Incoming Messages delayed
Incoming messages delayed means that you have sent the messages but the receiver cannot get the messages immediately. This must be untoward if you get something urgent. To settle this issue, you can:
1) Disable "Restrict Background Data": go to Settings> Data usage> WhatsApp data usage> uncheck "Restrict background data" option;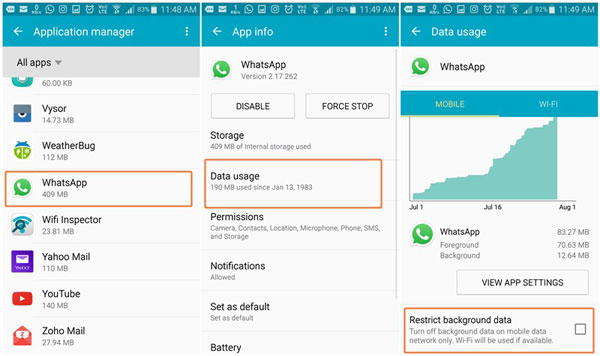 2) Reset app preferences: go to Settings> Apps> Menu Button> Reset app preferences.
5. WhatsApp crashing
When WhatsApp crashes, you are permitted to do nothing on this tool. To get rid of this trouble, you can:
1) Uninstall and reinstall WhatsApp;
2) Disable Facebook Sync: go to Settings> Facebook> Contacts. Then slip the slider to turn it off;
3) Update iOS/Android OS version.
These are the main solutions for this problem. If you want to know more about the details, you can click here to learn the full solutions.
Other WhatsApp Issues You Might Meet
Except the problems we have mentioned above, there are some other WhatsApp issues. These errors appear rarely but you are advised to learn them.
1. Fail to download WhatsApp media
Many users like sharing videos or photos with their friends on WhatsApp. Nonetheless, sometimes the receiver is incapable of downloading these funny or beautiful videos or pictures. This can be easily solved by turning on media auto-download option on your device. And another possibility is that you forget to enable the Wi-fi. Just go to check whether you have connected your phone to the internet.
2. Cannot backup WhatsApp data
Backing up data on your device is a good habit cause you may lose the files unexpectedly but you can get them back from the backup. And for WhatsApp users, they can realize this goal simply by going to Settings> Chats> Chat Backup> Backup now in WhatsApp. But sometimes you may fail to do that because of the poor internet or space shortage. Just connect your phone to a stable internet and free up your phone to solve it.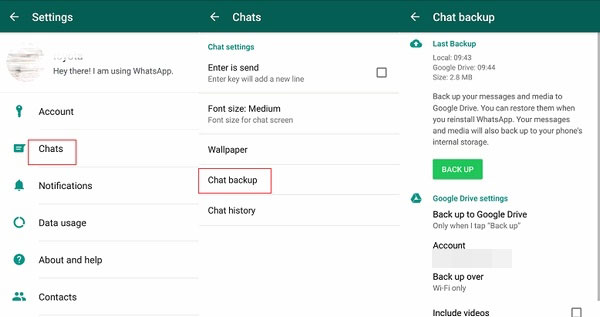 For more ways to back up WhatsApp messages, you can click the following link:
3. WhatsApp not working
Sometimes your WhatsApp may stop working suddenly. In this case, you can try to:
1) Re-connect your mobile phone to a powerful Wi-fi or cellular data network;
2) Update WhatsApp to the latest version;
3) Clear cached data or useless files on your mobile phone to free up the space;
4) Check the server status of WhatsApp; (You can go to WhatsApp Status Twitter account to have a check)
5) Turn off the task killer App on your phone;
6) Restart WhatsApp and iPhone/Android phone;
7) Re-install WhatsApp on your mobile phone.
4. WhatsApp no response
You are probable to get a pop-up notification says that "WhatsApp isn't responding. Do you want to close it?" when you try to launch the software at times. In this case, the first thing you need to do is just taping on "OK" to move past it. Then you can try to launch WhatsApp again after a few minutes. If it still fails to work, you can choose to reinstall it.
How to Restore Deleted WhatsApp Data?
The problems above are all about the software problem but there are also some WhatsApp issues are caused by users themselves. And one of the most common problems is that customers often mistakenly delete some significant files on WhatsApp. So here we will tell you how to recover the deleted WhatsApp data effectively.
For iPhone users, you can choose iPhone WhatsApp Recovery to help you. After downloading and installing it, you can click here to learn the detailed steps to get back the lost WhatsApp data on iPhone.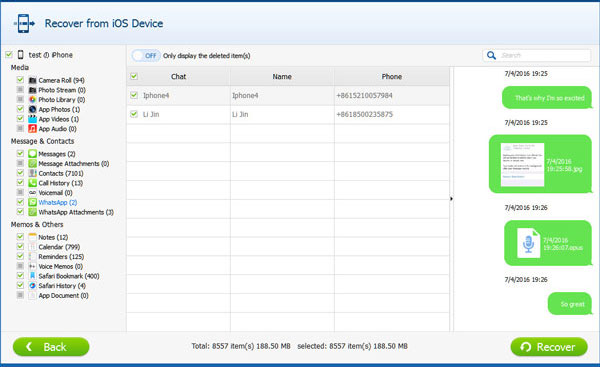 For Android users, Android WhatsApp Recovery is a good choice. Also, two free trial version of this program are displayed below. After getting the tool, you are able to get the full tutorial on recovering the deleted WhatsApp files on Android from here.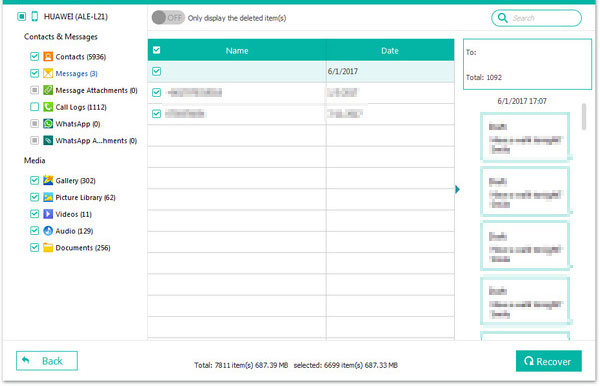 Write in the End
These are the common WhatsApp problems that users often meet and their corresponding solutions. If you have the same problem, you can go with the provided solutions to easily solve it.
Related Articles:
How Can I Transfer WhatsApp Chats from iPhone/Android to Email?
How to Recover WhatsApp Images/Pictures on iPhone Selectively?
Tips You Must Know about WhatsApp End-to-end Encryption
Let's Learn How to Manage WhatsApp Account on Android!