Best Method to Clean Media Files from Android Phones Forever
Q: iPhone XS has already come into the market for months and finally I decide to say goodbye to my Samsung phone which has been used for a short time and still operated well now. So I want to sell it but I am afraid of the information being leaked. There are many pictures and videos about my family and some secret information in the old mobile phone. I know there are software that can restore the deleted files so out personal information still face the risk to be leaked even after being deleted by myself. So I want to know is there any software can help me delete the files including the photos and videos forever so they can never be undeleted.
Taking photos and videos on your Android phone is an ideal way to record the precious moments in your life. But, too many media files, especially large videos, would occupy much of your phone memory and you must eager to free up your phone memory by deleting some media files when it starts running slower and slower. Or you may want to sell your old Android phone online. Well, whatever your reasons for deleting media files from Android, there are various ways you can go about it.
Part 1: Clean Media Files from Android Device Manually
Method 1: Delete the Photos/Videos from Gallery on Android
Step 1: From the main screen of your Android phone, head over to the Gallery app, where all your photos and videos are located.
Step 2: Go to the "Videos" and "Photos" folders, open both of them one by one and you will see all the videos and photos you stored on this Android device.
Step 3. Preview and choose to the video and photo you want to delete, long tap on it and tick the checkbox on your right for deleting. Or, you can also select multiple media files for deletion by ticking on their respective checkboxes on the right.
Step 4. Once you have selected all the videos and photos you want to delete, you can tap the trash bin icon to delete them off. Then, there will be a pop up dialog asking whether to "delete these files". Click yes to confirm the deletion.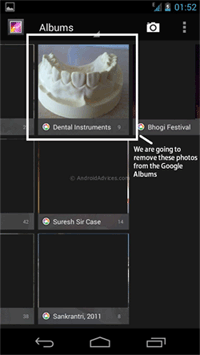 Maybe You are Interested in:
How to Wipe Photos off Samsung Galaxy
How to Clear Junk Files on Android Phone
Method 2: Delete Media Files in Android "My Files" Setting
Here we set Samsung Galaxy Note 7 as example:
Step 1: Open your Samsung phone and tap on "My Files" from the phone's main menu.
Step 2: Navigate to the folder where contains the videos and photos you want. This could be the DCIM folder, Media files folder or other folders like the Bluetooth folder. Please open this folder.
Step 3: Preview and select the video and photo you want to delete and perform the deletion by long tapping them to select for deletion.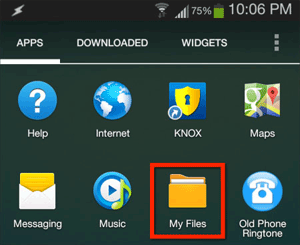 Method 3: Delete Media Files in SD Card on Android
Actually, the two methods above can also delete media files in SD card on Android. But the following steps can be more efficient.
Step 1: Open your Android phone and go to click "Settings" app from the main screen.
Step 2: Scroll down the Settings page to choose "Pictures and Videos under SD card storage" > "Storage", which will open your default gallery app.
Step 3: Now, you can select the photos and videos to delete them from gallery.
Alternatively, you can also use the "Format SD card" option to delete media files, but this will delete all the contents in the SD card. So, we would like to suggest you back up your Android data beforehand by using Assistant for Android.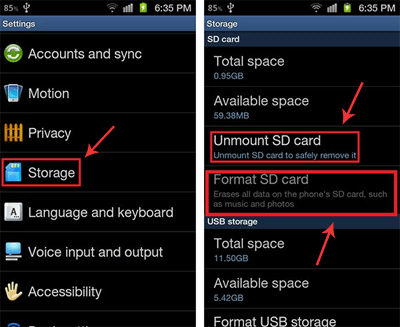 Note: The above ways to clean media files from Android actually can't delete files for good and those deleted files can still be recovered back with some professional Android data recovery programs. If you want to erase Android media files permanently, you can keep on reading the part 2 as below:
Part 2: Erase Media Files from Android Permanently with Android Data Eraser
Privacy become transparent nowadays because of the cameras on every streets and some powerful software. Even you delete the data that you do not wish other people to know, they can be still be fond and exposed. Then to protect your privacy, the powerful software - Android Data Eraser was designed and developed by our research personnel.
About Android Data Eraser:
Android Data Eraser is a cleaning software whose most important feature is that it can delete the files with no chance to be recovered. Once it erase some files, you can relieved because no matter what software and no matter how many experts are not able to recover the deleted data. Besides, almost all brands of Android phones can be supported by the software, including Samsung Galaxy, HTC One, LG Optimus, Motorola Droid, Sony Xperia, etc. At last, the software is totally clean and no adware will interrupt you when you use it.
Step 1. Download the software by tapping the icons above and link your Android phone to computer with the USB cable. Then install the MobileGo connector on your device as asked and then the software will detect and scan the files in your device.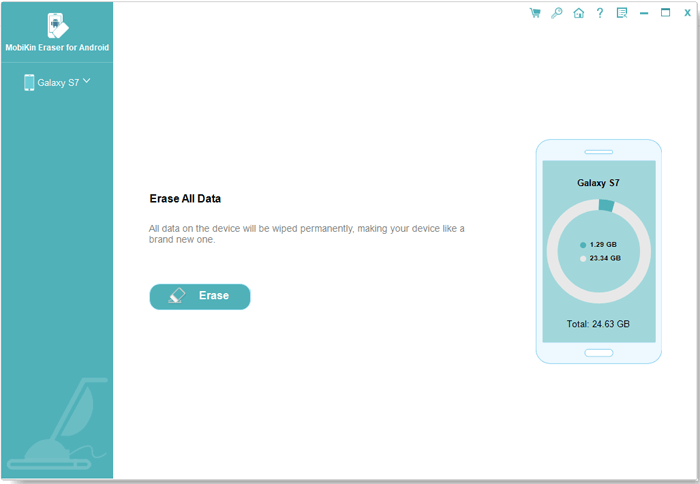 Step 2. The software will display all the modes on the interface. Just select the Erase All Data mode and then type "delete" on the box to confirm your action and then hit the Erase Now button to begin the process.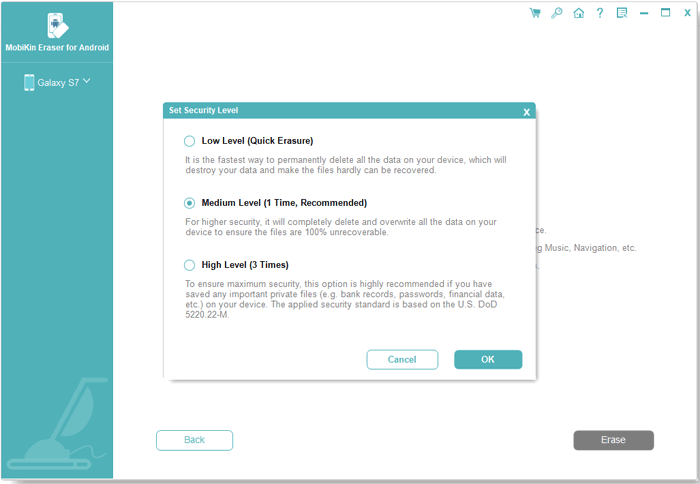 Note: For now, the software only supports the Erase All Data mode for Android device, so it is suggested to make a backup of your important files before the process. And the software will be improved with more functions soon.
Summary:
This article describes how to manually or use a third-party tool to delete media files on your Android phone with specific steps. Among them, using the tool - Android Data Eraser to delete data, the data can be completely and permanently removed, and no recovery tool can recover it. I believe that through this article, you can know how to securely and effectively protect the privacy of your phone.
Related Articles:
How to Permanently Erase iPhone Text Messages
How to Erase iPhone Data without Restoring Permanently