How to Move Pictures/Photos to SD Card on Android [A Comprehensive Guide]
Are you looking to free up Android space while ensuring the safety and organization of your precious images? If so, learning how to move pictures to an SD card on Android is the solution you need. Whether you're running low on internal storage or simply want to create backups, transferring photo collections to your SD card offers convenience and calmness.
OK, we will present 5 clever ways to accomplish this task, providing you with multiple options to suit your preferences and device capabilities. But before diving into the various ways to transfer photos to an SD card from Android, let's check out a few practical tips to keep in mind: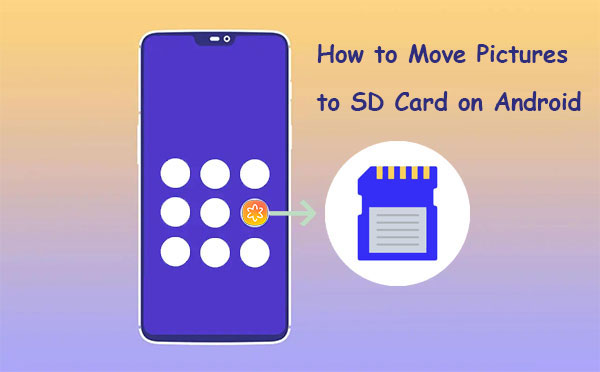 Part 1: Things to Notice before Transferring Photos to SD Card
You're likely to enjoy a smooth and trouble-free process, safeguard your valuable memories, and enjoy convenient access to your photos on various devices by considering the factors below before you move files to an SD card from Android:
Verify that your device is compatible with the SD card you plan to use.
Ensure that the SD card has enough available space to accommodate the photos you intend to transfer.
Insert the SD card into the designated slot on your smartphone.
Utilize antivirus software to scan the SD card for any potential viruses or corrupt data.
Confirm whether the file format of the photos you wish to transfer is supported by the SD card.
Prioritize creating a backup of your photos prior to transferring them to the SD card.
Safely eject the SD card from your computer before physically removing it. (Android SD card unexpectedly removed?)
Determine your preferred method of organizing the transferred photos on the SD card.
Take a moment to verify that the photos have been successfully transferred to the SD card.
You Could Potentially Like:
Part 2: How to Move Photos to SD Card via Android Settings
Some Android devices offer the ability to transfer photos from your phone to an SD card from internal storage through the Settings app. This method provides additional storage space and organizes your photos more efficiently.
How to move pictures from phone to SD card using Android Settings?
Open the Settings app on your device and navigate to the "Storage & memory" or "phone storage" section.

This will provide access to the files stored on your phone.
Within the designated section, tap the "Images" option to view the photos saved on your phone.
A screen will appear, displaying all the available pictures on your device.
Select the desired pics you wish to move by tapping on them.
At the top of the screen, tap the three dots and select "Copy to".
Choose your SD card as the destination for the selected photos.
Part 3: How to Move Photos to SD Card from Android with Files by Google
Some Android users would like to remove junk files via Files by Google when their Android internal storage is full. With additional storage options and organization capabilities, this app allows you to move or copy files, including photos, to your SD card.
How to transfer photos from Android to SD card using Files by Google?
Launch the Files by Google app on your Android device.
Tap on "Browse" at the bottom of the screen.
Under the "Categories" section, select a specific category.
Locate the file that you wish to move or copy.
Tap on the "More" option represented by three dots at the top right corner, then select either "Move to" or "Copy to".

Choose "SD card" as the destination for the file.
If you want to move or copy the file to a new folder, select the location where you want to create the new folder. Tap on "Add new folder" and enter the desired folder name in the pop-up. Finally, tap on "Move to folder" or "Copy to folder".
Alternatively, if you want to move or copy the file to an existing folder, select the folder you wish to use. Tap on "Move here" or "Copy here".
Check If You Need:
Part 4: How to Transfer Photos to SD Card on Android via My Files App
To move files from internal storage to a microSD card, you'll need a file managers app like Samsung's My Files or a third-party alternative like File Manager/ES File Explorer. The steps outlined below are based on using the My Files app, but they should be similar on most devices.
How to move pics from internal storage to SD card with the My Files app?
Start your My Files, File Manager, ES File Explorer, or similar alternatives on your Android device.
Open the "Internal storage" directory.

Locate and long-press the "Camera" folder within the "DCIM" directory.
Touch the "Move" button at the bottom left of the screen.
Navigate back to the file manager menu and select the "SD card" option.
Tap on "DCIM" again. (If there is no existing "DCIM" folder on your SD card, click "Create folder" to make a new "DCIM" folder.)
Finally, hit "Done" to initiate the transfer. (What if the files get corrupted after moving to SD card?)
Part 5: How to Move Pictures to SD Card on Android Skillfully [All at Once]
When it comes to efficiently and systematically transferring pictures to an SD card on Android, look no further than MobiKin Assistant for Android (Win and Mac). This exceptional tool is designed to streamline the process and save you valuable time. With its robust features, not only can you swiftly copy Android photos, but you can also conveniently back up your entire Android data, including photos, for effortless restoration.
A brief introduction to MobiKin Assistant for Android:
Move pictures to SD card from Android instantly.
Best photo manager to manage pictures and other Android items smartly.
Transfer files between Android and PC/Mac in a selective manner.
One-click to back up and restore Android devices.
The supported data types, pictures, contacts, call logs, music, text messages, videos, books, apps, etc.
Work well with overall Android phones/tablets, covering Samsung, Xiaomi, Asus, OPPO, Huawei, Motorola, LG, Sony, HTC, Google, OnePlus, and more.
It won't divulge your privacy.
How do I move my photos to my SD card via Assistant for Android? (2 Fairly Simple Steps)
Step 1. Run the program and connect Android and SD card to your computer
Install and run Assistant for Android on your computer after the free download. Connect your Android phone to the computer via USB and insert the SD card using a Micro SD reader. Next, enable USB debugging on your Android phone for successful detection.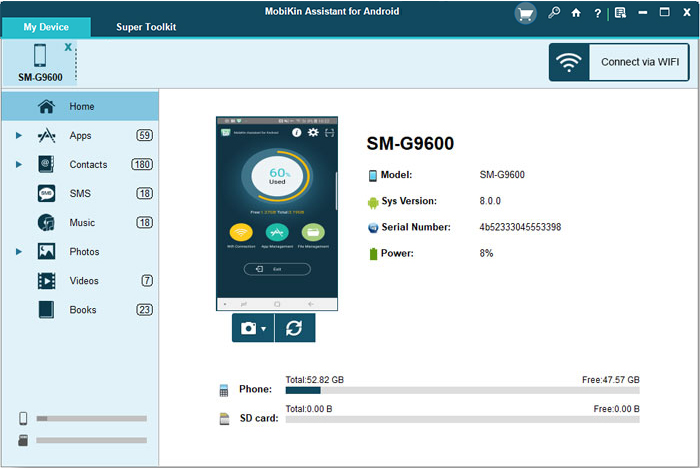 Step 2. Move pictures to SD card from Android
After that, please select the "Photos" category from the left sidebar to access the photo management window. From the top menu, click the "Export" button. Finally, preview and choose the desired photos before saving them onto the inserted SD card.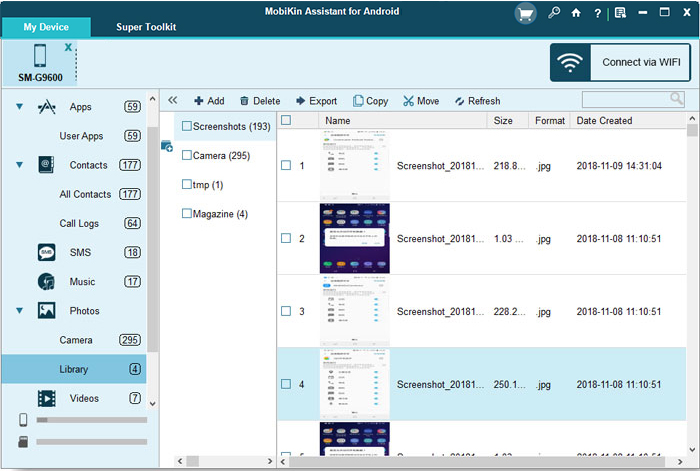 Part 6: How to Transfer Photos from Phone to SD Card on Android via Amaze File Manager
Amaze File Manager is a versatile app that helps you move files to an SD card on Android easily. It offers an intuitive interface and simplifies photo migration, enabling you to free up space and conveniently store your pictures on external storage. With its reliable features, this app is great for managing and organizing your photos.
How to move Gallery to SD card using Amaze File Manager?
Visit the Google Play Store, download, and install the Amaze File Manager app on your device.
Open the newly installed app on your phone and tap the three horizontal lines at the top-left corner of the screen.
From the menu that appears, select "Pictures" to access your device's photos.
Browse through the photos and folders on your phone.
Pick the photos you want to transfer to your SD card by tapping on them.
Then, press the three-dot icon and choose the "Copy" option.

Using the app, navigate to the storage location of your SD card.
Locate the desired folder where you want to store your pics.
Tap on the paste icon displayed at the top.
Bonus Tip: How to Set Default Camera Storage to SD Card
Change your camera's default storage location to the SD card's DCIM folder for saving all your photos and videos. If your stock camera app lacks this option, consider downloading a different camera app from Google Play. Then adhere to the following steps to make it at once:
Open your Camera app and tap the gear icon to access "Settings".
Look for the "Storage location" option and select it.
Choose the "SD card" as the preferred storage location instead of the device storage.
After that, any new photos captured with your camera will be automatically saved to the SD card.
Final Thoughts
Moving pictures to an SD card on Android is a practical and effective solution to manage your photo collection and optimize device storage. With the methods outlined in this passage, you can pick the one that best suits your needs. Among them, MobiKin Assistant for Android stands out as a highly desirable tool, offering a simple interface, efficient photo transfer capabilities, and comprehensive Android data management features. Thus, don't hesitate to leverage the power of this product to simplify picture migration to your SD card from Android.
Related Articles:
[2023] 6 Best SD Card Managers for Android You'd Better Know
4 Straightforward Ways to Move WhatsApp to SD Card [Most People Don't Know]
Full Guide: How to Recover Deleted Photos from SD Card on Android Phone?
[Tips in 2023] How to Transfer Photos from iPad/iPhone to SD Card?
5 Easy Ways to Get Pictures off a Broken Phone That Won't Turn on