[Latest Guide] 6 Ways to Back up Android Photos to Computer/Cloud/Hard Drive
Do you enjoy capturing moments with your mobile phone, be it a Samsung, Huawei, Xiaomi, LG, or any other brand? If so, it's likely that you've accumulated a significant number of images on your Android device. In such a scenario, it is highly recommended to safeguard your Android photos through an Android photo backup, preventing any unexpected loss. Now, the question arises: How do I backup all my photos on Android efficiently? Here are several approaches for you to consider.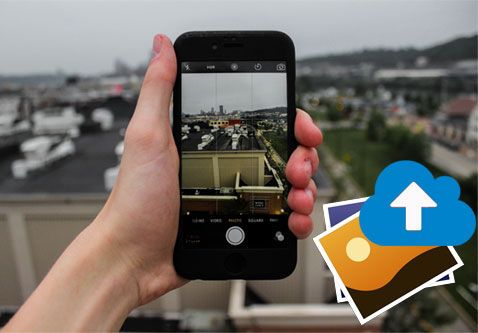 Way 1. Back up Photos to Google Photos from Android
The primary approach for performing backups is quite well-received, and chances are you're already familiar with it. It involves utilizing Google Photos, and the process of backing up photos on Android unfolds as follows:
Begin by launching the Google Photos App and logging in with your Google account.
Navigate to the top right corner and select the Menu icon, then choose "Settings > Back up & sync."
Toggle the "Back up & sync" option on or off.
Ensure that you've adjusted settings such as your Google account, upload size, backup of device folders, mobile data or Wi-Fi preferences, and roaming options.
Proceed by selecting the photos icon.
Are my photos backed up on Google Photos? Check at the top to confirm whether all the photos have been successfully backed up or if they are still in the pending stage.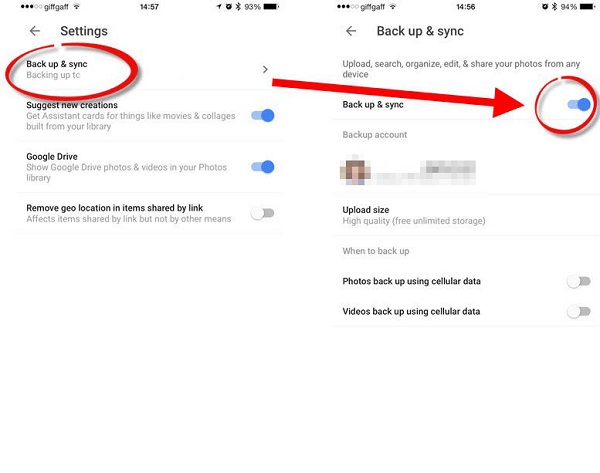 This method illustrates how to back up photos on an Android device without relying on third-party software, utilizing the built-in Google Photos options.
You Might Also Like:
Way 2. Back up Photos on Android with Android Backup & Restore
Given the ample capacity and enhanced security features, many individuals opt for their computers as the preferred storage destination for their mobile data. Therefore, another viable option for backing up your Android phone's pictures is by transferring them to a computer. This task can be efficiently accomplished with the assistance of third-party software.
MobiKin Backup Manager for Android is an awesome Android data backup and restore tool that can help you back up all or selected data from Android to PC or Mac, and restore them back from computer to Android easily. It is simply a lifesaver for those who have accidentally lost their data and are eager to retrieve it.
Main features of this Android Data Backup & Restore tool:
In addition to photos, it can also back up Android contacts, messages, call logs, videos, music, documents, apps and more on computer.
Directly restore the backups from PC/Mac to any Android device with simple steps.
It allows you to connect Android phone to the computer in two ways: USB connection or WiFi connection.
With a user-friendly interface, the backup process is hassle-free.
Supports almost all Android devices, including Samsung, HTC, Motorola, Sony, LG, Huawei, OnePlus, Google, Xiaomi, Oppo, etc.
How to back up pictures on Android by using Android backup & restore tool?
Step 1: Connect Android device to computer
Download and install this Android backup and restore program on your computer. Launch it and connect your Android phone to the same computer via USB. Please note that you should enable USB debugging on your Android device so that the program can detect your phone.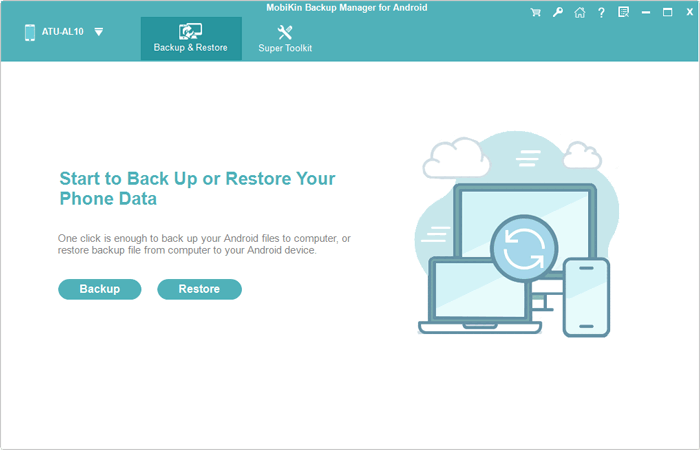 Step 2: Select the photos to backup
Once you get your Android device successfully connected, click "Backup" option from the main interface and you will see different data types are displayed.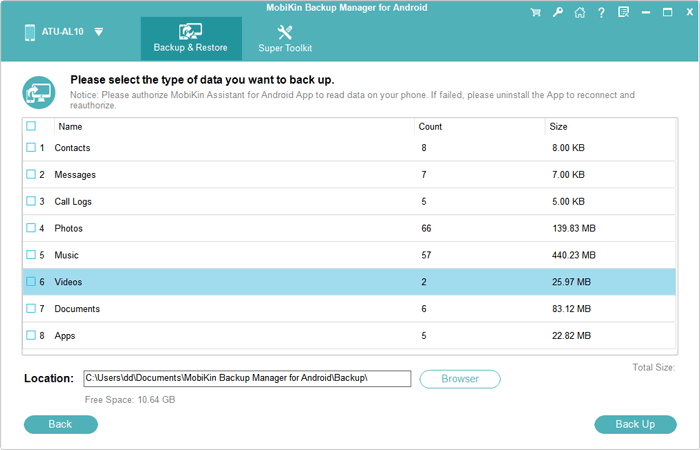 Step 3: Start to back up Android photos
Tick off the file types that you wish to backup, click "Browser" to specify a location for saving these output photos, and then click "Back Up" button to begin the Android photos backup process.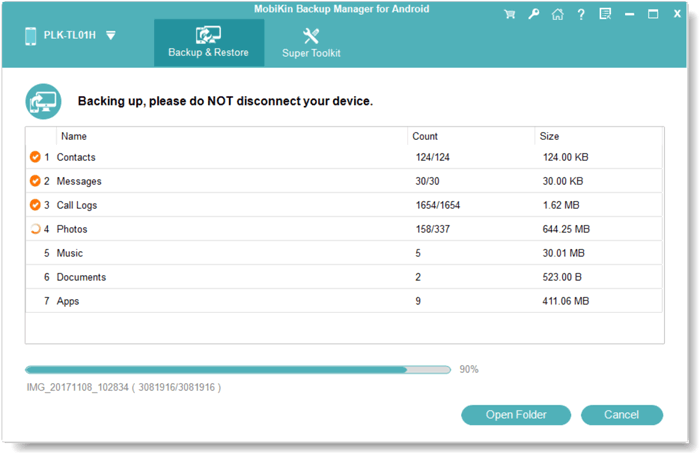 Now, you have finished backing up Android photos on computer by using Android data backup and restore. You can also decide to use this program to restore photos from computer to Android phone whenever you want.
Extended Reading:
Way 3. Back up Pictures on Android with Assistant for Android
MobiKin Assistant for Android (Win & Mac) can also back up Android photos to computer. Offering a range of choices for Android phone backup, this software enables users to selectively or comprehensively back up their Android phones. Moreover, it serves as a comprehensive Android management tool, facilitating effortless control over various data types on your phone. This includes contacts, text messages, videos, photos, call logs, memos, notes, and more. With the capability to add, delete, and edit Android data on your computer, it also allows you to send and receive text messages directly from your computer.
Now, let's explore the process of selectively backing up Android phone photos using Assistant for Android.
Step 1. Launch the software and then connect your device to computer via USB cable or Wi-Fi. If you choose to connect via Wi-Fi, you need to download the App version on your device and go with the prompts to build a Wi-Fi connection.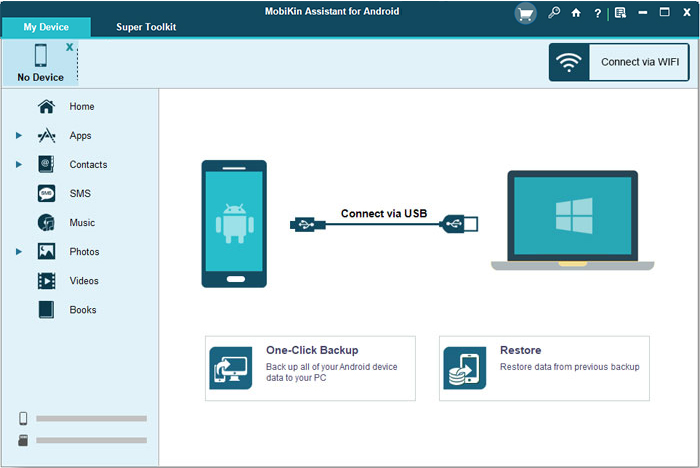 Step 2. After the connection, the program will detect the connected Android phone automatically and then you will get the following interface: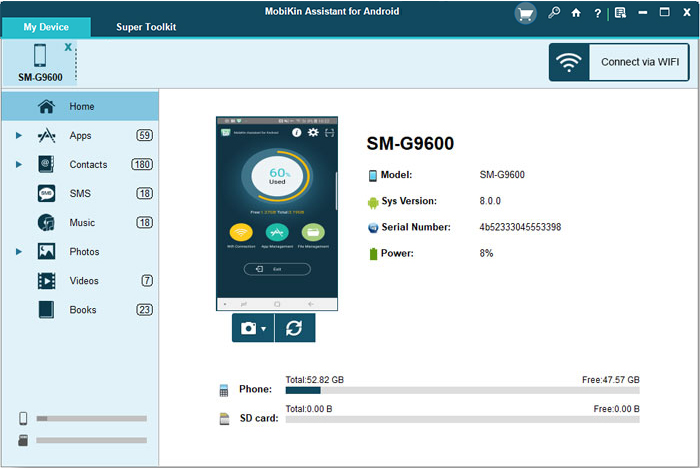 Step 3. Choose "Photos" on the left side menu. Preview and choose the photos you want to back up.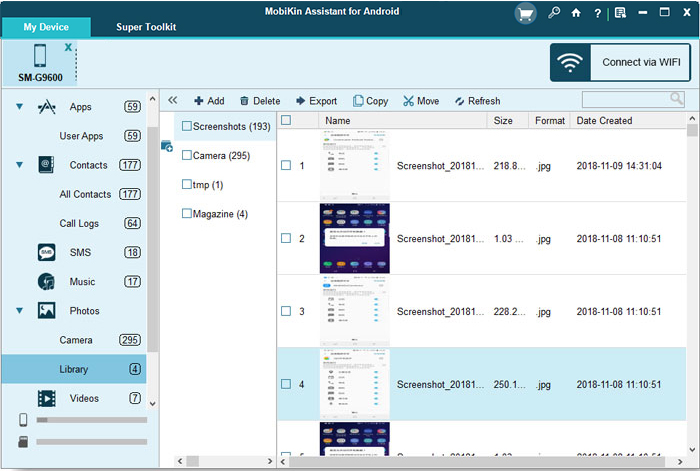 Step 4. Click "Export" from the top menu and then select a location to save the exported photos.
Here is a video tutorial for your reference:
The program also allows you to transfer Android photos to computer in one click. If you wish to copy all pictures from your Android phone to computer, you can click the "Super Toolkit" to enter the 1-click backup & restore window.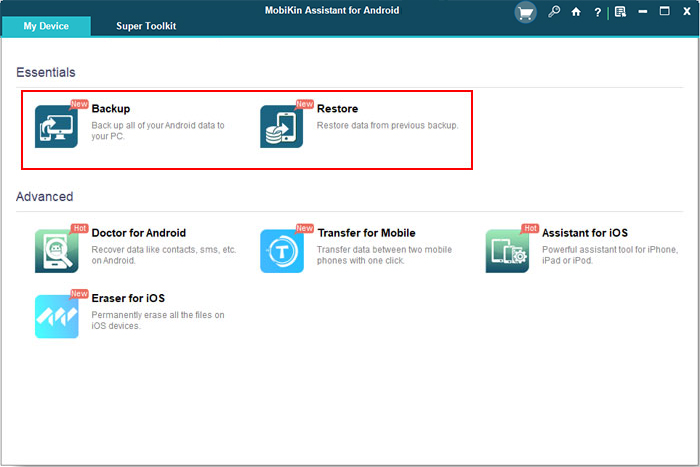 Way 4. Back up Photos in Android via Auto Backup
For automatic Android cloud backup photos, adhere to the following steps:
Power up your Android device and access the list by tapping the "Menu" icon.
Once you've completed step 1, choose the "Photos" icon and launch Google+.
Following step 2, click the "Menu" icon located in the upper left corner.
From the dropdown menu after step 3, opt for "Settings" and then select "Auto Backup."
Upon completing step 4, observe as your photos initiate the automatic backup process.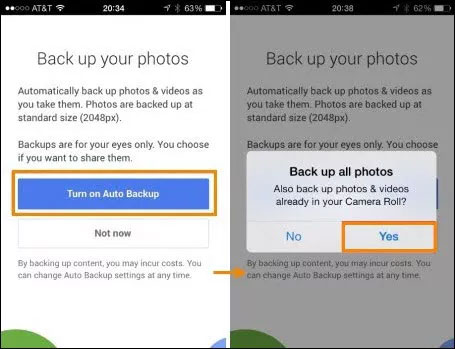 Way 5. Back up Images on Android via Copy & Paste
The next method is a traditional way - copying and pasting the wanted pictures from Android to computer with USB cable. By using this way, you do not need to download and install any third-party software on both computer and Android phone. However, it only allows you to transfer images, songs and videos, and the copying process will be time-consuming. Now let's see how to copy and paste the Android photos to your computer:
Connect your Android phone to computer with USB cable and then turn on USB debugging on your device.
Swipe down the phone screen and then tap on "Transfer files" in the notification bar.
Double click on "This PC" on your computer and then tap on your mobile phone.

Now just find out the folder or images that you want to transfer and then right click the mouse to "Copy" them.

Go to the folder that you want to save the selected photos and right click the mouse to "Paste" them.
Way 6. Back up Photos on Android with Dropbox
The Dropbox Android app includes a camera upload feature in its settings, allowing you to effortlessly back up and save videos and photos from your Android device directly to the Dropbox folder. Consequently, your pictures and videos will be automatically stored in the cloud. Here are the steps to enable Camera Upload on an Android device so as to save pictures on Android phone:
If you don't have the Dropbox app installed on your Android device, download and install it from the Google Play Store.
Open the Dropbox app and sign in with your existing Dropbox account or create a new one if you don't have an account yet.
In the Dropbox app, tap on the "Files" tab at the bottom of the screen. Then, tap on "Photos" to access your device's photo gallery.
Choose the photos you want to back up. You can select multiple photos by tapping on them. Alternatively, you can use the "Select" option to choose multiple photos at once.
Once you've selected the photos, tap the "Upload" or "Save" button. This option may vary slightly depending on your device and the version of the Dropbox app.

Select the location within your Dropbox account where you want to store the photos. You can create a new folder or choose an existing one.
The selected photos will start uploading to your Dropbox account. You can monitor the progress in the notification bar or within the Dropbox app.
Once the upload is complete, you can verify the success by navigating to the chosen location in your Dropbox account and checking if the photos are present.
By following these steps, you've successfully backed up your photos on Android using Dropbox. Remember that Dropbox provides a convenient and accessible cloud storage solution for your data, including photos and other files.
Final Words
The techniques outlined earlier represent the prevalent and widely adopted approaches for Android photo backup. Undoubtedly, there exist alternative methods to achieve the backup of Android photos. For instance, you might consider transferring photos to an SD card for safekeeping, or utilizing a useful application such as Shoebox for the backup process. Nonetheless, among these options, employing MobiKin Android Backup & Restore stands out as the most effective, making it a recommended first choice.
Related Articles:
Ultimate Guide to Back Up and Restore Samsung Galaxy S23/S22/S21/S20/S10
Android Music Backup: Different Ways to Back Up Android Songs
[Solved] How to Back Up Call Logs on Android Phone?
[User Guide] Back Up/Transfer Text Messages from Android Phones to Computer
Android File Transfer - How to Transfer Contacts from Android to PC?