Erase or Wipe iPhone Text Messages Permanently
The simple "Deletion" can't erase all my messages on iPhone permanently
"I'm a high school student, and I found that my parent using my iPhone's "Search" function to read some confidential messages from my young boyfriend, but the problem is that I have deleted these messages before, why can they be founded with a simple "Search" function? And is it any way to delete my iPhone text messages permanently? I don't want others can read my privacy messages without permission, including my parents. Thanks in advance."
With the quick development of mobile phones, people like to chat with their friends, family members or business partners by sending a simple text message whenever and wherever they are. But when the loss of privacy is getting worse in the daily life, privacy security have become a big concern for all of us and no one wish to leak out their personal data to public in any way.
Part 1: How to Delete Messages on iPhone Manually? (Can be Recovered)
Way 1: Erase the Single Text Message on iPhone
Step 1: Open the message app on your iPhone.
Step 2: Select the SMS conversation that contains the messages that you want to delete.
Step 3: After you have selected the text message you want to delete, you should wait for the menu to display. Tap more when the list display.
Step 4: An icon will appear in front of each message.
Step 5: Click on the icon in front of the message to mark the message you want to delete. A checkbox will display to indicate that the message will be removed.
Step 6: Go through all the messages you want to erase on your iPhone.
Step 7: Go to the left corner of your home screen to tap the Delete icon to delete your selected messages on iPhone.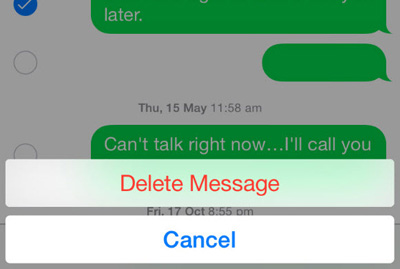 Way 2: Erase Text Messages Conversation on iPhone
Step 1: In the very beginning, click on message app on your iPhone.
Step 2: Check the list of your conversations and select the ones you wish to delete.
Step 3: There are two options for you to erase text messages conversations on iPhone: Click on the Edit button at the top left corner of your screen or swipe left or right across it.
Step 4: If you use the "Edit" icon, a delete button will appear at the bottom right corner of your screen when you select one conversation.
Step 5: Tap the icon to the left of every conversation you wish to delete from your iPhone and then a delete icon will display at the right if you swiped across the conversation.
Step 6: At last, you can select any of the buttons to delete the SMS conversation on your iPhone.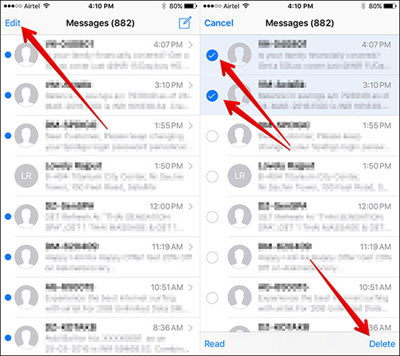 See Also:
Things You Have to Do before Selling Your Phone
4 Solutions to Erase All Content and Settings from iPhone, iPad & iPod
Part 2: How to Erase iPhone Text Messages Permanently? (Can't be Recovered)
So we know that many people have developed a habit of deleting all confidential yet privacy messages once the message have been read to avoid the message being seen by others, but from the above case, you may find that a simple "Delete" order on your iPhone can't help you wipe the messages from iPhone X/8 Plus/8/7 Plus/7/6s Plus/6s/5s permanently, and your messages are still in danger, then what will you do? How to clear data with no opportunity to restore?
Recommended Tool Erase iPhone Data Permanently:
To reach it, you may need to turn to a reliable iPhone Message Eraser software - iPhone Data Eraser. It empowers users to wipe everything (including photos, contacts, text messages, call logs, videos, apps, etc.) from iPhone X/8 Plus/8/7 Plus/7/6s Plus/6s/5s, etc. with zero opportunity to restore. And it provide users with 3 different security level while you're planning to wipe the whole contents off your iPhone. What's more, the program requires no professional skills for both beginners and experts, so you can handle it ASAP.
Now, just click the below icon to get the program, and follow the below instructions to see how easy the program works.
3 Steps to Erase Text Messages from iPhone X/8 Plus/8/7 Plus/6s Plus Permanently
Step 1. Link Your iPhone to PC and Launch the iPhone Text Message Eraser
Be sure your iPhone device have been connected to the program, and then run the program. Then this tool will detect your linked iPhone. The software has different modes to erase iPhone data, such as Erase Deleted Files, Erase All Data, Erase Privacy Data and so on.
Here, you're recommended to choose "Erase Privacy Data" to wipe any SMS message on iPhone as you like.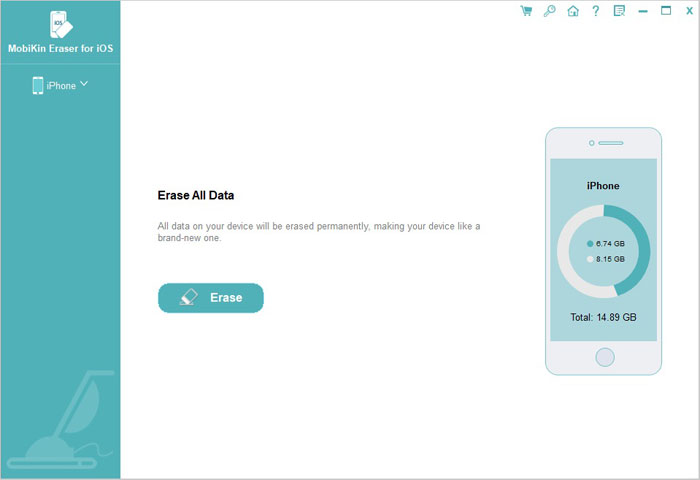 Step 2. Find Your Target Message and Mark It
After entering the mode of "Erase Privacy Data", the data on your iPhone like safari history, messages, message attachments, notes, photos, etc. will be found and categorized in the program.
Just select "Messages" and preview the whole message list in the program. Find the SMS you wish to delete permanently, and mark it by ticking the small box before the info.
Step 3. Begin to Erase iPhone text messages
When you have marked all messages you wish to wipe, then you can click "Erase Now" button and then type "delete" on the pop-up window to confirm your action and begin the whole erasing process.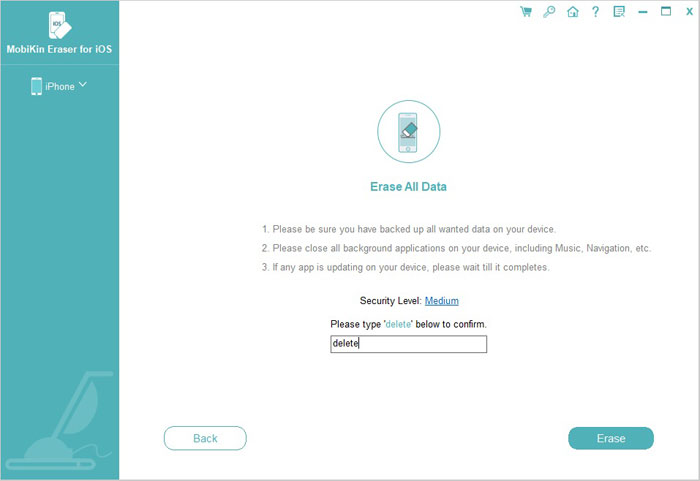 Related Articles:
How to Clean iTunes Radio History on PC/Mac
How to Clear Junk Files on iPhone Easily