Best 13 Recommended Samsung Backup Software & Apps [Indispensable!]
There are many reasons as to why one would want to backup Samsung phone. One of the top reasons is to play it safe in the instance there is a malfunction with device, one that places data present in it in jeopardy of being damaged or lost. Another reason is due to being in the process of getting a new phone and thus you want to transfer files to it. The Samsung backup software and Samsung backup app options available on the market are endless.
Nevertheless, there are seven best Samsung backup software and six Samsung backup applications that keep reigning supreme in popularity due to their efficacy in every aspect.
Part 1: Top 7 Samsung Backup Software You Must Have
1.1 Best Samsung Backup Software - Android Backup and Restore
MobiKin Backup Manager for Android is an outstanding Android backup and restore program for PC that can complete the Samsung backup process in one click. It is capable of uploading data to the computer in lossless quality. Once the backup is complete, you can also use it to restore data from the backup record directly back to your Android phone. This would be easy for you to switch to a new phone because it allows you to restore files from backup to any Android device.
Steps: How to use Android Backup and Restore to Backup Samsung:
Step 1. Download and install the software on your computer. Run it and connect your Samsung phone to the same computer via USB or WiFi. If a prompt "Allow USB debugging" appears on your device, tap OK and manually enable USB debugging on the device. After that, you can see its main interface like below.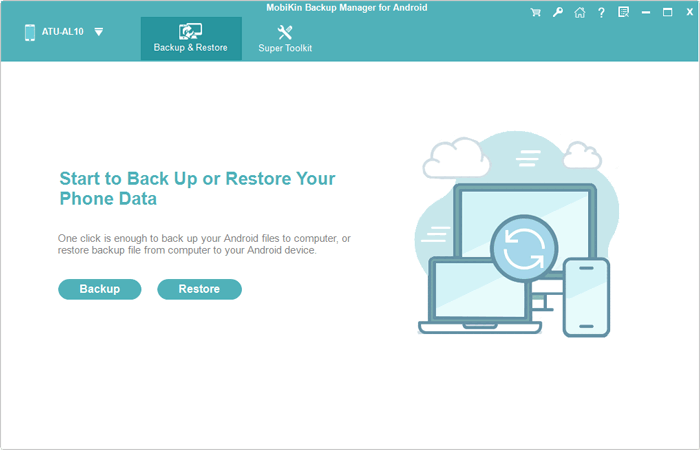 Step 2. Choose "Backup" option from the main interface and the program will access your phone and data. All data types that can be backed up are listed here. Just choose the ones you'd like to backup and customize an output folder to save the backup data.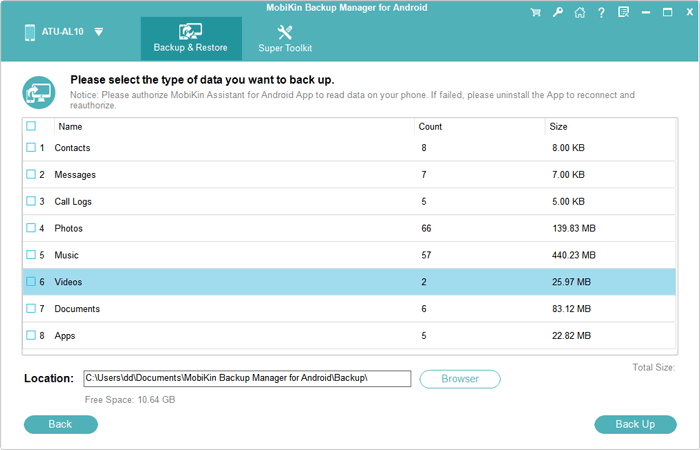 Step 3. After all the operations above, you can simply tap on the "Back Up" button to proceed. During the backup process, you cannot disconnect your device. The program will notify you when the backup is finished.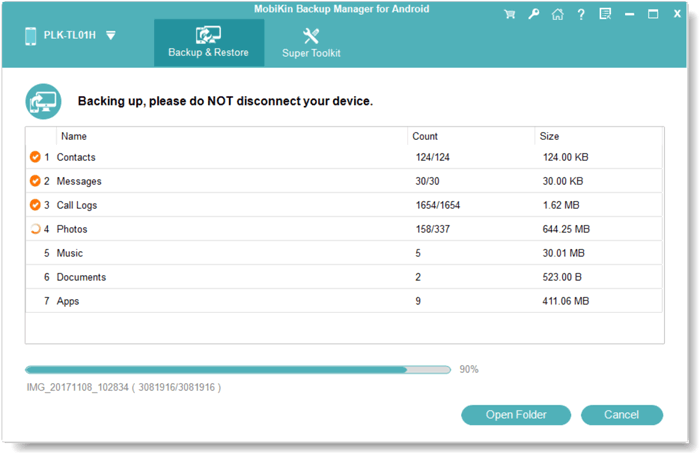 1.2 Samsung Backup Software - Assistant for Android
With simple steps, you can back all of your files from your Samsung phone to your computer with this highly-regarded Samsung phone backup software - MobiKin Assistant for Android. It is a very easy to utilize Samsung backup program that does not fail to impress. You are able to select exactly what you want to backup, without feeling fear that there might be the possibility that the quality of files could become negatively affected in some way. It is an error-free Samsung backup and restore software that you can count on when you require its assistance.
It is vital to note that due to the immense popularity of the Assistant for Android, there are other methods that are being presented to the public in a way that resembles it. Remember to always opt for the real deal to play it safe with each backup you conduct. Imitations tend to only cause unfavorable outcomes.
How to Utilize Assistant for Android to Backup Samsung Phone Data on Computer?
Step 1. Connecting your Samsung phone to computer
Download Assistant for Android program to computer and then launch it. Connect your Samsung phone to computer with a USB cable. Within a few seconds or instantly, this Samsung Galaxy backup and restore software will recognize the connected device.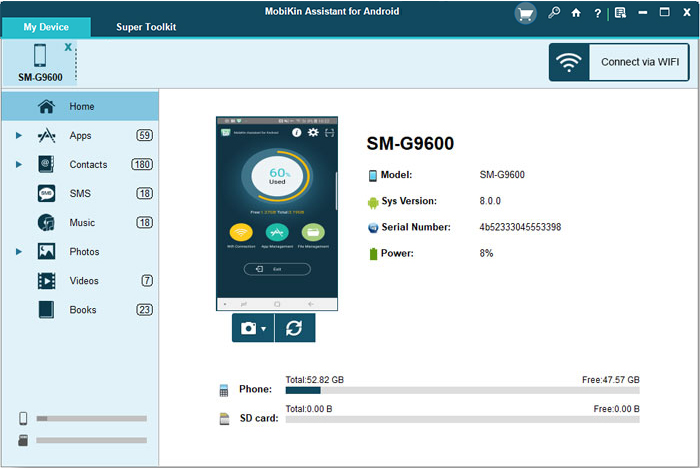 Step 2. Go to "Super Toolkit"
Click the "Super Toolkit" option on the top menu. Then, you will see there is a "Backup" option. Just click it, and all the contents on your Samsung Galaxy S10/S9/S8 that can be backed up are listed here.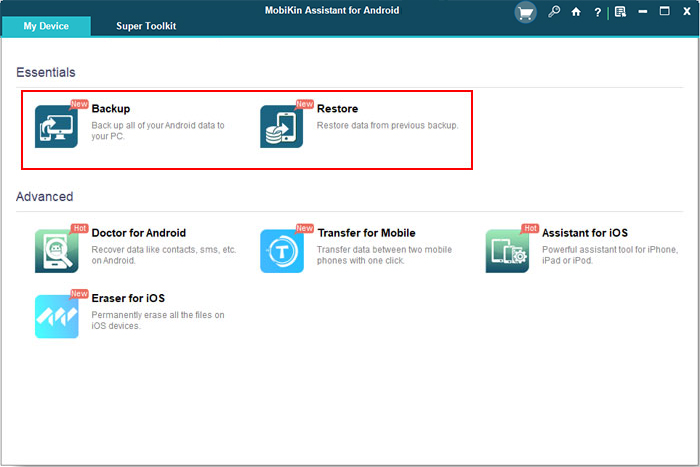 Step 3. Start to backup Samsung phone data
With one-click select the files that you want and then proceed to click on "Back Up". It is this easy to reap the benefits that MobiKin Assistant for Android has to offer.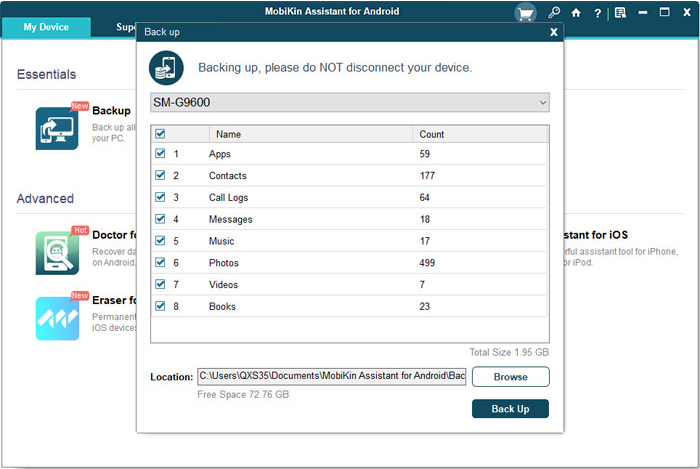 Take a look at the video tutorial about how to backup Samsung Galaxy phone:
Don't Miss:
1.3 Samsung Phone Backup Software - Samsung Kies
Samsung Kies, the free Samsung backup software was created by no other than the giant company Samsung so that its users could sync and back their Samsung mobile devices with an Internet connection. This software can back different files, including photos, music, videos, messages, contacts, applications, ringtones, among others. It can be utilized on both Mac and Windows.
Nobody can deny that Samsung Kies comes accompanied by a lot of helpful features and supports a great percentage of data types. Nevertheless, due to it still requiring updates, there are some files that cannot be backed. So, taking into consideration what this solution can help in is vital to avoid frustration to take place if you opt to try it.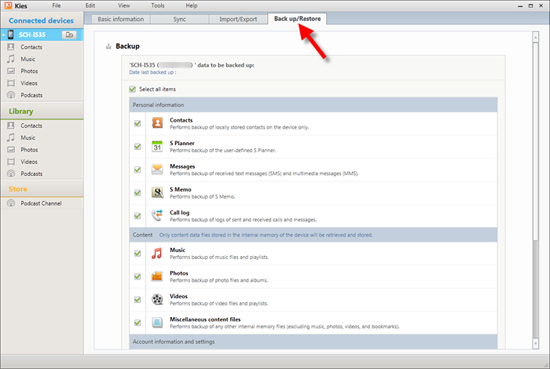 1.4 Samsung Phone Backup Software - Smart Switch
Smart Switch is considered to be one of the most reliable methods available. The files that this Samsung backup software to PC solution can back are bookmarks, alarms, videos, photos, messages, schedules, memos, contacts, among others. It comes accompanied with different functions. It can conduct a backup, as well as a restoration. It is a distinctive Samsung Galaxy backup and restore software that keeps being the go-to option for millions of users around the world. With the aid of it, you can conduct a backup, without any complications.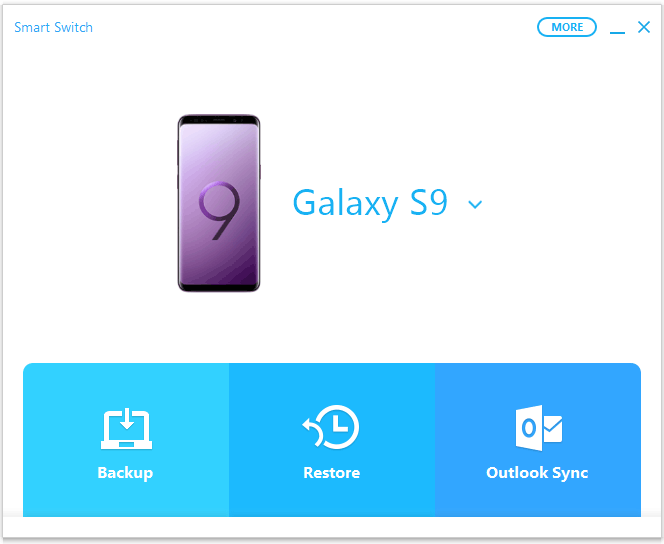 1.5 Samsung Backup Program - Moborobo
Moborobo is great Samsung auto backup software on Windows 7/8/10 that has acquired a significant amount of positive testimonials from people who have already used it to back applications, call logs, photos, music, calendar entries, videos, and even messages. As you can conclude, this program has limits as to what can be backed; thus, it is not recommended if you have other types of files than the aforementioned.
This Samsung backup software Windows 8 can be utilized on both iOS and Android devices. It is among the first cross-platform platforms ever created. It permits content download from phone to computer as you would expect—without errors.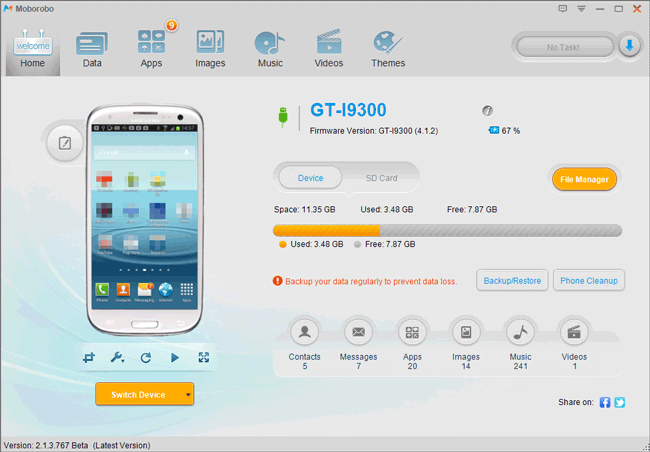 1.6 Free Samsung Backup Software - PC Auto Backup
PC Auto Backup software permits the transfer of videos and photos wirelessly. If you have a Samsung Smart Camera, you can count on it for your videos and photos backups. In order for a backup to take place, your device needs to be connected to computer on the same network. This platform works on both Windows and Mac. Even so, take into account that only videos and photos can be backed; thus, if you have other types of files that require a backup, take into account other methods present on this list.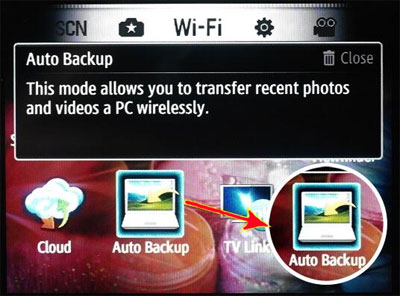 1.7 Samsung Auto Backup Software - Samsung Auto Backup
Samsung Auto Backup is another platform created by Samsung for any Windows operating system. It is bundled with external hard drives of Samsung in order for people to schedule frequent backups, which will begin instantly and thus backup of contents present in device will take place.
One of the major things that cause people not to consider a backup is the security aspect of such transfer. Samsung Auto Backup has a backup utility that encrypts backup files so that users can feel 100-percent secured. The files that can be backed with this software are music, images, documents, videos, and every file extension. There are indeed limits, so utilize it according to the type of backup aid that it can offer you.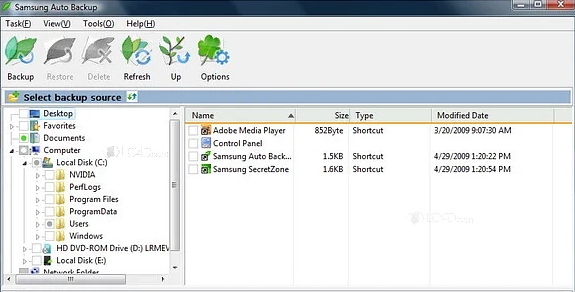 Part 2: Top 6 Samsung Backup Apps
2.1 Samsung Android Phone Backup App - App Backup & Restore
App Backup & Restore, this Samsung Android phone backup app's structure is simple. All you have to do after downloading it is that of selecting the files that you want to backup and then either saving them to the cloud or SD card. Due to its simplicity, the App Backup & Restore is considered one of the easiest applications available. It permits the saving almost anything with just one click. There are some applications that it might not back; thus, it might be an unreliable option if you have a lot of applications.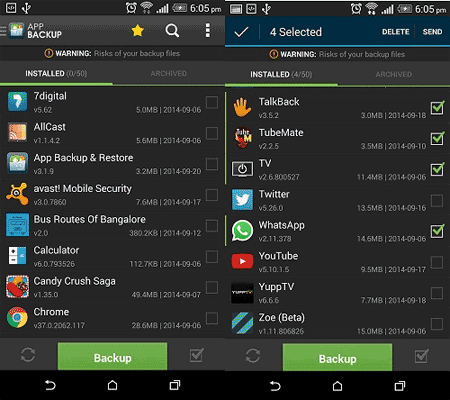 Don't Miss:
2.2 Samsung Backup App - G Cloud Backup
This Samsung Android phone backup app, G Cloud Backup, is ideal for users who prefer to store files on the cloud. There are several files that can be backed with this application, including music, documents, messages, photos, and almost every other file. G Cloud Backup comes along a built-in passcode protection and offers a maximum usage of 10 GB. Better yet, it is being offered free of charge. If you need more usage, you can always opt for a premium account.
Most people start with the free version. Once they become familiarize with everything that G Cloud Backup provides to users, most tend to upgrade to the premium account. It is suggested to first try out the free version before opting for the premium account right off the bat, as you might encounter a feature that you dislike.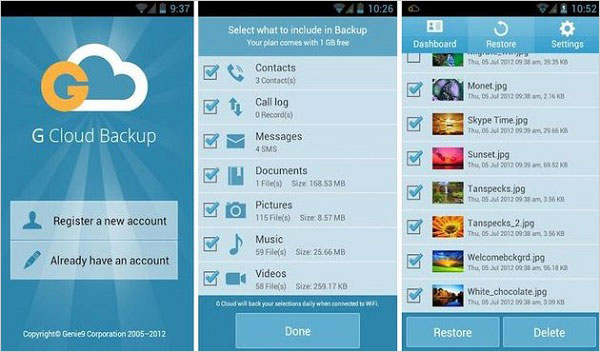 2.3 Samsung Android Phone Backup App - Titanium Backup
Titanium Backup has been downloaded by more than 21 million people, making it one of the most popular apps on the market. It is offered in 31 languages and has different helpful features, including that of allowing multi-user accessibility. There are some synchronization issues that have been noted, but they tend to be avoided when one opt for the pro version, which has several first-class security features that make a backup even more efficient.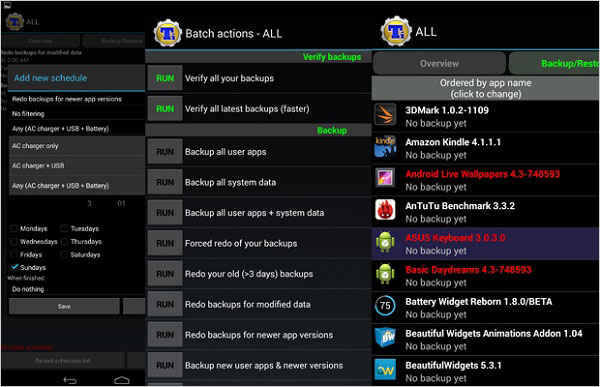 2.4 Samsung Backup App - Samsung Cloud
Samsung Cloud is a simple option that allows you to backup most files, without any issues. More than 25 million people are using it. It supports the accessibility of several devices, which facilitates the transfer of data. It is rapid and secure and conducts every backup in an efficient manner. As long as you enable the auto backup feature on Samsung Cloud, it will backup your Samsung phone data every 24 hours automatically.
Samsung Cloud supports backup contacts, text messages, call logs, MMS, music, calendar, photos, APK files, app data, app settings and more file types on your Samsung mobile. However, you can not backup over 1GB files at one time.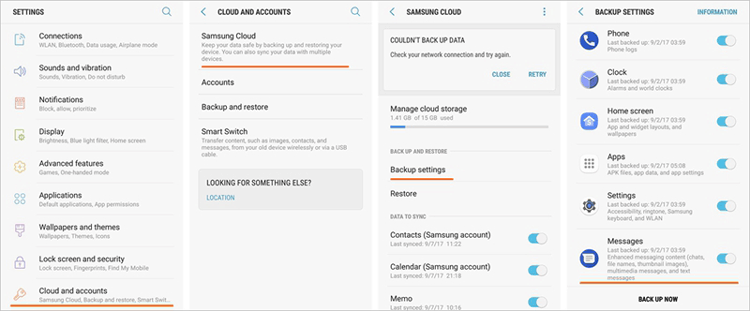 2.5 Samsung Backup App - Google Drive
This Samsung app - Google Drive, to backup phone to PC supports multiple operation system accessibility and can be utilized to transfer files from device to device, without any problem. It can also be used to help you share data with other people. It is able to backup several types of Samsung phone data, from contacts to pictures.
Google Drive is a reliable product for several reasons; the main reason is that it was created by Google, a company that has not failed to introduce helpful solutions to simplify the life of people.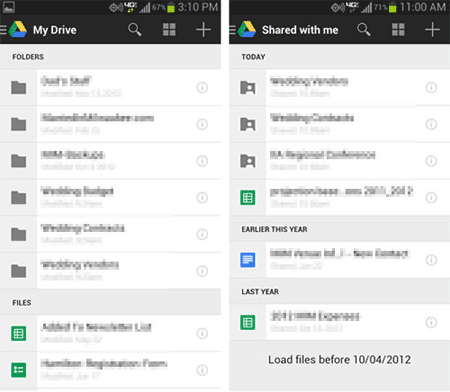 2.6 Samsung Android Phone Backup App - Helium
Helium is regarded as one of the most resourceful Samsung phone backup apps. It allows you to save files to either the SD card or cloud and permits the sync of data from more than one Android device. It has become a popular application among Galaxy users because it is a no-root-required backup application. Helium works efficiently and it can also be accessed from a computer.
However, some users have recently complained that there are some problems when using Helium to synchronize data. Helium's official responses that they will fix these issues in the next updated version.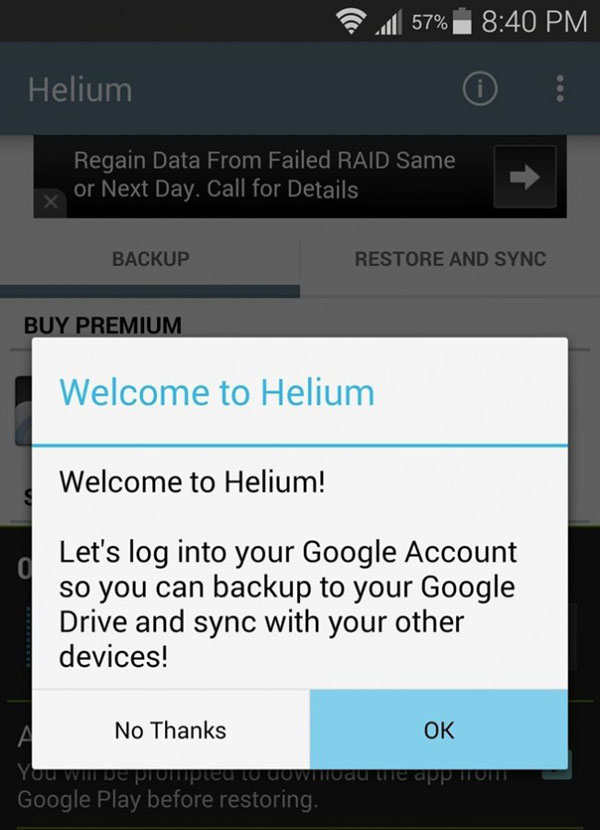 Conclusion
Always be cautious when choosing Samsung backup software or the Samsung backup app. Be sure to choose safe and reliable software and programs to protect your phone and data from malicious attacks. Of course, the 12 tools we recommend in this article will allow you to safely back up your Samsung phone data. MobiKin Backup Manager for Android not only supports one-click backup and restore of Samsung mobile phone data, but also supports all other Android devices. Remember to back up your phone regularly so you never encounter unforeseen circumstances.
Related Articles
How to Backup Android SMS As HTML?
Samsung Cloud Backup - Backup Samsung to Cloud
How to Uninstall Apps from Samsung?
How to Print Contact List from Samsung?