How to Uninstall Apps on Samsung Galaxy Phone/Tablet?
Generally speaking, you may want to delete apps on Samsung Galaxy phone or tablet in the following situations:
Too many mobile phone applications make the phone unable to run smoothly.
You downloaded malware or incompatible apps on your phone, which caused some phone issues.
You do not need the application now and want to remove it from the device, so as to free up space on Samsung device.
Here, we can see that uninstalling apps is very common and essential for us. Therefore, in order to help you delete Samsung apps more easily and efficiently, we want to tell you 4 simple but useful ways to remove apps from Samsung phones.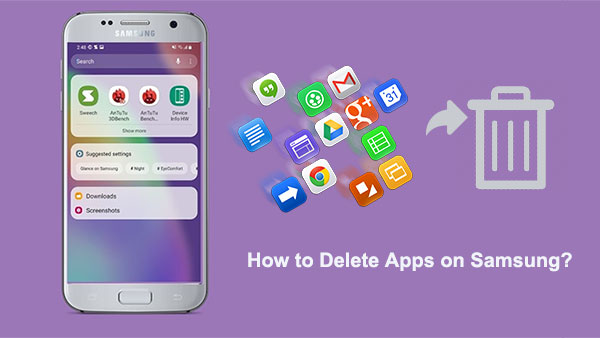 It is a simple and common task for users to get rid of apps on Samsung Galaxy S21/S20/S10/S9, Galaxy Tab, etc. You can choose to perform the uninstall process directly on your phone or delete the Samsung application on your computer as needed. The detailed information of these four different methods will be shown below.
Way 1. How to Delete Apps on Samsung Phone from Main Screen
How do I remove unwanted apps from my Samsung phone directly without any complicated operations? The first method we want to introduce is to delete apps directly from the phone's main screen.
Turn on the Samsung phone, tap and hold the application you need to uninstall.
Drag the application to the uninstall box, and then release your finger.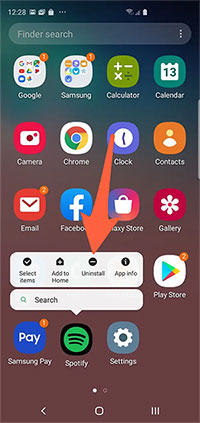 Please note that although this seems to be the easiest method, it just puts the application in the delete box. In other words, we just delete the app's icon from the home screen, and the app is still in your app drawer. All caches, temporary files, and other remaining files of the application will still exist.
Therefore, if you want to completely delete games and other types of apps from Samsung phone, you can skip to the other methods below.
See also:
Way 2. How to Uninstall Apps on Samsung from Application Manager
In the Settings of Samsung phone, you can view the details of the applications, such as names, storage, permission, etc. You can also uninstall, force stop or clear the caches of the application.
Open the "Settings" app on the Samsung phone, and select the option "Applications".
Choose "Applications manager" to get all the apps that are installed on your phone.
Click on the app that you want to remove to enter its "App Info page".
After entering the App Info page, you will see several options on the screen, including Force Stop, Uninstall, Move to SD Card, etc.
Tap on "Uninstall" to delete the application from your Samsung phone.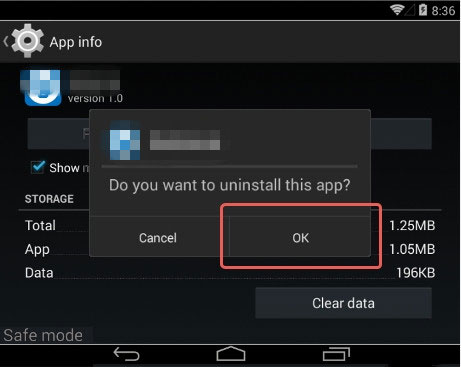 This method allows users to complete the app uninstalling process on their Samsung phone/tablet directly. However, it can only delete one app at one time. If you want to remove several apps from your Samsung phone at one time, you can go to the next means.
Way 3. How to Remove Apps from Samsung Phone with Assistant for Android
To delete Samsung apps in bulk, you can ask help from MobiKin Assistant for Android, a Android data manager software which is good at transferring and managing Android applications, contacts, SMS, photos, videos and other more data types. With it, you can install, uninstall or export the Samsung applications easily. It is also capable of backing up and restoring Android data with one click. What's more, this program is easy to use and users can accomplish the app uninstallation within simple clicks.
Main Features of Assistant for Android:
Uninstall one or multiple apps from your Samsung phone without leaving any trace.
Download APK files and install apps on Android from computer.
One click to back up and restore Android data.
Add, edit, delete contacts, and send & receive SMS on computer directly.
Export, import and delete your Android media files.
It is compatible with all Android devices, including Samsung Galaxy S21/S20/S10/S9/S8/S7/S6/S5, Galaxy A51/A71/M20, Galaxy Note 20/Note 10/Note 9/Note 8/Note 7/Note 6, Galaxy Tab series, etc.
Download the software by clicking on the following icon and install it on your computer. Then, start to delete apps from Samsung tablet and phone by going with the instructions below.
Step 1: Install MobiKin Assistant for Android
Once the software has been installed, launch it and connect your Samsung phone or tablet to computer with USB cable. After that, you will be asked to enable USB debugging on your phone and install the USB driver on your computer. Just complete them according to the prompts on the software screen.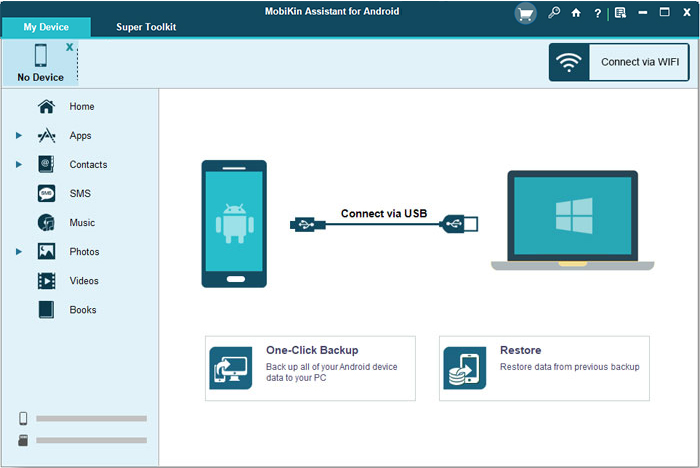 Step 2: Go into the apps managing window
Now the program will detect your phone automatically. Once the detection is successful, all the files on your phone will be categorized in the left panel. Click on "Apps" and select "User Apps" to locate all applications on your Samsung.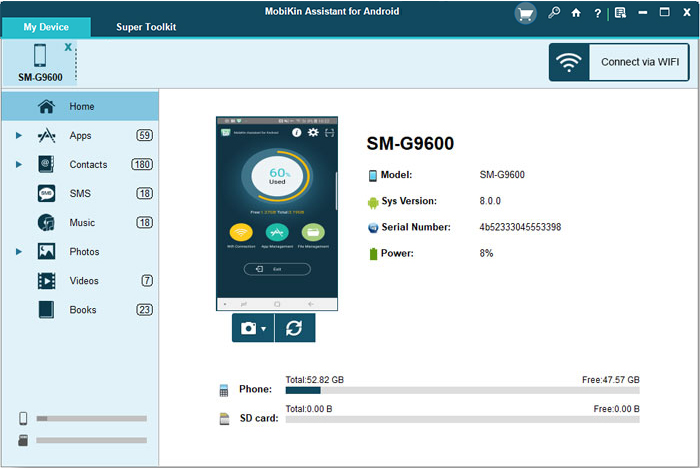 Step 3: Uninstall apps on Samsung tablet and phone
Check the box next to the app that you want to delete, then, tap on "Uninstall" on the top menu to uninstall the selected app or apps.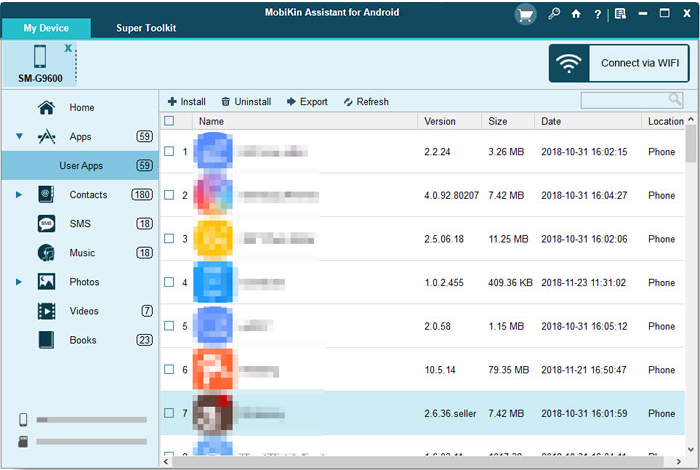 After the apps uninstalling process, you can close the software and unplug your phone. That's all.
Can't Miss:
Way 4. How Can I Disable Default Apps on Samsung Smartphone
If you find that some applications cannot be deleted using the above three methods, then they should be pre-installed applications. Although Samsung does not allow you to delete such applications, you can at least disable them. That is, these applications are hidden to make them inaccessible. So, how to disable app on Samsung? Please read on.
On a Samsung mobile phone, go to "Settings", select "Apps", and then all applications on the phone will be displayed.
Select the application you want to disable.
Select the "Disable" option.
A warning may pop up: "Disabling built-in apps may cause errors in other apps." Here, you can click "Disable" or click "Cancel".
If you want to bring back disabled apps, you can:
Tap "Menu" on the home screen of the Samsung phone.
Go to "Settings" and choose "General"> "Application Manager"
Swipe the Turned Off tab to show the list of disabled apps.
Choose the disabled app you want to bring back and tap "Turn On".
The Bottom Line
How do you remove apps from Samsung tablet and phone? Which method did you choose in the end? If you use Assistant for Android to delete apps, you will find that more space is freed up on your phone, which is one of the reasons why we recommend method three more.
In addition, if you need a powerful assistant to help you manage Android devices on your computer, be sure to use Assistant for Android, this excellent software, to regularly back up and manage your devices. Give it a try and experience its ease of use, and you will no longer be interested in other Android management tools.
Related Articles:
How to Download Apps on Samsung Phones
Best Samsung Apps Installer/Uninstaller
[5 Ways] How to Back up Android Contacts
Android Music Backup: Different Ways to Back Up Android Songs
Android Photos Backup - Simple & Effective Ways to Back up Android Photos
Android Cloud Backup - Tutorial to Back Up Android Phone to Different Cloud