How to Uninstall Apps from Samsung?
Normally, you may want to uninstall Apps from Samsung phone or tablet when:
- There are too many applications on your phone which make the phone unable to run smoothly.
- You have downloaded malware or incompatible App on your phone which causes some phone issues.
- You do not like the application now and want to remove it from the device.
Here, we can see that application uninstallation is very common and essential for us. So, in order to help you remove the Samsung Apps more effortlessly and effectively, we would like to tell you 3 simple but useful ways to delete Apps from Samsung.
See also:
How to Install Apps on Android?
How to Download/Remove HTC Applications?
3 Ways to Uninstall Samsung Applications
It is an easy and common task for users to uninstall applications from Samsung. You can select to perform the uninstallation process on your phone directly or remove the Samsung Apps on computer as you like. And the details of these 3 means will be displayed below so you choose one of them to follow and try to delete the programs from Samsung.
1. Uninstall Samsung Apps in Settings
In the settings section of Samsung phone, you can view the details of the applications and manage them. For example, you can uninstall, force stop the application or clear the caches of it. The specific steps are as below:
- Open the Settings App on the Samsung phone and then select the option Applications.
- Next, choose Applications manager to get all the Apps that are installed on your phone.
- Now just click on the App that you want to remove to enter its App Info page.
- After entering the App Info page, you will see several options on the screen, including Force Stop, Uninstall, Move to SD Card, etc. Just tap on Uninstall to delete the application from your phone.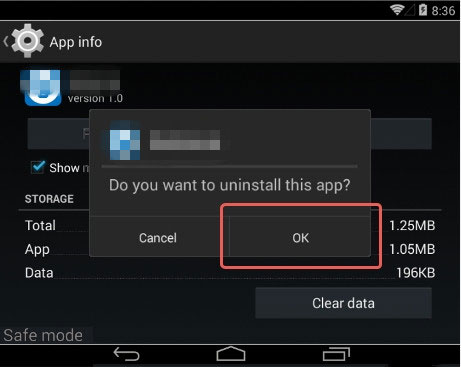 2. Remove the App from Google Play Store
On Android mobile phones, users often download and install software from Google Play Store so you can uninstall the App in the store as well. This way would be easier than the first way cause you can find the application in the store directly.
- Launch Google Play Store on your Samsung phone.
- Find the application you want to remove from the installed applications list or you can type in its name in the search bar to get the App more quickly.
- After finding the application, you only need to tap on Uninstall to delete it from Google Play as well as your phone.
These two methods allows users to complete the uninstalling process on their Samsung phone/Tablet simply. However, they can delete one App one time and if you want to remove several Apps one time, you need to go to the next means.
3. Delete Samsung Apps at one batch
To delete Samsung Apps in bulk, you need to ask MobiKin Android Applications Manager- a software good at managing Android applications. With it, you can install, uninstall or export the Samsung applications easily. And except for applications, it can backup and manage other files on Android phones as well, including messages, contacts, songs, videos, images and so on. What's more, this program is easy to use and users can accomplish the uninstallation within simple clicks.
- Download the software by clicking on the following icon and install it on your Windows computer by going with the instructions.
- Connect your Samsung phone or tablet to computer with USB cable and then launch the installed tool on PC. After that, you will be asked to enable USB debugging on your phone and install the USB driver on your computer. Just complete them according to the prompts.
- Now the program will detect your phone automatically. And once the detection is completed, all the files on your phone will be displayed in the left panel.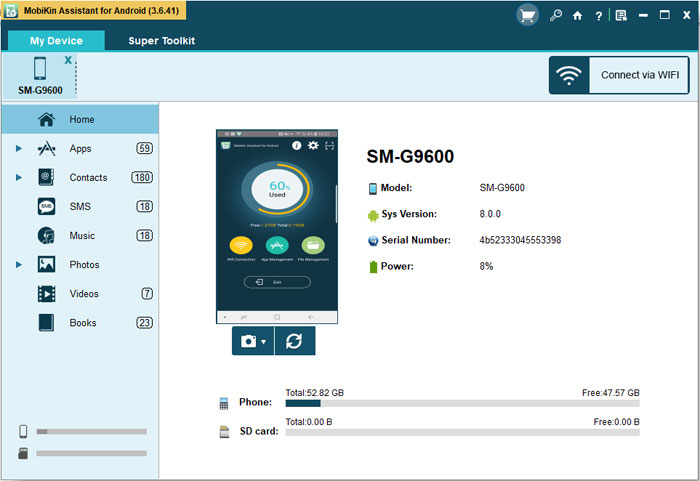 - Click on Apps and select User Apps to locate all applications on your Samsung.
- Next, you need to tap on Uninstall on the top menu and then tick all the Apps that you want to remove.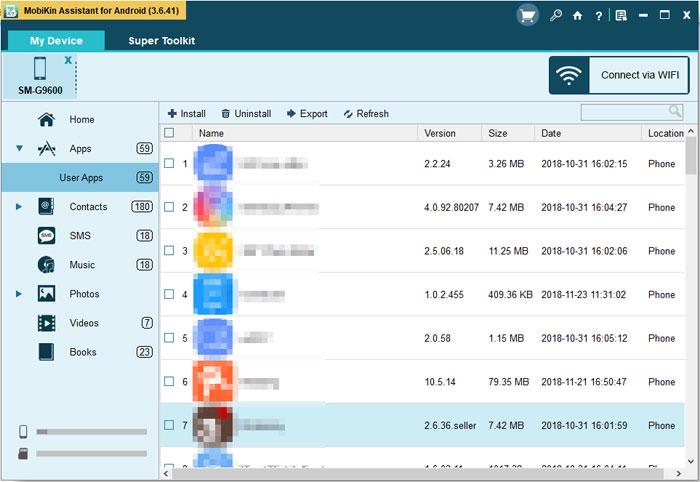 - Finally, just confirm your option to delete the Apps from Samsung phone.
Related Articles:
How to Download Apps on Samsung Phones?