How to Wipe iPhone Data before Selling
Nowadays, the upgrade of iPhone becomes more and more frequent in recent years. So when the new iPhone is coming, you may have ready to trade your old iPhone to the new one? But please wait for a moment, you'll never deny that almost all your personal or social information has stored on your iPhone, right? Then before selling your old phone in the online store, have you erased your iPhone data with no possibility to restore?
Consideration about Privacy Security:
Some people may say YES because they have returned the iPhone to the factory setting and all data on the device have "disappeared", but actually things are not going as you imagine. No matter the data is deleted, lost or formatted on your iPhone, it only means the data is removed from your device outwardly, and if you stop loading data into your device, the deleted data will store in its original place forever.
Therefore, you may have realized that your deleted, lost or formatted data can be retrieve with some special program, and if your iPhone fall into some people who have some evil thoughts, your personal data like contacts, text messages, photos, videos, safari history, etc. will face the high risk of stealing or leaking out. Then in order to protect your privacy info from leaking out, what are you going to do before selling your old iPhone?
Tool to Erase Data on iPhone Permanently:
Obviously, it is very important to delete iPhone data completely and permanently for selling, but before you do it, you'd better to backup the whole contents of your iPhone to computer with the free iPhone to PC Transfer program. After that, you can turn to a reliable iOS Data Eraser to help your wipe iPhone data like contacts, text messages, call logs, safari history, photos, videos, email account & password, Apple ID, etc. in few clicks before selling.
The erased data by the program will never be restored or retrieved by any data recovery software on the market. And the powerful program not only supports all models of iPhone device, but also compatible with other iDevices, such as iPad Air, the new iPad, iPad mini, iPad 4/2, iPod touch, iPod classic and so on.
Now, just click the below icon to take a free trial on this prominent iPhone Data Eraser software.
Tutorial to Wipe iPhone Data (Contacts, Messages, etc.) for Selling
Preparation works you need to do before launching the program
- Install the iPhone Data Eraser software on your Windows or Mac computer according to your own computer's operating system;
- Connect iPhone to the computer via USB cable.
1st - When you have done it, you can run the program, then the program will detect your connected iPhone and show it in the program as below: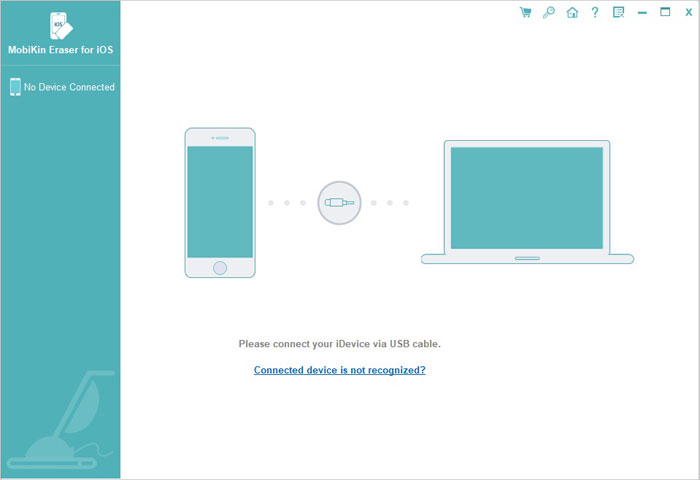 2nd - Since your iPhone is going to be traded online, so you can choose "Erase All Data" mode in the left menu list, and then hit "Erase Now" button and you'll see an window that requires you to tick the security level: High, Medium and Low. Select one of them according to your own needs and type "Delete" on a new window to confirm your action. Then all data on your iPhone will be erased permanently.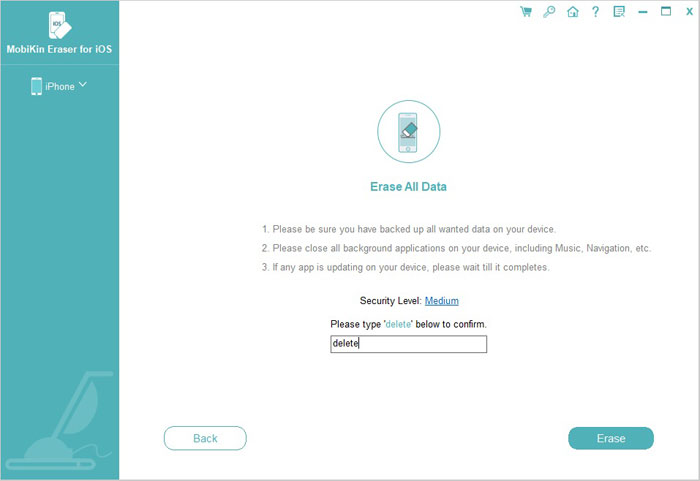 Related Articles:
How to Erase iPhone Data without Restoring Permanently