5 Approaches to Convert HEIC to JPG on Google Drive [Full Guide]
The way we capture and store photographs has evolved significantly. HEIC is a new image format that can save high-quality pics with smaller file sizes. (What is HEIC?) However, not all devices and platforms are compatible with it. For example, Google Drive does not support HEIC files natively, and you cannot preview them online or sync them to other devices. Therefore, you may wonder how to convert HEIC to JPG on Google Drive, a more widely compatible format that can preserve the quality of your images.
In this tutorial, we will show you how to make it with five desirable methods. Keep up with our pace, and you'll choose the one that suits your needs and preferences.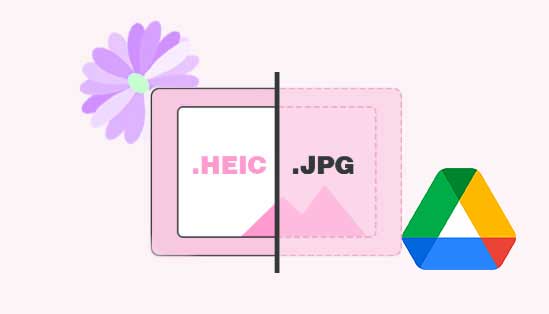 Way 1: How to Convert HEIC to JPG on Google Drive Using Save Image As Feature
When you back up your iPhone to Google Drive, format conversion within the storage is not possible. Nevertheless, the "Save image as" feature in the web version of Google Drive guarantees that you can ultimately obtain JPG photos. Here's the detailed guide for converting HEIC to JPG in Google Drive via "Save image as":
Start by launching the Photos app on your device. Select all the HEIC images you want to convert.
Tap the "Share" icon and choose Google Drive to upload them to your account.
Ensure your iPhone is connected to a network for the photos to sync.
Next, use a computer and open a web browser.
Visit Google Drive and sign in with the same account you used to upload the HEIC images.
Locate one of the desired HEIC images within Google Drive and open it in full resolution.
Right-click on the image and select "Save Image As".

In the popup dialog, choose a folder to save the image, ensure the file extension is set to .jpg, and click the "Save" button.
You Might Also Like:
Way 2: How to Change HEIC to JPG on Google Drive via HEIC to JPG Converter
The MobiKin HEIC to JPG Converter is a versatile software designed not only for converting HEIC files to JPG but also to PNG and JPEG formats. If you've downloaded HEIC from Google Drive to your computer, this tool allows you to conveniently view them on both Windows and Android. Serving as an efficient HEIC viewer, it enables you to batch convert HEIC files in a matter of minutes. Additionally, you have the flexibility to customize your images before initiating the conversion.
HEIC to JPG Converter can be used to:
Convert HEIC to JPG on a computer after downloading photos from Google Drive.
Batch convert HEIC images with no file size limits.
Keep Exif data during the conversion.
Adjust photo quality as you like before converting.
Run fluently on Windows 11, Windows 10, Windows 8, Windows 7, and more.
It won't disclose your privacy.
Particular steps for converting HEIC to JPG in Google Drive with HEIC to JPG Converter:
Step 1. Start by visiting the Google Drive website and logging into your account. Next, select the HEIC photo you wish to convert to JPG, right-click on the photo, and choose "Download" to save it to your computer.
Step 2. Get and install the HEIC to JPG Converter on your computer. Run the software to access its main interface.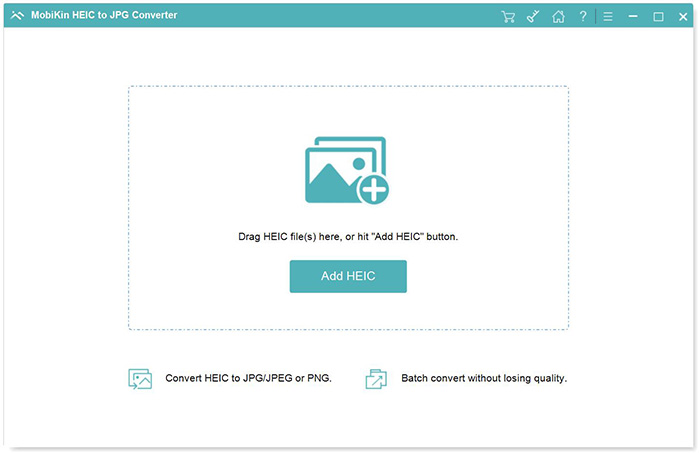 Step 3. Click "Add HEIC" to import the HEIC files from your computer, or you can simply drag and drop the HEIC images directly onto the interface.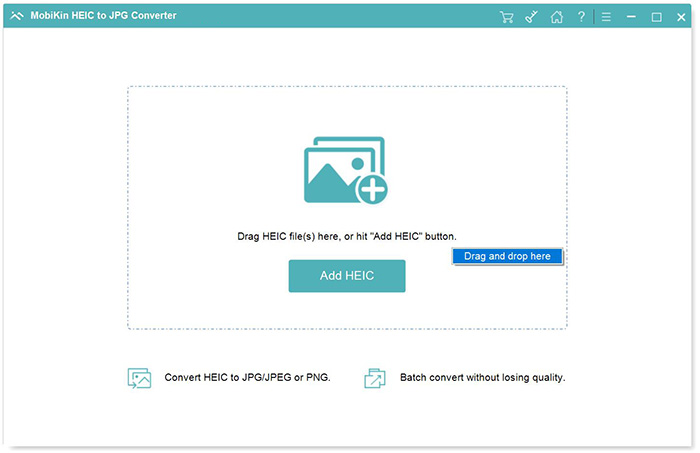 Step 4. Choose the specific HEIC photo you want to convert, select the desired output format (JPG, JPEG, or PNG), and decide whether to keep or remove the Exif data. Set the output path for the converted file.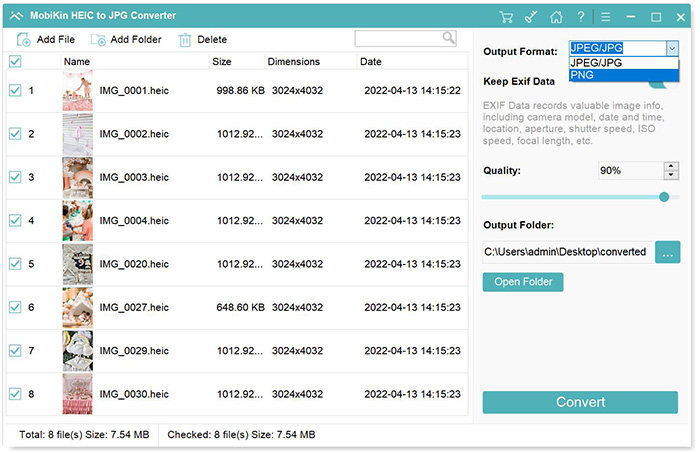 Step 5. After that, click the "Convert" button to initiate the conversion from HEIC to JPG/JPEG/PNG. After the conversion is complete, you can click "Show in folder" to view your newly converted photos.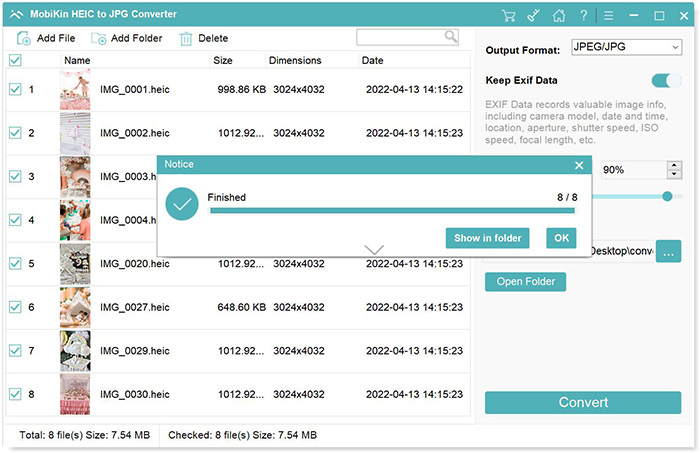 Step 6. Return to the Google Drive website, click the "New" button, and select "File upload". Proceed to upload your JPG file to your Drive storage. (How to restore deleted files from Google Drive?)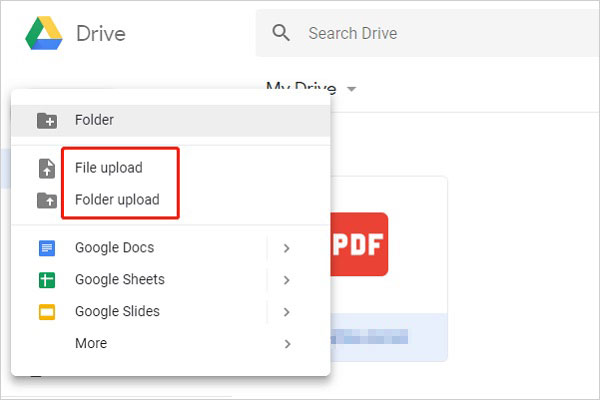 Way 3: How to Convert HEIC to JPG in Google Drive via Google Photos
Many may believe that Google Photos cannot perform this task, but upon closer examination, it becomes evident that this service is indeed capable of converting images from HEIC to JPG format, although it does have certain limitations. Can you convert HEIC to JPG on Google Drive with Google Photos? Here's how you can do it:
Sign in to your Google Drive account and upload the HEIC image you want to transform.
After the image is uploaded, choose it from your list of files.
Then open the "Open with" dropdown menu.
Opt for "Google Photos" among the available applications.
When the image opens in Google Photos, locate and click the "Export" button.
Choose "JPG" as the desired file format for the conversion.
Confirm the conversion by clicking "Export".
Once the conversion is finished, return to your list of files in Google Drive.
Right-click on the converted file.
From the contextual menu that appears, select "Download".

The file will then start downloading to your computer or device.
You Could Also Have a Fondness for:
Way 4: How to Download HEIC as JPG from Google Drive by Email
The Mail or Gmail app on your iOS device can be a useful tool for converting HEIC to JPG in Google Drive. This is because when you send a HEIC photo via email with a HEIC to JPG converter on Google Drive. Moreover, the app automatically converts the file into a universal format, ensuring it can be accessed on any device.
How to convert HEIC to JPG on Google Drive over Email?
Open Google Drive on your device, like an Apple iPhone 14/13/12/11/X.
Send the downloaded photos to your own email address as attachments using the Mail/Gmail app.

Access the email you sent to yourself and download the attached photos.
The downloaded photos should now be in JPG format. You can then upload them to Google Drive as needed.
Way 5: How to Convert HEIC to JPG on Google Drive Using Online Tool
Need to convert a handful of HEIC photos to JPG and prefer not to download the software mentioned earlier? Here's an alternative way - using a free online HEIC to JPG converter. Learn how to go to Google Drive to convert HEIC to JPG with an online tool:
Access this Free Online HEIC Converter via your web browser, whether you're using Windows, Mac, or iPhone.
Press the "+Add HEIC/HEIF File(s)" button to upload one or multiple HEIC images to the online platform.

The free HEIC converter will then automatically convert the HEIC files to JPG format.
Once the conversion is complete shortly after, click the "Download" button to save the converted JPG files.
People Also Ask about HEIC Photos:
Q1: Why did my images become HEIC instead of JPG?
When Apple launched iOS 11, it switched the default image format from JPEG to HEIC. Therefore, if your iPhone is running iOS 11 or a more recent version, your pictures will be stored in HEIC format.
Q2: How to manage HEIC on Google Drive?
Google Photos, linked to Google Drive, lets you upload photos from your device or computer. (Google Photos backup not working?) It now incorporates AI technology for easy photo management by person, category, map, or subject through the search bar.
Q3: Can I convert HEIC to JPG in Photoshop?
Of course! In order to convert HEIC files, it's essential to have the most recent version of Photoshop and the latest codecs installed.
Words in the End
Until now, we are sure that you can convert HEIC to JPG on Google Drive easily. However, if you want a more flexible and customizable solution, we highly value MobiKin HEIC to JPG Converter. This product can quickly batch convert HEIC to JPG or other formats while letting you choose to keep Exif data. Plus, you can use it to adjust the quality and output folder of your converted files. So, download it from the button below and try it out now.
Related Articles:
4 Ways to Download HEIC as JPG in Google Photos [Step-by-Step Guide]
Hot Tips to Restore Call History Backup from Google Drive [2023]
3 Simple Steps to Transfer WhatsApp Backup from Google Drive to iCloud
HEIF vs. HEIC: A Full Comparison of High-efficiency Image Format
How to Turn Off HEIC on iPhone & Convert HEIC Photos to JPG/JPEG/PNG?