[Top 5 Ways] How to Bluetooth Photos from iPhone to Android?
Bluetooth is a wireless technology that allows two devices to exchange data over short distances. It can be a useful tool for transferring small numbers of files, such as a few photos, between mobile phones. Well, if you need to free up space on your iPhone before backing up or sharing photos to an Android smartphone, you may wonder how to Bluetooth photos from an iPhone to Android. Then, can you make the transfer fluent since it is an easy and convenient solution? OK, this article aims to dispel any doubts you may have.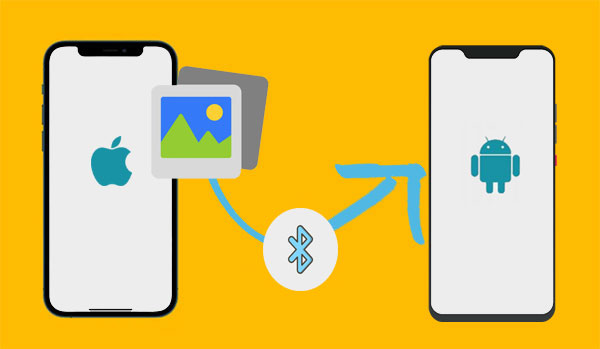 Part 1: Is It Possible to Bluetooth Photos from iPhone to Android?
Recently, "How to share photos from iPhone to Android via Bluetooth?" has become a hot topic on mobile forums. Well, the short answer is NO. You cannot make the transfer using Bluetooth. The iPhone may have this built-in technology, but its operating system restricts its wireless file transfer capabilities. The OS does not permit data transmission to and from non-apple devices utilizing Bluetooth, such as Android.
However, there are other ways to transfer files between iPhone and Android phones/tablets. You can use third-party apps like SHAREit that work just like Bluetooth. You can also use cloud services, such as Google Drive and iCloud, to complete the transmission.
People Also Ask:
Part 2: How to Transfer Photos from iPhone to Android via Transfer for Mobile
MobiKin Transfer for Mobile (Win and Mac) simplifies data transfer between mobile phones. It allows you to transfer photos and various data types between iPhones and Android devices with one single click. It also supports file transfer between phones with the same operating system. Plus, it is reliable and efficient for transferring large files without limits.
Why pick MobiKin Transfer for Mobile?
Successfully transfer photos from an iPhone to an Android device without any mistakes.
Move files between iPhones and Android devices and also between phones using the same operating system.
Copy various data types, including photos, videos, music, books, contacts, text messages, documents, notes, calendars, and more.
Offer easy connections, simple clicks, and fast transfers, maintaining the original file quality.
Work well with almost all iDevices, including iPhone 14/14 Plus/14 Pro (Max), iPhone 13/13 Pro (Max)/13 mini/12/12 Pro (Max)/12 mini, iPhone 11/11 Pro/11 Pro Max, iPhone X/XR/Xs/Xs Max, iPhone 8/8 Plus, iPhone 7/7 Plus, iPhone 6/6S/6 Plus, iPod touch, iPad, Samsung, LG, OPPO, Huawei, HTC, Motorola, Google, Sony, OnePlus, etc.
It won't divulge your privacy.
Are you still struggling to figure out how to Bluetooth pictures from iPhone to Android? Try the best Bluetooth alternative to transfer photos from iPhone to Android with the efficient procedure and lossless quality:
Step 1. Connect both devices to a computer and run the program
Link your iPhone and Android phone to your computer using USB cables after launching the installed Transfer for Mobile. The interface will appear, and remember to enable USB debugging on your Android device.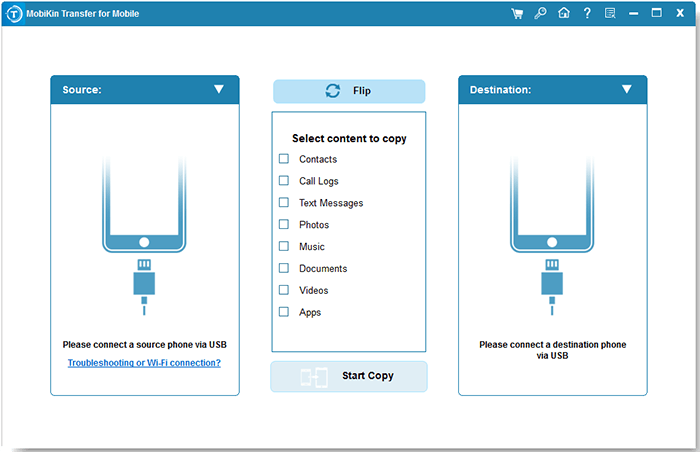 Step 2. Choose the "Photos" box for data migration
Once both devices are successfully connected, ensure that the iPhone is the source device, and the Android mobile is the destination one. In case the phones are reversed, use the "Flip" button to switch their positions. Next, from the file list in the middle, mark "Photos".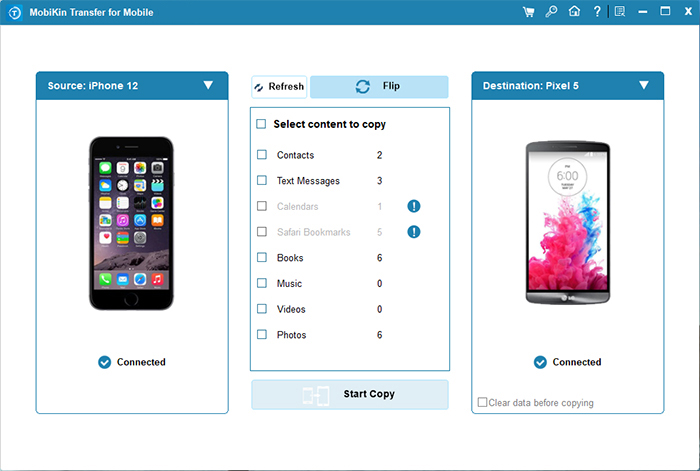 Step 3. Transfer photos from iPhone to Android
Click the "Start Copy" button to commence the data transfer process. A notification will then be displayed upon completion of the transfer. Afterward, eject the two phones and verify all the transferred files on Android.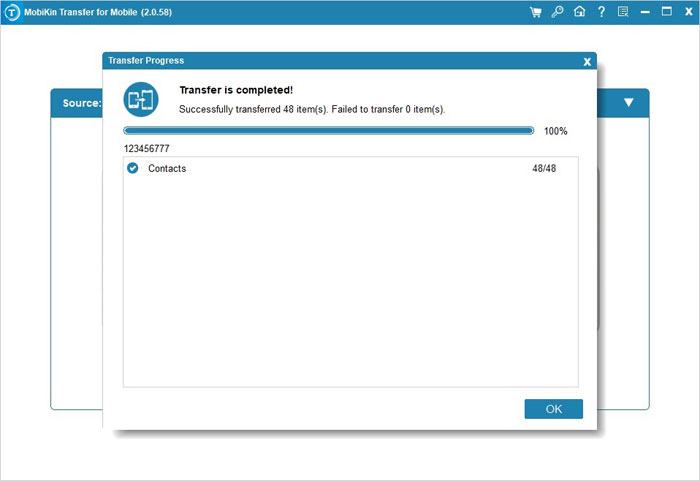 Part 3: How to Share Photos from iPhone to Android via Google Drive
Google Drive is a good app for controlling uploads to cloud space. Transferring pictures from iPhone to Android is easier with this service, but slow Internet speeds can cause delays. Moreover, selecting a lot of photos is slower than Google Photos or Google One. The free storage is only 15GB, while extra space costs $1.99 per month for 100 GB.
How to move photos from iPhone to Android via Google Drive?
Download Google Drive from the App Store on your iPhone and sign in to your Google account.
Tap the "+" button in Google Drive, select "Upload", and go into "Photos" and "Videos".
Choose the photos you want to transfer and tap "Upload" again. Wait for the upload to complete. (Google Drive not working?)

On your Android device, open Google Drive (it should be pre-installed, but you can download it from the Google Play Store if needed).
Find the uploaded images in the Drive and select them.
Tap the three-dot menu button in the top-right corner and select "Download".
The photos will be downloaded to the "Downloads" folder on your Android device.
Know More:
Part 4: How to Transfer Pictures from iPhone to Android with SHAREit
SHAREit simplifies file exchange between iOS and Android, making it a stock tool for mobile users. Users can leverage this tool to transfer media, contacts, and apps from iPhone to Android. Before proceeding, please et this popular cross-platform file-sharing app for free from Google Play or App Store.
How to copy photos to Android from iPhone via SHAREit?
Download and install the SHAREit application on both devices.
Grant the necessary permissions.
Run SHAREit on your iPhone, which will be the source device.
Tap on "Send" and select the media or files you want to transfer.
Open SHAREit on your Android phone, which will be the destination device, and tap "Receive".

The app will start searching for your iPhone automatically.
Once the sending device appears, simply press on its icon and confirm the connection to start the transfer process. (Check out the SHAREit review if you want to know more about it.)
Part 5: How to Copy Photos from iPhone to Android via iCloud
If you are an iCloud user or have already saved your photos in the cloud storage, accessing your account from an Internet browser on Android could be the best bet for you. While there is no iCloud app for Android, you can still access your account and storage through your browser, like Google Chrome.
How to move photos from iPhone to Android with iCloud?
Go to your iPhone's "Settings" > [your username] > "iCloud" > "Photos" > enable "Sync this iPhone". (iCloud backup failed?)
Once the syncing is complete, you can access your photos in full resolution on icloud.com.
On your Android device, open Google Chrome.
Next, sign in using your Apple details and navigate to the "Photos" section to view all your synced photos.

If you want to save the photos to your Android device, simply select them and tap the 3-dot menu.
Finally, choose "Download", and the pics will be saved to your "Downloads" folder.
Part 6: How to Share Photos from iPhone to Android over Email
Typically, you can send photos via Email to yourself or others, but there are still file size limits depending on the email client. For instance, Gmail has a limit of 25MB per email attachment. Despite these drawbacks, if you only need to send a few images, email is absolutely a quick and easy option.
How to transfer photos from iPhone to Android by Email?
Firstly, go to your "Photos" app on your iPhone.
Choose the pictures you want to transfer.
Next, tap the "Share" icon and select "Mail".
Enter the recipient's email address and send the email.

Finally, open your Android phone, download the attachments from the email, and save them to your device.
Closing Remarks
As you know, resources that claim how to Bluetooth from iPhone to Android are not credible. And the five alternative methods we just said would surely settle the matter smartly. Well, which one is the best? Now, here's a comprehensive comparison:
Google Drive stores photos in the cloud for easy access and backup but requires an Internet connection to load photos and has limited storage space for free accounts.
SHAREit is easy to use and set up, yet it is buggy and unreliable at times.
Although iCloud offers end-to-end encryption to ensure secure data transfer, it may not be as fast as other methods due to syncing times and might even fail to work.
You are only allowed to transfer photos up to 25MB at a time over Email, though it doesn't requires additional apps to get on with.
Apparently, there is almost nothing wrong with MobiKin Transfer for Mobile, thanks to its efficiency, ease of use, security, unlimited number of photos when transferring, etc. So, just give it a shot after the free download.
Related Articles:
Can You Transfer Photos from iPhone to PC with Bluetooth? Answered in 2023
How to Transfer Photos from Android to iPhone Wirelessly [6 Options with Pics]
7 Effective Tips to Mass/Bulk Delete Photos from iPhone or iPad
Troubleshoot "Unable to Share Photos from iPhone" with 9 Common Tricks
4 Ways to Download HEIC as JPG in Google Photos [Step-by-Step Guide]
[5 Easy Options] How to Transfer Photos from Computer to Android?