[Solved!] How to Transfer Photos from iPhone to iPhone without iCloud?
Back in 2011, Apple Inc launched iCloud, offering users a free storage space of only 5GB to manage photos, music, Email and other data. This space limit has not been changed so far. So, while many people sync photos of wonderful memories with the photo stream synchronization function of iCloud on their iPhones, they often encounter the notice like "iCloud storage space is full". Therefore, many want to know how to transfer photos from iPhone to iPhone without iCloud.
In this connection, this article focuses on the solutions to moving pictures between two iPhones without iCloud, providing a ponderable reference for you.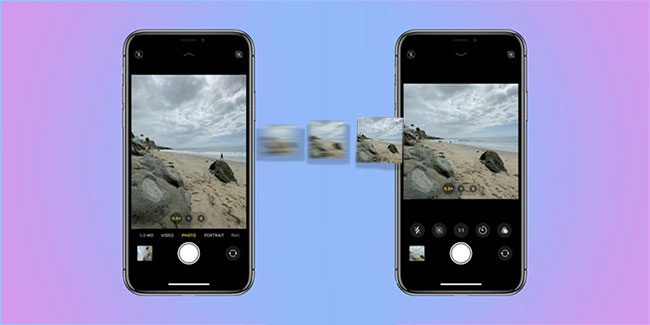 #1: How to Transfer Photos from iPhone to iPhone without iCloud - Phone Transfer
Here is an iPhone photo transfer program called Phone Transfer, which can directly transfer photos, videos, contacts, etc., between different mobile phones without any existing data wiping. You can easily complete this operation process with foolproof clicks. If you want to keep away from the restrictions of iCloud space and tedious operations, try this software please. Even if you have tons of iPhone photos, it can deal with them promptly.
Why I put this tool in the first? Here are the reasons:
Copy all the photos from iPhone to iPhone directly without any quality loss.
Support transferring a large number of photos with large size in a short waiting time.
Switch contacts and media files between two devices (no matter they are iOS devices or Android devices) within few clicks.
Well compatible with nearly all phones, including the latest iPhone like iPhone 11/ 11 Pro/XS Max/XR/XS/X/8/7/6, iPod Touch/Shuffle/Classic, iPad Mini/Pro/Air, etc.
Want to have it? Move your mouse to download it now.
Directions on how to use Phone Transfer to transfer photos from iPhone 8/7/6 to iPhone 11/11 Pro/X without iCloud:
Step 1: Connect your iPhones to the computer
Download this Phone Transfer program and get it installed on your computer according to the onscreen prompts. Then connect both two iPhones to your computer through suitable USB cables. Next, open the tool for the automatic detection.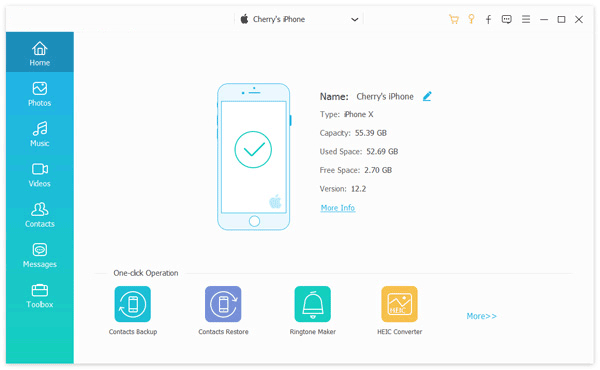 Step 2: Ensure the two phones are in the right positions
After your devices are recognized by the program, put the old iPhone to the "Source Device" section, and your new iPhone to the "Target Device" area. Choose "Photos" from the left side menu.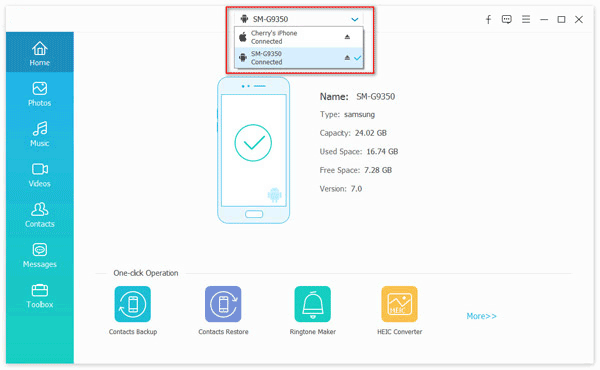 Note: If you source iPhone and the target one are in the wrong area of the interface, tap on the dropdown to choose the source device
Step 3: Transfer photos from iPhone to iPhone
Tap on the "Export to Device" button at the top to begin to transfer photos from one iPhone to another without iCloud. Note that you cannot disconnect your two devices until the transfer task is done.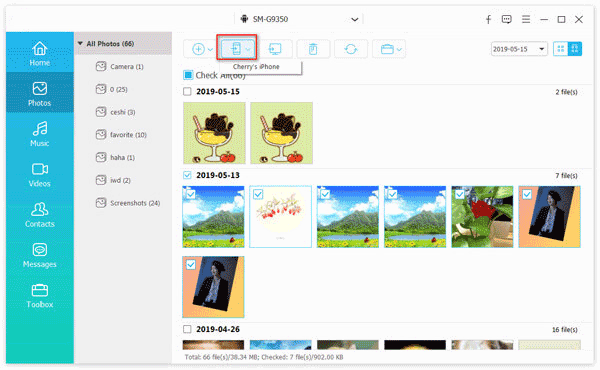 See Also:
#2: How to Transfer Photos from One iPhone to Another without iCloud - Google Photos
Suppose you want to transfer a handful of photos or other multimedia between iPhones, then Google Photos would be a good option. After you log in to this cloud tool with Google account, and as an iDevice user, the free space you enjoy is 15GB, which is much larger than the free amount of iCloud. But for Android users, they can be entitled to get unlimited storage space at present. You can firstly backup your iPhone to cloud service and then restore the backed up data to the other iPhone via the same cloud account.
However, there is a disadvantage in this tool, that is, the restored images may be compressed rather than the original ones.
If you have already installed Google Photos on two iPhones, let's see how to transfer photos from one iPhone to another without iCloud, but with Google Photos:
Step 1. Unlock your source iPhone, start Google Photos and log in with Google account. Then click "Menu" icon from the top.
Step 2. Head to "Settings" and switch on "Back up & sync" button to upload pictures from iPhone to Google photos.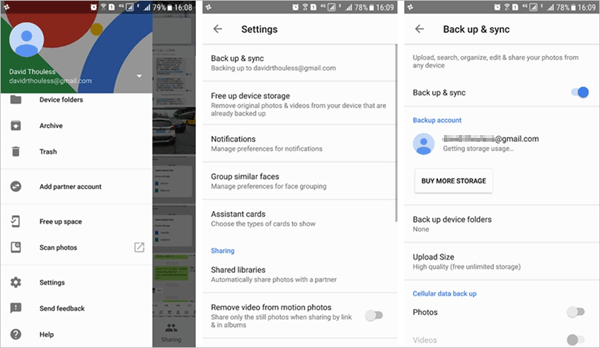 Step 3. On your target iPhone, open the Google Photos service with logging in the same Google account you've just used. Then, select your needed pictures and click share icon to save your chosen images.
Tips: You can find your transferred images from the camera roll on your destination iPhone.
#3: How to Transfer Pictures from iPhone to iPhone without iCloud - AirDrop
One of the major features of a iDevice is that it has a built-in function - AirDrop, which does not exist on Android phones. AirDrop supports iPhone 5 or later mobiles running on iOS 7 or higher. Before using this feature, you need to turn on both Bluetooth and WiFi (it is not necessarily the case that two devices are in the same network) on the two iPhones.
AirDrop can send photos, videos, documents, website info and map location, etc., between devices, but it doesn't allow you to preview before file migration (Look for an AirDrop alternative?). In addition, AirDrop on different OSes has a certain limitation on the numbers of the photos that are to be transferred.
The following is how to import pictures from iPhone to iPhone without iCloud but with AirDrop:
Step 1. Slide up from the bottom of your iPhones to go to "Control Center". Next, press and hold the upper-left box to enable "WiFi" and "Bluetooth". Then touch "AirDrop" to choose "Everyone" (or "Contacts only") to establish a connection.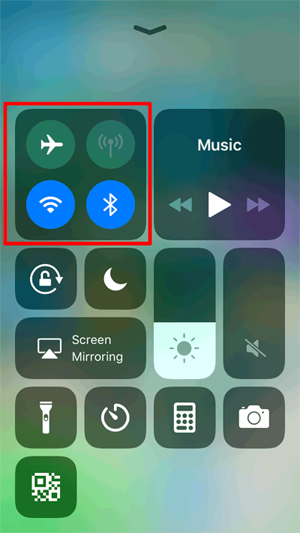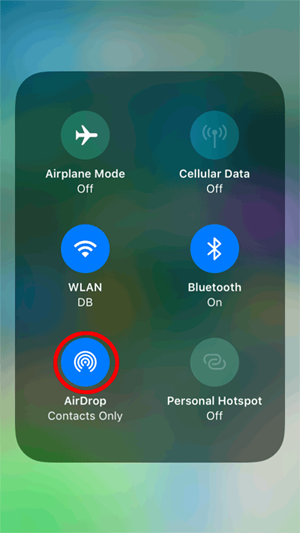 Attention: If you select "Contacts only", both devices must log in to iCloud. And the phone numbers associated with the sender's Apple ID must be stored in the address book of the receiving device. So you'd better choose "Everyone".
Step 2. Go to "Photos" app on your source iPhone and choose your desired images. Then, click the "Share" icon in the lower-left corner and tap the contact (destination iPhone) you want to share with.
Step 3. On your target iPhone, you can see a message saying "iPhone xxx would like to share xxx files". Just tap "Accept" to save the pictures to the "Photos" app of the receiver.
See Also:
#4: How to Get Pictures from iPhone to iPhone without iCloud - iTunes
Many iDevice users make complaints about iTunes due to various reasons, which, to some extent, is in the same predicament as iCloud. However, in terms of file backup and restoration, iTunes is still a tolerable choice for some new iPhone users. Generally, iTunes will delete existing pictures in the Photo Gallery when you try to transfer them to a new iPhone.
Besides, it's important to close iCloud Photo Library before using iTunes to send images to another iPhone, if not, it may break off the photo synchronization between iPhone and iTunes.
Here's how to get pictures from iPhone to iPhone 8 Plus/8/7 Plus with iTunes:
Step 1. Connect your old iPhone to computer via a USB cable and then open iTunes.
Step 2. Tap on the iPhone icon on the upper-left corner, and go to click "Summary" > "This computer" (or "My computer") > "Back Up Now" > "Apply" to backup photos and other data from old iPhone to the computer.
Step 3. Plug your new iPhone into your computer via a USB cord and start iTunes too. Then opt for "iPhone" > "Photos" > "Sync Photos" to select a folder or location to save the photos.
Step 4. Hit "Apply" to sync pictures to your new iPhone from iTunes Library.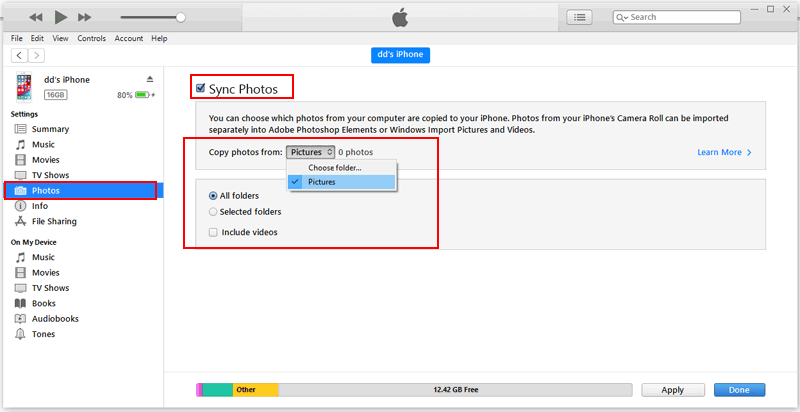 #5 How to Export Photos from iPhone to iPhone without iCloud - Email
Email is a built-in item on iPhone. With it, you can package the photos by adding attachments and share them to another Email address. Then, on the other iPhone, log in to the Email address where the attachments are received and download the pictures. This is a simple method compared with others. The efficiency of the upload and the download will rest with your network conditions.
Nevertheless, at most 5 photos within a total of 20M can be transferred in one go. If there are a great many photos, it will be a tedious process.
Follow me to get how to email photos from iPhone to iPhone without iCloud:
Step 1. Go to your source iPhone and open "Photos" app on it. Then, choose the pictures you need as attachments to send to another mail address.
Step 2. After that, click on the "Share" button and choose "Mail". Subsequently, enter your Email address of the receiver and fill in the following blanks if needed.
Step 3. On your iPad, go to "Mail" app to log in with the mail account of the recipient and check the Email you've accepted. Then, save the images on your iPad.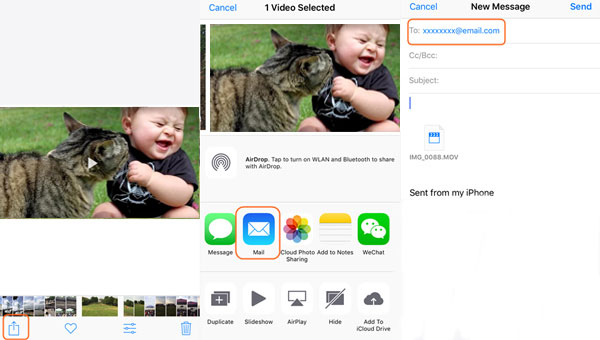 If you still want to transfer photos between two iPhones with iCloud...
Aside from the limited free space of iCloud that we mentioned at the beginning, there have been many cases of shared file disclosure in the process of its use. Further, iCloud and Window PC are not very compatible sometimes. And even if the iCloud can run smoothly on the Win, if you want to use the functions such as calendar, address book and mail etc., you need to open Outlook 2010-2016 or use the latest web browser. For iDevices, OS X lion v10.7.5 or later and iOS 7 or up are required. Besides, some of its functions are only available for WiFi connection.
Faced with these facts, many users are not enthusiastic about iCloud. But if you want to give it a go, please check this post - How to Transfer Photos from iPhone to iPhone with iCloud to get more details.
The Bottom Line
To transfer photos from iPhone to iPhone without iCloud, the easiest way seems to be Email. But it has strict number and size limit of photos each time it sends. So, if you need to transfer a large number of pictures, in a word, the best way is using Phone Transfer. As it is characterized by good compatibility, easy connection, unlimited photo packaging, direct moving, fast transfer, privacy protection, lossless data, and so on. So, are you still worried about a host of photos to be transferred? Why not download the advanced Phone Transfer program to ease your mind?
Related Articles:
6 Ways - How to Delete Photos from iPhone but Not iCloud?
Effective Ways to Transfer iCloud Backup to Samsung S10/S9
How to Transfer Photos from iPhone to Samsung? [9 Ways in 2019]
How to Transfer Music from iPhone to Computer for Free in 2019?
[Full Guide] How to Transfer Videos from PC/Mac to iPhone?