iPhone Blue Screen Fix: How to Fix Blue Screen of Death on iPhone
Oops, your iPhone runs into a BSOD (blue screen of death) error, which is accompanied by infinite reboots, rendering it completely unusable. Then, you might rush to try some iPhone blue screen fixes, but the blue tint on the iPhone screen is still there without even fading a bit.
So, why is my iPhone screen turning blue, and how can you resolve the blue screen of death on iPhone? Well, we will let you know the potential causes and eight reliable solutions to fix iPhone BSOD.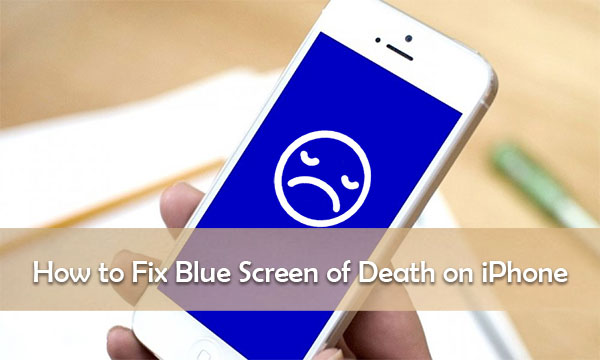 Part 1: Why Is My iPhone Screen Turning Blue
What happens if your iPhone screen turns blue? Honestly, it can be tough to ascertain the exact cause that applies to the specific phenomenon. But we can make a list of the reasons in general, nonetheless.
On the whole, software or hardware issues could be the key culprits for the blue screen on iPhone/iPad/iPod. Specifically, they are mainly reflected in:
Interrupted or failed software update.
System damage.
Software conflict.
Memory overflow. (see how to speed up your iPhone)
Multi-tasking.
Apps overload/faulty apps.
Hardware damage.
Confronted with the glitch in software or hardware, we are to detail the workarounds to bring your iPhone back to life and make it usable again. Now, just read on for the avenues, please.
Learn More:
Part 2: How to Fix iPhone Blue Screen? (8 Solutions)
Fix 1: Hard Reset iPhone
"My iPhone screen is blue. What do I do?" OK, first, you can hard reset your iPhone to see if it works. This is suitable for fixing the device that is completely frozen or screen of death on an iPad/iPhone 12/11/X/XR/Xs/Xs Max/8. Now, here are the steps:
* For iPhone 8 and later:
Press and quickly release the Volume Up key.
Push and quickly release the Volume Down button.
Press and hold the Side key.
When the Apple logo turns up, let go of the buttons.
* For iPhone 7/iPhone 7 Plus:
Press and hold both the Volume Down and Sleep/Wake buttons.
Release both when you get the Apple logo on the screen.
* For iPhone 6, iPhone 6 Plus, iPhone 6S, iPhone SE:
Press and hold both the Sleep/Wake and Home buttons.
When the Apple logo shows up, release both buttons and wait for the iPhone to reboot.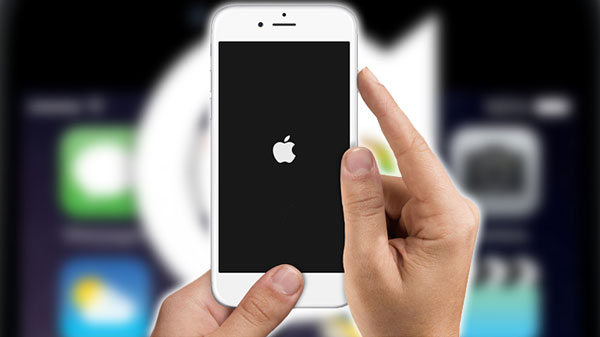 Fix 2: Have a Hardware Checkup
There might be a hardware issue that causes the blue screen of death on the iPhone if forcing reboot didn't work. Next, it is suggested that you send your iPhone to an authorized Apple service center for repair. In doing this, you'll get a piece of expert advice on what needs to be done to your iDevice.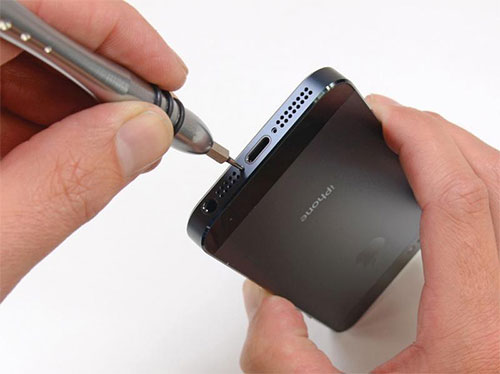 Fix 3: Delete or Update Apps
Delete Apps
Noticed that the problem occurred shortly after running a certain app? If so, the app might be faulty. Simply delete it following the steps: (learn how to delete apps on your iPhone permanently)
Choose the app you want to remove from the home screen.
Press and hold it until you see an "X" on each third-party app.
Tap the "X" and the app will be deleted.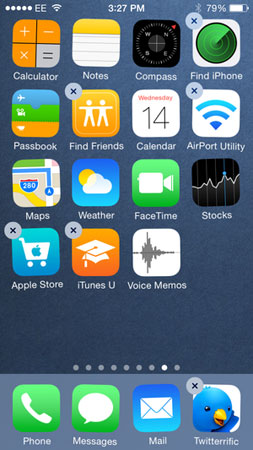 Update Apps
The iPhone screen goes blue and then restarts? Updating apps on your device might work:
To update a single app, go to visit the App Store on your iPhone.
Tap the "Updates" section.
This will display a list of all apps available for updates.
Tap the app you want to update.
Select the "Update" button.
To update all the apps, just touch the "Update All" option.
Fix 4: Turn Off iCloud Sync
The iPhone screen turns blue then restarts, and after that, your device won't respond all the time? Just try to turn off iCloud sync. This is because an error in syncing your iPhone's data with iCloud may give rise to a blue screen on your device. Follow the direction to do it:
Go to your iPhone's Settings > [your name] > iCloud.
Tap iCloud backup.
You will see the iCloud Drive toggle.
Turn it off if it is on.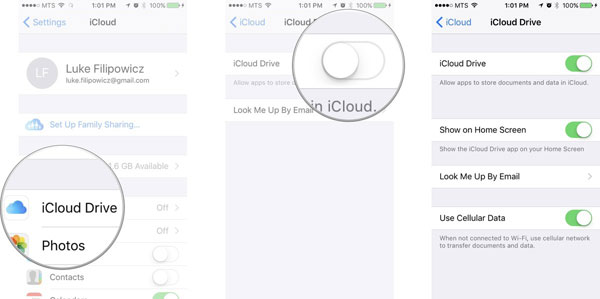 Extended Reading:
Fix 5: Restore iPhone to Factory Settings
In the event that iPhone blue screen occurs intermittently, restoring iPhone to factory settings helps get around the problem that occurs because of a system failure or a software error.
Note that doing factory settings on an iPhone will efface the data on your device. Yet, you can gain confidence in doing so by running a backup of the iPhone on a computer beforehand.
Open iTunes on your computer. (on a Mac with macOS 10.15 or up, open Finder)
Connect your iPhone to this computer via a USB cable.
Choose your device when it appears on the iTunes interface.
Click "Restore iPhone". (here, if you're signed into "Find My iPhone", please sign it out)

Click "Restore" again to confirm.
iTunes will erase your device completely and install the latest iOS software. Subsequently, your device will restart. Check if the iPhone blue screen of death is fixed.
Fix 6: Put iPhone into DFU Mode
Blue screen on iPhone is yet to be resolved after factory settings? Try getting your iPhone into Device Firmware Update (DFU) mode. Similarly, you'll lose all the original data on your device. So, it's better to do it after a secure backup as above. To put your iPhone into this mode, let's check out the instructions:
Turn off your iPhone and have it connected to a computer.
Launch iTunes on this PC.
Press and hold both the Home and Power key at the same time for about 5 seconds.
Release the Power button but keep pressing the Home key.
Wait for 15 seconds until the iTunes logo shows up on your iPhone screen.
Your iPhone screen should go black, and you'll receive a message from iTunes.
iTunes should recognize your iPhone and then set it in DFU mode.
Fix 7: Update iOS
A faulty or unsupported version of iOS on your device could result in the blue screen on the iPhone. To put it into normal mode, you can update iOS on your iPhone as below:
Make sure the device has at least 50% charge left.
Enable the iPhone's Internet connection.
Visit iPhone Settings > General > Software Update.
Check if there's an update available.
Tap "Download and Install" to update your device, if any.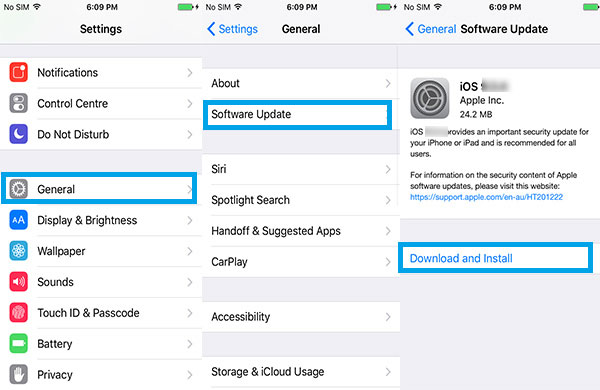 Fix 8: Ultimate Solution - Using iOS System Recovery (No Data Loss)
If nothing else seems to work, don't hesitate to pick the ultimate solution - fixing iPhone blue screen with iPhone System Recovery. As an ingenious program tailored to Apple users, it's always capable of repairing your iOS devices back to normal on Win and Mac computers without any data loss. Plus, it's easy to handle and safe to use.
Key characteristics of iPhone System Recovery:
Fix iPhone blue screen in a straightforward way.
Resolve 50+ screen/device/iOS mode/iTunes issues, covering phone screen not responding, Touch ID not working on iDevices, loop restart, and many more.
Come with two repairing modes, helping settle various iOS system problems.
Upgrade/downgrade iOS/iPadOS to the supported version.
Compatible with various iOS devices, including iPhone 14/14 Pro/14 Pro Max/14 Plus, iPhone 13/13 Pro (Max)/13 mini, iPhone 12/12 Pro (Max)/12 mini, iPhone 11/11 Pro/11 Pro Max, iPhone X/XR/Xs/Xs Max, iPhone 8/8 Plus, iPhone 7/7 Plus, iPhone 6/6S/6 Plus, iPod, iPad, etc.
It won't let out your privacy.
Now, let's figure out how to fix the iPhone blue screen of death via iPhone System Recovery:
Step 1. Run the program on your computer
Download and install iPhone System Recovery on your computer. Open it and choose "More Tools > iOS System Recovery".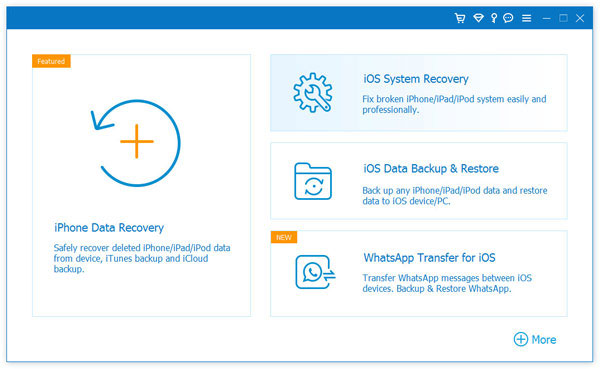 Step 2. Connect your iPhone to the computer
Attach your iPhone to the computer via a USB cable to forge a virtual connection between the device and the tool. Next, click "Start" to begin the repairing task.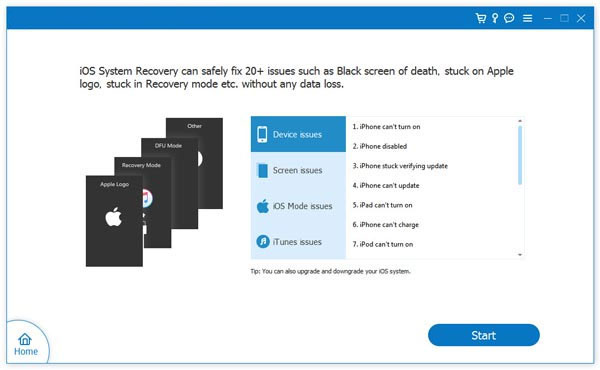 Step 3. Repair iPhone blue screen back to normal
The utility will detect the info of your iPhone. You can verify your device and tap "Repair". If the detected info is wrong, select the correct one and click "Repair" again.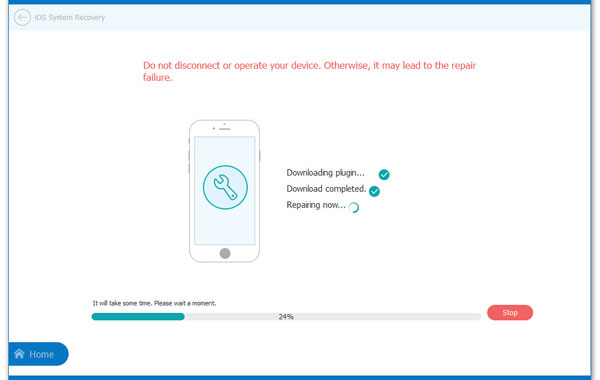 The process bar will tell you when the task is over. After that, reboot your iPhone, and the blue screen will disappear.
Last Part
Are you still struggling to find the proper way on how to fix iPhone blue screen? Going over this page, you know almost all of the current approaches to tackling this problem.
Honestly, the first seven solutions worth a shot but don't always help. Luckily, it is observed that iPhone System Recovery is the most amazing tool, always being used to resolve the screen of death on iOS devices with no data loss. Don't you want to give it a whirl now?
Related Articles:
iPhone Black Screen of Death? 9 Fixes Help Resolve This Issue Easily
How to Fix iPad/iPhone White Screen of Death?
Top 6 Methods to Unlock iPhone When Screen is Broken
How to Record iPhone Screen without Jailbreak?
Effective Ways to Fix Facebook Blank Pages Error on iPhone/Android
4 Ways on How to Remove Apple ID from iPhone without Password?