Does iTunes Back Up Photos from iPhone? Here's What You May Need
"My son has a ton of pictures (and a few videos) on his iPhone 7S. He is currently on IOS 11. I want to upgrade his phone to IOS 13. If I connect to iTunes and do a "backup", will everything on the phone (including pictures and video) get backup up?"
This is the voice of a user posted in the "Communities Forum". In addition to system update mentioned above, iPhone photos, videos or others closely related to our work and life are all needed to be backed up, if you don't want to feel at a loss about some unexpected circumstances. Hence, does iTunes back up photos from iPhone? The answer is yes. Well, this passage is mainly about the keywords considering "iTunes, backup, photos/pictures", etc. Now, first let's cut to the chase.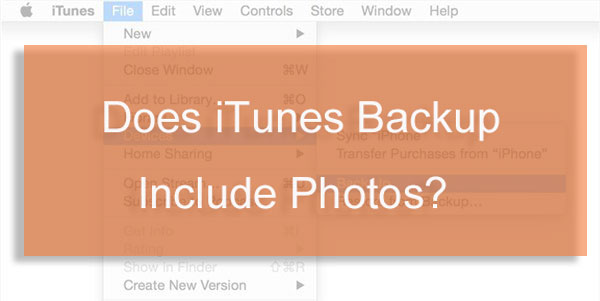 Part 1: Does iTunes Back Up Photos?
Does iTunes backup include photos? First, indeed, it can back up the photos stored in the camera roll of your iOS device. That's to say, it allows you to sync all the photos and videos taken by the iPhone camera instead of downloading them directly from your computer. Next, if you have backed up the pictures to your iCloud, the photos stored on it cannot be synced to iTunes again. Further, want to know if there is any backups on your iCloud? You can go to "iCloud Photos" from the iPhone "Settings" to see if you have enabled this feature.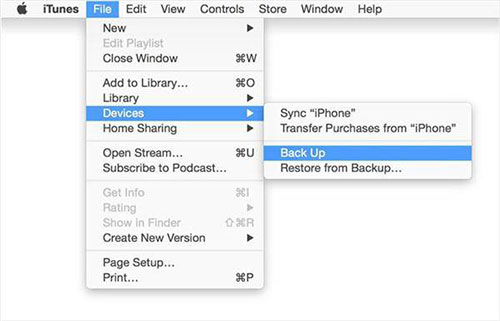 Note: Eh! Now you probably want to ask: what are the things iTunes cannot back up? Well, they are items like Touch ID and Face ID info, music and videos that are on your iTunes, Email messages that are from the default Mail app on iDevices, app installation files for iOS devices, and so forth.
Part 2: How to Back Up iPhone Photos with iTunes & Where to Check iTunes Backup Photos?
The creation of playlist on iTunes has been improved and its service for Apple Music Streaming has been added, which, undoubtedly, is good news for many people who use it to manage music. But it is also able to back up photos from iPhone/iPad/iPod. OK, let's discuss these two problems at length.
- How to Back Up iPhone Pictures to iTunes
Step 1. Launch the latest iTunes on computer after you download and install it. Then link your iPhone to computer via a USB cable, and click on the name of the device on the upper-left corner of the iTunes interface.
Step 2. Press "Photos" section from the left menu of the window to tick off the checkbox of "Sync Photos". And opt for "Sync Photos".
Step 3. Select "Pictures" from "Copy photos from" and choose either "All folders" or "Selected folders" option. Next, hit "Apply" to get images from iPhone to iTunes. Finally, click "Done" to close the window.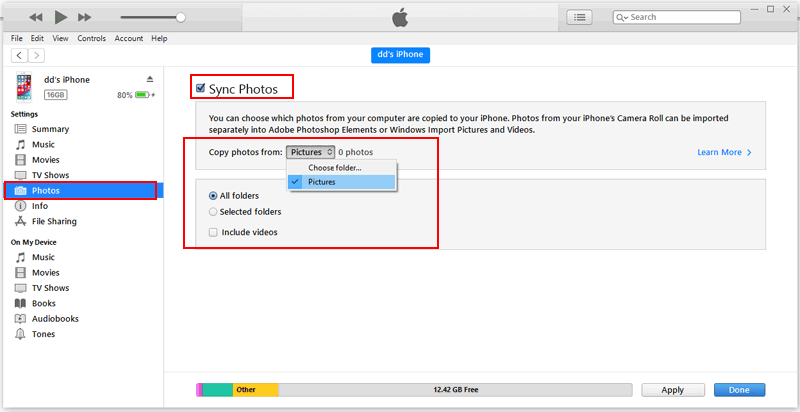 After the backup is made, you may want to find it. OK, here's the key:
- Where Does iTunes Back Up Photos?
Any operation you do on the computer will leave some traces, and trail of backups can also be checked on your Windows or Mac computer. But they are usually garbled (only can be viewed by iTools). To be specific:
You May Be Wondering:
Part 3: How to Back Up Photos from iPhone to iTunes/Computer Selectively
Once, iTunes was the first choice for many Apple users to create backups. But now, this utility has no longer appealed to most people. Because nowadays many users are conscious of some shortcomings of it, such as the management interface being not intuitive enough, supporting limited file formats, updating firmware prone to errors, etc.
As a result, some users are keeping pace with the times, and start using omnipotent programs like MobiKin Assistant for iOS (Windows and Mac). Well, does this iPhone backup tool save photos? Certainly, with it, you can freely back up as many as 14 types of data to computer or iTunes, transfer data between computer and iDevices, or manage Apple device files on your computer.
Let's check out some of its characteristics:
If you want to give it a shot, please click the button of Windows or Mac version as required now.
- How to Back Up Photos from iPhone to iTunes in Batches
Step 1. Download, install and open the software on computer, and use a USB cable to attach your iPhone to PC. Then follow the on-screen hints to get the iDevice recognized. After that, you'll see the windows like below.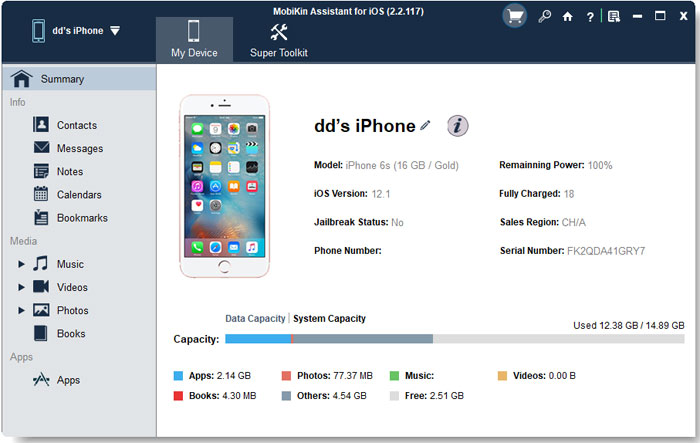 Tip: Ensure that you have run the latest iTunes on your computer. B.T.W, iPhone notes cannot be accessed in iOS 11.
Step 2. Go to "Super Toolkit" from the top menu and choose "iTunes Backup & Restore". Then go with the pop-up window to select the "Backup" tab.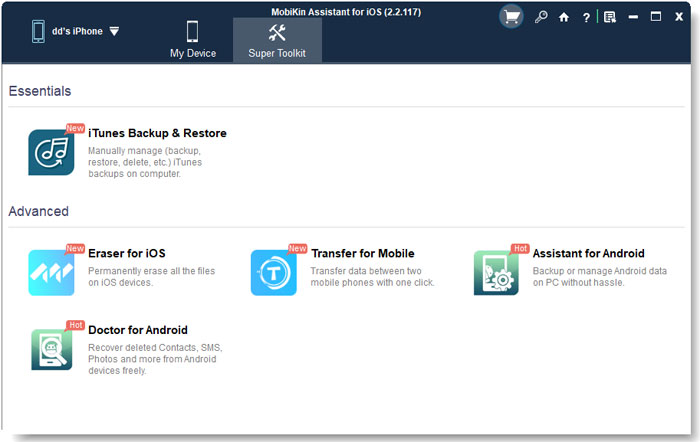 Step 3. Choose a device for backup and tick off the option "Backup file(s) to default iTunes backup location". Next, click on "OK" to start the backup task. Once done, all your iPhone photos and other data will be on the iTunes.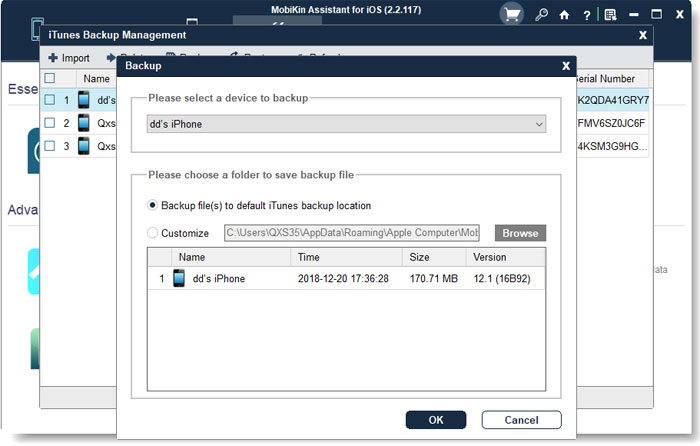 As has been mentioned above, MobiKin Assistant for iOS can also preview details of iPhone data and be used to choose the specific file(s) to back up/transfer them to your computer. Now, let's see how it works in this way.
- How to Preview and Back Up iPhone Photos to Computer Selectively
Step 1. Connect your iPhone to computer via an applicable USB cord. Then there will be a pop-up window on your iPhone. Just go to the device and tap "Trust", and touch "Continue" from this software to establish a connection.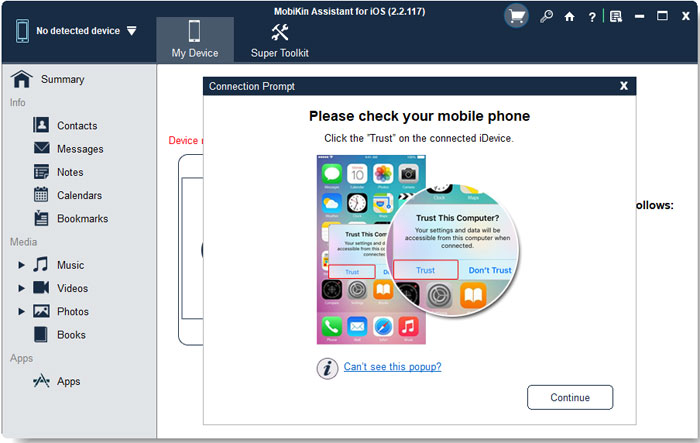 Step 2. After that, this tool will perform automatic detection. While your iPhone is fully detected, you'll get the main interface.
Step 3. Choose the data type(s) from the left sidebar. If you want to back up pictures, you can click "Photos" and preview them on the right column. Then tick on your desired pictures and click the "Export" button from the top menu to move your iPhone photos to your computer.

Check if You Need:
Write in the End
Does an iTunes backup save photos? Now, I think you have figured it out already. To be honest, we cannot blindly lay an emphasis on its inconveniences. For some novice users, iTunes can be a tolerable choice for the time being. But then again, its alternative - MobiKin Assistant for iOS is a rare iTunes photo backup replacement for those who pursue quality and worry-free services. More importantly, it can help get into the habit of iDevice management. After all, most of us are inclined to go to any length to improve the quality of our life.
Related Articles:
Top 6 iTunes Alternative for Android Phones/Tablets in 2020
How to Transfer Music from iTunes to BlackBerry
iPod Won't Sync with iTunes? 10 Easy Solutions to Fix It!
How to Erase or Wipe iPhone without iTunes?
Change iTunes Backup Location? Here is Solution!