iOS 11: How to Improve iPhone Battery Life?
Undoubtedly, iOS 11 provides us some new and useful features which make iPhone more helpful and amusing. But at the same time, these features will consume more battery of the device. And as we all know, a phone with low battery would fail to do many things, which would cause some trouble sometimes. Therefore, it is beneficial for us to improve iPhone battery life. This could increase the service life of the device as well as the save the energy.
It is easier said than done. Although you want to improve the battery life of iPhone, it would not be a simple goal to achieve if you do not have any tips. Thus, you need to a full guide of battery life improvement as a reference and that's why this article comes. So, take a look at it and you won't be disappointed.
Common Tips to Improve iPhone Battery Life
Actually, increasing battery life for iPhone is not such a difficult thing as you think. To make your device run for a longer time, you only need to adjust some settings of your device like reducing the brightness of screen, disabling wireless network, quitting background software and so on. If you do not how to manage them, you can go with the details below to make an attempt.
1. Lower Screen Brightness
When you use your iPhone, it is inevitable that the screen is lit. And obviously, the brighter your screen is, the shorter your battery life would be. Therefore, it is advisable to reduce the brightness of the screen, which can protect your eyes as well. To adjust the screen brightness, you can go to Settings> Wallpaper & Brightness. Just drag the slider to decrease your screen brightness.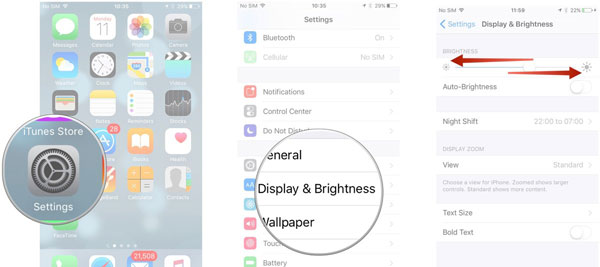 2. Tighten Up Auto-Lock
Almost all the mobile phone users choose to auto-lock their device. With this setting, you do not need to anything and just wait for several seconds or minutes to let the device lock automatically. And naturally, if the time that your device stay lit is longer, the battery will be consumed faster. In this case, you can set a shorter time period for Auto-Lock. You can navigate to Settings> Display & Brightness> Auto-Lock. Then tick the shortest period for your device, namely 30 seconds.
3. Turn off Wi-fi if You Don't Need It
For using the applications on iPhone smoothly, we always need to connect our devices to wireless network. Wi-fi would be an indispensable service for us but it is also the main reason of short life battery. Thus, you are suggested to turn off this service when you do not need to use the software connecting Wi-fi. If you want to disable it, you can visit Settings> Wi-fi and tap on the button to turn it off easily.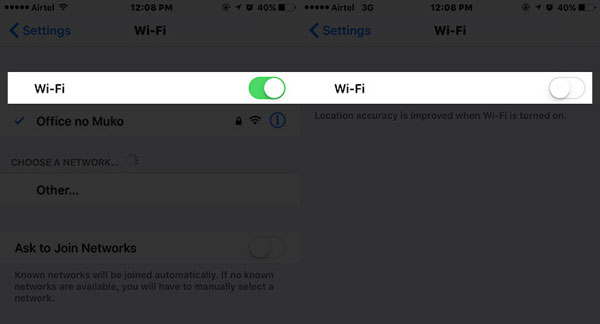 You might want to read also:
iPhone Won't Connect to Wi-fi, How to Fix It? [Solved]
How to Fix iPhone Won't Connect to Internet?
4. Turn off LTE
With the development of technology, the speed of cellular network becomes quicker and quicker. For customers, this is a good news since we don't need to spend too much time waiting for loading files. However, the speedy LTE cellular network requires more energy in fact. So if you are not raring to get the files, you can use the slower or older networks. You can go to Settings> Cellular and then slide the Enable LTE feature off.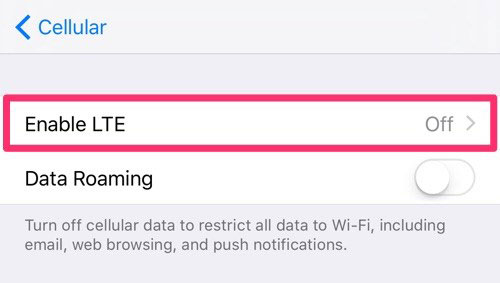 5. Limit Background Refresh for Applications
It is very convenient for us to enable Background App Refresh feature. Once it is turned on, you can get the fresh content whenever you use it since the applications would refresh their contents even when you are not using them. But on the other hand, it also means that these programs are still using the energy even though you do not launch them. Hence, when your iPhone is about to drain the energy, you can consider to turn off this feature. Just head to Settings> General> Background App Refresh to turn it off.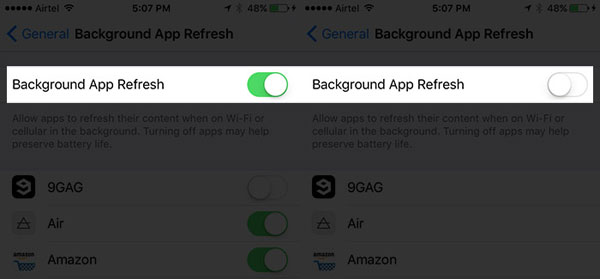 6. Restrict Unimportant Notifications
iPhone users must be familiar with notifications. Most the apps on iPhone have this function which would notice you the news about the program. Nonetheless, quite a number of notifications are useless and it is a choice to restrict the notifications to save the energy. To accomplish the restriction, you can go to Settings> Notification Center. Then scroll down to Include and Do Not Include section. In these two sections, you will see some categories like Phone, Messages, Facebook, Twitter, etc. Just select some of them and restrict the notification function.
7. Don't Update Apps Automatically
Since the release of iOS 7, iPhone allows applications to update automatically. Generally speaking, this feature makes us convenient for the reason that we do not need to check the updates regularly and upgrade the software manually. But you can imagine that how much battery this feature will cost. To avoid this kind of waste, you can stop the auto update by moving to Settings> iTunes & App Store> Automatic Downloads. In this section, you should find out the Updates option and move its slider to Off to stop it.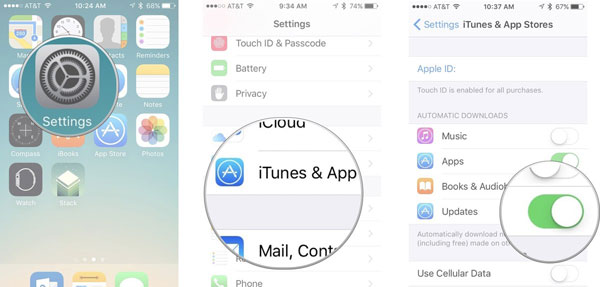 8. Fetch Email Manually
In order to manage emails expediently, people tend to set up and sync their mails to iPhone. What's more, most of them select to fetch the emails automatically to receive the latest news. But if you want to improve the battery life of your device, you'd better fetch emails less often or manually. To change the setting, you can tap on Settings> Mail, Contacts, Calendar> Fetch> Manually.
Can't miss:
Full Guide on How to Set Up Email & Voicemail on iPhone
How to Email iPhone Photos/Videos?
9. Do not Activate Location Service
The Location Service allows you to confirm your location and get a driving direction when you are in a strange place. We can say that it is a helper for the people who are unfamiliar with the route. Nevertheless, every service on the device would cost the battery. So, why not turn it off when you do not need a guide to reduce the battery consumption? Just navigating Settings> Privacy> Location Services to slip the slider to Off to disable the service.
10. Use Low Power Mode
To increase the iPhone battery life, the most powerful way would be turn on Low Power Mode on your phone. This mode will disable almost all the functions on your phone: network settings, email fetch, background software, automatic downloads and so on. If you only want to receive calls and messages, you can use this mode directly to accomplish the battery improvement. To do that, you have several options:
- Swipe up the screen to enter the Control Center and then find out the icon of Low Power Mode and tap on it to turn it on.
- Ask Siri to turn on Low Power Mode for you.
- Go to Settings> Battery to tick the Low Power Mode.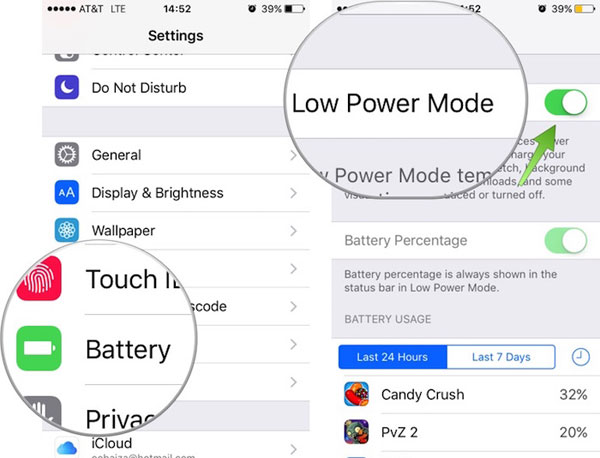 Related Articles:
How to Display or Monitor the Battery Percentage on iOS 8/9?