12 Most Useful iPhone Contacts Managers You'll Wish You Knew Sooner
It could be tough to remember a whole lot of contacts info like phone numbers, names, emails, etc., on an iPhone. With your contacts likely the most important asset on your iPhone, the messes of poorly entered data and duplicates make them difficult to use. So it's vital to make your phone book less cluttered and more clear.
OK, we will glean a dozen iPhone contacts manager apps and software in today's post. Let's take a quick look at them now.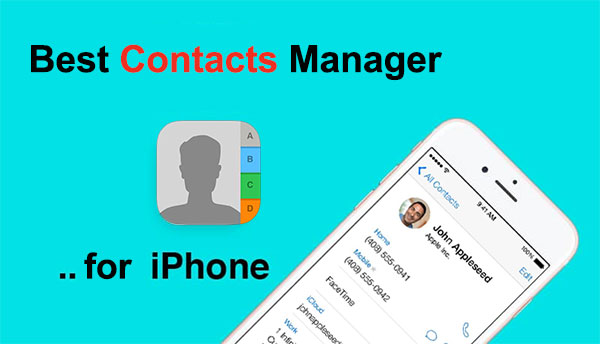 Part 1: The Best iPhone Contacts Manager - Assistant for iOS
So, what's the best iPhone contact manager for Windows/Mac? MobiKin Assistant for iOS (Win and Mac) can be a competitive candidate. This tool is simple to use yet powerful, coming packed with multiple functional modules. It is capable of analyzing your address book and then keeping it in great order.
Some Main features of Assistant for iOS:
Manage iPhone contacts and other iOS files on a computer directly.
Transfer files between iOS and computers/iTunes.
Support processing other data as well, including Video, Photo, Music, eBook, Contacts, SMS, Notes, Safari Bookmarks, Voice Memo, Playlist, Podcast, Ringtone, and more.
Flexibly back up and restore iPhone/iPad/iPod touch.
Smart management, incremental backup, and selective transfer.
Apply to various iOS devices, including iPhone 12/12 Pro (Max)/12 mini, iPhone 11/11 Pro/11 Pro Max, iPhone X/XR/Xs/Xs Max, iPhone 8/8 Plus, iPhone 7/7 Plus, iPhone 6/6S/6 Plus, iPod touch, iPad, etc.
Its free trial is available.
It won't disclose your privacy.
Thumbs up! Just FREE download Assistant for iOS and follow us to manage your iPhone contacts with this functional program.
Preparation: Connect iPhone to the computer
Before managing contacts with the best iTunes alternative, you need to connect your iPhone to a computer with a USB cable and let the software detect your device. Here are the details:
Install and run the program on a computer.
Link your iPhone to the computer.
Here, you need to trust the computer on your device if you haven't done it yet.
After that, click "Continue" on the following interface to go on.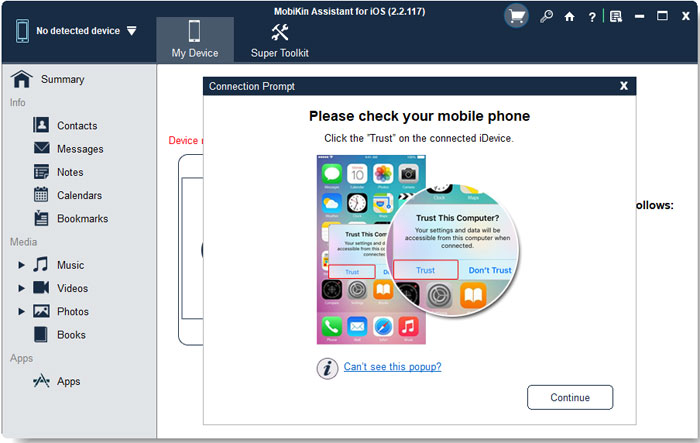 When the program successfully recognizes your iPhone, you will see the following interface: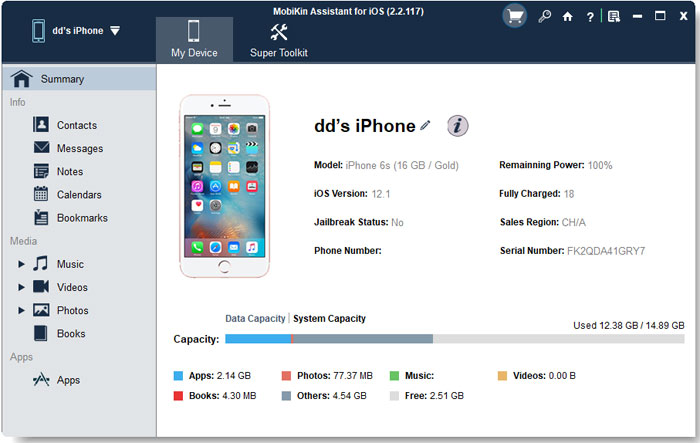 Start to manage your iPhone contacts without restrictions:
1. Add new contacts to iPhone
Tap "Contacts" from the left panel. And all the details will be loaded to the right column.

Click "New" from the top menu.
Enter the name, phone number, email, and address in the blank.
Hit "OK" to add the new contact to your iPhone.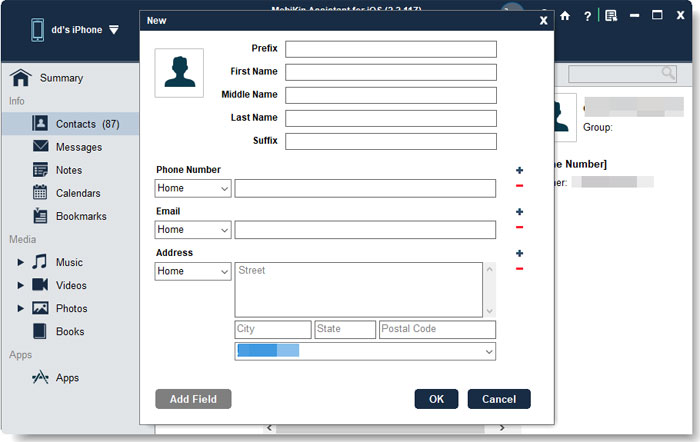 2. Edit the existing contacts
Enter "Contacts" and select a contact whose info you wish to modify.
Tap "Edit" located at the top screen, and then the "Edit" window will appear.
From the window, you can edit the info of the selected contact, including name, phone number, email, address, group, etc.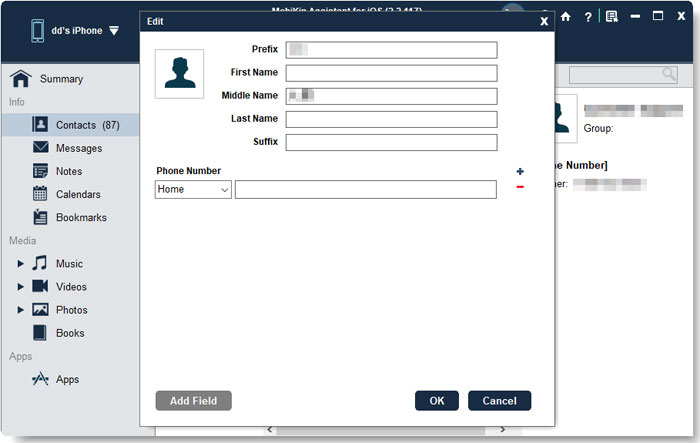 3. Export iPhone contacts to PC/Mac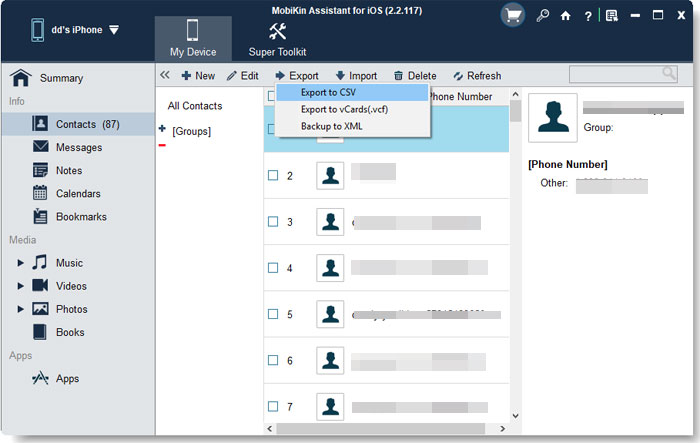 4. Import wanted contacts from computer to iPhone
Similarly, choose "Contacts" from the interface.
Click "Import" from the menu and choose "Import XML file".
A window will then pop up on the screen where you can pick the wanted files on this computer.
After the selection, you can tap "OK", and the software will move contacts to your iPhone in no time.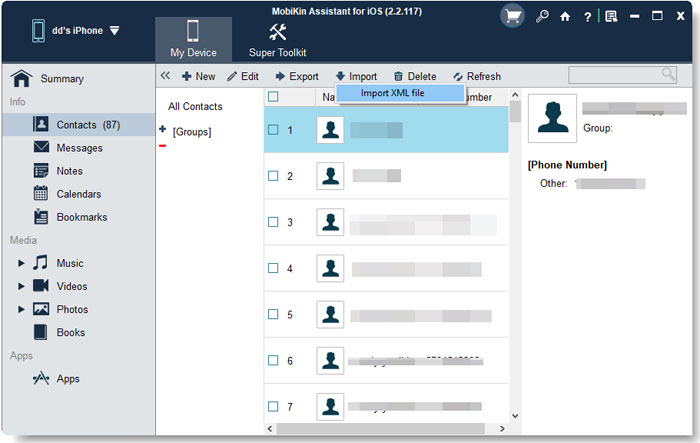 5. Delete unwanted or useless contacts from iPhone
Go to "Contacts" and check the files you do not want to keep in the iDevice.
Ensure you have selected all the unnecessary data and then tap "Delete".
The program will prompt you, "Do you really want to delete the checked contact(s)?".
If you are sure you wish to remove the iPhone contacts you chose, click "OK" to confirm your option.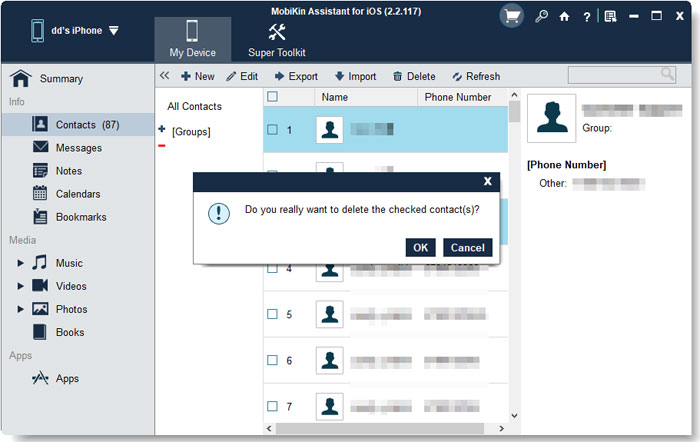 You May Also Like:
Part 2: 11 Other iPhone Contact Manager Apps
1. Cloze
Cloze servers as a comprehensive command center for contacts, social networks, and emails. It is one of the best contact managers for iPhone, helping manage your contacts to keep contacts profiles and other info up to date.
Main Features:
Sync all the details from email and social networking sites.
Use interactions and text messages to identify "Key People".
Let you write a tweet, share a link, update status, etc.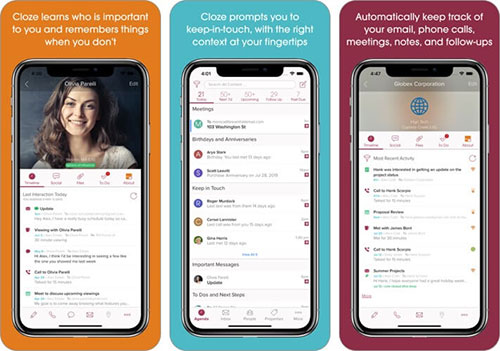 2. Sync.Me
As the second-best contact management app for iPhone, Sync.Me is a multi-functional contacts helper, with the ability to show the caller info, update your contacts with social network profile pictures, and merge duplicate contacts.
Main Features:
Keep you away from spam calls.
Pull the contact info from social networking accounts like Google+, Facebook, etc., for updates.
Back up iPhone contacts smartly.
Send personalized birthday cards to friends.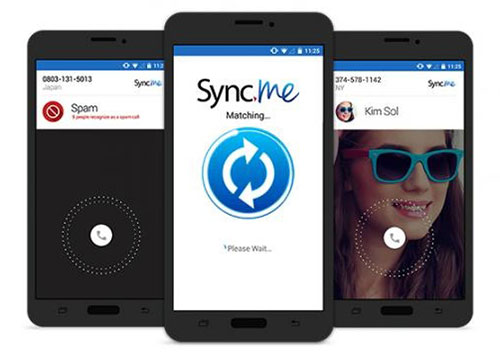 3. FullContact
Ranking in the top 3 best contact managers for iOS, FullContact is designed to help its users to manipulate the essential info like company info, social profiles, etc., about the people they met. This app can sync contacts to the cloud or social media automatically for safekeeping.
Main Features:
Merge your iPhone and social media contacts.
Add customized tags to create groups.
Sync iPhone contacts to Gmail, Twitter, Exchange, Office365, etc.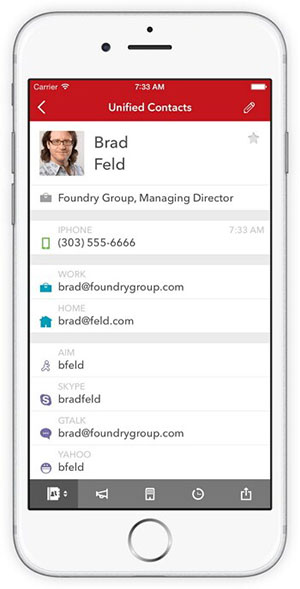 4. Tacts
Tacts refers to a well-organized and simple app. This iOS contact manager offers a list of top contacts and allows you to set a favorite list on the basis of call history and location. It delivers group management functions, featuring more than 60 icons to customize the groups.
Main Features:
Group text messages.
Create contact groups.
Facilitate to send group emails.
Customize the color and font size for the group texts.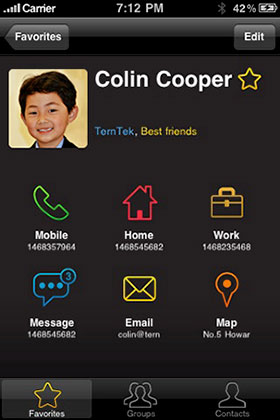 Know More:
5. CircleBack
Developed by CircleBack Inc, CircleBack gives you the option to update the contacts by monitoring social networks for any changes in job title, roles, etc., and transform email signatures into contacts. This iPhone contact manager app also lets you merge duplicate contacts and allow syncing contacts across platforms and devices.
Main Features:
Connect with your Facebook, Exchange, Google, and LinkedIn accounts to help manage the address book.
Updates contacts intelligently.
Recover deleted iPhone contacts in case of any emergency.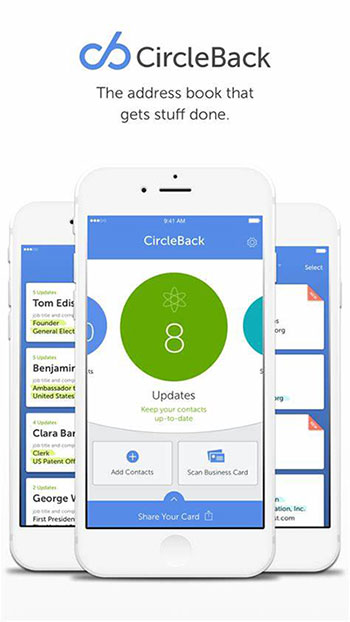 6. Contacts Optimizer Pro
Being an outstanding iPhone contacts manager, Contacts Optimizer Pro devotes itself to merging multiple contacts, identifying contacts with incomplete info, formating phone numbers, and digitizing vanity numbers.
Main Features:
Let you add international prefixes and codes of countries to facilitates calling from abroad.
Enable you to manually merge contact fragments.
Copy contacts to different accounts.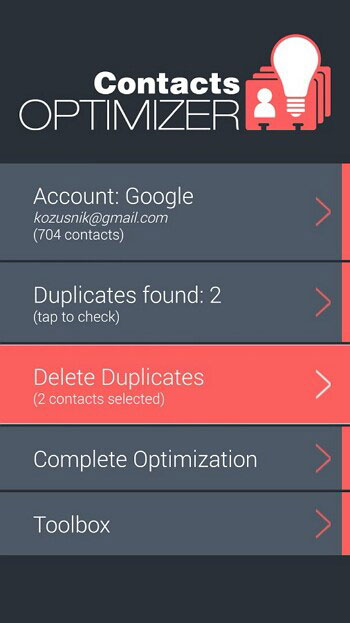 7. Groups
Groups can be pretty helpful for those whose communications mainly occur through grouped contacts. With this smart iOS contact manager, you can easily group contacts into any category like family, neighbors, friends, etc., and text all contacts in the group at once after setting up the grouping. (wonder how to send texts to multiple contacts without group messages on Android?)
Main Features:
Group people into various categories.
Text or email all the contacts and merge duplicate contacts.
Set reminders for getting contacts with others.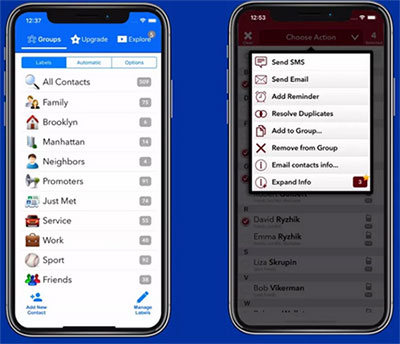 8. A2Z Contacts
Taking a more iOS-centric design, A2Z Contacts, a decent iOS contact management app, makes it easy for you to view and manage contacts stored on your iPhone, CardDAV, iCloud, and Exchange. It empowers you to sort contacts by group or company and preview most frequently used contacts as well as upcoming anniversaries or birthdays.
Main Features:
Sync with Google contacts.
Feature group management, contacts search, favorite contacts, etc.
Offer unrestricted contacts sharing.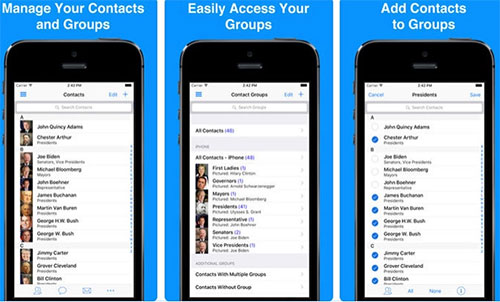 9. Contacts+
With the cloud-based app - Contacts+, you could connect with whoever you want intelligently. This contact manager for Apple keeps track of family, friends, and professional contacts while maintaining your address book uncluttered. It can be used to delete duplicates, update, and enrich contacts with photos, companies, social media activity, and more.
Main Features:
Integrate a host of sites including LinkedIn, WhatsApp, Twitter, and Four Square seamlessly.
Send free texts without switching apps.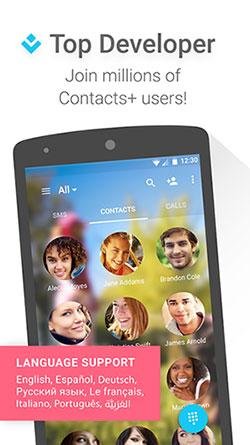 10. Simpler Contacts Manager
Embodied with a list of features to merge duplicate contacts, run backups, and perform other necessary functions, Simpler Contacts Manager makes contact management a whole lot less difficult. This iPhone contacts manager gives you the freedom to share groups and contacts with near ones.
Main Features:
Back up contacts to cloud storage automatically.
Let you attach images and contacts from your device.
Group text messages and emails.
Merge duplicate contacts in one click.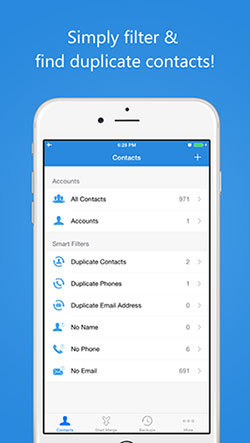 11. InTouch Contacts
Despite not being the best app to manage contacts on iPhone, InTouch Contacts is packed with collaborative sharing of contacts via cloud support, enabling you to make phone calls, share documents, merge contacts, convert business cards into contacts, and delete duplicate ones.
Main Features:
Auto-convert business cards to phone contacts.
Use Chrome/Firefox extension to save contacts to iPhone directly.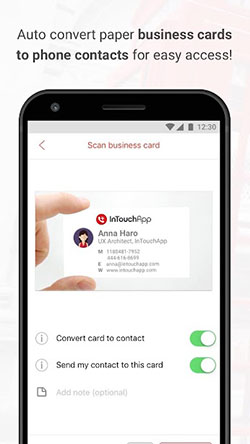 Final Words
We connected the 12 best iOS contact manager app/software in this passage. Well, which one is your favorite? Personally, MobiKin Assistant for iOS is a MUST-HAVE tool for managing iPhone contacts. It meets almost all the common needs for contact management and works smoothly all through.
Well, do you want to manage your iPhone contacts comfortably on a bigger screen? Simply give this utility a go, and you'll be fond of it for sure.
Related Articles:
8 Best Music Managers for iPhone to Color Your Music Life
How to Import VCF to iPhone 12/11/11 Pro/11 Pro Max? (Productivity Tips)
iPhone Lost Contacts after iOS Update? How to Get Contacts Back after Update?
Free iPhone File Explorer/Manager to Browse iOS Data on PC/Mac
How to Delete All Contacts from iPhone Quickly [with Illustration]