iPhone Contacts Manager - How to Effectively Manage Your iPhone Contacts on PC?
For iPhone users, it is essential to get a professional as well as reliable iPhone contacts manager tool. With such a tool, you are able to manage the contact info on your device effortlessly, including adding, editing, exporting, importing and deleting files. And MobiKin Assistant for iOS is a software that can meet all these requirements. (As for Android users, you can get the best Android contacts manager by going to the page: How to Manage Android Contacts with Android Contacts Manager>>)
What is MobiKin Assistant for iOS?
MobiKin Assistant for iOS is a desktop program designed to help users manage iOS files. It enables you to manage different kinds of files on iOS device, including contacts, messages, notes, calendars, bookmarks, music, photos, videos, books and so on. In addition, it equips the "iTunes Backup & Restore" function which empowers users to backup all the iPhone data to iTunes with one click.
Are you interested in it? If you are, just click the icon below to easily get this powerful program.
The Supported Devices of This iPhone Contacts Manager Software
Supported Devices
Supported iOS
iPhone
iPhone X, iPhone 8 Plus, iPhone 8, iPhone 7 Plus, iPhone 7, iPhone 6s Plus, iPhone 6s, iPhone 6, iPhone 6 Plus, iPhone 5s, iPhone 5c, iPhone 5, etc.
iOS 5, iOS 6, iOS 7, iOS 8, iOS 9, iOS 10, iOS 11, iOS 12
iPad
iPad air, iPad mini with Retina display, iPad mini, iPad with Retina display, The New iPad, iPad 2, iPad
iPod
iPod touch 5, iPod touch 4, iPod touch 3, iPod classic 3, iPod classic 2, iPod classic, iPod shuffle 4, iPod shuffle 3, iPod shuffle 2, iPod shuffle 1, iPod nano 7, iPod nano 6, iPod nano 5, iPod nano 4, iPod nano 3, iPod nano 2, iPod nano
How to Manage Your Contacts on iPhone with the Tool?
Before start the management, you need to connect your iPhone to the computer and let the program detect your device. The detailed steps are as below:
- Download, install and run the program on your computer. Next, please install the latest iTunes on the desktop if prompted.
- Use a USB cable to build a connection between your mobile phone and the computer and the software will detect the connected phone automatically. Here, you need to trust the computer on your iPhone if you haven't trusted it beforehand. After that, you can click the "Continue" button at the following interface to go on.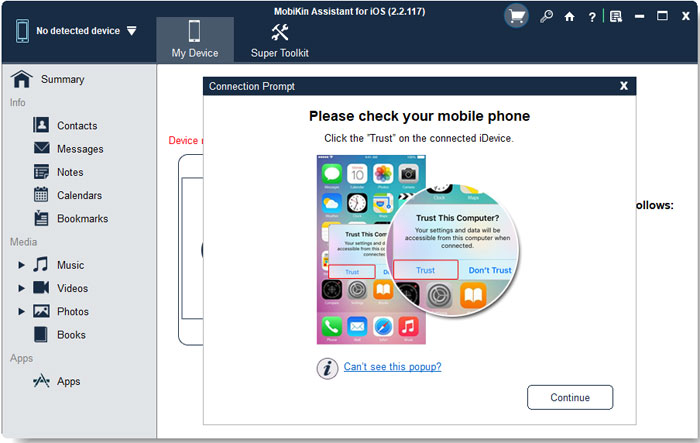 - When your iPhone is successfully recognized by the program, you will see the following interface: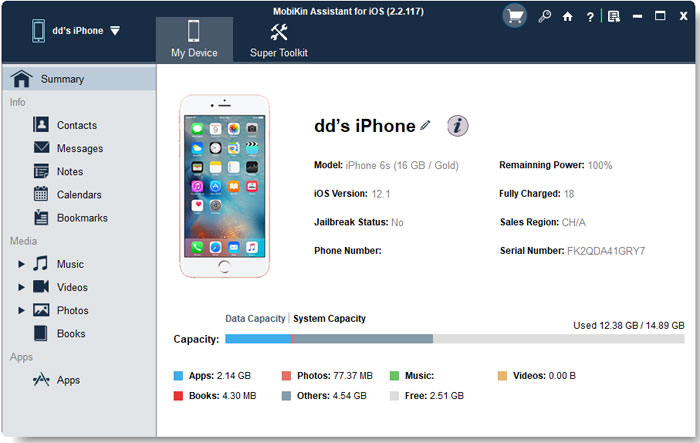 Now you can start to manage your iPhone contacts without restriction.
1. Add new contacts to iPhone
- Tap on the "Contacts" category in the left panel and all the contents of this folder will be located to the right column.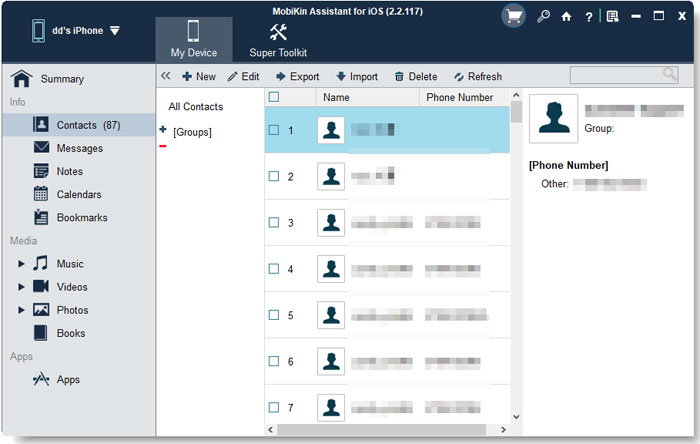 - Click the "New" option from the top menu and a window will pop up as below:
- Just simply enter the name, phone number, email and address in the blank boxes and hit "OK" to add the new contact to your mobile phone.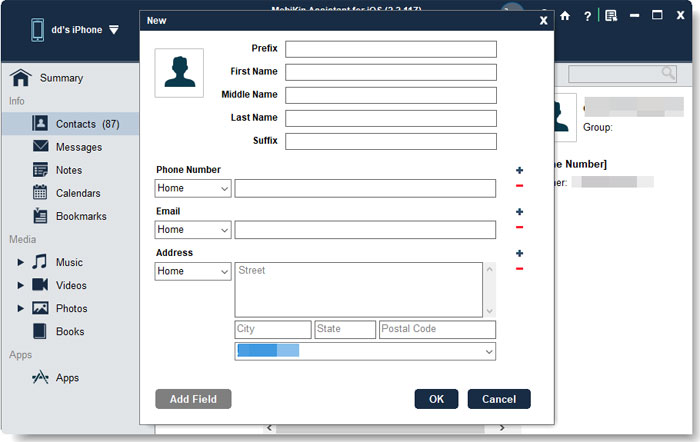 2. Edit the existing contacts
- Enter "Contacts" category and select a contact whose info you want to modify.
- Tap the "Edit" button located at the top menu and then the "Edit window" will appear.
- In this window, you are free to edit the info of the selected contact, including name, phone number, email, address, group and so on.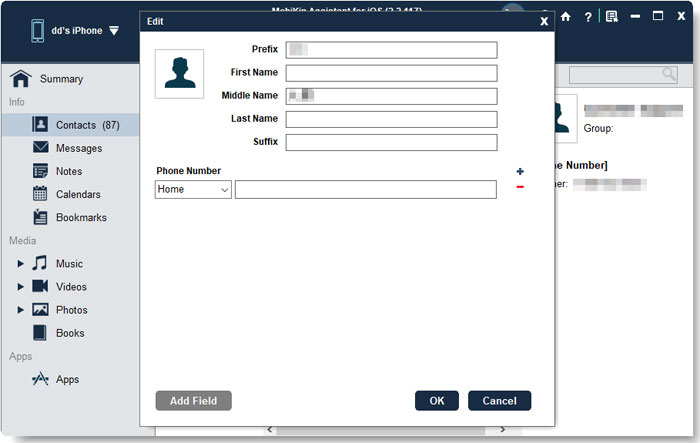 3. Export iPhone contacts to PC
- Go to "Contacts" and tick off the contact files that you want to save to computer.
- Hit the "Export" button from the menu and go on to select "Export to CSV" or "Export to vCards (.vcf)" or "Backup to XML". Then the program will transfer the chosen contacts from iPhone to computer save them as the corresponding formats.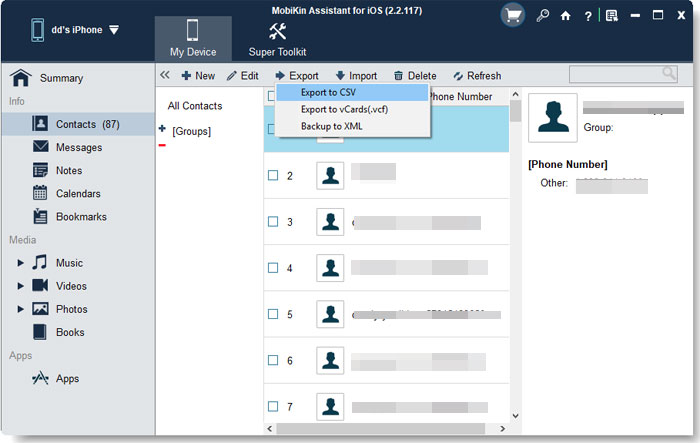 You can also click to learn:
How to Sync iPhone Contacts to Outlook?
Wanna Transfer Gmail Contacts to iPhone? Means are Here!
4. Import wanted contacts from computer to iPhone
- Similarly, Choose "Contacts" option from the primary interface of the software.
- Click on the "Import" button from the menu directly and choose "Import XML file". (Only support to transfer XML files from computer to iPhone presently.)
- Then a window will pop up on the program where you can select the wanted contact files on computer. After choosing the wanted files, you can tap on "OK" and the software will transfer them to your iPhone in no time.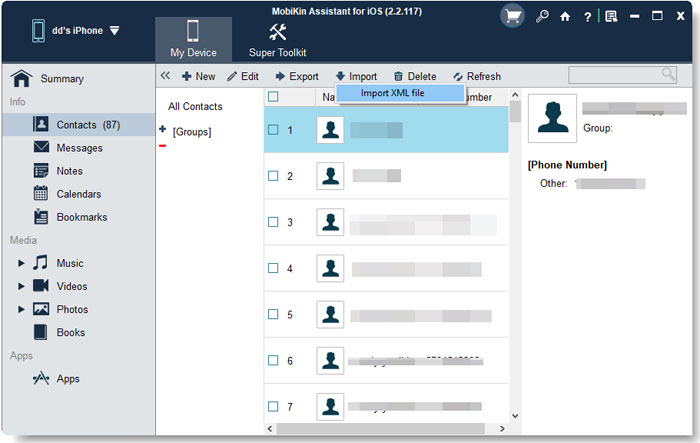 5. Delete unwanted or useless contacts from iPhone
- Go to "Contacts" and check the files you do not want to keep in the device.
- Ensure that you have selected all the unwanted data and then tap the "Delete" button.
- The program will ask "Do you really want to delete the checked contact(s)?". If you are sure you wish to remove the iPhone contacts you selected, just click on "OK" to confirm your option and begin the deleting process.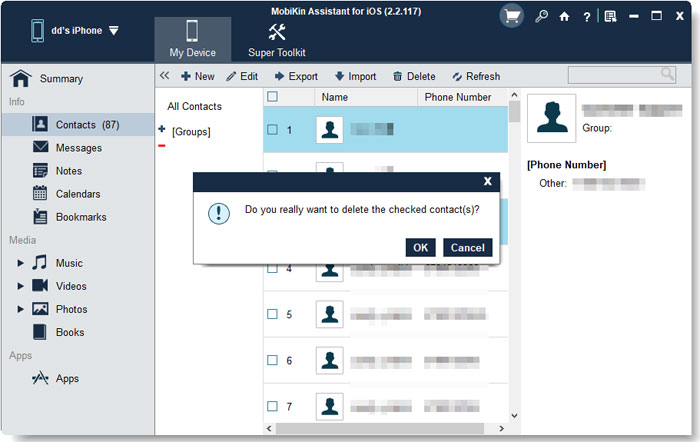 Maybe you also interested in:
How to Print Contacts from iPhone?
How to Transfer Contacts from iPhone to iPhone?
Final Words
With the help of MobiKin Assistant for iOS, you will be capable of managing the contacts or other files on your iPhone/iPad/iPod without hassles. So if you are looking for an iPhone contacts manager tool, you can take it into consideration. Just have a try and you won't be disappointed.
Related Articles:
iPhone Calendar Manager: How to Manage iPhone Calendars on PC?
How to Transfer Photos from iPhone to Computer/PC?
iPhone Music Transfer: How to Transfer Music from iPhone Xs/Xs Max/XR to Computer Freely?
How to Transfer SMS (Text Messages) from iPhone to Computer?
Send Long/Large Videos on iPhone: The Definitive Guide (7 Ways Included)