How to Print out Contact List from Android Phone (Way 1 Is Incredible)
"Can you print out your contact list?"
"How can I print my phone contacts?"
"How do I print a list of my Google contacts?"
If you need to call many people each day from your Android device, an office phone, it is necessary to print phone numbers from the mobile. This would assist you in making calls and doing business conveniently. And making a hard copy of contacts for preservation is also a smart move to guard against risk caused by deleting contacts mistakenly.
Indeed, printing contacts not only makes our lives easier but also saves the items better. Thus, how to print contacts from Android is an issue that deserves exploring if you have no idea about it. Well, in today's post, we'll let you know 5 great solutions to put Android contacts on papers efficiently.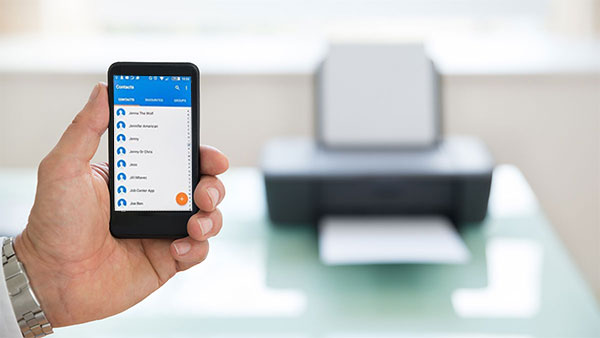 Way 1: How to Print Contacts from Android with Assistant for Android
Selecting contacts and printing them on an Android phone are tedious tasks, especially for a device with a long list of contents. So, is there a way to quickly import Android contacts on a computer and print them off in bulk? OK, MobiKin Assistant for Android (Win and Mac) can do this well. This is a direct and flexible approach, for you don't need to log in to a 3rd-party account on either an Android or a computer throughout the process.
Main Features of MobiKin Assistant for iOS:
Move overall data from Android to a computer, and vice versa.
Support processing contents like contacts, text messages, call history, apps, photos, movies, books, etc.
Add new contacts, edit existing contacts, and delete useless contacts on a computer.
Back up and restore Android phone in a breeze.
Install or uninstall APK files on Android devices on a computer directly.
Apply to various Android devices, including Samsung, Motorola, Sony, Huawei, HTC, LG, Xiaomi, Google, OnePlus, OPPO, Vivo, Blackberry, Meizu, etc.
It never interferes with the privacy of its users.
How can I print out my contact list from an Android phone with Assistant for Android:
Step 1. Launch the installed software on your computer and attach your Android phone to the computer via a USB cable. Then, you can follow the instructions on the screen to have the phone recognized.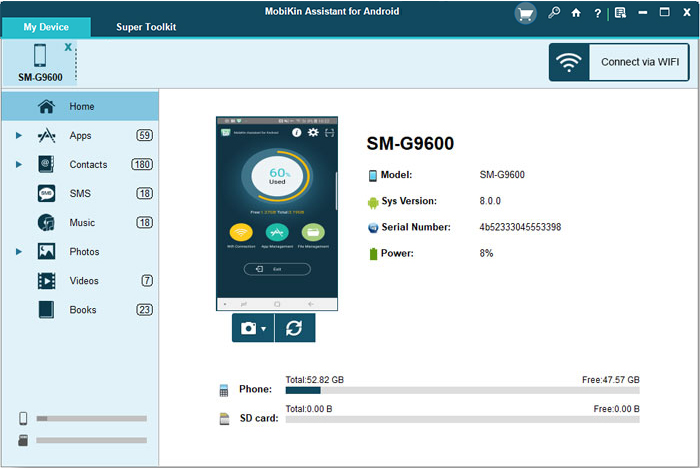 Note: No data cables are available? Just connect your Android phone to the computer via WiFi.
Step 2. After that, you can click "Contacts" > "All Contacts" from the left pane. Then the contact list on your phone will be on the right panel. You can preview and tick the contacts you want to print.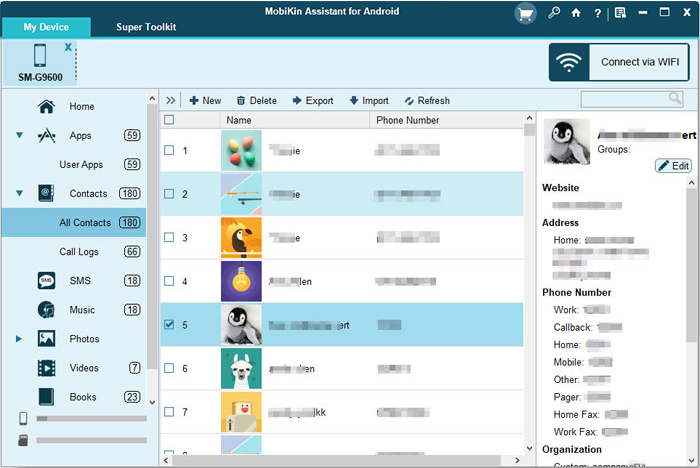 Step 3. Press "Export" at the top menu and choose "Export to CSV" or HTML, VCF, Outlook, BAK, or XML as you wish. Here, to print contacts from Android phone without trouble, you can save Android contacts as CSV files.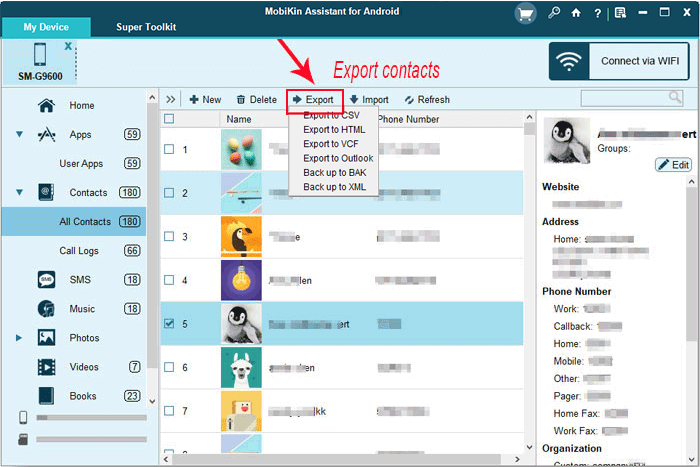 Step 4. Link your computer to a printer and open the exported contacts. Now, you're free to print the contact list from your Android phone.
If you wish to print all contacts from your Android phone, you can export all your Android contacts to computer in one time by going through "Super Toolkit" > "Backup" > tick off "Contacts" > "Back Up". In that way, all contacts on your Android can be exported to computer in one click.
Way 2: How to Print out Contact List from Android Phone Using Google Play App
It's also an option to complete the task with a Google Play app like Export Contacts. You can employ this app to export contacts from your Android device as CSV files before sending it to an email account to print.
How to print contacts from phone with Export Contacts app:
1. On your Android phone, download the Export Contacts app from the Google Play store.
2. Install and run this app before selecting the contacts you intend to print. Next, select "Export as" CSV.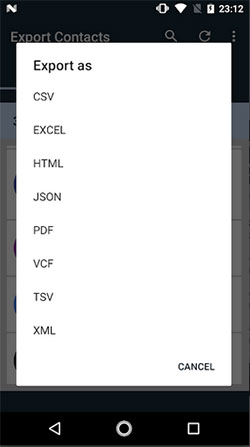 3. After the CSV file is created, you can send it to your email. Next, receive the email on your computer to download the file. Then open it via Microsoft Excel.
4. Click on "File" from the upper left and tap "Print" to print out your contacts from the Android phone.
You May Need:
Way 3: How to Print Contacts from Android Phone with Google Contacts Account
"How to print Google contacts?" Those who have synced their contacts to Google's servers may come up with this query. Well, to get the contacts onto a paper in this way, you ought to log in to your Gmail account on your computer and export the contacts to get ready for printing.
How to print contacts from Gmail with Google Contacts Account:
1. First, visit the Google Contacts webpage on your computer and sign in with your Gmail account you used for the Google contacts backup.
2. You'll find the synced contacts from the incoming page. Here, click on More > Print from the left menu. If you get a message saying, "This preview version of Google Contacts doesn't support printing", simply hit "Go to the old version".
3. You will be redirected to another webpage then. From the top ribbon, tap on More > Print to print the stuff uploaded from the Android device.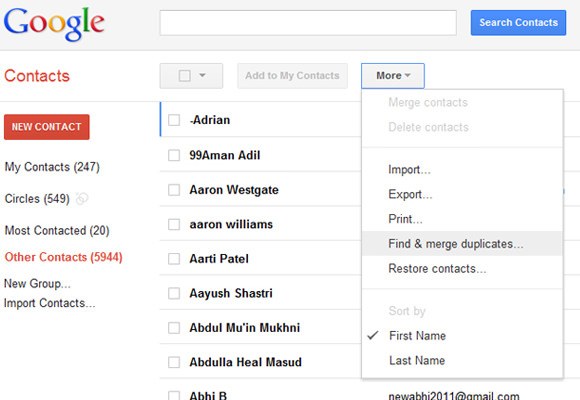 4. Next, choose "My Contacts", followed by "Print". Your Android contacts will appear now. You ought to press "Ctrl + P" > choose the printer > click "OK" to have the items printed.
Note: Google Contacts only allows you to print the entire list of the synced contacts.
Way 4: How to Print Contact List from Android Phone via Google Cloud Print
Google Cloud Print is an intelligent printing function launched by Google. Chrome needs to be installed on the computer before performing tasks. Since you can't directly select a contact file on your Android phone, you ought to open the contacts to take screenshots on your Android phone, log in to Cloud Print, and then get them printed.
How to print contact list from Android phone via Google Cloud Print:
1. Run Google Chrome on your computer and log in to it. Then go to "Menu" from the upper-right corner to choose "Settings".
2. Press "Advanced" for more options. Here, you should see the "Printing" tab. Just select it, and then Cloud Print > Manage.

3. Select Classic printers > Add printers to add your desired printer to the Google Cloud Print network and go with the prompts to finish the process.
4. Download the Google Cloud Print app on your Android phone from Google Play before installing and starting it.
5. Log in to your Google account and locate the screenshots with contacts you want to print. Then choose Menu > Print to select a printer to customize your printing task.
6. Lastly, press "Print" again to print the contact list from your Android phone.
Can't Miss:
Way 5: How Do I Print My Contacts on Android by Taking Screenshots
As we've mentioned in the previous part, you can take screenshots and upload them to your computer. Then you could move the images to a Word file for printing. And, of course, if your printer supports networks, you can connect it directly to the phone before printing off.
How to print contacts from Android by taking screenshots:
1. Run MobiKin Assistant for iOS on your computer. Connect your Android phone to this computer via a USB cord.
2. After your phone is identified by the tool, you should capture Android contacts with it. Next, click the camera icon on the interface to choose "Save screenshot to computer".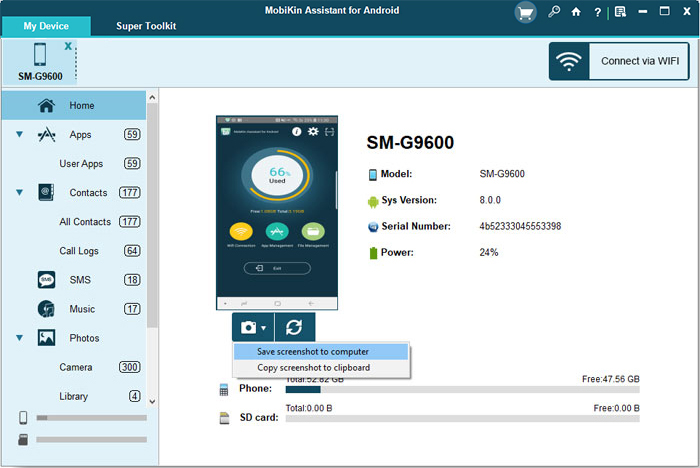 3. To print out the captured images, you need to copy & paste the screenshots to a Word file and go to File > Print. Finally, connect your computer to a printer to print off the contacts.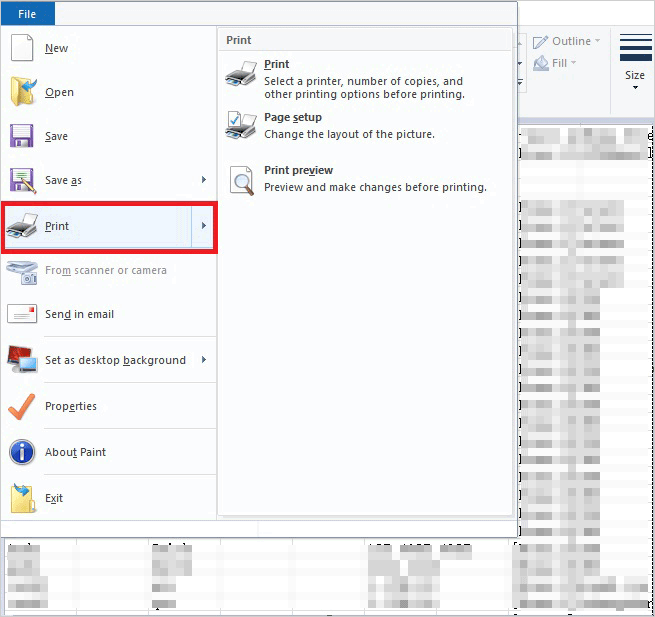 Verdict
There are 5 methods for you to print contacts from an Android phone. Now, which one is your favorite? All things considered, using MobiKin Assistant for Android is, apparently, more flexible, convenient, and interesting than picking any other means. It helps you select Android contacts you want from your computer directly and lets you print them out in an easy manner.
Related Articles:
How to Print from an Android Phone with Ease?
How to Print out Text Messages from Android Phone? (Best 4 Ways)
How to Print Call Logs from Android Device? 4 Ways You'd Better Know
Android Device Manager - How to Manage Android Devices on PC/Mac
3 Ways to Recover Deleted Contacts from Android (#1 is Awesome)