6 Best Alternatives to iCloud for Android (Creative Tools for You)
Although iCloud is still criticized by many Apple users to some extent, we have to admit that it has paved the way for mobile data administration. As an Android user, if you're interested in the role of iCloud in phone management, you may have realized the significance of data backup and management for your study, life, or even work. However, you know, iCloud cannot be used by Android users. So is there an iCloud equivalent for Android? To solve this issue, this passage will therefore illustrate 6 best iCloud for Android Alternatives.
Plus, apart from discussing the advantages and disadvantages of the 6 replacements to iCloud for Android, other performances of them will also be summarized in the end. OK, let's move on now. (iPhone users can also look for an iCloud alternative for backing up iPhone.)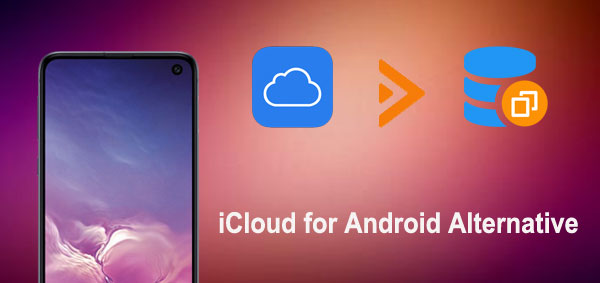 #1: iCloud for Android Alternative - Assistant for Android
To figure out the best iCloud alternative for Android, first of all, it needs to get the better of iCloud, considering product function and thereby maintaining high comfort levels. In this respect, MobiKin Assistant for Android (Windows and Mac) is a software that should be in your sight. It is exquisite and versatile.
Aside from backing up and restoring the local multimedia files on Android phones, data such as contacts, call records, SMS, app are also within its scope. It, over the long haul, boasts absolute advantages in comprehensive management, such as processing user apps, SMS, contacts, music, etc.
Pros:
* Back up and restore Android data selectively or in batches within one touch.
* Preview and handpick your desired data prior to initiate the data transfer.
* Export and import different files in proper formats for further use.
* Add, edit, delete contacts, and mass text, resend, forward and delete messages on computer.
* Install and uninstall apps, remove playlists, manipulate songs, and take screenshots on computer.
* Fast task performing, user-friendly interface, off-line running and highly secure.
* Compatible with nearly all Android devices, covering Samsung, Huawei, Sony, LG, Motorola, OnePlus, Vivo, Xiaomi, ZTE, etc.
Cons:
* It offers no free version. It does, however, offer a free trial.
As you can see, it is well-balanced in almost all the respects. Well, now let's take one of its features - "Backup and Restore" to get how it works in brief:
1st Step. Click one of the above buttons to get the program on computer, and then mount and open it. Have you Android phone plugged into your computer via a USB cable. Then go with the on-screen prompts to get the phone connected. Later, you can see "Super Toolkit" from the main interface. Just click it.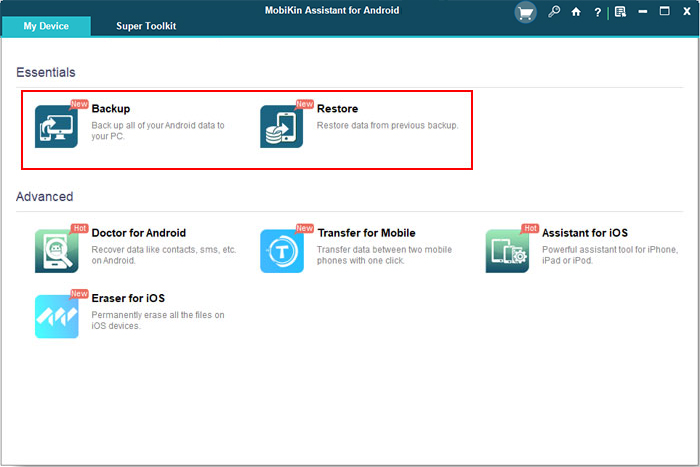 2nd Step. Choose "Backup" from the page and choose the data types you need. Then locate a folder on computer and tap "Back Up" to put the chosen data to computer.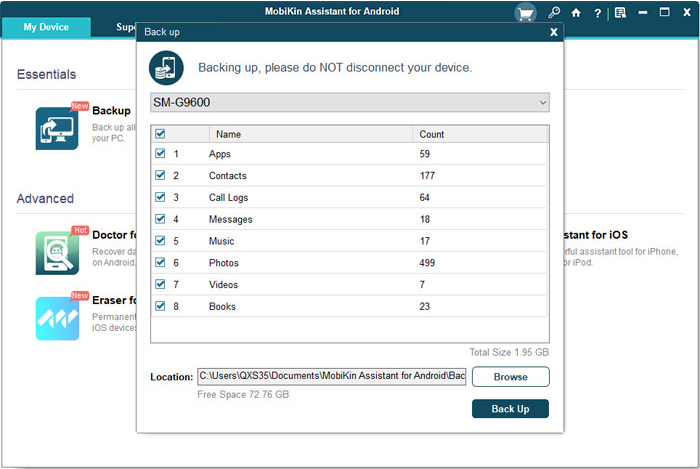 3rd Step. On the main screen, go for "Restore" and the list of the backup files will show you. Now, just select what you need to move them to your connected Android phone.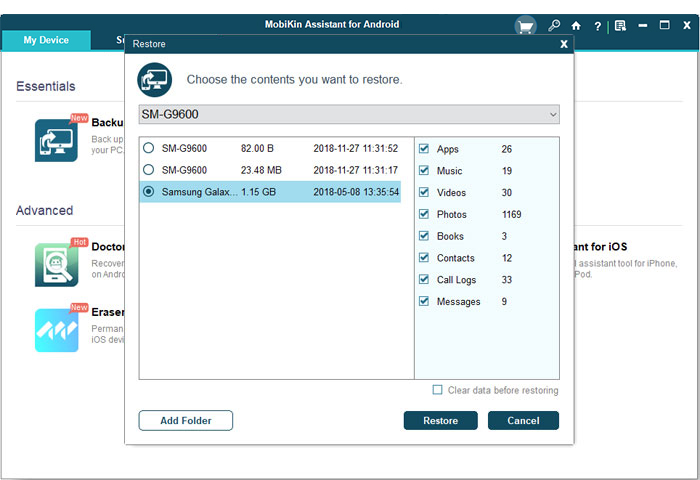 If you have a Samsung phone, you may be interested in the question: what does Samsung use instead of iCloud? Honestly, Samsung Cloud can be the replacement, but since Samsung Cloud often fails to backup, the best iCloud alternative for Android is, undoubtedly, MobiKin Assistant for Android. So, just give the latter a shot, cause a trial will convince you of my words.
#2: iCloud Equivalent for Android - Android Backup and Restore
After the comprehensive evaluation of the operational state and the optimal running efficiency, MobiKin Backup Manager for Android came into being. If you just want to back up and restore your Android data, it's advisable to pick it, for it is very good at that. Besides, it is worth mentioning that when it performs the task of data restore, it can add backup files to the list for the restoring.
Again, it's very simple to operate (you just need a computer, a USB cable or WiFi and an Android phone). Connect your Android phone to PC, give a click on "Back Up" back up Android phone to PC and restore the data back to your phone by tapping on the "Restore" button. That's all! With this Android Backup and Restore software, you'll no longer have to worry about the loss of vital data such as contacts, SMS, media files, and so forth.

Pros:
* Execute fast backup and restore procedure in one click.
* Unparalleled safety and long term stability.
* Easy to operate and pretty nice for beginners.
* Privacy protection and 7*24h superior service.
Cons:
* Come with no free option by with a free trial.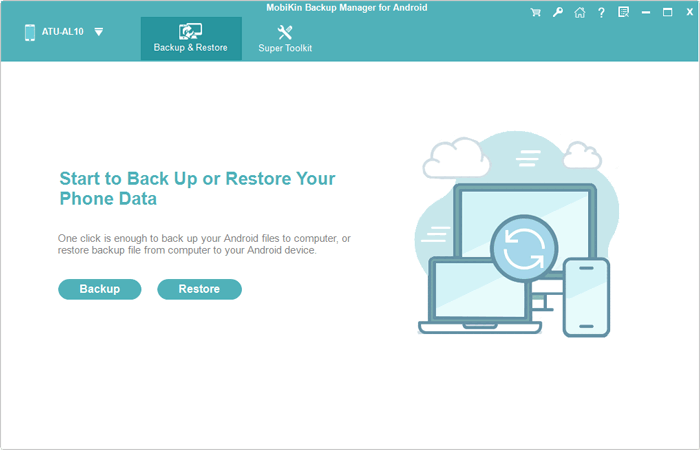 More Related:
#3: Android Version of iCloud - Google Drive
Providing with free storage of 15GB through Google Docs, Google Sheets, and Google Slides data, Google Drive enables you to sync files across phones and share them with your friends as you like. One of the salient features is it offers user apps with offline capabilities for computer (PC and Mac).
Pros:
* Play functions on searching and viewing data on the web.
* Easy to sort out files for backup.
* Get along well with third-party apps.
Cons:
* Privacy policy has been heavily criticized by some users.
* The charging standard of the upgraded version is not humanized.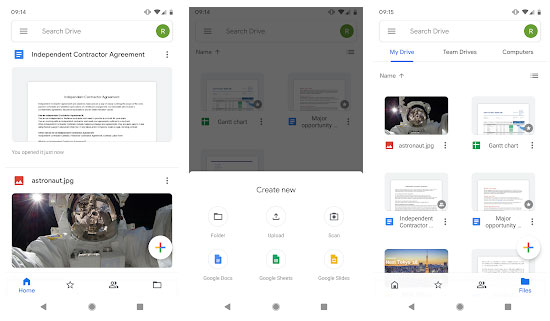 #4: Alternative to iCloud for Android - Dropbox
Founded in 2007 and won favor of many business users, especially in the U.S., Dropbox then introduced "Carousel", which can be used to back up phone photos and videos automatically. And later it merged into a task management tool - "Dropbox Paper" to help manage the backup files.
Still, it has also undergone criticism and controversy for problems like security breaches and privacy concerns. Plus, this service was blocked in some countries like mainland China.
Pros:
* Intuitive and easy-to-use interface.
* Considerate online profile.
Cons:
* Come with only storage of 2GB for free.
* It is not efficient for data processing.
* The paid account cannot be a good fit for advanced users.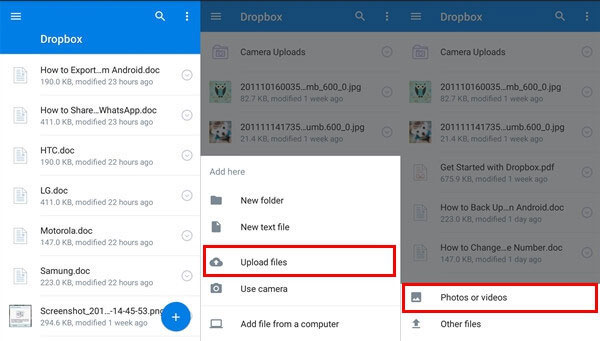 #5: iCloud Alternative for Android - Amazon Drive
Hammering at data management on media files, Amazon Drive allows you to enjoy 5GB of storage for free within 365 days. Again, It can be used to upload photos, documents, music, etc. by dragging and dropping directly. Yet, you should make sure that your Android phone works with Adobe Flash before using it.
Pros:
* Files can be directed e-mailed, or shared to social media.
* Can be used to order photo prints and photo books.
* Easy to upload and download files with an Amazon Cloud account.
Cons:
* Few advanced options can be chosen from.
* Ordinary users occasionally get stuck on the home page when performing tasks.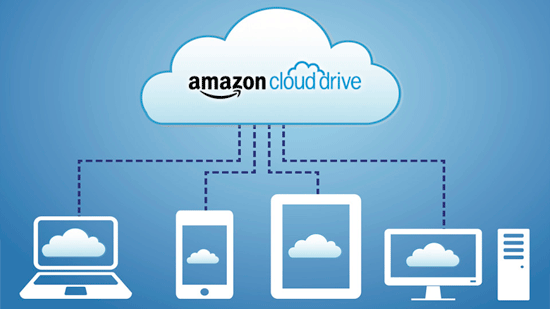 You Might Need:
#6: iCloud for Android Alternative - SugarSync
SugarSync lets you store Android files to the web and enables you to remove your unwanted data on your device. It is permissible to make the private or public sharing, but you do not have permission to preview your files before backup. And a file to be uploaded is strictly limited to 300M.
Pros:
* Extremely easy to sync Android files.
* Both the common and business users can enjoy multiple packages and customized plans.
Cons:
* Don't offer free options.
* Technical support is only available for those who pay an additional monthly fee.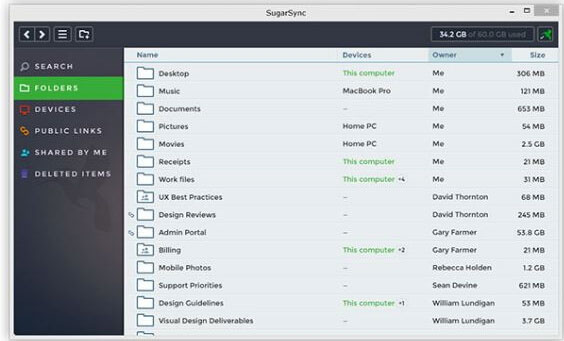 Concise Summary
More properties of the above 6 iCloud for Android alternatives:
| | | | |
| --- | --- | --- | --- |
| iCloud for Android Alternative | Safety Index | Supported Android OS Versions | Supported File Types |
| Assistant for Android | 5 Stars | Android 2.1 & later | Contacts, SMS, call logs, apps, photos, music, movie, books, etc |
| Android Backup and Restore | 5 Stars | Android 2.1 & higher | Contacts, messages, call records, pictures, videos, audios, documents, apps, etc |
| Google Drive | 4.5 Stars | Various with device | Files like videos, photos, and documents |
| Dropbox | 4.5 Stars | Android 6.0 (Marshmallow) & up | Individual files like Microsoft Office, images, audio, videos |
| Amazon Cloud Drive | 4.5 Stars | Android 4.2 and above | Videos, pictures and some files |
| SugarSync | 4 Stars | Android 4.0 or higher | Photos, music, documents, and so on |
Well, so be it! Now, "what can I use instead of iCloud?" For this question, I think you got the answer just now. To sum up, above is all about the overall performance of the 6 iCloud for Android alternatives. I hope these will play a vital role in your tool selection. Concerning the advantages and disadvantages of the 6 tools, which one do you like best? Welcome to share the UE in the comment section.
Related Articles:
Top 5 Ways on How to Transfer Contacts from iPhone to Android
[Marvelous] Top 8 iCloud Alternatives for Backing Up iDevices
7 Ways to Transfer Photos/Pictures from Computer to Phone
Top 6 iTunes Alternative for Android Phones/Tablets in 2020
Best Kies Alternative Tool to Manage Files on Your Samsung Devices