[Guide] How to Recover Deleted Call History on iPhone with/without Computer?
The iPhone call history is a treasure trove of information, encompassing details about every call—made, received, or missed. Accidental deletion or loss of these records can be exasperating, especially when a computer isn't readily available. The good news is that it is possible to recover deleted call history on iPhone without computer. This article aims to present reliable techniques for recovering lost or mistakenly deleted call history on iPhone or iPad, offering solutions both with and without the necessity of a computer.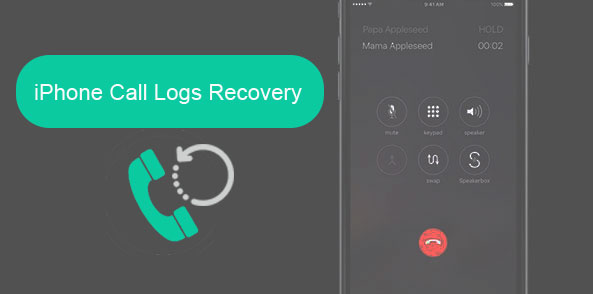 Part 1. Can You Recover Deleted Call History on iPhone without Computer? How?
Yes, indeed, you can recover your call history on an iPhone without using a computer, provided you have an iCloud backup containing the call history data. This method is efficient for restoring your call history without involving a computer. To initiate the retrieval process, follow these steps:
Firstly, ensure you have a recent iCloud backup that includes the call history data. Check by going to "Settings" > [your name] > "iCloud" > "Manage Storage" > "Backups". You should find the latest backup indicated with the date and size.

Next, head to "Settings" > "General" > "Reset" and opt for "Erase All Contents and Settings." Confirm the action by entering your passcode.
Once your device restarts, go through the setup process. When prompted with the "Apps & Data" screen, select "Restore from iCloud Backup." Sign in to your iCloud account and choose the backup containing the call history data.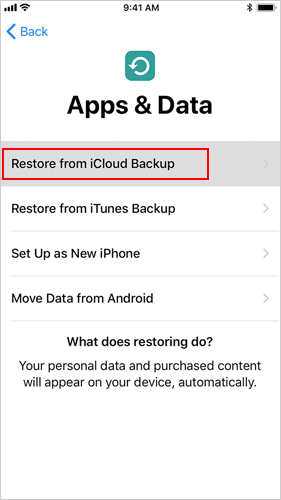 After the restoration process concludes, the deleted call history should reappear on your iPhone.
Note: It's important to note that this restoration process will overwrite the existing content on your device, potentially leading to new data loss. Additionally, selective recovery from the backup isn't possible, as there's no option to preview the call history within the backup file.
You Might Be Inclined to Explore:
Part 2: How to Recover Deleted Call History on iPhone with Computer
If you don't have iCloud backup containing lost call logs, then you may not be able to retrieve deleted call log on iPhone without computer. Don't be discouraged, you can refer to the following two methods to recover call history on iPhone with a computer.
Option 1: Selectively Retrieve Deleted Call Logs from iTunes Backup [No Data Loss]
If you're faced with the situation of accidentally and permanently deleting your call history without an iCloud backup, a simple resolution is available if you have access to a computer. Utilizing the services of MobiKin Doctor for iOS, a reliable and professional tool for iOS data recovery, offers a viable solution. This software, known for its widespread adoption and high success rates, serves as a trusted option for millions worldwide. It proves to be a dependable remedy for various iOS data loss scenarios.
Through a user-friendly interface, MobiKin Doctor for iOS conducts a comprehensive scan of your iPhone, allowing direct data recovery from the device or selective restoration from iTunes and iCloud backups with just a single click. Additionally, its compatibility spans across almost all iDevices and iOS versions, ensuring its usefulness for a wide array of users.
Doctor for iOS: Most Reliable iPhone Data Recovery Tool
Supporting 14+ data types such as call history, contacts, messages, photos, WhatsApp messages, etc., it boasts a remarkable success rate.
Offering a feature to preview files before initiating recovery and empowering users to select specific files for restoration.
Providing a free trial version for download and scanning to assess the potential for data recovery.
Retrieve any lost data effortlessly in just three straightforward steps.
Utilizing an iTunes backup enables easy retrieval of all deleted call records.
Ensuring that the iPhone remains untouched during the recovery process, safeguarding the existing data on the device.
Compatible across all iOS versions and models, encompassing iOS 17, as well as the iPhone series like 15/14/13/12/12 Pro (Max)/11/X/8/7.
How can I retrieve deleted call history on a computer with Doctor for iOS?
Step 1. Launch Doctor for iOS
Start by launching the MobiKin Assistant for iOS software on your computer. Within the software interface, select the "Recover from iTunes Backup File" option. It will display a list of available iTunes backup files on your computer.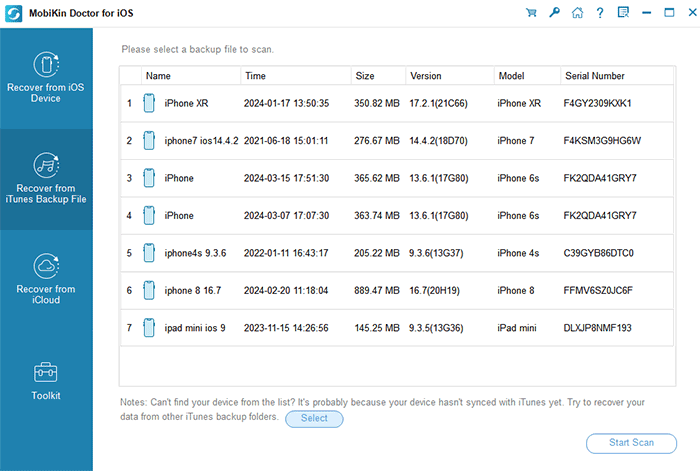 Step 2. Scan iTunes backup files
Choose the relevant backup that contains the call history you wish to recover and click on "Start Scan." After the scanning process is complete, the software will display a detailed list of data categories in the iTunes backup. Now, navigate to the "Call Logs" folder and click the "Start Scan" button again.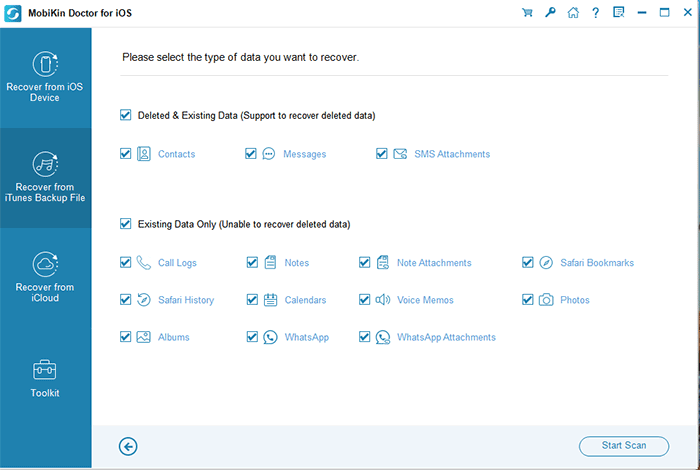 Step 3. Recover deleted call history on iPhone from iTunes backup
Navigate through the categories and locate the "Call History" section. Select the call history data you want to retrieve and click "Recover to Computer" to save the selected call records to your computer.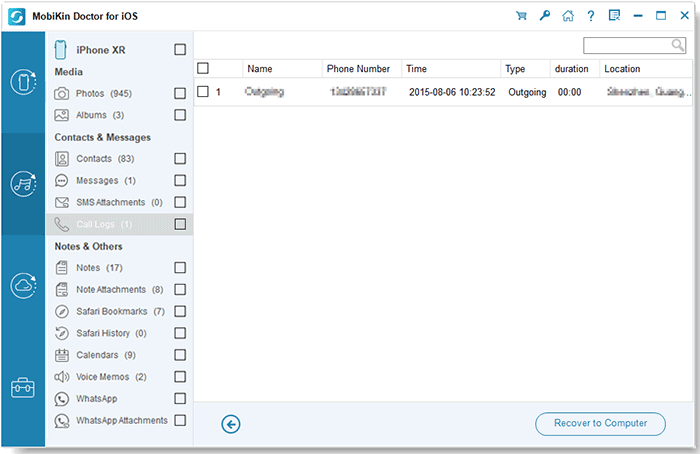 You May Want to Check out:
Option 2: Directly Recover Call History from iTunes Backup [Data Loss]
Should you prefer to recover lost call history directly from an iTunes backup without utilizing additional software, you can adhere to the steps detailed below. Yet, it's crucial to acknowledge that initiating a restoration from the backup might result in the replacement of existing iPhone data. Consequently, there's a risk of losing files that weren't part of the backup.
Outlined here are the procedures for restoring call history from an iTunes backup on your iPhone:
Begin by launching iTunes on your computer and connect your iPhone using a data cable. Access the Devices tab within the iTunes window and then select Summary from the left column.
Choose "Restore Backup" from the Backup section. Select the desired backup from the list and proceed by clicking "Restore."

This will trigger the call log recovery process. Upon completion, the restored call history will be viewable on your device.
However, a notable drawback of directly restoring call history from an iTunes backup is the inability to preview its contents. Notably, the iTunes backup will overwrite all current iPhone data. To circumvent this, consider the use of MobiKin Doctor for iOS. This professional tool facilitates the extraction of required data from an iTunes backup without altering the current iPhone data, ensuring a safer recovery process.
Part 3: FAQs about iPhone Call History Recovery
Q1: What is the capacity of the iPhone's call history storage?
A thousand calls are logged by the iPhone, but only the last 100 are accessible. This cap is unchangeable and fixed. Discover methods to expand iPhone call history capacity here.
Q2: Which call information can be retrieved?
You can effortlessly recover all call details, encompassing the phone number, call duration, and even call timing.
Q3: What kinds of calls can be recovered through MobiKin Doctor for iOS?
MobiKin Doctor for iOS enables the recovery of incoming, outgoing, and missed calls.
Q4: Is it possible to transfer existing call history to a computer?
By scanning both existing and deleted iPhone data, MobiKin Doctor for iOS allows you to opt to transfer existing call logs to your computer.
The End
Ultimately, call history loss can occur under different scenarios. However, the solutions detailed above provide diverse methods for call history recovery, catering to both computer-assisted and non-computer reliant approaches for iPhone users. Your feedback on the effectiveness of the aforementioned solutions is valuable; kindly share your experiences in the comments section. For any queries, don't hesitate to ask – our aim is to assist you to the best of our abilities.
Related Articles:
How to Recover Deleted Call History on Android with/without Backup? [5 Ways]
Hot Tips to Restore Call History Backup from Google Drive [2023]
Easy Methods to Record Phone Calls on Your iPhone!
How to Transfer Call Logs from iPhone to iPhone 15/14/13/12/11/X/8
[6 Ways] How to Restore Deleted WhatsApp Messages/Chat of One Contact
iTunes Backup to Android Transfer: How to Sync iTunes Backup to Android?