How Do I Transfer from Huawei to Xiaomi Mi/Redmi Note? [6 Ways]
Compared with gadgets of a similar grade, Xiaomi has comparative advantages, which is mainly reflected in its price. Thus, it has become one of the most popular choices for many Android fans to change their old phones. Plan or have changed your current Huawei mobile to a new Xiaomi Mi/Redmi Note? In either case, file migration is a hot topic for many people.
Since how to transfer data from Huawei to Xiaomi can be a hassle to many folks. You can get what you want by working through this article directly without making haste to sift through the clutter of pages.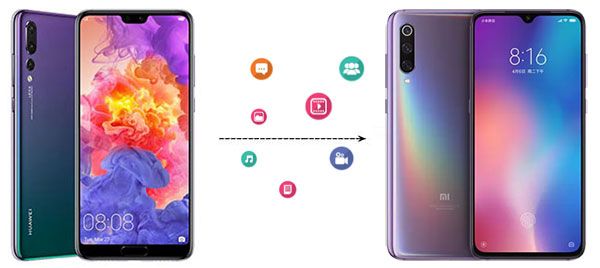 Way 1: How to Transfer Data from Huawei to Xiaomi with Transfer for Mobile
If you want to transfer data from Huawei to Xiaomi easily and quickly without technical failure all the time, just try MobiKin Transfer for Mobile (Win and Mac). It's an impeccable utility, offering a one-stop phone to phone transfer solution for you. Over the years, continuous optimization on it enables it to run smoothly on the same system platform and across-platforms. And it has accomplished the task of data transfer between different devices for millions of users.
Main Features of MobiKin Transfer for Mobile:
Transfer various content from Android to Android, Android to iPhone, iPhone to Android, iPhone to iPhone.
Work for data like contacts, text messages, call history, music, videos, pictures, documents, and more.
It is easy to connect, runs fast, and keep the original data quality after migrating.
Apply to overall Android and iOS devices, such as Huawei P40/P40 Pro/P30/P30 Pro/Mate X/Mate 40/Mate 30/Mate 20/Mate 10/Mate 9/G/Y/HONOR/Ascend, Xiaomi Mi 10/9 Pro/9 SE/8/8/Play/6X/SE/MIX Alpha/Max 3, Redmi Note 9/Note 8/Note 7/Note 6, etc.
It can guard your privacy all through.
How to transfer data from Huawei to Xiaomi with Transfer for Mobile?
Step 1. Run Transfer form Mobile
Download and install the free trial of MobiKin Transfer for Mobile and then launch it on your computer.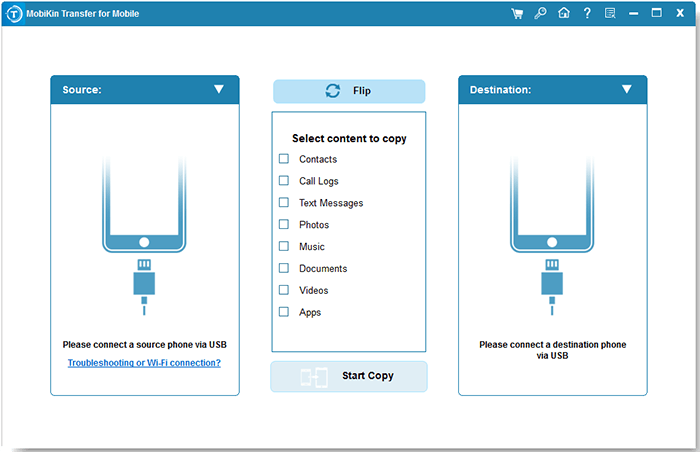 Step 2. Connect devices to a computer
Link your Xiaomi and Huawei phone to the computer via USB cords. Follow the prompts from the program to have your devices detected. After that, you'll see the main screen as below. Now, ensure the target phone is Xiaomi. If not, click "Flip" to shift its position.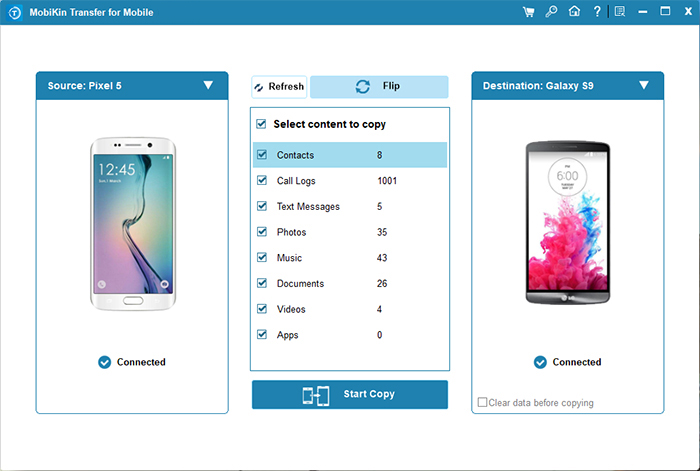 To get both devices recognized, you may need to:
Step 3. Select data and start to copy
Tick off the data types you wish to transfer and then click "Start Copy" from the middle pane. The software will start to transfer the chosen items from Huawei to Xiaomi immediately.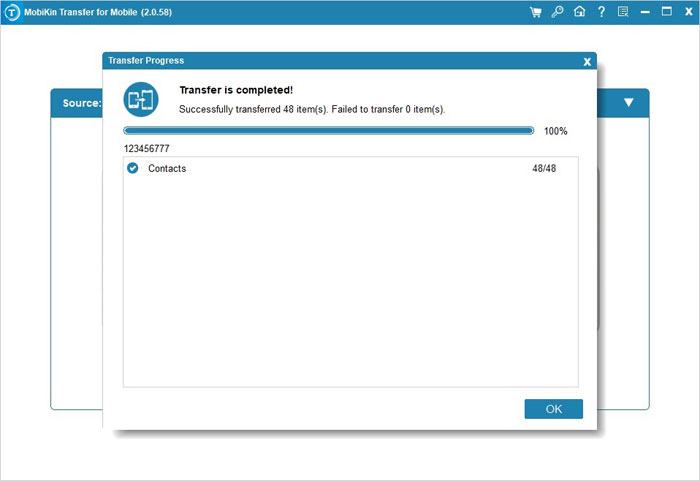 Way 2: How to Transfer Huawei Data to Xiaomi with Android Backup & Restore
It's also simple to transfer data between Android devices via MobiKin Backup Manager for Android (Win and Mac). You just need to back up any Android content to a computer and then restore the data from backup to the target Android phone. A bonus for using this Android data backup and restore software is that it allows you to back up the Xiaomi data to your PC/Mac while completing the transfer task. You are allowed to select the data types you need to copy before you start the transfer.
How do I transfer from Huawei to Xiaomi via Android Backup and Restore?
Step 1. Download and install this sleek tool on your PC/Mac. Run it and attach your Huawei phone to the computer via a USB cable. Next, you're required to follow the screen tips to have the device identified.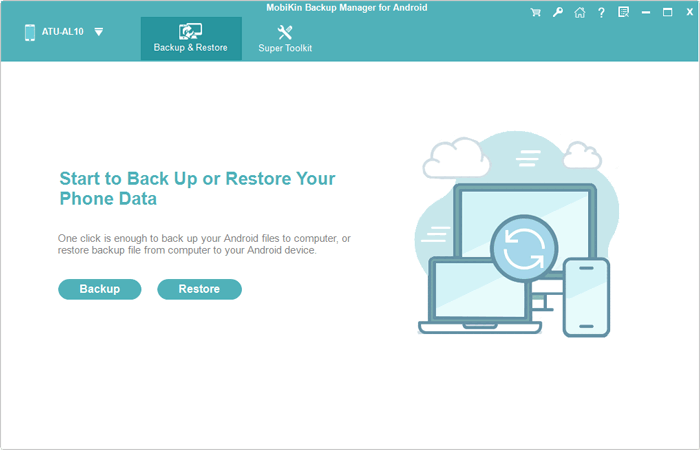 Step 2. After the detection, click "Backup" from the main window, and you'll get into the Android data backup window. Just tick on the file types you want to back up.
Step 3. Press "Browser" to locate a folder to save the backup files. Once done, just tap on "Back Up" to start to back up Huawei data to this computer. After that, unplug the cable between Huawei and the computer.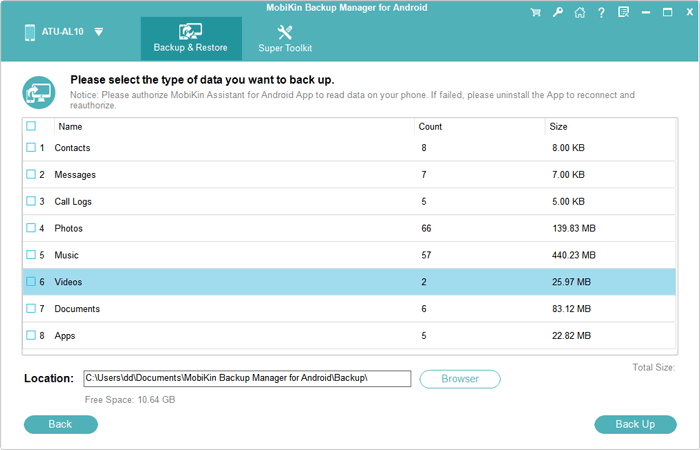 Step 4. Connect Xiaomi to this computer with a USB cable. After it's detected, hit "Restore" from the main interface. Next, select your wanted data from the backup records and tap "Restore" to move the data to your Xiaomi phone. (you can also tap "Add Backup Folder" next to "Restore", to add any backup files to the list for restore)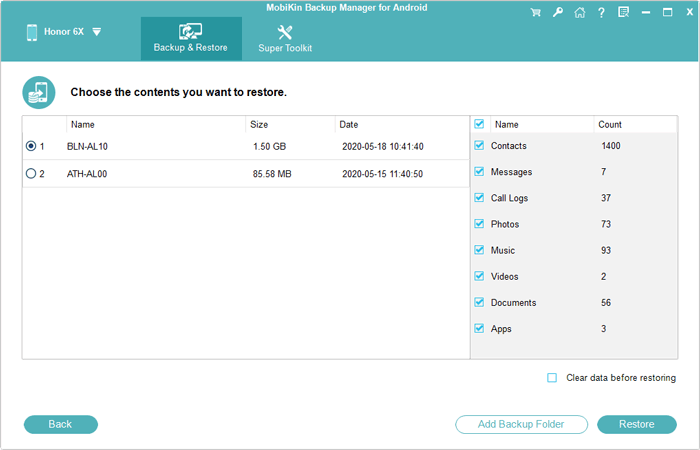 Can't Miss:
Way 3: How Do I Transfer from Huawei to Xiaomi by Bluetooth
Bluetooth enables you to transfer files, including messages, call logs, etc. To do the job, you should first keep devices close to each other. Then enter a passkey created automatically if prompted to pair the devices. Then just be patient, for the transfer task can be slow.
How do I transfer data from Huawei to Redmi Note/Xiaomi Mi over Bluetooth?
Head to Settings > enable Bluetooth on both your devices.
On Huawei's Bluetooth screen, search for the nearby Xiaomi phone.
Once your Xiaomi phone appears, please select it and pair both devices.
After the successful connection, you're allowed to initiate the data transfer. Let's say you want to share photos, go to Huawei' Gallery, choose your desired images, and tap on "Share".
Choose "Bluetooth" to commence and touch "Accept" from your Xiaomi phone to receive the incoming stuff.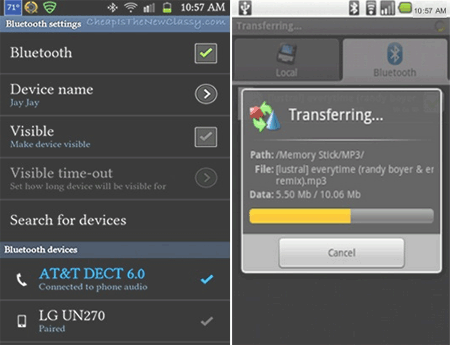 Way 4: How to Transfer Data from Huawei to Redmi/Xiaomi via ShareMe
Sharing photos, music, videos, apps, documents, and more, with Shareme delivers you an easy and quick transfer. However, if the task gets disrupted due to unknown causes, you should repeat the process by starting over the whole procedure.
How to transfer data from Huawei to Xiaomi Mi/Redmi Note using ShareMe?
On your Xiaomi device, start the ShareMe app and hit "Receive".
On the Huawei phone, download ShareMe and get it installed.
Run the tool, choose the target data you'd like to transfer, and tap on "Send".
Pick up your Huawei phone and tap "Scan QR code".
Scan the QR code on your Xiaomi phone to create a connection.
After your devices are connected, the transfer task should begin automatically at once.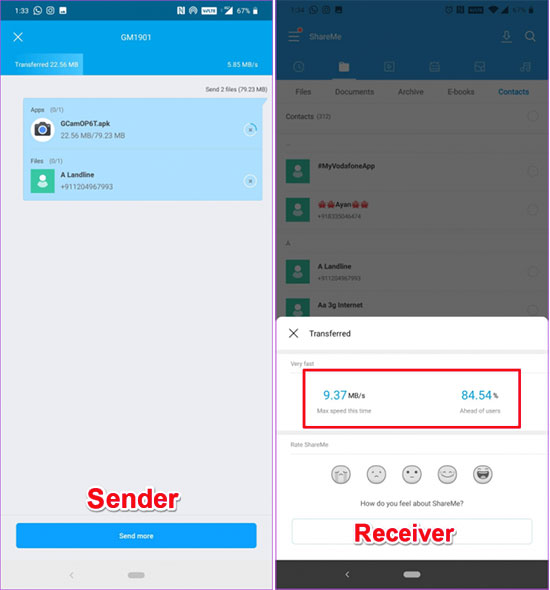 People Also Like:
Way 5: How to Transfer Files from Huawei to Redmi/Mi with Mi Mover
You can also utilize Mi Mover to transfer data like photos, contacts, audio, videos, documents, etc. Your Xiaomi phone acts as WiFi hotspots during the transfer. And to make a smooth process, the two devices should be in close vicinity.
How to transfer data from Huawei to Redmi Note 9 Pro/Note 8 Pro, etc., via Mi Mover?
Go to Settings > Additional Settings > Mi Mover to turn it on. Or download and install Mi Mover on both devices if there are no Mi Mover on the phones.
Label the source and the target phones on the tool. Open Mi Mover on destination Mi phone and mark it as Receiver. It'll show you a QR code.
Use the source phone (Huawei) to scan the QR code to make a virtual connection.
Choose the data types you want to move from your Huawei phone.
Tap "Send" and receive the chosen data on your Xiaomi Mi phone.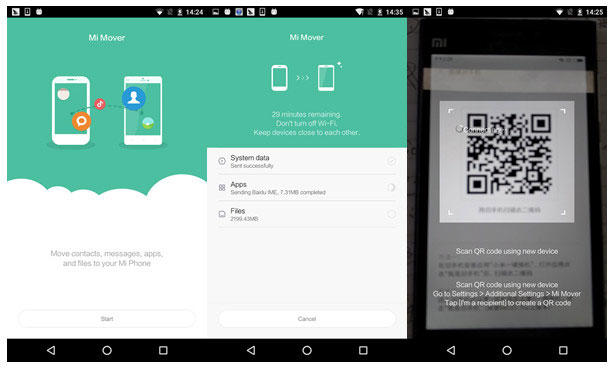 Way 6: How to Transfer Data from Huawei to Xiaomi Using Google Account
Firstly, you need to make sure you have a Google account and link it to your devices. The Google server then works as a transit station to sync the Huawei content you uploaded into it to Xiaomi. For example, you want to share Huawei contacts with Xiaomi, and just follow the steps below please:
How do I transfer contacts from Huawei to Redmi with Google account?
On your Huawei device, head over to Settings > Accounts > Add Account > select "Google". Log in to your Gmail account where needed.
Go to Settings > Accounts > Google > switch on "Sync Contacts" (or other files you want).
Add the Google account on Xiaomi Mi/Redmi Note. Then, go to Settings > Accounts > Google > choose "Sync Contacts" from the list of Google backups.
Finally, click "Sync Now" to sync contacts from your source Huawei phone to Xiaomi.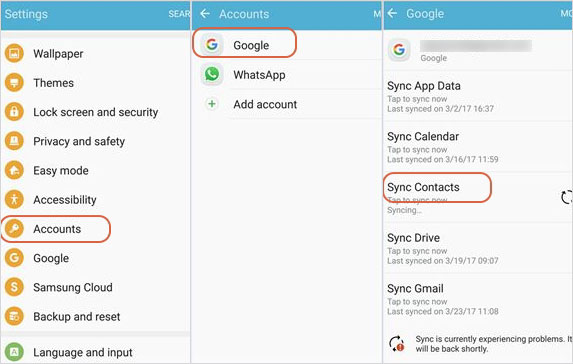 Round Off
Needless to say, the above-described methods can help wage Huawei to Xiaomi data transfer generally. Among others, MobiKin Transfer for Mobile and MobiKin Backup Manager for Android are capable of achieving desired outcomes for you invariably. That's because they can quickly transfer all your wanted content to Xiaomi in one tap and ensure your privacy.
Additional Tips:
Tip 1: "Can I Phone Clone Huawei to Xiaomi?"
There is NO way to do this. Exactly, Phone Clone is Huawei's official tool, yet it can only be used to transfer data to Huawei devices.
Tip 2: 3 Best Xiaomi/Redmi Phone Types for Taking Photos
They are Xiaomi Mi 10, Redmi K30 Pro, and Xiaomi Mi 10 Youth.
Related Articles:
Mi Data Transfer: How to Transfer Data from Mi to Mi [Easy Steps]
Xiaomi File Transfer Tutorial - 5 Easy Ways to Transfer Xiaomi Files
Huawei Data Transfer: Migrate Data between Huawei and Other Devices
How to Transfer Huawei Data to Samsung Galaxy with Clicks?
How to Delete SIM Card Contacts on Android Permanently?