How to Reset A Huawei Phone or Tablet to Its Factory Settings?
Huawei phone reset is an operation to restore your Huawei phone to its original settings. It will return your phone to the state it was in when you first purchased it. Usually, users will use phone reset to solve some system problems, such as app crashes, the phone keeps shutting down, Google Play error 927, etc. In most cases, resetting devices can fix system problems. Therefore, when you encounter some Huawei phone issues, you can try to reset Huawei phone to solve the problem.
"How to reset my Huawei phone", "Is there any professional Huawei format tool"? If you don't know how to perform the reset process, we will show you three different ways to reset your Huawei phone. If needed, you can follow them step by step.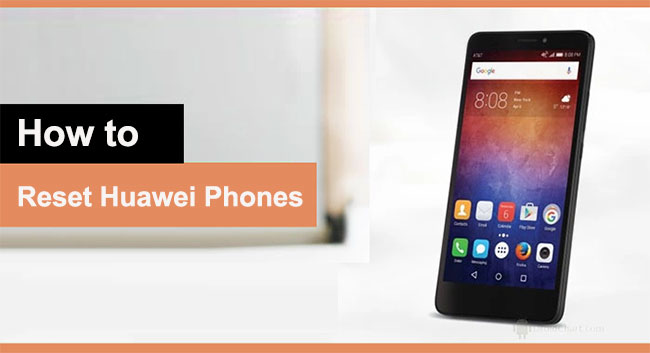 Part 1. Preparation before Resetting Your Huawei Phone
There are some tips that you need to know before performing the Huawei system reset. These preparations can not only ensure the success of the process but also speed up the resetting. Therefore, we suggest you follow the tips below before you start the Huawei factory/hard reset.
1. Please power off your phone. Only a closed Huawei phone can perform a hard reset in Recovery Mode.
2. The phone battery should be 70% at least. The resetting process requires a lot of battery. If the battery capacity is low, the hard reset might be interrupted or even cause some other problems.
3. It may take some time to hard reset your Huawei phone. If you feel that the time is too long and the reset process seems to be stuck in the middle, you can take out the battery, wait for 10 to aim, and then put the battery in and restart the phone. Please note, do not plug in the charger for your mobile phone at this time.
4. Clear cached data on your Huawei device. Clearing away the cached data on your phone can shorten the resetting time.
5. Restoring factory settings will completely wipe a Huawei phone. Therefore, before resetting, it is especially important to back up your phone. You need to find the best Android backup software to back up your Huawei phone. Here, we recommend MobiKin Android Backup and Restore to back up and restore the files like contacts, messages, videos, photos, call logs, etc., on your Huawei phone in a simple way.
Step 1: Run MobiKin Android Backup and Restore, and connect your Huawei phone to the computer via a USB cable.
Step 2: When your phone is detected, click on "Backup" on the program interface. Then, the software will scan your Huawei phone and find out all files that can be backed up.

Step 3: Tick off the file types that you want to back up and click "Back Up" button on the bottom right corner to begin the Huawei data backup on your computer.
Now that you understand the preparations you need to do before the Huawei system reset, let us continue to learn how to restore Huawei phone to factory settings using three simple techniques.
More Related:
Part 2. How to Factory Reset Huawei Phone from Settings Menu
The simplest method to reset a Huawei Ascend/P40/P30/Mate is to perform the operation in the Settings menu. In this way, you can factory reset your Huawei phone on the device directly and do not need to turn to any other tool. The followings are the details for your reference.
Open the "Settings" app on your Huawei phone and select the "Backup and reset" option in this section.
On the Backup and reset page, find out the "Factory data reset" option and tap on it.
After that, a pop-up will appear to prompt you that the factory reset will erase the data on your phone. If you make sure that you have backed up the wanted files already, you can tap on "Reset device" to start the resetting process.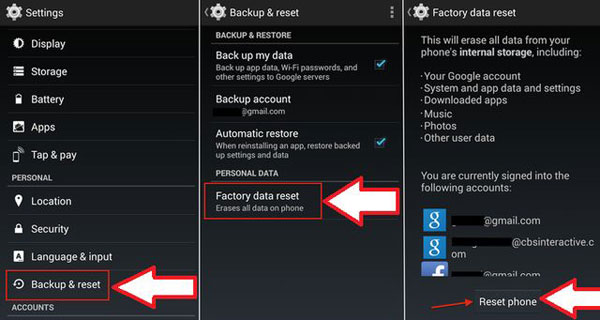 Part 3. How to Reset Huawei Phone in Android Recovery Mode
In many cases, people choose to reset Huawei phones because of software or hardware problems. It is possible that the touch screen is not responding or the screen is black. This makes it impossible to reset the phone using the method above. under these circumstances, you can perform the Huawei resetting process in Recovery Mode. In this way, you need to enter Recovery Mode at first.
Press and hold the "Power" button to evoke the power off screen on your Huawei phone. Then, tap "Power off" to turn off the phone firstly.
Once the screen turns black, you need to long-press the "Power" and "Volume Up" buttons at the same time till the Recovery Mode screen appears.
Use the "Volume Up" or "Volume Down" key to select the "Wipe data/factory reset" option, and press the "Power" button to confirm your selection.

Select and implement "Yes, delete all user data" to make the final confirmation.
Wait for the resetting process to complete, and then you need to tap on "reboot system now" to reboot your Huawei phone.
You May Be Interested in:
Part 4. How to Reset Locked Huawei Phone by Android Device Manager
The Huawei manual reset methods mentioned above are to perform the resetting process on the device. But what if you lose your Huawei phone or it is stolen? How to format a Huawei phone when you do not have the phone on hand? In this case, you need to turn to Android Device Manager, which can help you flush a Huawei phone remotely. The prerequisite is that you have installed your Google account on your phone.
Visit the Android Device Manager website on your computer browser, and log in with the Google Account you have used on your Huawei phone.

After that, choose the Huawei device you want to reset, and a window will appear on the screen with three options: Ring, Lock, Erase. Just select "Erase" here.

Finally, just choose the device you want to erase and factory reset.
When the process above is finished, your Huawei phone is ready to restart and set up.
Summary
Don't waste time searching on Google when you encounter difficult problems while using a Huawei phone and need to reset the device. Our guide above shows you different ways to reset a Huawei phone in different situations. These steps are applicable to almost all Android devices. In addition, don't forget to use Android Backup & Restore to back up your phone to prevent resetting the Huawei device from causing you to lose all your data. Finally, don't forget to leave your comment with us here.
Related Articles:
How to Factory Reset Your Android Phones?
Transfer Apps from Android Phone to Computer
How to Export Android Phone Contacts to Excel
How to Import Contacts from Outlook to Android Phone? [Make Tech Easier]
Samsung Contacts Backup - How to Backup Contacts on Samsung? (4 Ways)