How to Hard Reset Huawei Phones?
A hard reset is an operation that takes your Huawei phone back to its original settings and a clean operating system. Normally, users would use it fix some problems like Apps crashing issue, phone keeps turning off, Google Play error 963 and so on. In most cases, it can fix the system problems easily. Thus, when you face some Huawei phone issues, you can try to use it to solve the problem.
In case you do not know how to perform the resetting process, we would like to show you 3 different ways to hard reset Huawei phones. You can follow them step by step if you need it.
Part 1. Tips You Need to Know before the Hard Resetting
There are some tips that you need to know before performing the resetting process. These preparations can not only ensure the success of the process but also speed up the resetting. Therefore, we really suggest you to follow the tips below before you start the hard reset.
1. Power off your phone: Only a closed Huawei phone can perform a hard reset in Recovery Mode.
2. The battery should be 70% at least: The resetting process requires a lot of energy. Thus, if the battery capacity is low, the hard reset might be interrupted or even cause some other problems.
3. Clear cached data: Clear away the cached data on your phone can shorten the resetting time.
4. Backup your files: Hard reset will delete the settings and contents on your Huawei so you should backup your phone in advance in case of data losing.
Part 2. Backup Your Files on Huawei in Advance
Backing up files on Huawei is not a tiring thing anymore, especially when you use a powerful software like MobiKin Assistant for Android to help you. This program has two versions: Windows and Mac. With it, you can transfer all the files on your Huawei phone to computer with one simple click. Can't believe it? You can click on the icon below to download the tool on your computer and then go with the detailed steps to have a try.
1. First of all, you need to connect your Huawei to computer via USB cable or Wi-fi and launch the software. Then the program will detect the connected device automatically. Here, if you choose to establish the connection with USB cable, you need to enable USB debugging on your Huawei.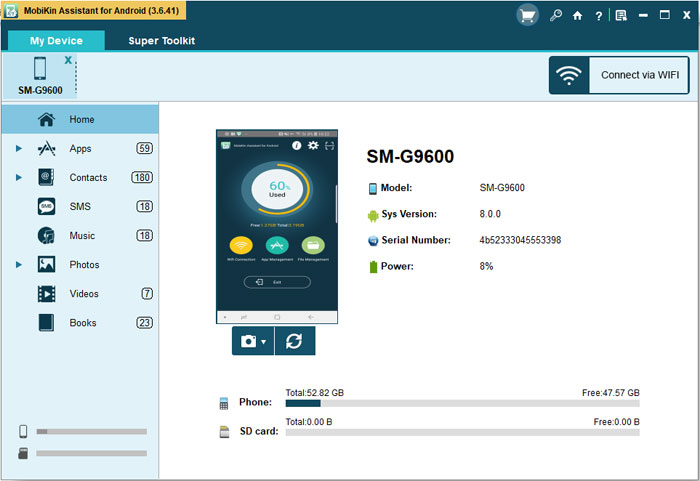 2. Next, you need to tap on Super Toolkit option at the top menu and click on Backup.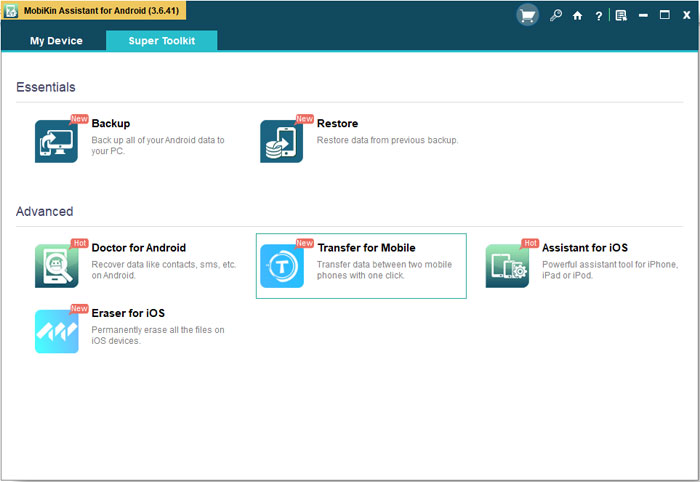 3. After that, you will get a pop-up window with several folders. Just elect the files you want to backup and choose a path to save the files. Finally, tap on Back Up to begin the moving process.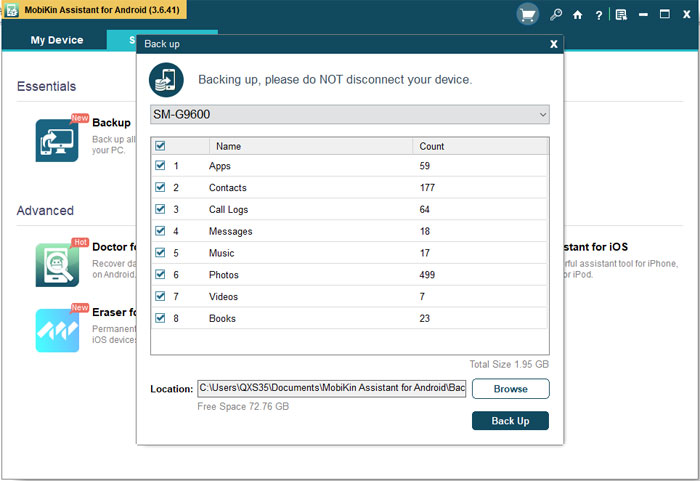 Part 3. Reset Your Phone via Settings Menu
The simplest method to hard reset Huawei is to perform the operation in Settings menu. If you choose this way, you can begin the process directly and have no need of turning to any other tool. The followings are the details for your reference.
1. Open up the Settings on your phone and then select the Backup and reset option in this section.
2. In the Backup and reset page, find out the Factory reset data option and tap on it.
3. After that, a pop-up will appear to prompt you that the factory reset will erase the data on your phone. If you make sure that you have backed up the wanted files already, you can tap on Reset device to start the reset.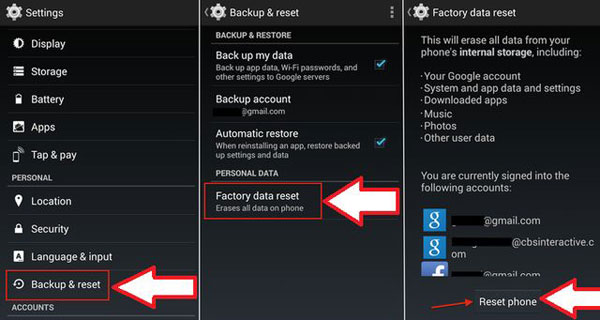 Part 4. Hard Reset Huawei Phones in Android Recovery Mode
Apart from Settings menu, you can also perform the resetting process in Recovery Mode. This means would be more effective but you need to enter the Recovery Mode at first. After booting your phone into Recovery Mode, you can hard reset the device easily.
1. Press and hold the Power button to turn off your Huawei phone firstly.
2. Then you need to long press the Power, Home and Volume Up buttons at the same time till the Recovery Menu appears.
3. Use Volume Up or Down key to select wipe data/factory reset option.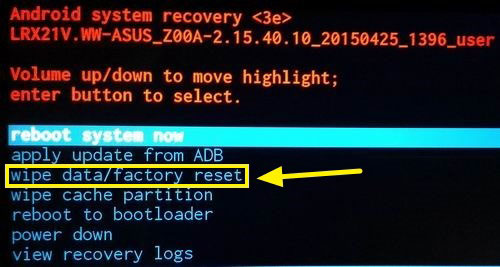 4. Press the Power button to confirm your selection.
5. When the factory reset finishes, you need to tap on reboot system now to restart your device.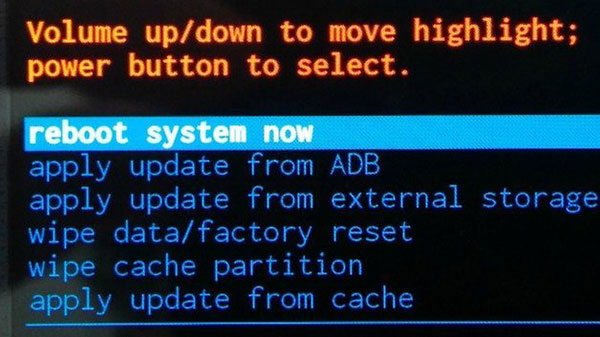 Part 5. Reset Your Locked Huawei Phone by Android Device Manager
The methods that we have mentioned above are to perform the process on the device. But what if your lose your Huawei phone or it is stolen? How can you hard reset the device when you do not have the phone on hand? In this case, you need to turn to Android Device Manager which can help you reset your phone remotely.
1. Open the Android Device Manager and then log in the Google Account that you have used on your Huawei.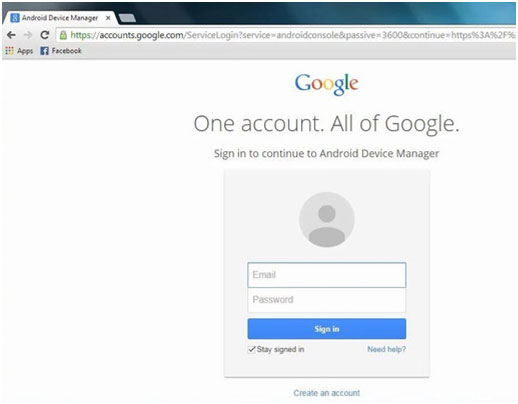 2. After that, a window will appear with three options: Ring, Lock, Erase. Just select Erase here.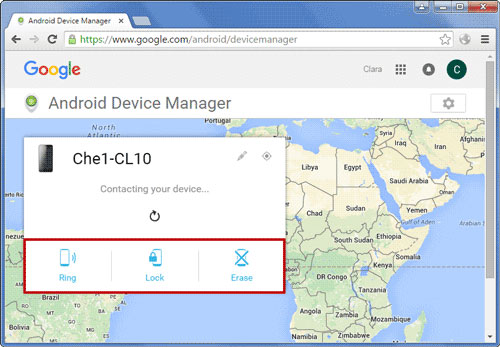 3. Finally, just choose the device you want to erase and hard reset.
Related Articles:
How to Factory Reset Your Android Phones?