Samsung Smart Switch Not Working? Here Are the Solutions & Alternative
Samsung Smart Switch is designed for moving files from Apple, BlackBerry, Nokia, LG, Samsung, etc., to Samsung Galaxy S20/S10/S9/S8 and MP3 player, covering contacts, call logs, multimedia and more. And some data can be converted to the formats supported by Samsung devices before transfer. Generally, This tool seems to be proficient in mobile migration, but the scenarios of Samsung Smart Switch not working also occur from time to time, which are mainly about Smart Switch not connecting, Smart Switch keeping crashing and the stability issues.
This guide dedicates to discussing 6 most common problems of Samsung Smart Switch, and gives corresponding solutions. Meanwhile, it also introduces you to a more professional, stable and secure phone transfer program, showing you an alternative.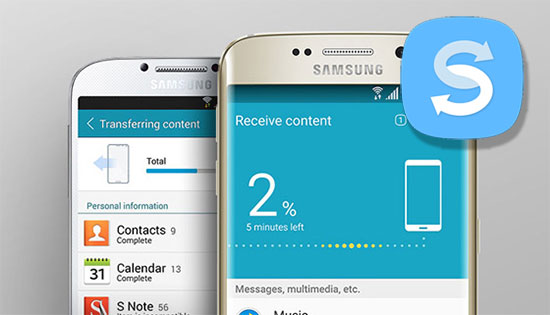 Part 1: Samsung Smart Switch Not Working Common Scenarios & Corresponding Troubleshooting
"Switching from an S6 to S8 and I can't get Samsung Smart Switch to work at all. My devices aren't recognizing the OTG cable. It's not working by wifi. I'm mystified. Anyone over some advice?"
The question above is selected from the Smart Switch Forum, and the doubt raised by an anonymous user is representative. Although Smart Switch is an important tool to switch data from one device to Samsung phone, its compatibility and other performance really needs to be improved. Now, we will analyze some common scenarios of Samsung Smart Switch not working problem and come up with some related suggestions.
Scenario 1. Samsung Smart Switch Failed to Connect the Device
Samsung Smart Switch supports both USB and wireless (WiFi) connection. If you use the latter at first, you need ensure that the WiFi of the devices is turned on respectively, and they are within the same WiFi network if possible. Then reset the network of devices, restart your phones and try to connect them. Subsequently, after confirming those operations, please restart the Samsung Smart Switch to test it again.
Besides, if you run Samsung Smart Switch on PC or Mac, you need to establish a connection between the phones and computer first. Sometimes, Smart Switch unable to connect to device. As such, you need to try the following operation.
Firstly, check your devices: (for iPhone: iOS 4.2.1 or higher; for Android phone: Android 4.3 or above; for PC: XP or up and for Mac: Mac OS X 10.5+). Secondly, plug the USB cable into another port of the computer to test whether it is available, or change a USB cable and try it again. After the USB cable is connected to the computer, turn on USB debugging on your mobile and select Media Transfer Protocol (MTP) as the USB connection mode on your phones. Later, if those don't work, please click "More" on the top-right of the software interface to select "Reinstall device driver". Then, close the tool and restart it on computer.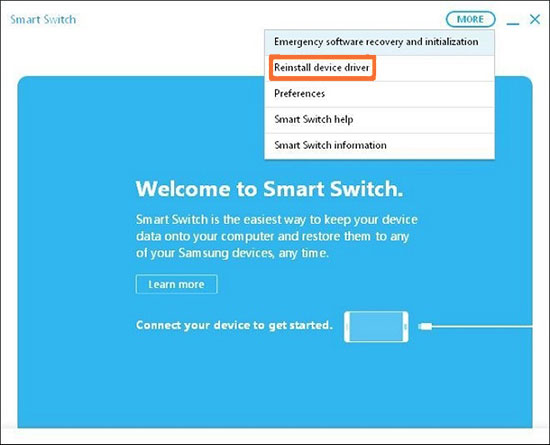 Scenario 2. Samsung Smart Switch Not Compatible
To start with, you should check whether the versions of the mobile systems meet the requirements mentioned in "Scenario 1". For instance, Android phone like Samsung Galaxy S2, whose OS is below Android 4.3, is not compatible with this tool. Yet, if the versions of the OSes meet the needs, please check whether the source phone and the target Samsung mobile you marked are correct, that is to say, make sure that the Samsung phone you want to receive data is set to "Receiving device". And the mobile for sending data should be a "Sending device". It can be another Android phone or an iPhone.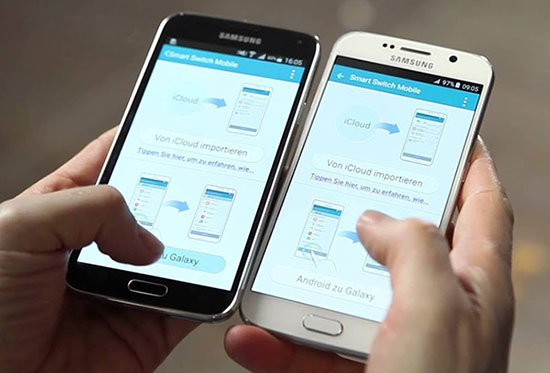 Scenario 3. Samsung Smart Switch Insufficient Space Issue
A computer needs to be cleared the junk files after running for a period of time. Smart phones also need reserve a certain amount of memory space and at least 20% phone power in advance to run the Smart Switch, so as to ensure a smooth transfer process. When installing such a tool, often, the phone may pop up a message like "Not Enough Space Error", but sometimes there is no hint at all. And it could be the situation that the installation and running speed are not the same as usual. Now, the memory might be close to the critical value.
And you can go to "Settings" > "Storage" on your phone to check whether there is more space left. If there is little left, you can delete some unnecessary files such as unused apps, unwanted videos, music, documents, etc.
Moreover, You can also clear the mobile cache. To do this, please go to "Setting" > "Storage & USB" > "Cache data" > "Clear cache data" > "OK". Of course, a third-party tool is another choice to clean the junk files to release the memory and improve the performance of the phone.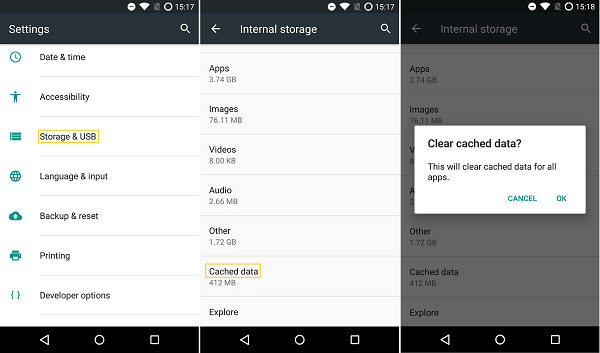 Scenario 4. Samsung Smart Switch Keeps Crashing
When running Samsung Smart Switch to transfer data from an Android phone to Samsung Galaxy S10/S9, you may find that the task is easy to crash. This may be because the distance between the two devices is too far away, the amount of data is too large, or you have done some operation on your mobile, such as downloading software with low trust or modifying settings, which affects the transfer process. The instability of this tool during data transfer (like getting stuck or crashing directly) may create a large number of corrupted files during data transfer.
At this time, to reduce the possibility of damaging files, you can restart the phone, and then update or uninstall and reinstall the tool. After that, reconnect and try to maintain the distance between the two devices as close as possible, and then transfer files selectively (don't transfer too many files at a time). In addition, if you are performing wireless transfer which may be caused by poor network, then switch to wired connection. And vice versa. If none of these tricks work for you, try Samsung Smart Switch for PC or Mac please.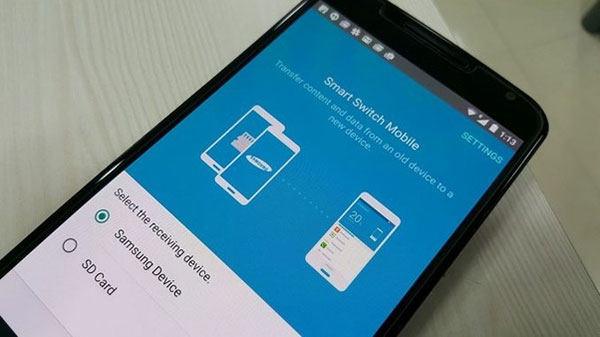 Scenario 5. Samsung Smart Switch Unable to Transfer Apps
Due to different brands or systems of mobile phones, app transfer between two mobiles is limited. At present, Samsung Smart Switch can only transfer apps from some Android phones to Samsung Galaxy, and it is not available for some apps, including some social software APK files like Snapchat, Facebook, etc. In addition, if your source phone is Verizon, and your new phone is a normal Galaxy S10, you cannot transfer apps either.
Next, it is not allowed to transfer apps directly from iPhone to Samsung, for they are running on different operating systems. However, it allows you to send the list of iPhone applications to Samsung Galaxy, and open Samsung phone to find the icons of these apps and install them on Samsung with their Android versions.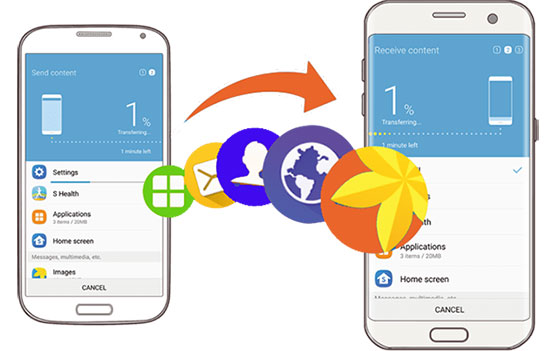 Scenario 6. Samsung Smart Switch Backup Files Not Found
As soon as you hear that the backup data in Smart Switch cannot be found, your first reaction may be feeling dizzy from a blow on your head. But, don't worry. If Smart Switch update isn't working, upgrading Smart Switch manually through some program might help. Here, you can try a tool - "FOTA" to upgrade it. (requirements: stable WiFi or 3G network; the battery capacity is more than 50%; the available memory of the phone is over 1GB). Then see if it works. If not, open the backup tool again, and then follow the previous backup process to see if there is the same prompt (like "the backup has been completed") as before.
If that still fails, you can go to the settings and to choose the account on Smart Switch, then removing its account and then adding the account to try again.
Assuming all of those methods are not helpful, you can contact the Samsung customer service center to retrieve your backups as soon as possible. OK, there you go!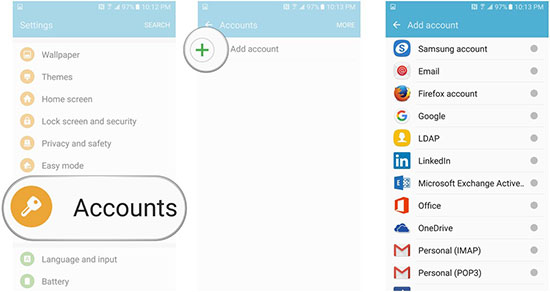 Next, let's see another two FAQs as below:
Q1: Samsung Smart Switch not working on Windows 10? Here's the way:
A1: If there is a prompt like "side by side configuration error message" on Windows 10, please uninstall all Microsoft Visual C++ items from the control panel of PC, install all visual C++ (based on Microsoft PC, W, X86 or X64), restart your computer, and then install the Smart Switch. OK, That's it.
Q2: Samsung Smart Switch not working on Mac? Try this means:
A2: Sometimes when your Android device is connected to the Mac, the Mac can't recognize it. If you are sure that the USB debugging and MTP connection are both turned on, and the connection still can't be made, you can try to go to "Settings" > "System update" > "Check for update". Subsequently, restart your Android device and Mac, and then try to make a connection again.
Can't Miss:
Part 2: The Best Alternative to Samsung Smart Switch - MobiKin Transfer for Mobile
In the eyes of Samsung users, there are still many technical indicators to be ameliorated. These common scenes mentioned in the previous part are enough to illustrate this. But then again, is there a better tool that can not only inherit the advantages of Smart Switch, but also overcome the disadvantages of the software? Well, MobiKin Transfer for Mobile (with its Mac version) is the most suitable alternative you want to look for. What is the excellence of this tool? Now, read on please.
Let's make a list of its remarkable features:
Transfer data from other phones to Samsung devices, no matter the source phones are running on Android or iOS platform.
Supports to switch contacts, SMS, call history, music, videos, photos, documents, books, notes, bookmarks, calendars, and apps between two devices.
Apply to various transfer types, including Android to Android transfer, Android to iOS transfer, iOS to Android transfer, as well as iOS to iOS transfer.
Perform secure file transfer with easy steps and move data fleetly.
Remove the saved data on your target device before transferring files.
Well compatible with almost all Android phones (such as LG, Sony, Motorola, HTC, Google, OnePlus, Vivo, etc.) and iDevices, and of course including Samsung device like Samsung Galaxy S20/S10/S10e/S10+/S9/S9+/S8/S8+, Galaxy A51/A71/M21, Galaxy Note 10/Note 9/Note 8/Note 7, etc.
Next, let's check out how to transfer data from a smart phone to Samsung Galaxy S/Note with MobiKin Transfer for Mobile (for Mac users, please download the Mac version and follow the steps in a similar way):
Step 1. Start the program and connect phones to computer
To begin with, download and install MobiKin Transfer for Mobile on your computer. Launch it on your computer to get the primary interface of this tool. Then, follow the prompt of the window to connect your two phones to computer via suitable USB cables.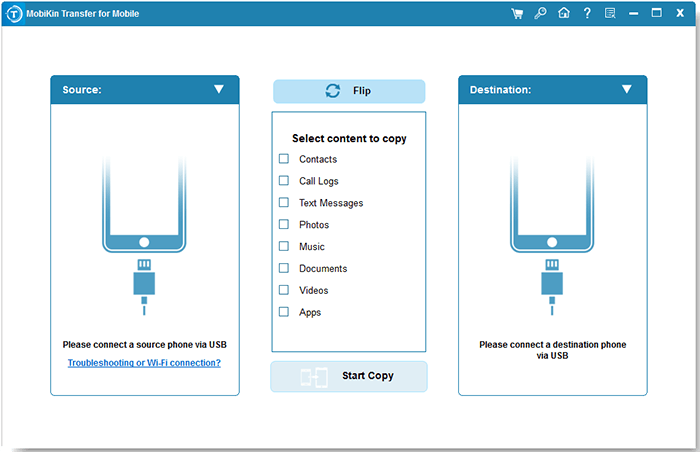 Step 2. Confirm the Source and Destination phone
After your phones are identified, the interface will display them on two sides. Ensure your device with files to be transferred is source phone and your Samsung phone that is to receive the data is the destination one. (If not, tap on "Flip" button to switch their positions.)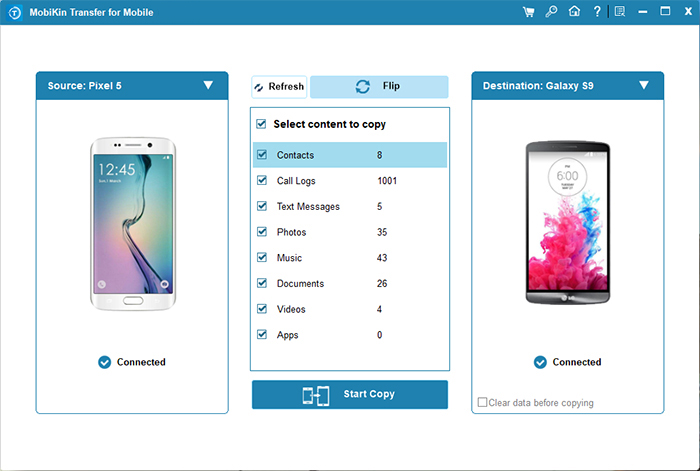 Step 3. Transfer data from other phone to Samsung mobile
All the transferable data types are displayed on the panel of the window. Choose the file types you need to move and then press "Start Copy" to begin to transfer data from your source device to the destination Samsung phone.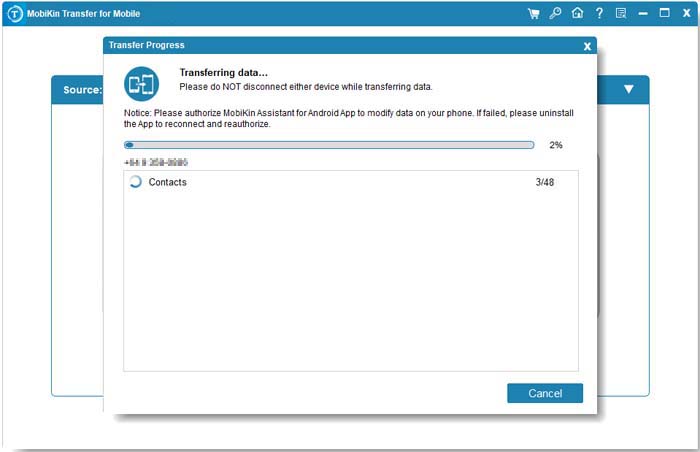 Words in the End
This guide provides you with 6 common critical circumstances and the solutions on Samsung Smart Switch not working. Have you got them now? If you cannot put up with this tool. It is wise to choose a state-of-the-art product - MobiKin Transfer for Mobile as an alternative. It occupies a small amount of the computer memory, and the most important thing is that it can make your data transfer more smooth, and ensure an efficient and secure mobile transfer process.
On top of that, the latest info about phone management will be provided for you. Of course, you are welcome to contact us if you have any questions.
Related Articles:
3 Proven Ways to Transfer Data from LG to Samsung
How to Transfer Photos from iPhone to Samsung? [9 Ways in 2020]
How to Transfer Photos from Samsung to Computer? 5 Proven Ways
Samsung PC Suite - Free Download PC Suite for Samsung Galaxy
How to Transfer Photos from Mac Computer to Samsung Device