ES File Explorer Alternatives: 10 Similar Apps Like ES File Explorer
There are many management programs available for Android users. One of the most impressive tools is ES File Manager. However, recently, it has been said that the product has been banned by many countries because it has repeatedly violated some user privacy terms. An ES File Explorer alternative may be the last resort for you. OK, check out this detailed review to learn the top 10 replacements for this manager. And you'll get a lot out of it.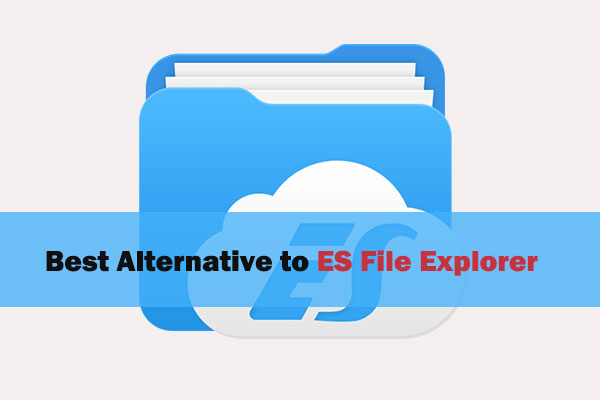 Part 1: Best ES File Explorer Alternative
So, what is the best substitute for ES File Explorer? Just give MobiKin Assistant for Android (Win and Mac) a try. This smart product makes it a unique and most commendable avenue for Android file management. It could be the most popular phone management expert with millions of downloads. And it offers a free trial for you. Well, what makes it so salient?
Main Features of Assistant for Android:
1-click to back up and restore Android phones/tablets.
Work for Android contacts, text messages, call logs, music, videos, photos, apps, and documents.
Take screenshots for Android smartphones.
Install and uninstall Android applications on your computer.
Manage Android SMS, contacts, call logs, and media files on your computer directly.
Two connection modes: USB and Wi-Fi.
Work for various Android devices, including Samsung, Xiaomi, Google, Motorola, Sony, LG, Vivo, Huawei, OPPO, etc.
It won't let out your privacy.
You can now give it a download before installing and opening it on your computer. Then link your Android phone to the computer and follow the easy hints to get it recognized by the tool.
* Manage Android contacts on computer
Mark the "Contacts" menu to manage contacts on Android by clicking the "New", "Delete", "Export", "Import", or "Edit" options .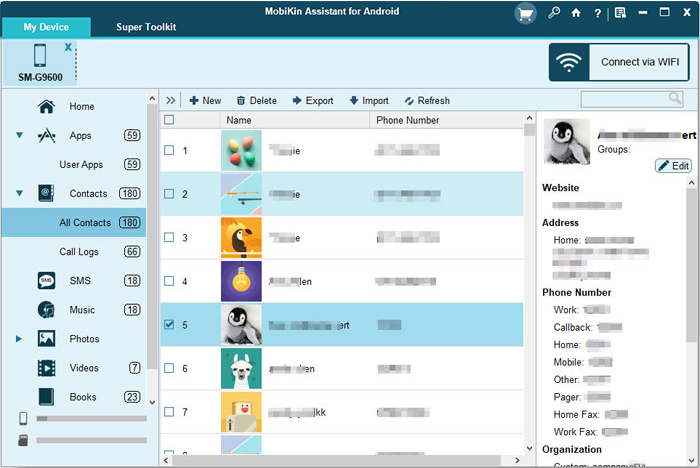 * Manage more Android data on computer
You're empowered to check any data types ("SMS", "Photos", "Videos", etc.) from the left sidebar and further manage any other files according to your requirements.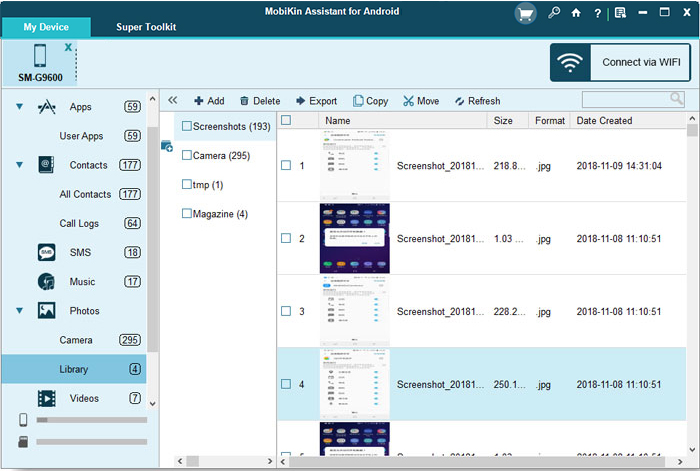 * 1-click Android data backup & restore
If you'd like to back up and restore Android devices flexibly, please go to the "Super Toolkit" section and follow the easy guide to complete the backup or restoration.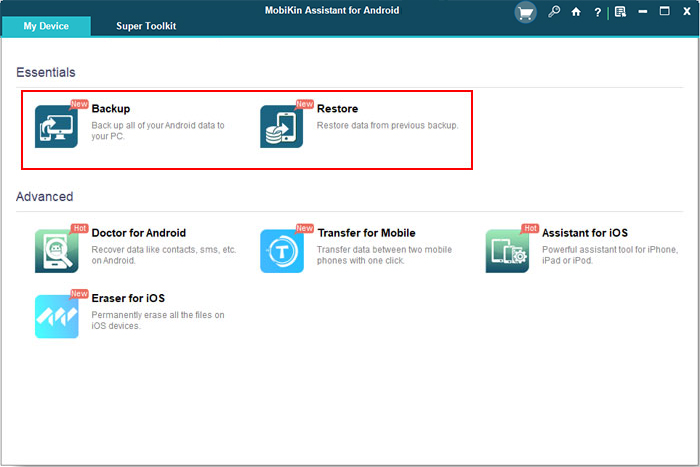 You Might Also Like:
Part 2: Other 9 Alternatives to ES File Explorer
#1. Files By Google
With an easy-to-navigate interface and multiple options for various features, Files By Google lets you manage your Android photos, videos, and apps, as well as clean unwanted items. Further, as one of the best alternatives to ES File Explorer, the app makes it easy for you to share media files with nearby people even without a network.
Main Features:
Encrypted file sharing.
Warm tips before cleaning cache and junks.
Move files to Google Drive or SD from within the app. (How to sync Android apps to SD card?)
Transfer rate: 480Mbps.
Ratings on Google Play: 4.6/5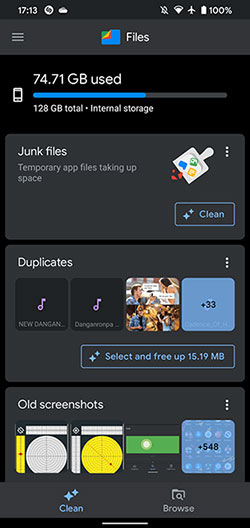 #2. MiXplorer Silver
MiXplorer Silver comes packed with a host of features, making it a text editor, ePub reader, HTML viewer, etc. On top of that, it can create tabs and multitask with files and folders, in addition to categorizing file types for management. Like ES File Manager, it boasts a dual-panel to switch between tasks. However, some functions can only be enabled on rooted Android phones. (Is my phone rooted?)
Main Features:
Drag & drop supported.
A file extractor for ZIP, PDF reader, and HTML viewer.
Support a large number of file formats.
Data encryption and password protection.
Customizable through themes and schemes.
Clean interface with cloud integration.
Ratings on Google Play: 4.5/5.0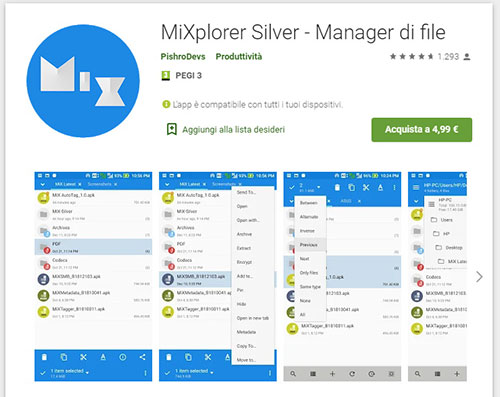 #3. X-plore File Manager
As a dual-pane explorer, X-plore File Manager is dedicated to performing various tasks on its seemingly outmoded interface. This alternative to ES File Explorer lists folder hierarchy in a tree view for orientation and switching to any other locations for easy manipulation. It's quite easy for Android users to move back and forth between root directories. Also, it has advanced features like FTP/SMB, SSH, cloud integration, batch renaming, etc.
Main Features:
Viewer for images, audio, and text.
Wide cloud storage access.
Share & send files by Bluetooth or email from any location.
PDF viewer, app manager, hex viewer, etc.
Ratings on Google Play: 4.5/5.0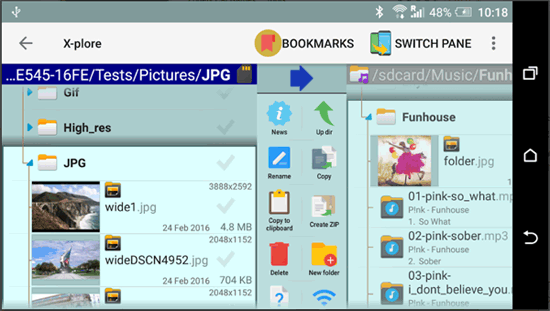 Know More:
#4. ASTRO File Manager & Cleaner
Offering the ability to view, organize, back up, share, move, and rename files, ASTRO File Manager & Cleaner is a clever ES File Explorer alternative on the list. It can compress and decompress files automatically with the RAR extractor and ZIP file opener. And it delivers file extraction, data manipulation, internal/external storage organizer, and cloud support, as well.
Main Features:
Perform application backups.
Handle ZIP and TAR files.
Clean unnecessary files and uninstall Android apps.
Manage cloud storage and sync Android data across services.
No support for RAR file format.
Ratings on Google Play: 4.4/5.0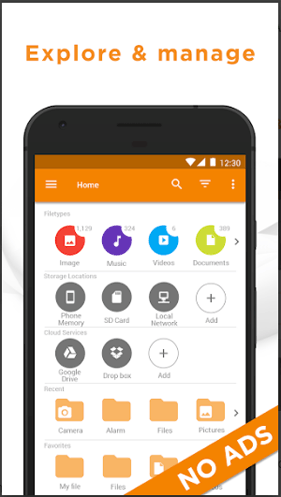 #5. Total Commander
Better than ES File Explorer, Total Commander is a powerful file organizer for Android cellphones. It is completely free and works for rooted or unrooted devices with its basic data management features. You can utilize it to run commands, conduct remote file access, or even fetch cloud storage files. Nevertheless, it is tricky to navigate through.
Main Features:
FTP, SFTP, and WebDAV client supported.
Let you access Android storage, temporary, and hidden folders.
Offer extra tools for advanced file/app management.
Highly customizable and root support.
Unfriendly for beginners.
Ratings on Google Play: 4.3/5.0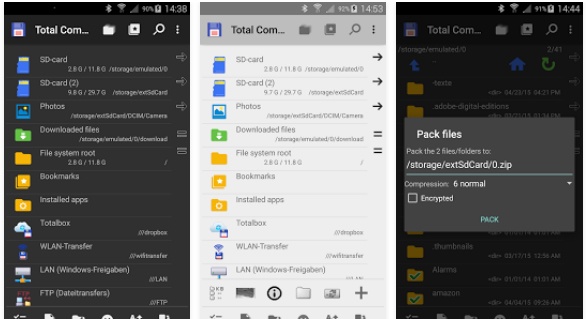 #6. Solid Explorer
Solid Explorer can quickly access all your files and folders, after which you can transfer stuff over different devices via an FTP connection. These tools can be a cloud account facility, recycle bin offering a dual-pane interface, and Chromecast support. Plus, it also works as a music player, file compressor, and secret files collector.
Main Features:
Manage Android files on local storage, USB OTG, cloud storage, or SD card. (Want to recover deleted files from SD card?)
Indexed search for quick access to items.
Protect encrypted files with a password.
Extract files in ZIP, 7ZIP, and RAR archives.
A music player, image viewer, and text editor.
Ratings on Google Play: 4.2/5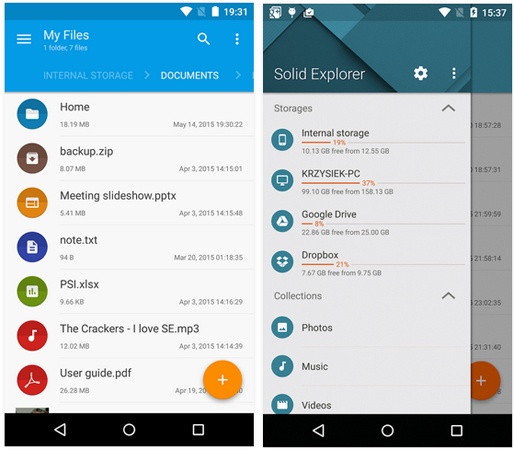 #7. FX File Explorer
FX File Explorer, a great ES File Explorer replacement, renders SMBv2 support and FX Connect for direct file transfers, accessing the file manager via PC, and offers a 7-Day free trial. It serves as a file encrypter, photo viewer, media player, and data cleaner. Else, it supports cloud service, allows you to hind files with encryption, and zoom items as per your needs.
Main Features:
Access network and cloud locations via passwords.
Clean duplicates and large files.
Support cloud storage and remote file transfer for Android phones online.
Built-in viewer to easily browser audio, videos, photos, and other content.
ZIP, RAR, BZIP2, and 7ZIP archive.
Ratings on Google Play: 4.1/5.0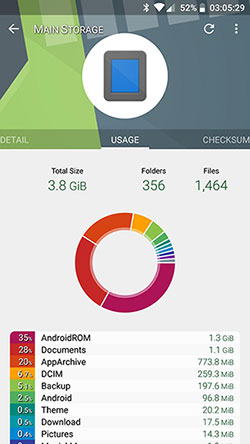 #8. File Commander
Unlike other tools said in this article, File Commander offers 15GB of free storage of its own. This ES replacement is clean and pretty easy to use. It enables you to manage (upload, copy, move, delete) data on your device, network, or even cloud storage. You're allowed to connect your devices via Wi-Fi or Bluetooth with the aid of FTP/SFTP. However, it may be annoying because it is flooded with various ads.
Main Features:
Pre-set categories to better manage Android media and privacy.
Manage external storage and support cloud services.
PC, FTP, FTPs, and remote file sharing.
Transfer content over a PC through Wi-Fi.
A media player, file securer, storage analyzer, and media converter.
Restore deleted Android files through Recycle Bin.
Ratings on Google Play: 4.0/5.0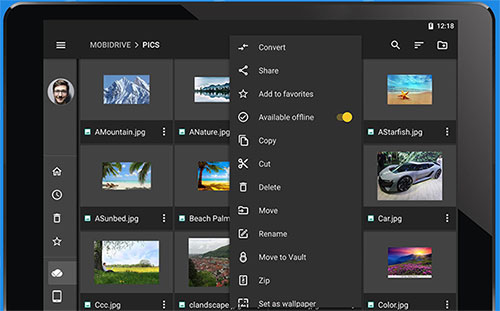 #9. Amaze File Manager
Amaze File Manager, one of the decent apps like ES File Explorer, gives you two directories to navigate and access Android files fast. This program makes file management easier with its simple interface. For example, you can view media files by simply swiping from the left menu. On its minimalist interface with no ads, you have the options to copy, cut, paste, compress, and even extract files.
Yet, it is open-source, and everyone can make contributions to its development. So it might be a threat to your privacy.
Main Features:
Copy, remove, compress, and extract files.
Back up and uninstall apps.
View database, ZIP/RAR, text, APK, etc.
Access history and bookmarks easily.
Allow you to search for encrypted files.
SMB file sharing and cloud service support,
Ratings on Google Play: 3.7/5.0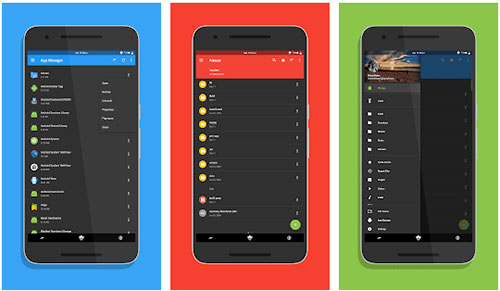 Final Words
Among the 10 ES File Explorer alternatives we just introduced, most of them seem versatile. On the one hand, these features provide users with more options, but some are really gaudy or unpractical. In addition, when you pick a tool, you should not only check if it can help complete the exact job but whether it offers different connection modes.
Overall, MobiKin Assistant for Android is the most recommended. In addition to its easy and smooth operation, it also provides some of the most popular functions, practical and effective.
Related Articles:
Top 6 File Manager for Android to Keep Your Device Organized (2022)
Complete Guide on How to Transfer Files from PC to Android
Where is Recycle Bin on Android? How to Find Deleted Android Files?
[Overview] Top 9 Samsung Smart Switch Alternatives and Similar Apps
How to Recover Data from Android Phone with Broken Screen?
10 Best Android Phone Repair Software and Apps to Fix Android System Issues