How to Transfer WhatsApp Messages to New Phone (Android & iOS)
Since 2016, WhatsApp end-to-end encryption has been able to cover all the info related to WhatsApp application, which, to some extent, makes a contribution to the continuous growth of its user base. While getting a sense of joy from a new Android or iPhone, you're likely to consider how to keep the vital stuff in WhatsApp when reinstalling it on the new phone, for contents in WhatsApp cannot be saved automatically after running it on another gadget.
Therefore, how to transfer WhatsApp to new phone is probably inevitable and pressing. To work out what may be bothering you, this comprehensive tutorial tells you how to do WhatsApp transfer to new phone in 5 great techniques.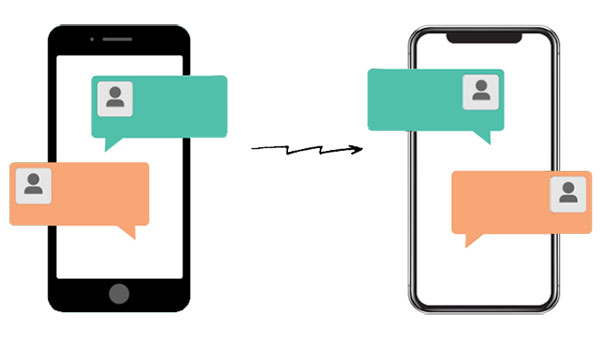 Way 1: Transfer WhatsApp to New Phone with WhatsApp Transfer
Some of the solutions for WhatsApp data transfer on the Internet might not work actually, especially for those using old and new phones with different OSes. To transfer WhatsApp videos, texts, pictures, voice messages, etc. across in any situation, you need a jack of all trades like WhatsApp Transfer to solve the problem satisfactorily. It runs on almost all kinds of computers, and can easily complete the transfer task after an easy connection.
Some key features of WhatsApp Transfer:
Transfer various WhatsApp data from iPhone to Android, Android to iPhone, Android to Android and iPhone to iPhone.
It also enables you to back up/transfer the LINE/Viber/Kik/Wechat chat history in one tap.
Back up iOS WhatsApp messages to PC/Mac. Preview the backup files and restore your desired contents.
It also enables you to export stuff from backups for printing.
100% secure (it won't record any of your privacy).
Fully compatible with nearly all the mobile phones, including Samsung, Sony, Motorola, DELL, LG, HTC, Huawei, Xiaomi, Vivo, OPPO, iPhone 14/13/12, iPhone 11/11 Pro (Max), iPhone X/XR/XS/XS Max, iPhone 8/8 Plus, iPhone 7/7 Plus, iPhone 6/6S/6 Plus, iPod/iPad, etc.
Well, as we know, this utility can transfer WhatsApp content between two phones, irrespective of the OSes they are running on. Now, let's take Android to Android transfer as an example to show you how to transfer WhatsApp messages to new phone via WhatsApp Transfer:
Step 1. Download and install the program on computer. Then start it and select the Restore Social App section from the initial screen.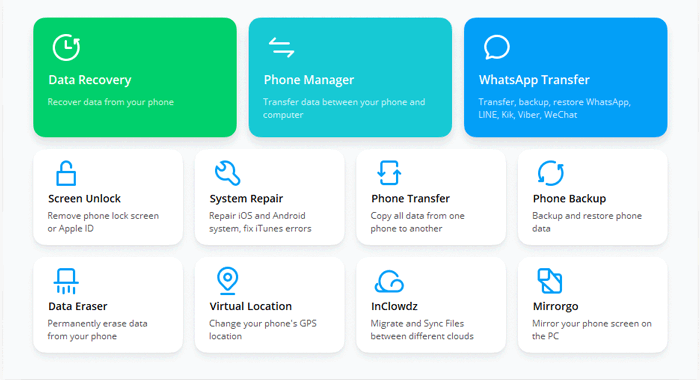 Step 2. Choose WhatsApp tab from the left menu, and go for Transfer WhatsApp messages from the incoming sections.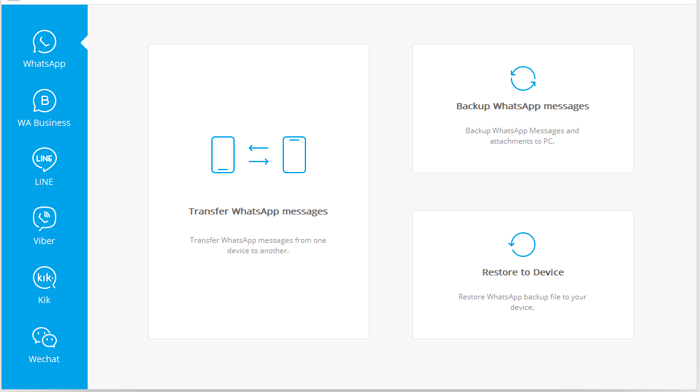 Step 3. Link two Android mobiles to this computer via USB cables. The program will detect the devices and display them on its interface. Here, ensure that they are where they should be. Or tap Flip to switch their positions.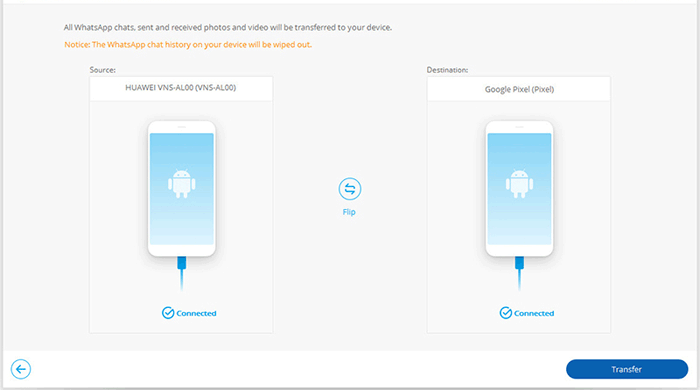 Step 4. Click Transfer to start moving WhatsApp to new phone. The transfer progress bar will tell you where the task is.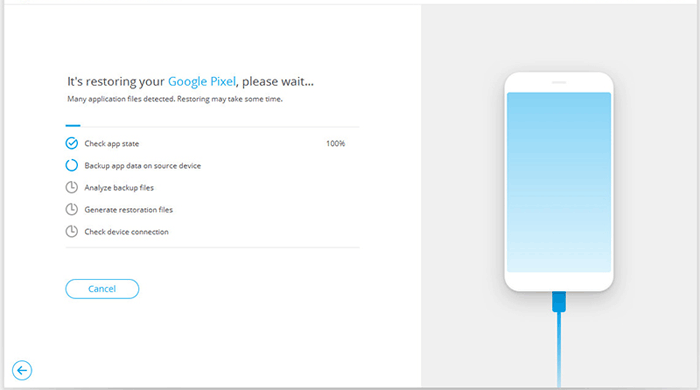 Step 5. Once done, unplug two phones from computer and restart WhatsApp on new Android phone. Next, you should see the following screen. Now, simply click Restore button on the new handset.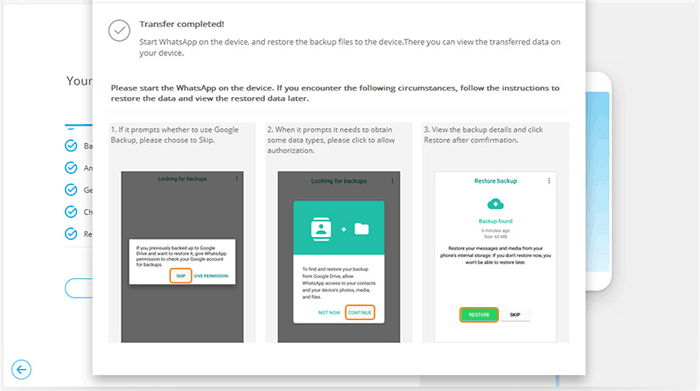 You May Also Need:
Way 2: Restore WhatsApp Chats to New Phone from Local Backup
While moving WhatsApp to new phone from local backup, you should transfer the files to new phone with computer, SD card or file explorer. Local backups is automatically created every day at 2:00 AM by default. Need to find them from Android phone? Just go to /sdcard/WhatsApp/ folder to find "internal storage" or "main storage" location.
This feature is applicable to moving WhatsApp from Android to Android, and Android to iPhone. During the procedure, you should input the same phone number before the entire WhatsApp backup is restored.
- How to transfer WhatsApp from local backup (Android to Android):
1. Run WhatsApp on old Android phone, and go to Menu > Settings > Chats > Chat backup > BACK UP to back up the WhatsApp chat history.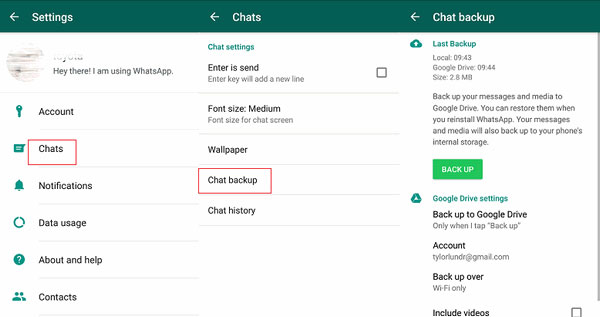 2. Uninstall WhatsApp from source mobile, and download it on the destination cellphone from the Play Store.
3. Install and open this application on new phone. Next, sign in with the phone number that you used on the old device.
4. You will be prompted to restore the backup. Simply go with the on-screen instructions, and your chats should be on your new phone soon.
- How to migrate WhatsApp from local backup (Android to iPhone):
Follow the Step 1 from the previous section we've just mentioned to back up Android WhatsApp chats to the local storage.
Uninstall WhatsApp on this Android phone. Then download and install the app on iPhone.
Enter and confirm the phone number you've used to log in WhatsApp account on iPhone. A prompt like Message Backup Found should pop up then. Just tap on Restore button to transfer WhatsApp messages to this iPhone.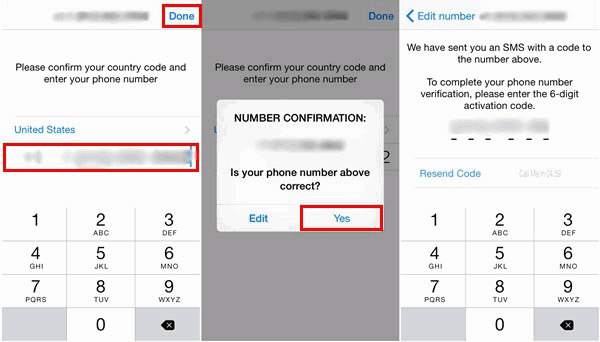 Way 3: Transfer WhatsApp Messages to New Phone via Email Chat
Transferring WhatsApp to new phone can also be fulfilled via Email chat. This way is appropriate for migrating the stuff from iPhone to Android, iPhone to iPhone, and Android to iPhone. Yet large media files might take a long time to upload and transfer.
Now, let's take iPhone to Android WhatsApp migration for example to show you how to get this task done well.
How do I transfer my WhatsApp to my new phone via Email chat? (iPhone to Android)
Step 1. Open WhatsApp on iPhone, and go to Settings > Chat Settings > (Chat History) > Email Chat.
Step 2. Choose the WhatsApp chats you intend to move from iPhone to Android phone.
Step 3. A window should pop up, asking you to choose Attach Media or Without Media before transferring WhatsApp to new phone.
Step 4. Input your email info to receive the incoming WhatsApp data, and then touch Send to get the mail out.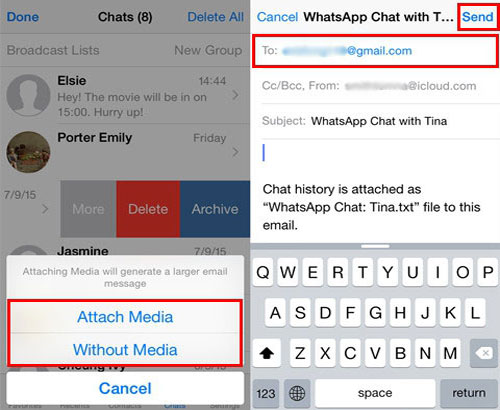 Step 5. On your Android phone, sign in the email address to receive the files, and you'll access what you've just sent.
Way 4: Transfer WhatsApp Chats to New Phone with iCloud
While searching for "WhatsApp move to new phone iCloud", you would find it's easy to utilize this service to transfer WhatsApp messages from iPhone to iPhone. Nevertheless, this method would overwrite the existing data on your device.
Assume you could take up the consequences, just refer to the following steps please. Here, let's set iPhone to iPhone WhatsApp transfer as an example to illustrate how to move WhatsApp to new phone with iCloud:
Step 1. Connect both iPhones to a stable Wi-Fi network. Then open the source iPhone, and go to Settings > [your Apple ID] > iCloud.
Step 2. Turn on iCloud Backup option. Then, press Back Up Now and wait for the end of the task. Subsequently, you can check the backup folder by going to Settings > iCloud > Storage> Manage Storage.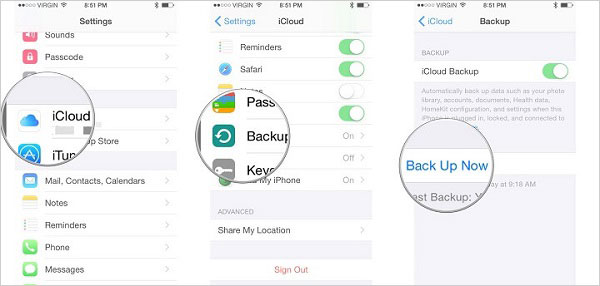 Step 3. Open the destination iPhone to set it up. While doing so, opt for Restore from iCloud backup, and select the backup files including WhatsApp data to restore.
Step 4. Install WhatsApp application on the target iPhone, and all the chat content from the old iPhone will be available on the new device.
Can't Miss:
Way 5: Migrate WhatsApp to New Android Phone Using Google Drive
Google Drive assists to make a copy of WhatsApp data. Then you're allowed to restore what you want. However, you might encounter compatibility issues, and the backup or restore task may not be complete accordingly. Plus, if there's no previous backup in Google Drive server, WhatsApp should restore from local backup file automatically.
This service can migrate WhatsApp conversations from Android to Android. Yet there's no direct way to transfer WhatsApp from Android to iPhone in this way. Wanna do that like a cork? Advise you to jump right to Way 1 for solutions.
How to transfer WhatsApp from Android to Android via Google Drive?
Step 1. Run WhatsApp on old Android phone. Then navigate to Settings > Chats > Chat backup > Back Up to sync your WhatsApp chat history to Google Drive server.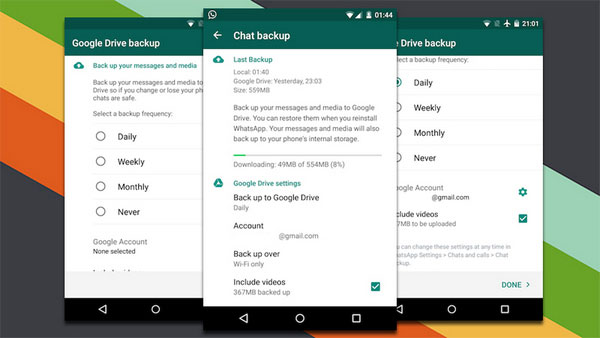 Step 2. Unlock on your new Android device, enter the Google account under Accounts option. Then remove WhatsApp from old Android, install it on new phone, and input the same phone number you used on the source phone.
Note: Make sure the new mobile is linked to the same Google account as that of the old gadget in advance.
Step 3. You'll now be prompted if you'd like to restore messages and media from Google Drive. Simply hit Restore and wait till WhatsApp data is extracted.
Wrapping Up
There you go, everyone! Now, I believe you have a clear picture of how to transfer WhatsApp to new phone. Further, you can even jot down the words in bold mentioned above to have the task done well as you wish.
Finally, one more tip - suppose you're to resell your old phone or hand it over to its provider, don't forget to erase it ahead of time. This will keep your WhatsApp and other data confidential forever.
Is there any other great approach considering moving WhatsApp to new phone? If any, please feel free to let us know in the comment box below.
Related Articles:
6 Best Ways to Transfer Data/Files from Android to Android Wirelessly
How to Transfer WhatsApp Data from iPhone to iPhone? [2023]
5 Ways to Back Up WhatsApp on iPhone Effectively
[Solved!] How to Save WhatsApp Messages from Android to PC?
WhatsApp Notification Not Working on Mobile Phone, How to Solve It?