6 Tips to Fix Enter the Password to Unlock Your iPhone/iTunes Backup
iTunes takes the privacy of its users seriously, in particular that you run a backup of your iPhone with it. Often, when you change the iTunes backup password, restore the backup made for an old iPhone, or extract it with 3rd-party programs, you may be asked to enter the password to unlock your iPhone backup. But if you forgot the specific code, you cannot restore an encrypted backup file, even if you access the iTunes backup location.
Well, what's an iTunes or iPhone backup password? How to remove or bypass it without effort? OK, this quick guide will walk you through your doubts now.
Part 1: What Is an iPhone/iTunes Backup Password?
iPhone/iTunes Backup Password is a series of codes with which the device is encrypted. Typically, it is set separately from your phone's lock screen passcode or Apple ID. Encrypting your iPhone lets you back up sensitive data, like various passkeys, Wi-Fi settings, website history, and health data.
When enabling "Encrypt iPhone backup" in the iTunes interface, you'll have to set a backup password to encrypt and secure the iOS backup. After that, you must enter the password to unlock your backup before accessing or using it.
As such, you'll need to unlock the backup password for iPhone if you forget it by chance. In a few cases, you thought the iTunes encrypted backup password was never set but is still locked out of the backup unless the correct codes are offered. Then it can be a bit more complicated. Anyway, here we are to provide you with some possible solutions to help you out.
You Might Also Like:
Part 2: What If iTunes Says, "Enter the Password to Unlock Your iPhone Backup"?
Method 1: Reset All Settings on iPhone (iOS 11 or Later)
When resetting all settings on your device, you won't thus lose your iOS content but make changes to display brightness, Home screen layout, wallpaper, encrypted backup password, etc.
How to use the password to unlock the iPhone backup by resetting all settings?
Method 2: Ask Your Family Members or Friends
Is it possible that your family or friends set your password or that the code is related to some of their identity information? It may be better to ask them than to try a number without any result after thinking hard if you find the iPhone backup is locked with a password.
Method 3: Try All Possible Passwords You Can Recall
To unlock the backup password on iPhone, try all the range of passwords as follows:
Default iTunes backup passwords, such as 0000, 1111, 1234, etc.
Your Apple ID details.
iTunes Store login credential.
iPhone lock screen password.
Blank password.
Credit card code.
Email account password.
Your computer administrator password.
Passwords for common apps.
Code related to birthdays, anniversaries, etc.
Further Reading
Method 4: Back Up iPhone to iCloud
If you are struggling with the prompt "enter the password to unlock your iPhone backup never set", don't forget to try iCloud to back up and restore your iPhone backup without offering iTunes backup encrypted info.
To back up your iPhone to iCloud, go to your device's "Settings" > [your name] > "iCloud" > "iCloud Backup" > "Back Up Now". After that, you can check the details of the backup by going to "Settings" > [your name] > "iCloud" > "iCloud Storage"/"Storage" > "Manage Storage" > your device. (iCloud backup failed?)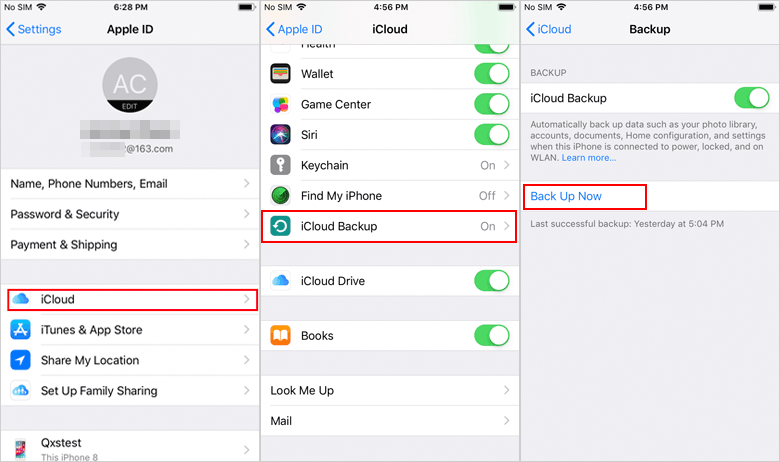 Method 5: Recover Password via Keychain on Mac
If you used a Mac and configured the iTunes backup password there, your computer may have kept a record of the password in its keychain. And your computer will report a string of numbers with the help of the "Keychain Access" app as though you didn't set iPhone backup password. Next, we will cover how to recover iTunes backup via your Mac's Keychain:
Open Spotlight with Cmd + (space) > type "Keychain Access" > tap "Enter".
This will help launch Keychain Access.
Then tap "Passwords" in the left sidebar.
Enter "backup" in the search box at the top right.
Check the saved password entries by double-clicking the search result called "iOS Backup" or "iPhone Backup".
Tap "Show password" and input the "login" keychain password to exhibit the iPhone backup password.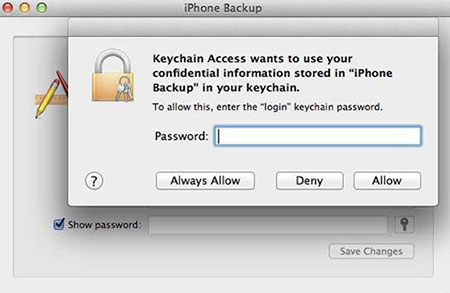 Part 3: How to Remove iPhone/iTunes Backup Password via a Powerful Program?
Can't remember passwords and don't want to endure long-winded iCloud backup and restore? Or the "iTunes backup password never set" idea sticks in your mind, but there are no quick fixes? OK, deleting the iPhone or iTunes backup password with a professional utility is somewhat of an easy and practical way to access the backup file. Today, we'll let you know about iOS Unlock, the most respected tool in the industry.
Prominent characteristics of iOS Unlock:
Remove iPhone/iTunes backup password with simple clicks.
Bypass iPhone lock screens by eradicating 4-digit passcode, 6-digit passcode, Face ID, Touch ID, and Screen Time password.
Remove your iCloud account/Apple ID quickly.
Eradicate the iCloud activation lock from an iOS device.
Bypass remote management/MDM on iDevice without losing data.
Get on well with various iOS devices, including iPhone 14/14 Plus/14 Pro (Max), iPhone 13/13 Pro (Max)/13 mini/12/12 Pro (Max)/12 mini, iPhone 11/11 Pro/11 Pro Max, iPhone X/XR/Xs/Xs Max, iPhone 8/8 Plus, iPhone 7/7 Plus, iPhone 6/6S/6 Plus, iPod touch, iPad, etc.
It won't let out your privacy.
How to remove encrypted iTunes/iPhone backup passwords via iOS Unlock?
Step 1. Free download and install iOS Unlock. Then start the program and get into the "Screen Lock" section.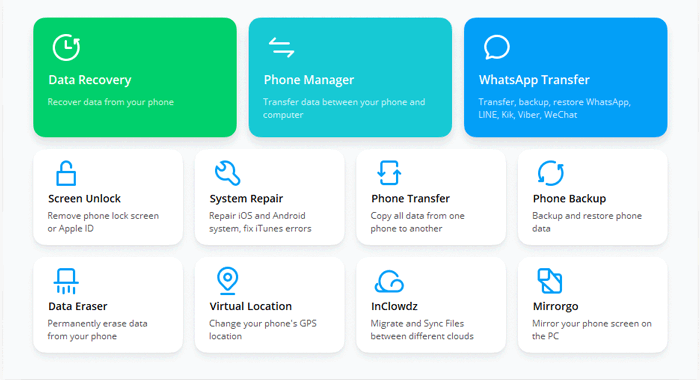 Step 2. Click on "Remove iTunes BackUp Encryption" at the bottom right corner of the screen.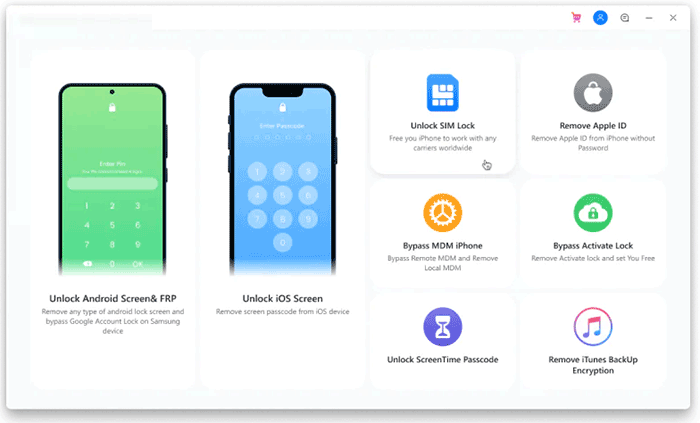 Step 3. Link your iPhone to the computer via USB. When the tool detects your device, be sure to disable "Find My iPhone" and don't run "iTunes" (Your iPhone will reboot during the password removal). Next, tap "Remove Now".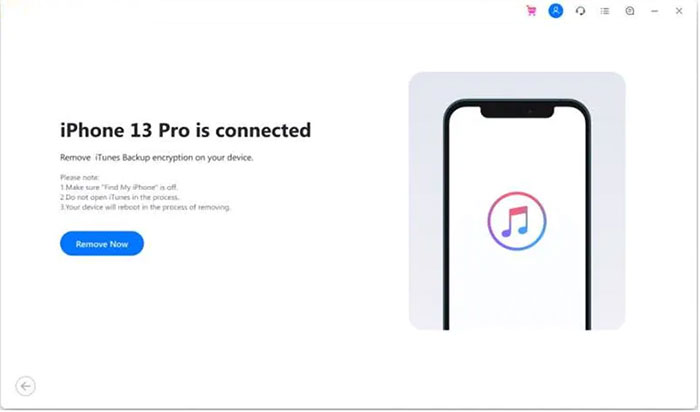 Step 4. This program begins to remove the iTunes backup encryption soon. After a short while, the encryption will disappear, and you can then back up, transfer, restore, or even erase your device as you want.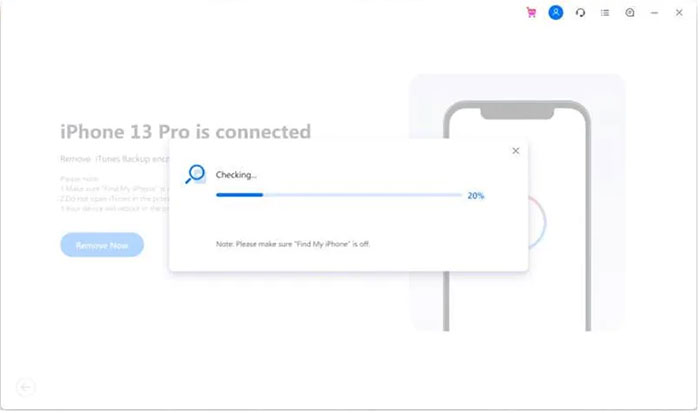 Ending Part
The above is all about the solutions when facing the "enter the password to unlock your iPhone backup" problem. Apparently, the quick fixes can only work for specific scenarios. If you have a backup of iTunes stored on your PC, and you can't afford to lose it for good, iOS Unlock is the most rewarding tool for you.
Finally, we believe that setting up the same password for diverse apps, accounts, or platforms might be a little risky, but it is really expedient for those not good at remembering different important information.
Related Articles:
[Stepwise Guide] How to Bypass Android Lock Screen Using Emergency Call
App Store Keeps Asking for Password? 6 Common Reasons & 9 Efficient Solutions
[Complete Guide] How to Transfer Passwords to New iPhone 14/13/12/11/X/8?
How to Fix iTunes Keeps Crashing/Freezing Up on Windows & Mac?
Must Change iPhone Passcode: Fix Passcode Requirement with 7 Solutions
How to Restore iPad from iPhone Backup? 3 Worry-free Options Here