[Complete Guide] How to Transfer Passwords to New iPhone 13/12/11/X/8?
As soon as you snap up a brand new iPhone 14/13/12, you may want to copy passwords to the new device. This is really a smart move, for you can enter various accounts with passcodes and access the info in the relevant servers. Well, if you remember them, you're allowed to enter the codes on the target phone one by one. In some bad situations, let's say you forget the password like your iCloud account, you may have to find a method to unlock Apple ID first.
In either case, you might wonder how to transfer passwords to new iPhone differently, through which you could minimize possible inconvenience. OK, check out this passage to get the solutions and additional tips.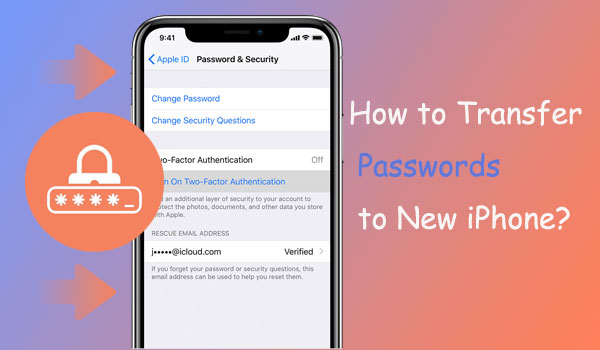 Part 1: How to Transfer Passwords to New iPhone by AirDrop
To use the native method for iPhone to iPhone passcode transfer, please check the following requirements:
Ensure both iPhones are running iOS 11 or a later.
You have to enable AirDrop, Bluetooth, and Wi-Fi on your devices.
Put the two iDevices close to each other.
Be sure to make one iPhone discover the other one for pairing.
How to move saved passwords to new iPhone 14/13/12/11/X/XR/Xs/8 with AirDrop?
Enable AirDrop, Bluetooth, Wi-Fi from "Control Center" on your iPhones. (You can now choose "Everyone" to set the visibility for AirDrop)
On your old device, proceed to "Settings" > "Passwords & Accounts" > "Website & App Passwords".
You can now find and select the password you want to migrate.
Hit the account you wish to share, long-press the "Password" area for the "Copy" and "AirDrop" to appear.

Go for "AirDrop" and select the target iPhone.
Accept and save the passcodes on your new iPhone. (AirDrop not working on your iPhone?)
Important: Here are some notes for Safari setup that can help you make better use of the transmitted passwords:
Ensure you switch off the "Private Browsing" feature from Safari.
If Safari cannot autofill the transferred passwords, just fix it by going to your new iPhone's "Settings" > "Passwords & Accounts" > turn on "Autofill Passwords".
To autofill credit card info, please go to the new iPhone's "Settings" > "Safari" > enable "Autofill".
Check If You Need:
Part 2: How to Transfer Saved Passwords to New iPhone with iCloud Keychain
Some passwords may not be transferred through AirDrop. Fret not! iCloud keychain may do you a big favor. This feature always lets you transfer such passwords as credit card numbers, user names, Wi-Fi passwords, accounts, and passwords in some apps.
How to get passwords on a new iPhone via iCloud Keychain?
Ensure your iPhones are connected to a smooth Wi-Fi network.
Go to the source iPhone's "Settings" > [your name].
Touch "iCloud" > find and hit "Keychain".

Enter your iPhone password or touch ID.
After that, you'll get all the saved passwords from the given list.
Turn on "iCloud Keychain" and sync the saved passcodes to it.
On the receiving device, enable "iCloud Keychain" with the same iCloud account. Wait for a few minutes before you can gain the passwords on your new iPhone.
How can I view the copied passwords on my iPhone? Quick navigation: Open your new iPhone's "Settings" > "Passwords & Accounts" > "Website & App Passwords". Then you can access all your accounts and passwords with your Touch ID. Alternatively, you can try to use Siri on your iPhone for concrete passwords.
Part 3: How to Transfer iPhone Passwords to New iPhone via iTunes Backup
By making encrypted backup for your saved passwords on your old iPhone in this way, you can then restore them to the new one. Yet, please make sure that both devices are running the same version of the operating system. (How to update iPhone without iTunes?)
To transfer keychain passwords to the new iPhone, you can:
Start the latest version of iTunes on your computer.
Connect your sending iDevice to this computer via USB.
Click the device icon from the top-right corner of the iTunes screen when it is recognized.
Go to the "Summary" > head to "Backups" > enable "Encrypt iPhone backup".
Input and confirm the password for the backup as prompted.
Kick-start the backup by hitting "Back Up Now".

After that, connect your new iPhone to the computer with the backup you just made.
Launch iTunes and choose your device as the drill mentioned above.
Navigate to "Summary" > "Restore Backup".

Select the backup, enter the password, and wait until the data restore to complete.
You May Be Interested in:
Part 4: How to Transfer Other Files to New iPhone in One Click
In most cases, the new iPhone will not only "inherit" the password from the old one. For instance, if you want to transfer other data types, such as contacts, calendars, books, etc., a special tool may help you get twice the result with half the effort. For this matter, MobiKin Transfer for Mobile (Win and Mac) can be included in your alternative list.
This smart program can complete the data transmission between different devices after connecting through data cables and a computer, regardless of their OS type or system version details.
What can MobiKin Transfer for Mobile do for you?
One-tap to transfer data to a new iPhone from an old iDevice.
It can also copy files from Android to iPhone, iPhone to Android, and Android to Android.
Support moving items like contacts, text messages, call history, photos, videos, calendars, music, notes, bookmarks, etc.
Easy, quick, and secure (end-to-end transfer).
Work for almost all iOS and Android devices, including iPhone 14/13/13 Pro (Max)/13 mini/12/12 Pro (Max)/12 mini, iPhone 11/11 Pro/11 Pro Max, iPhone X/XR/Xs/Xs Max, iPhone 8/8 Plus, iPhone 7/7 Plus, iPhone 6/6S/6 Plus, iPad, iPod touch, Samsung, HTC, LG, Sony, Huawei, Xiaomi, OPPO, etc.
Run smoothly on various PCs and Macs.
It won't disclose your privacy.
Next, let's go over how to transfer data new iPhone with Transfer for Mobile:
Step 1. Launch the utility on your computer
Install and open Transfer for Mobile on a computer after the download. Then hook up your two iPhones to the computer with USB cords. You can now follow the on-screen prompts to get your iDevices recognized by the tool. (What to do if my iPhones fail to connect?)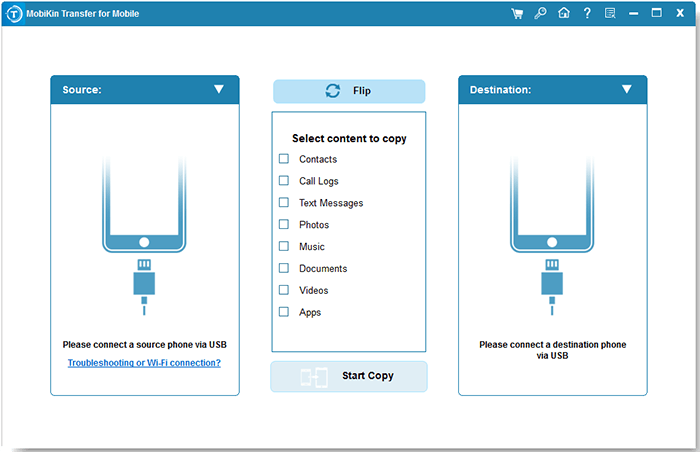 Step 2. Ensure your iPhones are in the right positions
Once identified, make sure your iPhone with the data to be transferred is the source phone (sender) and the other one, the destination (receiver). If not, just click "Flip" to correct the positions.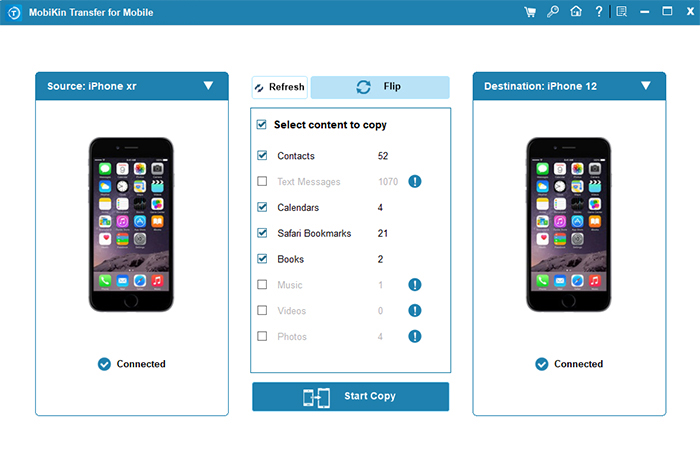 Step 3. Transfer data to new iPhone
Choose the data types you want to copy and click "Start Copy" to transfer the selected items to your new iPhone from the old one. The time to complete depends on the size of the content you wish to transfer. That's it!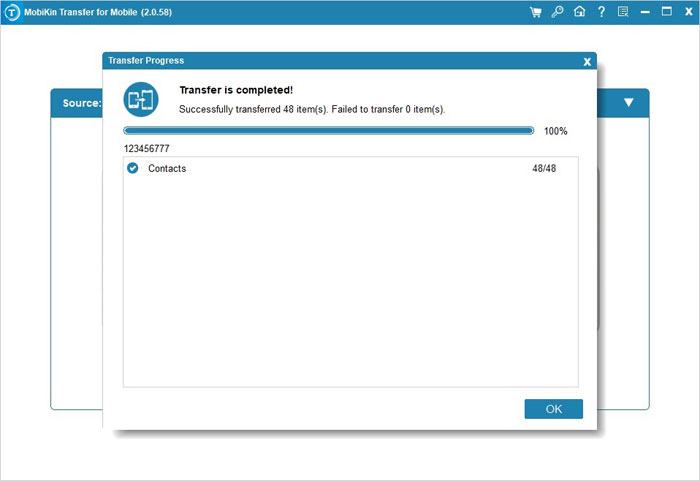 Calling It a Wrap
We just introduced three methods to complete password transmission between iPhones. Well, here's a suggestion: You can first copy the passcodes by AirDrop, the simplest way. After that, if it fails to copy all you want, please use iCloud Keychain or iTunes to resume the transmission.
Please note that iTunes is to back up and restore almost all iOS items indiscriminately. So, if the new iPhone belongs to your relatives or friends, just protect your privacy in your old iPhone. When the password migration is done, it is good to choose MobiKin Transfer for Mobile if you want to transfer other data types across.
Related Articles:
How to Transfer Photos from iPhone to iPhone 14/13/12/11/Xs/Xs Max/X/8?
What If Contacts Didn't Transfer to New iPhone/iPad? [8 Solutions for You]
Ultimate Guide to Reset Restrictions Passcode on iPhone 14/13/12/11/X
[Full Guide] How to Factory Reset iPhone without Apple ID Password?
How to Unlock iPhone without Password for Free in 2023 [100% Work]
iCloud DNS Bypass Full Guide: Unlock iPhone/iPad Activation Lock