iPhone Unlock Chip: What's It? Where to Find the Chip? How to Use It? [Latest Info]
Like Android devices, Apple iPhones enable us to stay connected with loved ones, facilitate business transactions, and provide access to a vast array of digital services. However, in certain situations, our iPhones may encounter SIM locks imposed by carriers, restricting us to specific networks and limiting our freedom to choose the best-suited provider. This is where the revolutionary "iPhone Unlock Chip" steps in as a game-changer.
Well, this comprehensive guide delves into every aspect of the SIM card unlock chip, an iPhone unlock service. It offers invaluable insights to empower you on your journey to unlocking your device with great ease.
Section 1: What Is iPhone Unlock Chip?
An iPhone unlock chip is a physical device that frees an iPhone from carrier restrictions, allowing it to work with SIM cards from different providers. It is a small hardware piece inserted alongside the desired SIM card in the phone's tray. However, using such a chip may void the warranty and violate carrier terms. Ensure you understand the implications and legality before attempting to unlock the SIM chip.
* Is SIM unlock chip legal?
The legality of SIM unlock chips varies by country. Some places consider them legal for unlocking phones you own, while others may view them as violating terms of service or copyright laws. It's crucial to check local regulations before using one.
* When do you need a SIM card unlock chip?
Recommended for You:
Section 2: Why Are Some Used iPhones Carrier-locked? How to Check the Status?
* What causes some used iPhones to be carrier-locked?
Used iPhones are sold carrier-locked due to unfulfilled contracts, financing or leasing agreements, subsidized phone deals, trade-in programs, corporate policies, or prepaid arrangements. Purchasers might unknowingly purchase it as factory unlocked. If reported stolen, the phone gets blacklisted, and checking the blacklist status on GSMA is essential. Once blacklisted, traditional unlocking methods become difficult, leaving iPhone unlocking chip as a better option.
* How to tell if my iPhone is SIM-locked?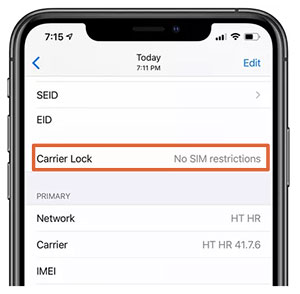 Section 3: Where to Get Unlock Chip for iPhone
Despite the illegality of using SIM card unlock chips, they are widely available online, particularly on platforms like eBay, Amazon, and Slick2Buy. AliExpress and Alibaba also offer them, but delivery times may be a little overwhelming. It's important to note that SIM unlock chips are unavailable at Walmart or other supermarkets, which has left many users confused.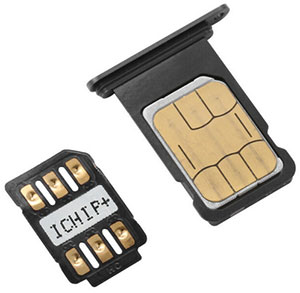 When you want to get one online, check the seller's positive feedback ratings to ensure authenticity. Additionally, thoroughly review the product description, images, and videos (if available) before making your purchase.
Other Pages You May Also Like:
Section 4: How Does iPhone Unlock Chip Work
A SIM unlock chip for iPhone tricks your device into thinking it's exclusively using a SIM card from the Cricket network. By altering the communication between the iPhone and the SIM card, the unlock chip simulates the IMEI number and authentication key, enabling compatibility with any GSM provider. When you place the iPhone unlock chip around your standard SIM, it emulates the IMSI number, allowing you to access mobile networks beyond the cricket network's restrictions.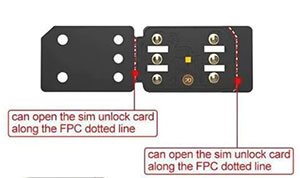 Section 5: How to Use SIM/Carrier Unlock Chip for iPhone
By inserting the iPhone carrier unlocking chip alongside your regular SIM card, you can attempt to enter the correct ICCID number. If the number is accurate, there is a high likelihood that your iPhone will be carrier unlocked successfully. Here's how to use the unlock chip to unlock your SIM-locked device:
Section 6: What Are the Disadvantages of Chip Unlock iPhone
Section 7: How to Unlock a SIM-locked iPhone without Unlock Chip [Easiest]
SIM locks can present various challenges for individuals. As it acts as a vital means of global communication and may lead to operator monopolies, locking the SIM can hinder numerous functionalities. But using iPhone unlock chip to bypass SIM restrictions pose risks to your device. So, it's imperative to pick a dedicated product as a substitute.
To simplify unlocking the SIM lock from your iPhone, iOS Unlock is available to assist. This tool can address issues such as SIM not supported, invalid SIMs, and locked SIMs, covering a wide range of lock scenarios.
A brief introduction to iOS Unlock:
How to unlock a SIM-locked iPhone directly using iOS Unlock?
Step 1. Install and launch the program on your computer after the free download; then select "Screen Unlock" from the options.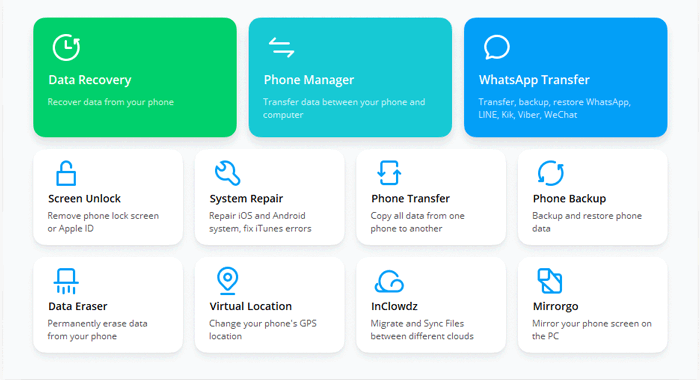 Step 2. Connect your iPhone to the computer using a USB cable before choosing "Unlock SIM Lock" to switch to a different network provider.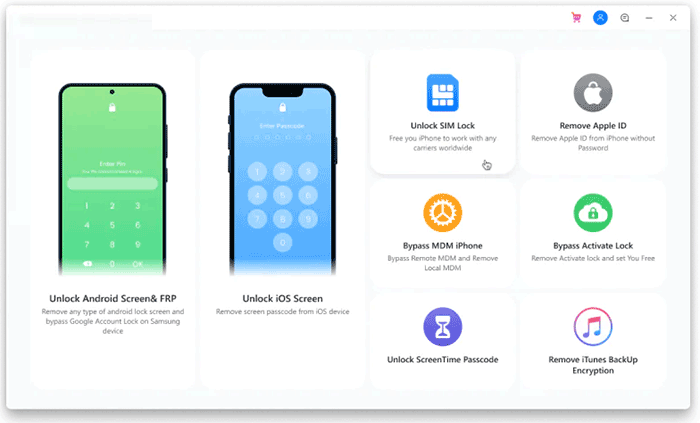 Step 3. Carefully adhere to the on-screen instructions, click "Start", and confirm to begin the process.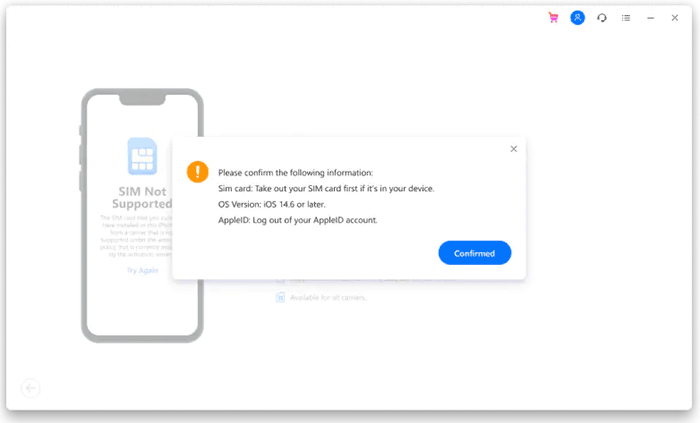 Step 4. After a successful "Sending Notification", select "Next" to proceed.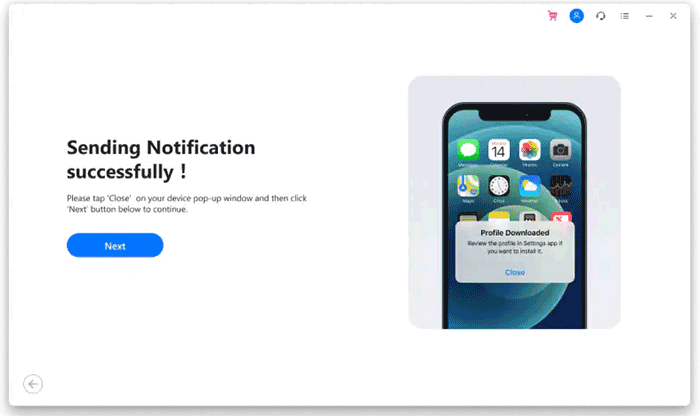 Step 5. Follow the on-screen guidelines to unlock the screen. You should then access "Settings" > "Profile Download" > "Install" (Note: this will jailbreak your iPhone to unlock carrier).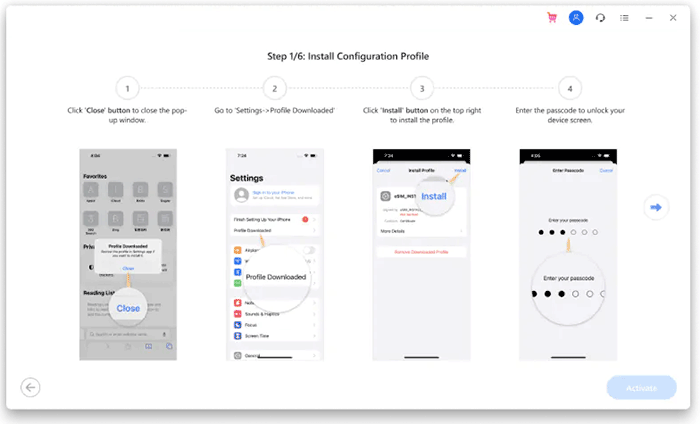 Step 6. Tap "Install" twice, and once the installation is complete, go to "Settings" > "General" to accomplish the SIM unlock.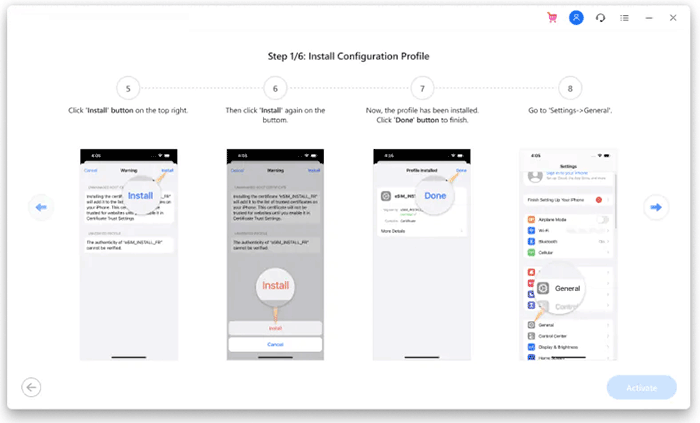 Closing Thoughts
On balance, we walked you through the step-by-step process of using the iPhone unlock chip. And we also addressed common concerns about it. Admittedly, the SIM card unlock chip stands as a beacon of freedom for individuals seeking to transcend the barriers of carrier locks. While it brings us convenience, it also acts as a double-edged sword. As such, we encourage you to embrace the power of iOS Unlock — an exceptional tool to minimize the risks brought by SIM unlock.
Related Articles:
Switching SIM Cards between iPhones: All Tips about iPhone SIM Card Swap
How to Tell If iPhone Is Unlocked without SIM Card? 4 Methods in 2023
How to Recover iMessages from Disabled iPhone? 3 Ways for You!
[Solved in 2023] How to Transfer Data from Broken iPhone to New iPhone?
How to Fix Unable to Activate iPhone 14/13/12/11/X/8/7 [13 Hot Tips]
Network Unlock Code for Samsung: Hot Tips to Unlock Most Samsung Phones/Tablets