4 Innovative Techniques to Remove Device Supervision from iPhone or iPad
Many organizations and educational institutions deploy Mobile Device Management (MDM) solutions to remotely supervise and manage your iPhone/iPad. While device supervision offers certain benefits, you might find yourself in a situation where you no longer want your device to be supervised for app installation freedom, ownership transition, privacy concerns, etc.
Well, if you encounter the message "This iPhone/iPad is supervised and managed by [organization name]," it's essential to understand how to remove device supervision from iPhone/iPad. Now, please read on to learn what device supervision is and how to delete it smartly.
Part 1: What Is Device Supervision on iPhone/iPad?
"Device Supervision" is a functionality that provides organizations with authority over the iOS devices they possess and oversee. By utilizing this feature, additional limitations can be imposed, such as disabling AirDrop or deactivating the App Store. Activation of supervision is only possible during the initial setup of a new device.
Supervision is designed specifically for devices owned by institutions. If your employer or school provides you with an iPhone or iPad, there is a possibility that it is under supervision. It is important to understand the implications of using a supervised device, including what info the owner can access and how to determine if your iDevice is being supervised.
How to Tell If My iPhone/iPad Is Supervised?
If you have an iPhone running iOS 10/iPadOS 10 or a more recent version, you can easily verify this by accessing the "Settings" app. When you observe a supervision message displayed at the top of the Settings interface, it indicates that your iPhone is indeed supervised.
See Also:
Part 2: How to Unlock Supervised iPhone/iPad from Settings
To utilize this approach, you must possess the necessary login details and password. If you happen to be the administrator or are aware of the password, you can follow the instructions for how to remove device supervision from iPhone/iPad Settings:
To begin, navigate to "Settings" > "General" > "Device Management".
Select the MDM profile you wish to eliminate and opt for the "Remove Management" feature.

When prompted, enter the password to bypass the restrictions on your device. (Your iPhone passcode is expired?)
Part 3: How to Turn Off Device Supervision on iPhone/iPad via Apple Configurator 2
When your iPhone says, "This device is managed remotely", you can remove device supervision from it using Configurator 2, as Apple recommends. This free Mac tool allows administrators to erase your iPhone 14/13/12/11/X/8 and bypass supervision. However, you'll need IT authorization to access this program. Now, check out how to take off device supervision on iPhone/iPad with Apple Configurator 2:
Download and open Apple Configurator 2 on your Mac.
Connect your iPhone or iPad to the computer via USB.
Click on your "device" icon once it is recognized.
Locate the "Actions" option in the top menu and select "Advanced".

Choose "Erase All Content and Settings".
Follow the provided instructions to complete the removal of device supervision.
Other Posts You Might Also Enjoy:
Part 4: How to Get Rid of Device Supervision on iPhone/iPad by Contacting Administrator
Want to remove device supervision on iPhone or iPad supervised by Apple School or Apple Business Manager? Just reach out to the administrator and a Mac computer for assistance. With the organizer's permission, the supervision and device data can be removed. Here's the detailed guide for how to turn off device supervision on iPhone/iPad by contacting Administrator:
Install Apple School Manager or Apple Business Manager on your Mac or visit the appropriate website.
Sign in with the management account.
Navigate to the "devices" section and find your iPhone or iPad.
Select the "Release Device" option, read the warnings, check the box, and click "Release" to remove device supervision.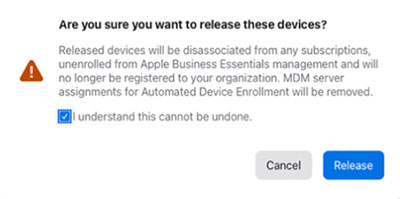 Part 5: How to Remove Device Supervision from iPhone/iPad with High Success Rate
If you're frustrated with using a remotely supervised device, there are several reliable applications available that can assist you in easily removing or bypassing the MDM lock. One popular choice is iOS Unlock, a professional utility that offers not only remote management removal but also the ability to unlock various other locks. Notably, this tool does not require jailbreaking and supports a wide range of iOS versions and devices.
Why select iOS Unlock? It can:
Remove device supervision, MDM, or remote management from iPhone or iPad with no data loss.
Bypass iCloud activation lock and iCloud account/Apple ID.
Unlock the Digit Passcodes, Face IDs, Touch IDs, and even Screen Time Passcodes.
Get rid of the iTunes backup password and SIM lock.
Compatible with both Windows and Mac versions.
Work well with a whole range of Apple devices, including iPhone 14/14 Plus/14 Pro (Max), iPhone 13/13 Pro (Max)/13 mini/12/12 Pro (Max)/12 mini, iPhone 11/11 Pro/11 Pro Max, iPhone X/XR/Xs/Xs Max, iPhone 8/8 Plus, iPhone 7/7 Plus, iPhone 6/6S/6 Plus, iPod touch, iPad Pro, iPad mini, iPad Air, iPad 4/3/2, etc.
It won't disclose your privacy.
How to unlock supervised iPhone/iPad with iOS Unlock?
Step 1. Download, install, and launch iOS Unlock. Then connect your iPhone or iPad to the computer via USB and choose "Screen Unlock" from the program interface.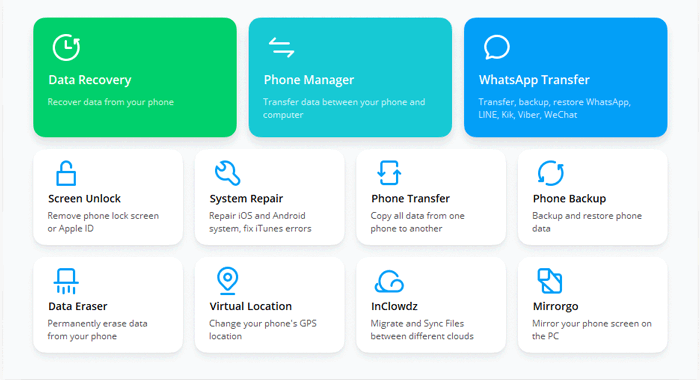 Step 2. Choose "Unlock MDM iPhone", and the same applies to iPad MDM removal.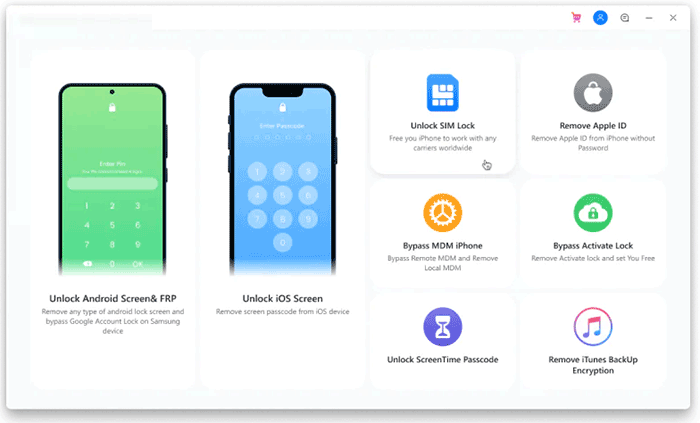 Step 3. Select "Remove MDM" and click on "Get Start".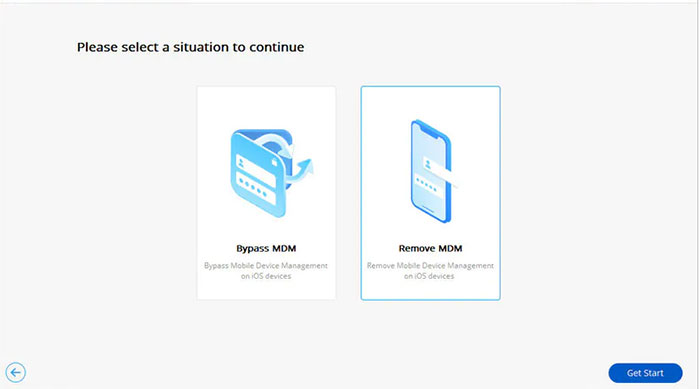 Step 4. Once you see the message "Successfully removed", the MDM will be deleted from your iPhone or iPad without any data loss.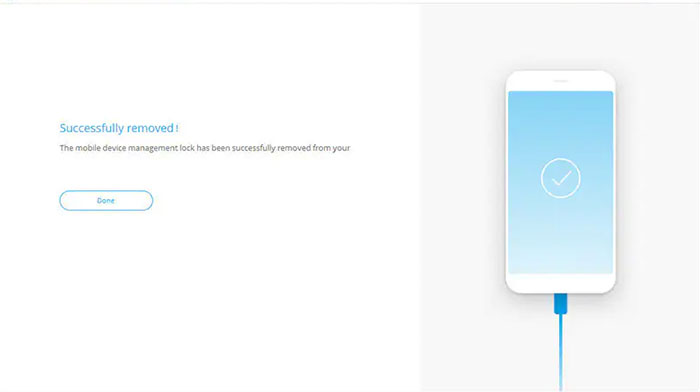 FAQs about Device Supervision on iPhone/iPad
Q1: How does iPhone/iPad get supervised?
Your employer or school's IT administrator can restrict device usage and configure settings such as app access, web content filtering, and app installations. This helps them to remotely control iPhones, ensuring compliance with security policies. If you no longer have a connection to the overseeing party, it's vital to remove device supervision on your iPhone.
Q2: Can factory reset remove MDM on iOS devices?
Performing a factory reset on your iOS device results in the deletion of all your data, including the MDM configuration. However, it's important to note that a password is required to proceed with the factory reset.
Q3: Is my browsing history protected from MDM?
Mobile device management enables monitoring of user activities, program installations, rule enforcement, and functionality control on their devices. However, please note that neither the MDM administrators nor any other individuals can access your browsing history.
Q4: How to remove supervision from Family Link?
Access the provided link and select the child for whom you wish to remove supervision.
Click on "Manage Setting Account" and then choose "Stop Supervision".
Confirm whether the supervision has been successfully removed.
Ending Words
Removing device supervision from an iPhone/iPad can be a measure to have greater control over their devices' settings and ensure privacy or ownership. While various ways exist, using a reliable tool like iOS Unlock is highly suggested. This clever product provides a trouble-free solution to remove device supervision from iPhone/iPad without encountering errors. With its user-centric interface, extensive compatibility, and support for overall iOS versions, it is excellent to regain control over your Apple device and let you enjoy the freedom it brings.
Related Articles:
How to Bypass Remote Management on iPhone/iPad? 4 Ways You'd Better Know
Full Guide on How to Screen Mirror iPhone to iPad in 2023
Touch ID Not Working on iPhone/iPad? 14 Fixes Are Here!
How Long Does It Take to Transfer Data from iPhone to iPhone 14/13/12/11/X?
How to Fully Control Your Android from a PC?
How to Factory Reset iPhone without Passcode in 3 Easy Ways?