[100% Success] How to Unlock Phone Free with IMEI Number
Do you want to unlock your phone for free? If yes, let's now get into details on how to unlock phone free with IMEI number. Learn how to unlock phone free with IMEI number. By understanding the simple steps, you can liberate your phone from carrier restrictions and enjoy the freedom to use it with any compatible network. Say goodbye to limitations and discover the power of easily unlocking your phone. Below, we explain the process of unlocking your phone using IMEI unlock free.
Part 1: Why Do I Need IMEI Code to Unlock Phone?
IMEI number stands for International Mobile Equipment Identity, a unique 15-digit number used to identify mobile devices like iPhones. This code helps carriers and manufacturers manage their device databases more efficiently and allows customers to unlock phones easily. Below are more reasons why you need an IMEI code to unlock your phone:
It prevents theft and misuse of stolen devices. When the unlock IMEI for free number is registered in a mobile network, it can block access for that device on all networks.
It allows carriers to recognize the original owner of a device properly. With a valid IMEI number, the phone can be tracked back to its owner in case of theft or any other fraudulent activity.
The process of unlocking a phone with the help of IMEI is straightforward. Upon obtaining the IMEI code, you can use it to unlock your iPhone through designated websites offering this service. This allows you to use a variety of carriers and services with just one device without buying a new phone.
Check if You Need:
Part 2. Where to Find Your Phone's IMEI Number?
Unlocking your mobile device starts by finding the unlock phone by IMEI number. Every phone has an IMEI number. But how do you find it? There are several ways to find the IMEI number of your device. Let's discuss the different but common methods used on both iPhone and Android:
Android Device free IMEI unlock code:
Do you want to unlock an Android device? Below are three common ways to find IMEI number on Android phones:
Method 1: Through Phones' Settings
It is easy to find your IMEI number in the Settings app. Here are the steps to finding out your Android device's IMEI number:
Open the Settings App.
Select "Status" or "About" Phone.
Find the IMEI number at the bottom of the page by scrolling.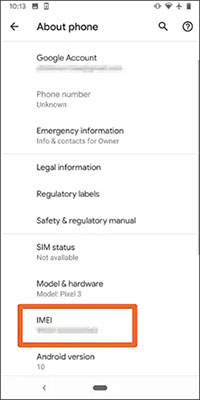 Method 2: Use Dialer Codes
You can use the phone's dialer keypad to enter a few codes and get the IMEI number. Here is how you do it:
Open your phone's Dialer app.
Enter *#06# into the keypad.
Your IMEI number will be displayed on the screen after you enter the GSM codes. This works for most of the mobile devices.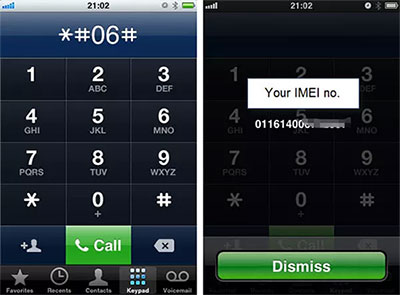 Method 3: Check the Battery Compartment or Back of the Device
Most Android phones have a sticker with a barcode and the IMEI number on the back panel. If your Android phone has a removable battery, check the sticker on the back or just look in the battery compartment.
iPhone Device IMEI number phone unlock:
If you want to unlock an iPhone, the IMEI number can be found in three ways.
Method 1: Use Your Phone Settings
Open your phone's Settings app.
Select General and then About.
Scroll down, and the IMEI number will be displayed at the bottom of the page. Press and hold to copy the IMEI.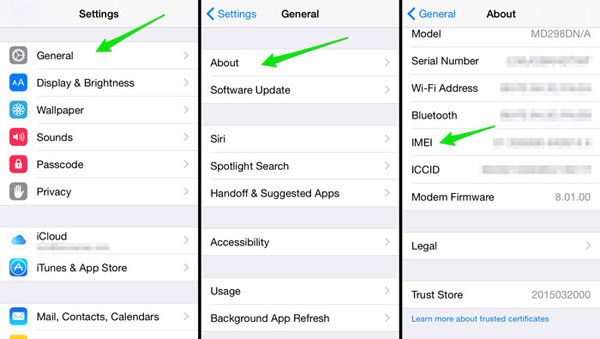 Method 2: Dial the Code
If you have an iPhone, enter a code in the dialer to find your IMEI number. Here is how:
Open the Phone app.
Enter *#06# into the keypad.
A popup window will appear with your IMEI number.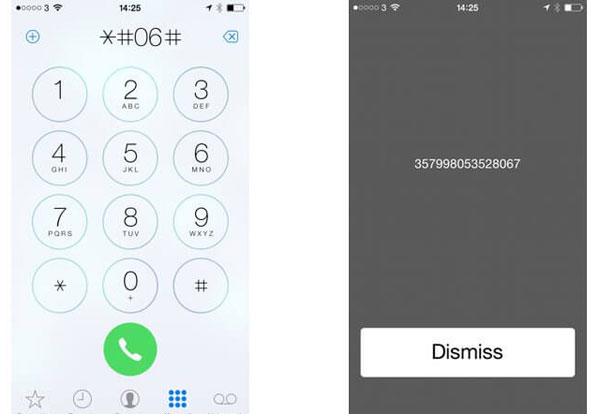 Method 3: Check the Box
iPhone devices come in a box with the IMEI number printed on the back of the phone's box. If you still have your device's original packaging, you can check for its IMEI number. This comes in handy if your original box is still around.
Read Also:
Part 3. How to Unlock Phone Free with IMEI Number?
We will discuss how to unlock a phone for free using an IMEI number. The instructions discussed below are applicable and easy to follow.
Preparation Before You Unlock the Phone
Before unlocking your phone using the IMEI for free, it's important to make certain preparations to ensure a seamless process. Each mobile carrier has its own set of rules when it comes to IMEI-based phone unlocking. Therefore, after collecting all the necessary information for unlocking your phone, getting in touch with your carrier is crucial. If you don't furnish them with specific details, your carrier might be unable to assist you effectively. Make sure to gather the following information from your phone as outlined below;
Owner's Names - A phone is usually registered under an owner's name when buying it. Therefore, before attempting to unlock a cell phone through its unblock IMEI number, you must locate the owner's name associated with the device.
Phone Number - Do you have the phone and account numbers of your device? If not, you won't be able to unlock a device with an IMEI code. Therefore, it is essential to have these details prior to attempting the unlocking process.
Security Answers - Phones' security features often require users to answer specific security questions. Therefore, when attempting to unlock a device using an IMEI number, it is necessary for you to have the answers prepared beforehand. Without them, you won't be able to move forward with the unlocking process.
Steps for Unlocking Phone with IMEI Number
Now you have collected all the necessary information for unlocking your phone. You can then proceed with the actual process. The unlocking process is simple and straightforward. Follow the below steps to unlock your phone based on its IMEI unlock for free code:
Step 1. Contact your Carrier
Once you have all the required information, contact your carrier to start the unlocking process. Make sure to provide them with all the necessary details, such as your name, phone number, and security answers.
Carrier

Contact Info

Boost Mobile

1-866-402-7366

Free

Consumer

(888)

Cellular

345-5509

Free

Cricket

1-800-274-2538

Free

CREDO Mobile

800-411-0848

Free

AT&T

800-331-0500

Free

Net10 Wireless

1-877-836-2368

Free

Mint SIM

213-372-7777

N/A

MetroPCS

888-863-8768

Free

T-Mobile

1-800-866-2453

Free

Sprint

888-211-4727

Free

Straight Talk

1-877-430-2355

Free

Page Plus

800-550-2436

Free

Simple Mobile

1-877-878-7908

Free

TextNow

226-476-1578

N/A

Tello

1-866-377-0294

N/A

Verizon

800-922-0204

N/A

Virgin Mobile

1-888-322-1122

N/A

Xfinity Mobile

1-888-936-4968

Free

Ting

1-855-846-4389

N/A

Total Wireless

1-866-663-3633

Free

U.S. Cellular

1-888-944-9400

Free

Ultra Mobile

1-888-777-0446

N/A

Tracfone

1-800-867-7183

Free
Step 2. Submit Your Details
The agent will request that you submit your details, such as the IMEI number of your device. Depending on the carrier's requirements, you may also need to provide them with proof of ownership or other documents. The details are used to verify your identity and ensure you are authorized to unlock the device.
Step 3. Support Agent
The support agent will then move forward with the steps to unlock your phone. Depending on your carrier's policy, you may need to wait a few hours or days to complete the process. It usually takes like 30 days.
Step 4. Unlock Code
Once the unlocking is complete, you will receive an free IMEI unlock code. Enter this code into your device, and that's it! Your phone should now be unlocked and ready to use.
Bonus. How to Unlock Android Phone without Passcode?
Android Unlock is a user-friendly software tool designed to bypass smartphone security measures effortlessly. It allows users to unlock their Android devices without needing a passcode, ensuring accessibility while maintaining high levels of privacy and security. It offers a 98% success rate.
Key Features of Android Unlock:
It can unlock 4-digit PINs, passwords, pattern locks, and touch IDs (Fingerprints).
No data loss during the unlock process on some LG and Samsung models.
It is simple to use as it only requires a few clicks, and no skills are required.
The software supports almost Android models and various Android operating system versions. They include Samsung, Sony, Xiaomi, HTC, Huawei, LG, OnePlus, etc.

Step by step on how to use it to remove the lock screen on Android easily:
Step 1. Download the software on your computer. Install and launch it. An interface will be displayed. Select the "Unlock" option. Connect the phone to the computer. Use the original cable here.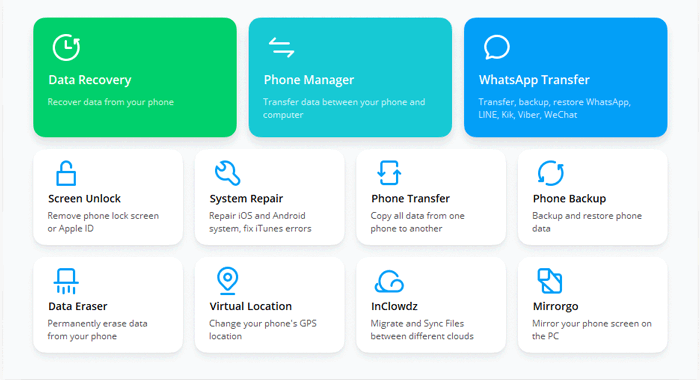 Step 2. Hover and click on "Start" to begin the unlock process. Follow the pop-up windows instructions to set your phone into "Download Mode." The instructions include:
Switch off the phone.
Press & hold the Vol (-), Home button, and Power key simultaneously.
Now press the Vol (+) to set the "Download Mode."
Then click on the "Start" button.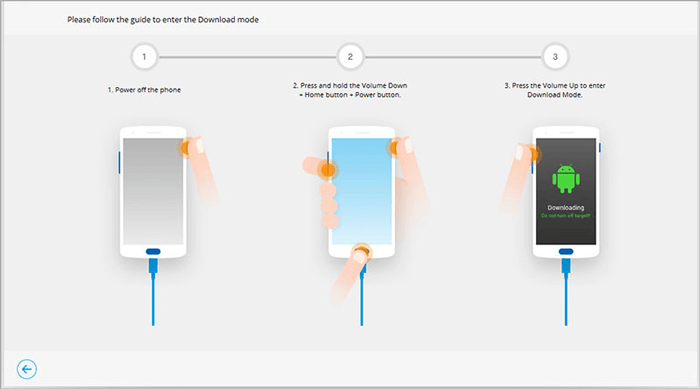 Step 3. The unlocking process will start, and the software will detect your device automatically. The program will then download the package to unlock your device based on the information entered.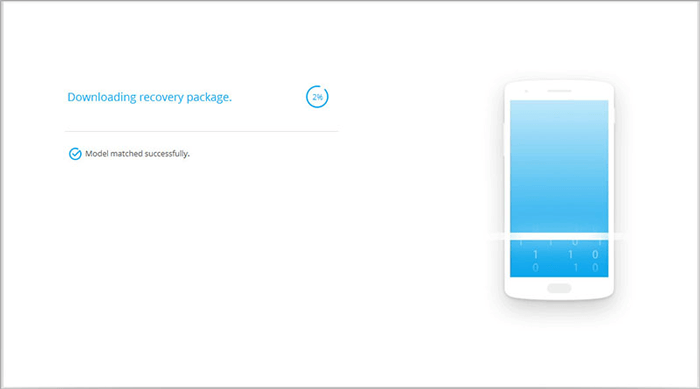 Step 4. Wait for a few moments. A popup "Remove Passwords" message will be displayed when the unlocking is completed successfully.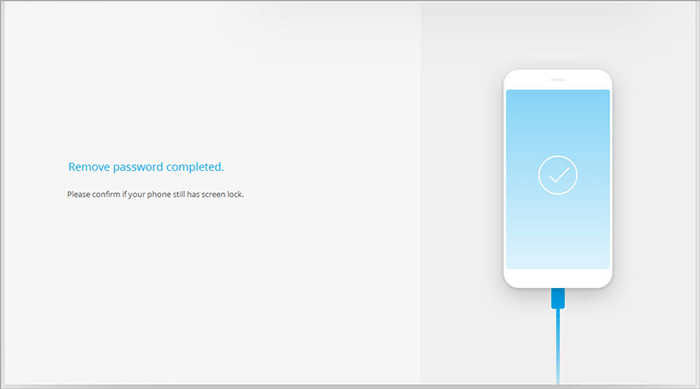 Finally, remove your phone from the computer and reboot it to ensure it's unlocked completely.
Conclusion
In conclusion, using the unlock phone with IMEI number is a convenient and legitimate IMEI unlocking method. It ensures access to various networks and services. Remember, always verify the source of such services to avoid scams. With the above solutions and steps, you can now easily unlock your phone with the IMEI unlock code free without any worries. Just follow these simple steps, and you're good to go!
Related Articles:
[Fixed] How to Unlock Android Phone Password without Factory Reset?
Forgot Android Tablet Password? Here's How to Unlock Tablet without Password
6 Simple Ways to Unlock Android Phone without Google Account
[Fixes in 2023] How to Unlock Android Phone with Broken Screen?
Fix "Android Touch Screen Not Working - Can't Unlock" Issues in 12 Methods
4 Ways on How to Remove Apple ID from iPhone without Password?