Screen Mirroring Xiaomi to PC: 5 Methods to Cast Mi Phone to PC
Xiaomi has become a strong force in the mobile market with excellent quality and reasonable prices in recent years. As its sales rise, there are many ways to use it for fun and convenience. Xiaomi MIUI 11, for example, comes with a "halo" - Miracast, which allows its fans to control Xiaomi/Redmi/Mi on a PC and obtain a better user experience.
While for most Mi users with other versions of operating systems, screen projection seems to be a big headache. Therefore, if you want to get the "fresh" strategy, it's feasible to find a method for screen mirroring Xiaomi to PC fluently. Well, check out this post to learn the practical ways to mirror your Xiaomi screen like a pro.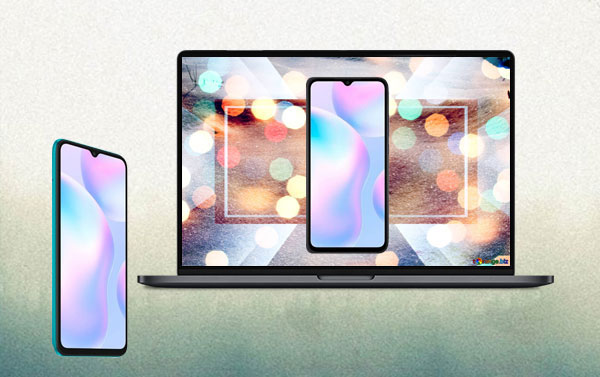 Method 1: How to Mirror Xiaomi/Mi/Redmi to PC with Screen Mirror
If you want to perform Mi mirror screen to PC professionally, just give the Screen Mirror a shot. This full-fledged screen mirror tool makes you feel carefree throughout the phone to PC connection, screen mirroring, remote control, and disconnection. Furthermore, it gets along well with almost all Android and iOS devices.
Main highlights of Screen Mirror:
Easy steps for screen mirroring from Xiaomi to PC.
Control your Android/iOS device on your computer effortlessly.
Let you smoothly play phone games or manage social apps on PC.
Stream in-app displays and audio files to the conferencing program.
Work for various Android and iDevices, including Xiaomi Mi 12/Mi 11/Mi 10/Mi 9/Mi 9 Pro/Mi 9 SE/Mi 8/ Mi 8, Mi MIX 3, Mi MIX 2S, Redmi 9/8/7/6, Redmi Note 10/9/8/7 Pro/4/4A/4g, 3S/3S Prime/3S Plus, iPhone, iPod touch, iPad, etc.
It won't let out your privacy.

How to connect Xiaomi to PC for screen mirroring with Screen Mirror?
Step 1. Run the tool and choose "Transfer files"
Download and install the program on a computer before opening it. Connect Xiaomi to this computer via USB. A prompt will appear on the screen where you can choose your device. Then, select "Transfer files" from the pop-up screen.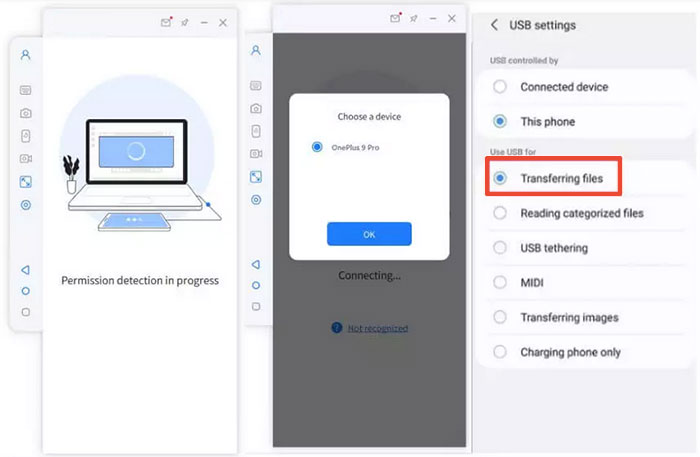 Step 2. Enable USB debugging on Xiaomi
Go to Xiaomi's "Settings" > "About phone" > quickly tap "MIUI version" 7 times. Then turn back to "Settings" > "Additional settings" > "Developer options". Slide the buttons nearby "Developer options" and "USB debugging" > switch on "Install via USB".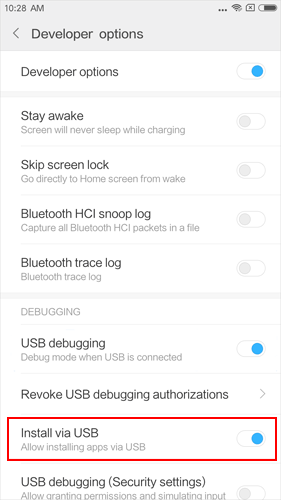 Step 3. Screen mirror Xiaomi to PC
Give permissions to the utility and allow it to show things on the top. Next, click on "Turn on", and the Screen Mirror apk will be downloaded on Xiaomi automatically. After that, you'll mirror the Mi screen to your PC successfully.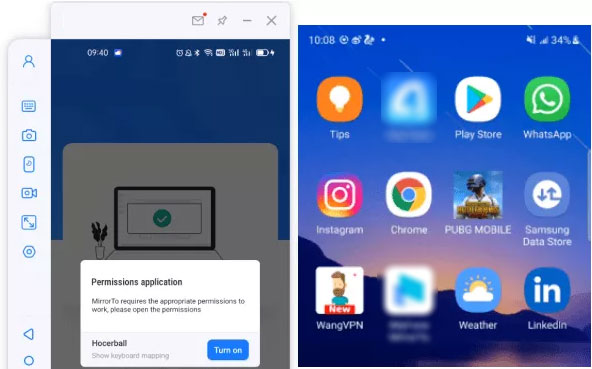 You May Also Interested in:
Method 2: How to Screen Mirror Mi Phone to Laptop via Built-in Cast Feature
By utilizing the built-in feature exclusive for Xiaomi MI 11, you can create the Xiaomi to PC link before minimizing windows, casting with screen off, and hiding private items. Yet, please note that screencasting settings on the PC may vary from Windows versions. The steps mentioned below are based on a PC with Windows 10.
How to connect Mi phone to PC for casting via built-in cast feature?
Make sure Xiaomi (MIUI 11) and Windows PC are within the same wireless network.
Click the "Start" button on your PC.
Go to "Settings" > "System" > select "Projecting to this PC".
Choose "Available everywhere" from the drop-down list.

Enable the "cast screen" feature on Xiaomi by going to "Settings" > "Connection & sharing" > "Cast".
It will pop up "Cancel" or "Turn on"; click the latter.
Then your phone will start searching for the devices nearby.
Select the PC's name you want to mirror. Once the connection is made, your phone screen will be displayed on your computer.
Meanwhile, a casting icon will turn up. Then you can control Xiaomi from your PC.
Method 3: How to Cast Xiaomi Phone Screen to PC with Mi PC Suite
Mi PC Suite, an Android desktop manager for Xiaomi, come packed with an amazing built-in mirroring feature for casting Xiaomi screen to PC. Still, it doesn't provide the same quality of service as those tools like Screen Mirror intentionally made for mirroring. Its extra feature is added in the case that you'll need it.
How to project Xiaomi to PC with Mi PC Suite?
Access the website of Mi PC Suite to have it downloaded on your PC.
Install and launch it before you find the option "Connect Your Device" for Mi phone connecting to PC.
Connect your Xiaomi phone to your PC via a USB cable.

It may take a while to install the driver for connection.
After that, the details of the phone will appear on the screen.
Please select "Screencast" presented on the bottom of the device in the Suite.
This should let you cast the Xiaomi screen onto the PC successfully.
Know More:
Method 4: How to Mirror Xiaomi Phone Screen to PC via LetsView
LetsView offers a remote control feature to project screens across the devices. You can get it on your Android phones, iPhones, smart TVs, computers before mirroring the screen with its "Miracast" capability. Likewise, please ensure your devices are connected to the same WiFi network. And you may need to try again and again when facing connection timeouts.
How to screen mirror Mi phone to laptop/desktop with LetsView?
Download and install LetsView on your Xiaomi phone and PC you want to mirror to.
Launch the LetsView app on both devices and connect them to the same WiFi network.
Once done, wait for the name of your computer to show up on your phone's screen and select it.
Tap "Phone screen mirroring" > "Start Now" to begin mirroring Xiaomi to PC.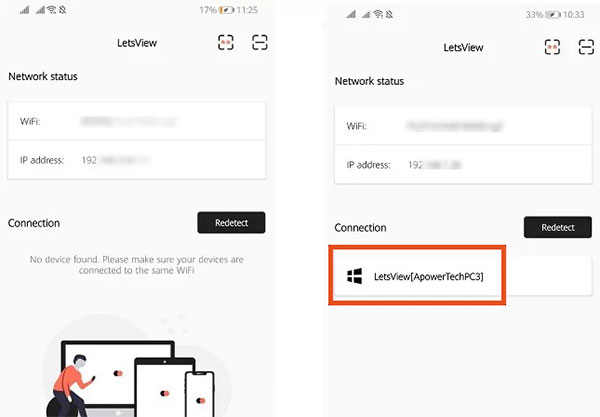 LetsView can only mirror Xiaomi screen to PC, but it won't let you fully control the device from your computer.
Method 5: How to Mirror Xiaomi to PC Using Vysor
Vysor serves as a strong screen mirror app, which can be connected through USB or ADB. Many users reported a high drainage rate of the phone's battery when using Vysor for screen mirroring via a USB connection. So we shall present you with the ADB connection for convenience. Here's how to cast Xiaomi to PC via Vysor:
Turn on USB debugging on your Xiaomi phone (as said in the steps of Method 1)to connect your phone through ADB.
Turn on "Command Prompt" on your PC to commence an ADB command terminal. For that, you have to type in "adb tcpip 5556" to restart ADB in "TCPIP mode".
Next, locate the IP address of your Xiaomi phone. If you have a phone with an OS version below 6.0, type in:
Adb shell
Netcfg
For phones greater than Android 7.0, please input:
Adb shell
ifconfig
A list shall appear on Command Prompt, showing a list of all the IP addresses associated with this computer.
You'll need to locate the address of Xiaomi and have it copied on the clipboard.
After that, exit the ADB window to retype the IP for connecting your PC to the phone.
Type in "ADB shell" to exit the window while keeping the terminal open. Then retype the IP address on the screen.

Next, remove the USB cable and continue holding your phone using the ADB connection via the WiFi and Hotspot connection of your device. (How to turn Android phone into mobile hotspot?)
To confirm, you can check the device connected via Vysor to observe it active on the list.
Lastly, just connect to Xiaomi in a normal manner for screen projecting Xiaomi to PC.

Closing Remarks
Here is a brief summary of this passage to help you grasp the essence of it faster:
Screen Mirror gives you the power to efficiently mirror screens from Xiaomi to PC in seconds. And you can then control your phone from PC steadily and smoothly.
The built-in cast feature can mirror the screen from Xiaomi to PC directly, yet it only works for Mi phones running MIUI 11.
Mi PC Suite is Xiaomi's official tool for screen mirroring, but it's not always as efficient as expected.
LetsView, a free screencasting program, offers easy steps to mirror screen; it's a good choice if you leave aside its frequent poor connectivity issues.
Vysor is relatively difficult to use if you don't have some rudimentary knowledge of computers.

Related Articles:
Top 7 Best Screen Mirroring Apps for Android to PC [2023 Updated]
Mi Phone Data Recovery: How to Recover Deleted Files from Mi Phone
[Tutorial] 5 Ways to Backup & Restore Xiaomi MIUI/Redmi 9/8/7/6
How to Fully Control Your Android from PC?
How to Control iPhone with Broken Screen Effortlessly? [Ultimate Guide]
5 Best Storage Managers for Android to Free Up Android Space Easily