[2023] How to Change or Fake Your Location on Snapchat within Seconds?
Like some social media platforms, Snapchat is with a new location sharing feature, which was released in 2017. This app tracks your location and uses the info to improve its services. Yet, some folks may not be comfortable when being tracked, even if it's not using your privacy maliciously. We, can you move your location on Snapchat maps without jailbreaking your iPhone or rooting your Android phone?
OK, let's check out this page to know how to change your location on Snapchat for an Android or iOS device in several ways. In addition to that, you will also learn some more about this topic.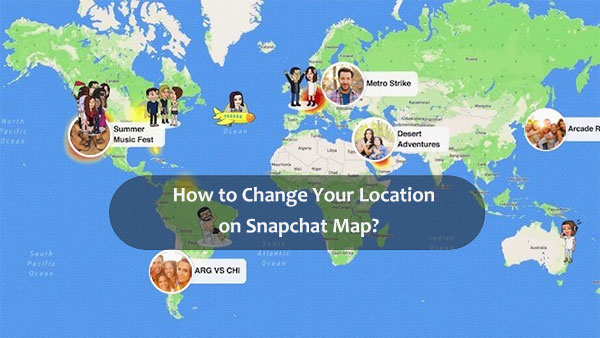 Part 1: Who Can See My Location on Snapchat Map
Snapchat Map is an opt-in feature, allowing you to choose whom you share your location with. When you open the Map for the first time, you will get a prompt to select your location settings. Snapchat GPS fake location can be done at any stage. (My Snapchat is locked?) Well, who can see the location on Snapchat maps? Here are the answers:
Only Me: Your location is invisible to anyone else on the Map. Yet you can still see other users' locations in Ghost Mode.
My Friends: Your location will be visible to all your friends on the Map, including any new ones you make.
Selected Friends: Friends you select won't be notified when you choose them, but they will be able to see your location on the Map.
Read Also:
Part 2: Why Is It Necessary to Change Snapchat Location on Android/iOS?
So, why should we fake location on Snapchat for iOS/Android devices? Here are the main reasons:
Many Snapchat filters aren't available in your region. When you see a celebrity with a filter that you wish to try but is not available for your area, the way is to change your location and access it.
You want to spoof location on Snapchat for fun and be tricky among your friends, you know, something really cool.
You wish to access region-restricted content on Snapchat.
You intend to hide your location from others, especially those who care about privacy.
To surprise someone by showing off your location, you need to fake it as per your needs.
OK, wonder how to trick/fake Snapchat map location on iPhone/Android? Let's check it out in the following.
Part 3: How to Change Your Location on Snapchat via Virtual Location Tool (Android/iPhone)
It's easy to spoof your location on Snapchat for Android or iPhone. And the key is to choose a good spoofing app/software. Virtual Location Tool, a great Snapchat location spoofer available for PC and Mac, can be your top pick. In addition to faking your GPS location, it can also help do something others as below.
Virtual Location Tool can help you:
Change your location on Snapchat for Android/iPhone in every corner of the world.
Select or delete the address saved on this software you've visited before.
Customize routes, simulate routes, and create various routes.
Work with any location-based apps containing AR games, social platforms, etc.
Get on well with both Android and iOS devices, covering Samsung, Xiaomi, Huawei, Google, HTC, Sony, LG, Motorola, OPPO, Vivo, iPhone 14/13/12/12 Pro (Max)/12 mini, iPhone 11/11 Pro/11 Pro Max, iPhone X/XR/Xs/Xs Max, iPhone 8/8 Plus, iPhone 7/7 Plus, iPhone 6/6S/6 Plus, iPad, iPod touch, etc.
It can well protect your privacy.
How to change your location on Snapchat map on Android/iPhone via Virtual Location Tool?
Step 1. Download and install the Virtual Location Tool on your computer. Launch it and click on "Get Started".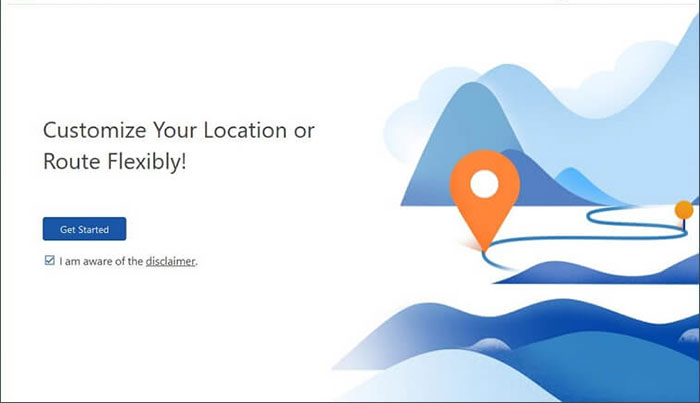 Step 2. Connect your phone to the computer via a USB cable. Wait for a while until the tool recognizes your device.
Step 3. Click "Teleport Mode" from the right corner of the interface and enter the location you want in the search bar. You can also enter GPS coordinates to ascertain a specific location.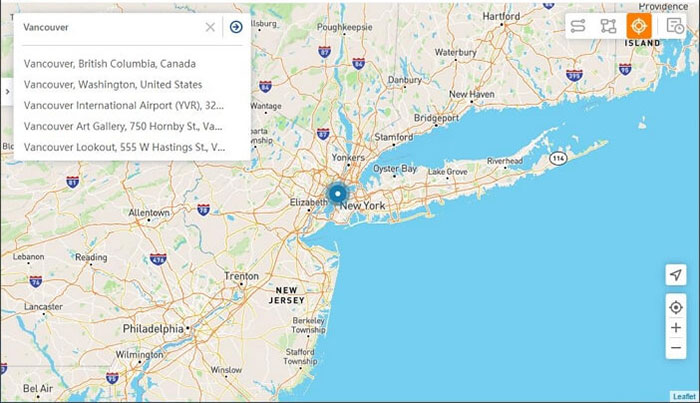 Step 4. The pointer on the interface will move to the corresponding location on the map in line with the one you appointed. Tap on "Move", and this location will soon be set as your current GPS location.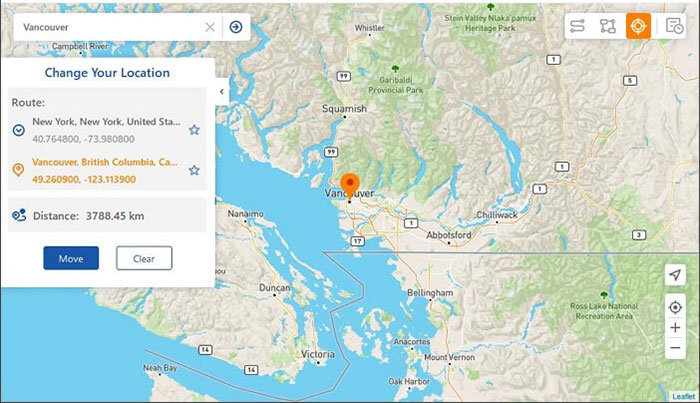 After faking your location without developer options in this way, you will succeed in changing your current address.
You May Also Need:
Part 4: How to Change Location on Snapchat with Fake GPS Location (Android)
Fake GPS Location is available for Android users to change location on the Snapchat map. This app is free and reliable. To fake Snapchat location on Android, you should first get it from Google Play Store. Then install it on your phone.
How to fake/set your location on Snapchat map with the Fake GPS location?
Open your Android phone's Settings and then chose About Phone from the System menu.
You should then expand the Software Info menu and tap the Build Number 7 times.
You will be asked to insert the phone's lock code, and you can enter the Developer menu in the Settings app. (This is also one of the most important steps to enable USB debugging on Android phones)
Within the Developer Options menu, you can find the Select mock location app feature; please tap on it and choose the Fake GPS Location app.

Proceed to open the Fake Location app and touch anywhere on its map to change your phone's location.
After that, you should tap the play icon, and the app will change your device's current location.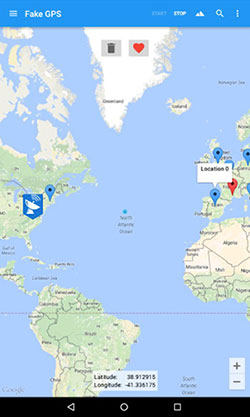 Part 5: How to Change Your Snapchat Location Using Xcode (iPhone)
If you want to change your location on Snapchat for your iPhone device on a Mac computer, You can also take Xcode into account. Yet, it could be quite complex for a layman to do the job without affecting the system.
How to change/spoof your bitmoji location on Snapchat for iPhone with Xcode?
Open your Mac and find the Xcode app from the App Store.
Install the app, launch it, and set up a new project on the interface.
Choose "Single View Application" and hit "Next".

When the project is created, Xcode will open a popup window with a few GIT commands that you'll have to execute.
Open Mac Terminal and run the commands:
git config –global user.email: "you@example.com"
git config –global user.name: "your name"
(ensure that you change the user information with yours.)

Connect your iPhone with Mac via a USB cable. (iPhone won't connect to Mac?)
Keep the phone unlocked when you build the profile, app IDs, and certificates.
You can also let Xcode create sign-in details automatically.
Finally, if everything goes well, Xcode will process some symbol files.
Go to the Debug option from the menu and check if the Simulate Location feature is active.
From that interface, you could manipulate the location of your device with ease.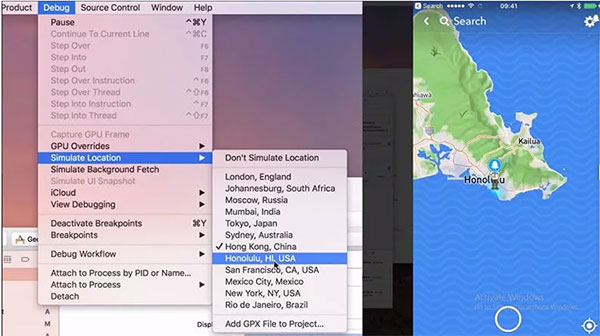 FAQs about Location on Snapchat
Q1: Can the Snap Map Be Wrong?
Snapchat Map seems to be pretty accurate. The feature is even more precise than some mapping apps. The map can even identify the specific location of a person.
Q2: How to Hide/Freeze Your Snapchat Location?
Open Snapchat and tap the profile icon on the top left of your phone.
Tap on Settings on the top right corner.
Scroll down until you see "Additional services" and go to see my location.
Choose who you want to share location with or enable the Ghost Mode to disable sharing location to others.
You can then see in contacts that the people whom you shared location with and the cross sign to the contacts you don't have access.
If you wish to completely turn off this mode, go to mobile permission settings for Snapchat and disable location permissions.
Q3: What if My Snapchat Location Doesn't Update?
Toggle on WiFi if it's available; try another app like Google Maps to see whether your location is correct and updated properly.
If it isn't, you should power cycle your device by going to your phone's settings, disable your location services, and back on before updating your phone's software. (If the phone's software is out-of-date, it could have trouble understanding where you are)
If other apps are working properly, check Google Play Store for any available updates. (Assuming it's an issue with incompatible software, there might be some issues with your location)
Suppose none of the fixes work, please contact Snapchat Support. To make it, fill in the form and submit a request for help.
Q4: How to Prevent Location Requests on Snapchat Altogether?
Open your Snapchat Settings.
Tap on "Who Can See My Location".
Turn off "Allow friends to request my location".
Please note that Snaps you submit to "Our Story" can still show up on its Map, regardless of what location setting you pick.
Q5: Does VPN Change Your Snapchat Location?
No! A VPN has nothing to do with your phone's GPS location. It can only change the IP address of your device. Likewise, you cannot change your Snapchat location via any VPN.
Ending Words
We detailed how to change location on iPhone/Android Snapchat map in 3 ways. And Virtual Location Tool is one of the few desktop programs that can serve both Android and iPhone. Plus, some 3rd-party apps can trick Snapchat into thinking you are at a different location, but note that the altered location may affect other apps you're using. Taken together, just download this specialized tool to safely change your location on the Snapchat map.
Related Articles:
2 Fast & Easy Ways to Recover Snapchat Messages on Android
How to Fix Snapchat Not Working Issue?
Effective Ways to Recover Snapchat Photos from iPhone
How to Spoof Pokemon GO on Android? Full Guide in 2023
Where Are Texts Stored on Android? SMS Location, Backup, Recovery, etc.
Where Does iTunes Store Backups & How to Change iTunes Backup Location?