iTools Pokemon GO: Overview, Features, Safety, Risks, & Alternative
The pursuit of becoming a Pokémon Master is an exhilarating journey in the world of Pokémon GO. Intrigued by the idea of achieving higher levels or unlocking elusive creatures, users frequently find themselves wanting to delve deeper into the realm of iTools Pokemon GO. This is the precise situation where they yearn for insights, guidance, and information about the potential of iTools Virtual Location/Spoofer.
Well, this page is your gateway to explore everything you need to know about iTools Spoofer. Furthermore, we'll introduce you to a remarkable iTools alternative, offering a way to spoof Pokémon GO with minimal risks.
Section 1: Overview & Key Features of iTools Pokémon GO
Overview:
iTools for Pokémon GO is an application that enables users to alter their in-game location while enjoying the widely popular mobile game. (How to back up Android game data to a computer?) It functions as a GPS spoofer, deceiving both your device and the Niantic game servers into believing that you are situated in a different place than your actual physical location.
It's important to emphasize that employing GPS spoofing software such as iTools for Pokémon GO goes against Pokémon GO's terms of service and could lead to a permanent ban from the game. Therefore, it is strongly discouraged to employ such software.
Key Features:
Virtual Location: Spoof your GPS to catch Pokémon from anywhere without moving.
GPX Routes: Craft custom in-game routes for efficient Pokémon hunting and task completion.
Joystick Mode: Enhance control with a virtual joystick for precise character movement.
Walking Speed Adjustments: Tailor your character's walking speed to match your gameplay style.
Coordinate Search: Easily locate specific Pokémon and areas by using coordinates.
Mode Switch: Swiftly switch between manual and automatic modes with an auto-catch feature.
Bluetooth Alerts: Receive customizable notifications via vibration or LED flashes using Bluetooth tech.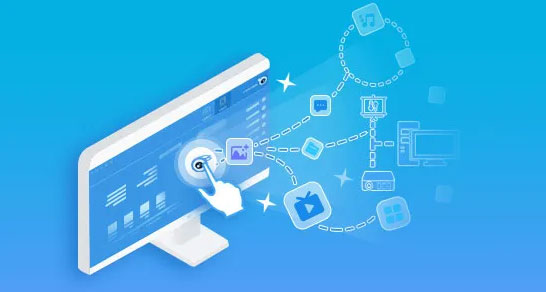 Click to Visit:
Section 2: Is iTools Safe for Pokemon GO Spoofing
According to some sources, using iTools Pokemon GO to spoof your location in the game is against its terms of service and can result in a permanent ban from the game. However, some users have reported that they have been able to use iTools Virtual Tool without getting banned.
Plus, ThinkSky, the maker of iTools, is working on updates to minimize the risk of being flagged by Niantic when it comes to iTools Pokemon GO spoofing. At the same time, almost no method offers absolute assurance against detection, and continuous maintenance endeavors to maintain users' compliance with Niantic's policies.
Section 3: How to Use iTools for Pokémon GO
Can you use iTools with Pokemon GO? To put it simply, using this location changer is a straightforward process. Here's a step-by-step guide for changing your location via this tool:
Go to www.thinkskysoft.com/itools/.
Pick the iTools version that suits your needs, ranging from $30.95 to $69.95, with a 30-day money-back guarantee.
Download and install iTools on your computer, then connect your iOS device via USB.
Open the Toolbox, select "Virtual Location", and choose a new location on the map.
Ensure Pokémon GO is closed on your device before changing the location to make iTools work.
Open Pokémon GO, and your character will be in the new location, allowing you to catch Pokémon.
Use the iTools map to move within your new location.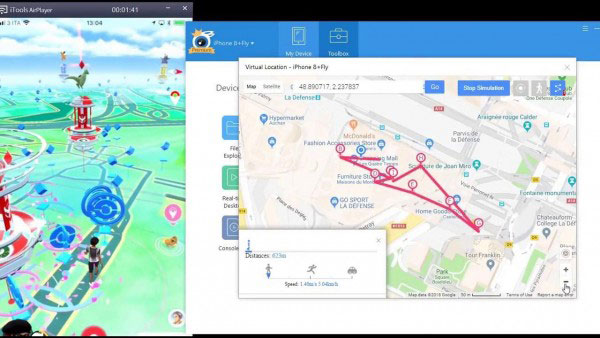 Section 4: Why Is iTools Spoofer Not Working
iTools Virtual Location may encounter issues due to compatibility, game updates, prior warnings, location settings, cooldown periods, outdated versions, server problems, internet stability, safety features, and policy violations in Pokémon GO. To settle this matter, please ensure you're using the latest iTools version and maintain a stable Internet connection when conducting iTools spoofing.
You May Also Be Interested in:
Section 5: Cons & Risks of iTools Spoofing
iTools spoofing may offer advantages in Pokémon GO, but the associated cons and risks make it a controversial and often discouraged practice. And here are some of them:
Account Bans: Niantic enforces anti-cheating rules, potentially resulting in permanent bans, the forfeiture of progress, and in-game items.
Unpredictable Detection: iTools' effectiveness varies, making it hard to predict when spoofing may be detected due to frequent Niantic security updates.
Legal and Ethical Concerns: Spoofing conflicts with Pokémon GO's terms of service, giving rise to ethical and legal issues.
Game Imbalance: Spoofing disrupts fair gameplay, negatively impacting the competitive experience for other players.
Inconsistent Functionality: iTools may operate unreliably, leading to unpredictable outcomes and technical issues.
Investment Risk: Players who invest time and money in Pokémon GO risk losing their investment due to potential bans.
Loss of Real-World Exploration: Spoofing bypasses the game's intended real-world exploration and social interactions, diminishing its benefits.
Section 6: Best iTools Alternative to Spoof Pokemon GO without Being Banned
Certain players dedicate time and financial resources to Pokémon GO, and employing iTools for spoofing jeopardizes their investment due to the risk of account bans. Is there a program solution to mitigate the risks associated with Pokémon GO spoofing?
Consider the Virtual Location Tool, a promising program crafted to simulate locations on a wide range of mobile devices. By doing so, you gain the capacity to capture a greater number of Pokémon and reap additional advantages.
Virtual Location Tool - A Must-have Program for GPS Emulation:
Best fake GPS app for Pokemon GO spoofing with the lowest risk.
Share virtual location, hide location, or modify GPS location.
Work harmoniously with location-based apps, like AR games, social platforms, and more.
Utilize a joystick for game-related GPS movement simulation.
Save your preferred routes by importing and exporting GPX files.
Apply to a whole range of iOS/Android devices, covering iPhone 15/15 Plus/15 Pro (Max), 14/14 Plus/14 Pro (Max), iPhone 13/12/11/X/8/7/6, iPod touch, iPad, Samsung, Huawei, Sony, HTC, Motorola, Google, etc.
It won't let out your privacy.
How to use the Virtual Location Tool for Pokemon GO?
Step 1. Run the software and link your phone to a computer
After you've downloaded and installed the software, open it, and select "Get Started". This action will bring up a welcome screen. Next, connect Android or iPhone to your computer and unlock the device.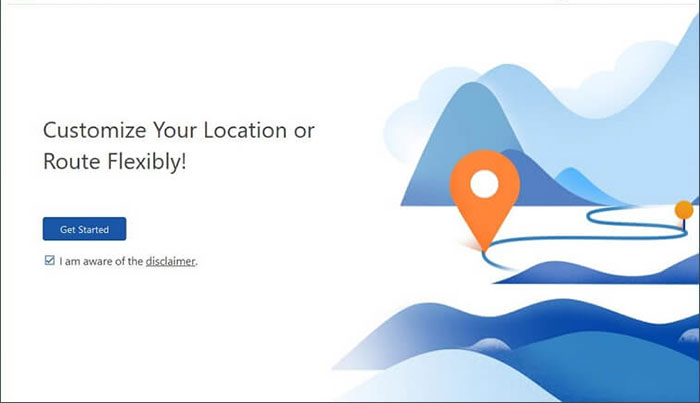 Step 2. Choose your wanted location
Once the map loads, find the "Teleport" icon in the upper-right corner. Determine the location where you'd like your phone to appear, either by entering coordinates in the top left corner or by selecting a destination using the map's zoom function.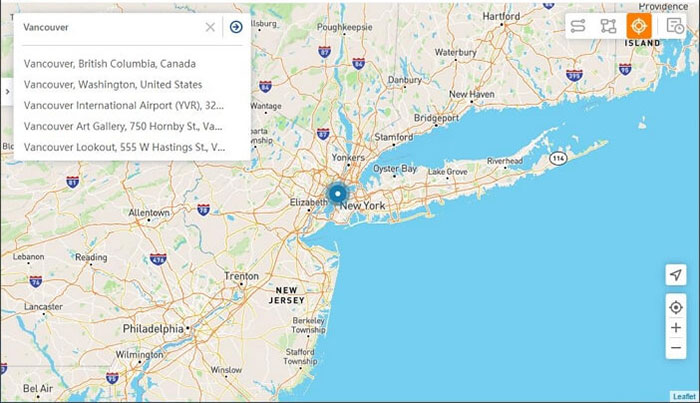 Step 3. Spoof GPS location for Pokemon GO
To play Pokemon GO without moving, click on the "Move" button, and your device's GPS will now be adjusted to the selected location. The last location will be modified to the one you just specified for Pokémon GO.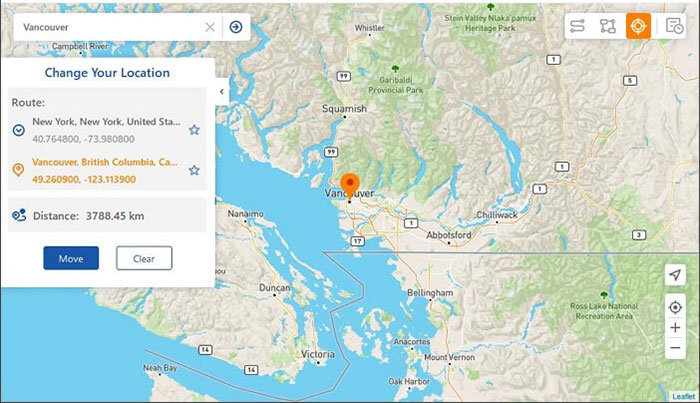 A Concise Comparison Between iTools Spoofer & Virtual Location Tool
Despite the detailed introduction to iTools Spoofer and the Virtual Location Tool, achieving a clear understanding of these two tools might still pose a challenge. To provide users with essential insights, we'll present key indicators in a simple comparison table:
| | | |
| --- | --- | --- |
| Characteristics | iTools Spoofer | Virtual Location Tool |
| Platform Compatibility | iOS/Android | iOS/Android |
| iTunes Required | Yes | No |
| User Interface | Plain | Intuitive |
| Custom Routes Creation | Yes | Yes |
| Location History | Location history tracking | View and manage location history |
| Speed Adjustment | Customize walking speed | Adjust walking speed |
| Security Updates | Regular updates | Update to reduce detection risk |
| Geofencing | Geofencing capabilities | Geofencing capabilities |
| Usage for Pokémon GO | Risk of account bans | little risk of account bans |
| Pricing | Lifetime License: $69.95 | Lifetime Subscription: $59.95 |
Words in the End
Although iTools has been accepted by some due to its ability to spoof Pokemon GO, it is not a full-fledged program. As the table we just listed, it can be seen that this tool is at a disadvantage compared to the Virtual Location Tool in multiple indicators. Therefore, the latter can be your preferred software for Pokemon GO spoofing. Still, it is vital to be cautious and use this feature responsibly, recognizing the potential risks and taking personal responsibility.
Related Articles:
Top 10 Pokemon GO Coordinates & How to Spoof Them without Being Banned
FGL Pro Pokemon GO: Overview, How-tos, Troubleshooting, & Alternative
12 Best Ways to Hatch Eggs in Pokemon GO without Walking Quickly [2023]
Free iPhone File Explorer/Manager to Browse iOS Data on PC/Mac
6 Methods to Remotely Control iPhone 14/13/12/11/X/8/7 from Computer